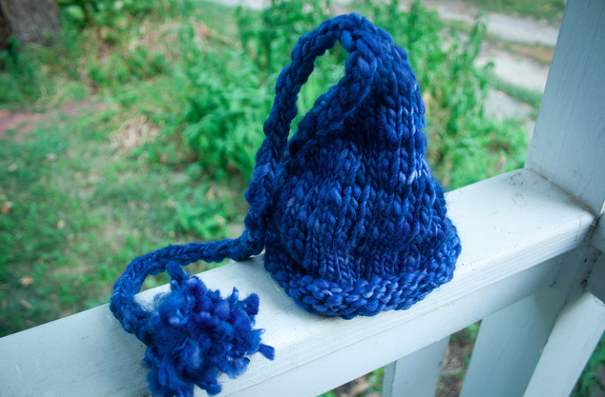 Baby hats are some of the quickest, easiest things out there to knit. They can be great stash busters. They're also fantastic last-minute gifts for those moments when you realize the baby shower is three days away and you don't have time to knit a blanket or sweater; you'll still be able to complete a 2 Hour Baby Hat. Babies always need hats to cover their adorable bald heads. And, let's be honest, we can get away with making all sorts of over-the-top cutesy hats for babies that older kids would refuse to wear, like this Berry and Fruit hat.
Here are some tips for knitting fabulous baby hats:
1. I have found that I make a lot of baby hats because they always make such a nice addition to any baby gift. For this reason, I have settled on a couple of patterns that I like, know well, and can knit in just a few hours. My number 1 go to hat is this sweet and simple baby hat.
2. Baby hats are, naturally, smaller than adult hats. Most adult hats will be knitted on 16" circular needles. Baby hats knitted on that size needle will be too big. You can use 9" circulars or you can use the magic loop method for working a smaller circumference item on circular needles. But for my money, the best bet is just to work the entire thing on double-point needles.
3. A baby hat is an item where size really matters, so if you're using a pattern or a yarn for the first time, you might want to do a gauge swatch, or at least measure your gauge as you work. When in doubt, err on the side of making the hat too big– as with pretty much all clothing items for babies. You'd much rather have the hat be too big knowing the baby will grow into it, than make a hat that the baby never gets to wear because it is too small from the start.
4. Pick yarn that feels soft and cozy. Remember this is going to be in contact directly with baby's skin, so no scratchy wools. Also, stretchy yarn is good. Finally, pick a yarn that's easy to care for. Parents of a new baby don't want to follow special washing instructions. They just want to throw it in a machine, so superwash yarns are the safest choice. This Cascade 220 Superwash works well for baby projects.
5. When knitting for baby, I like to make sure my construction is appropriate. I want a one-piece hat with no seams. I try to use only one skein of yarn so there are fewer ends, thus fewer places for unraveling. Where I do have ends to weave in, I go an extra mile, weaving in extra with directional switches thrown in. Babies like to pull hats off and throw them or chew on them, so I want to make sure my knitted hat is durable enough to survive. If you're going to include cute details like buttons, make sure they are securely attached!
6. Don't forget babies need to cover their heads all year round, so don't just focus on knitting warm weather baby hats. A light cotton hat can keep baby's head safe from the sun all summer long.
The most important thing to remember when knitting baby hats? Be sure to deliver the hat to baby yourself, so you can get lots of cuddles when she/he wears it for the first time!
What's your favorite style of baby hat?