From burps to bibs to blanket babies and binky holders, we'll show you some easy-to-make, in-the-hoop, baby embroidery designs that will be the hit of the baby shower.
The name game

Bow Appliqué Alphabet and Curly Appliqué Font
Appliqué is so versatile, and thank goodness! No matter what sweet baby is named, you will be able to create a personalized gift. Just stitch a single letter monogram and add the name.
Baby buntings

Baby Shower Garland and In the Hoop Baby Banner
These adorable buntings are a sort of freestanding appliqué and can serve two purposes: display them as a baby shower decoration, then hang them in the nursery.
Bibs, burp cloths and binky Holders

In the Hoop Quilted Baby Bib
Every baby needs at least one bib and they don't get any easier than when you create them in the hoop. Add a monogram and you have a swanky gift at a fraction of the cost.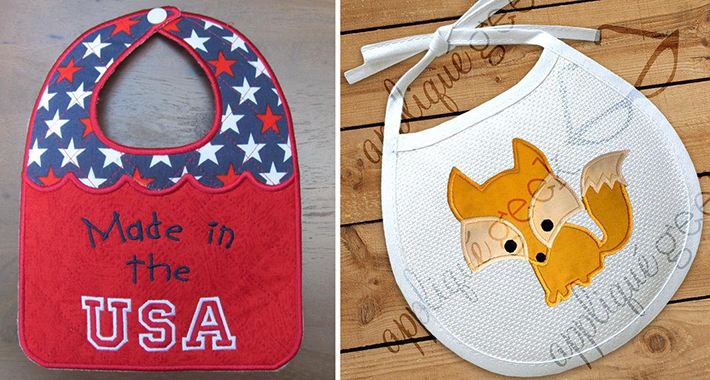 ITH Bib and Fox Appliqué
Mix and match fabrics easily with this ITH bib (left). Edges are satin stitched with no turning or finishing stitches. Want a quick project? Add an adorable fox appliqué to a pre-purchased bib. If you use the same bobbin thread as that with which you are stitching, the back will look just as lovely as the front.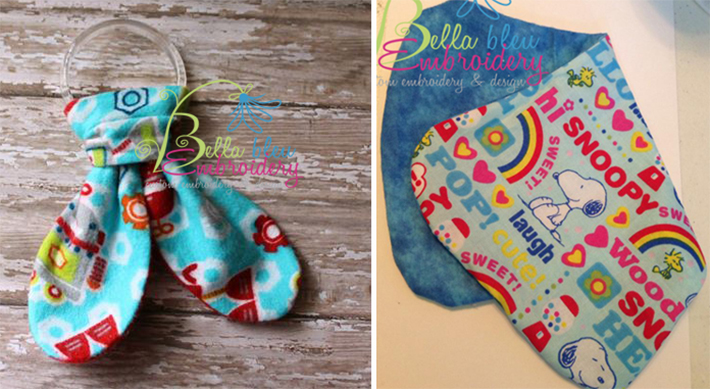 ITH Baby Teether and In the Hoop Burp Cloth
Teethers are another saving grace for mothers. stitch up a bunch with matching reversible burp cloths.
4. Precious Accessories

Baby Infant Block and In the Hoop Zipper Cases
Add the baby block to anything from a diaper bag to a blanket or shirt. Zip bags made in the hoop are so easy and quite useful for wipes, ointments, socks, or any of the other dozen and one things that babies seem to need.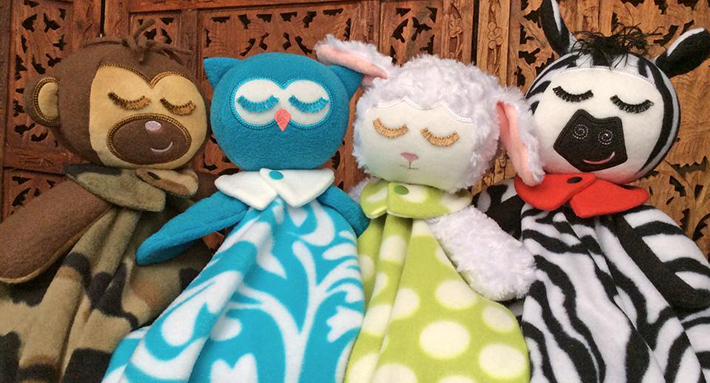 Lullaby Blanket Babies
Precious indeed, these Blanket Babies can be stitched from soft and cuddly fleece. Add a monogram to a corner and you have a certain family heirloom.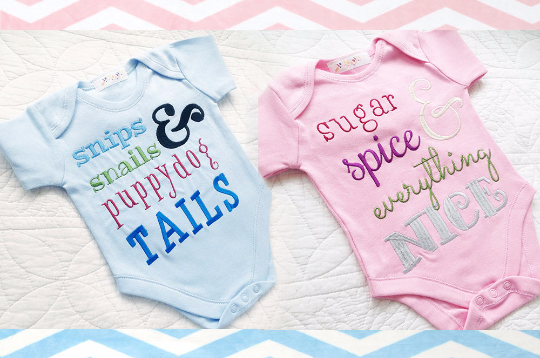 What Babies are Made of
You know how the sayings go. Onesies are a wonderful invention for moms. Stitch up a few in different sizes so baby has one to wear throughout the growing spurt.