[box type="shadow"]
For passionate makers, knitting and crocheting are more than just hobbies. Here at Bluprint, we are constantly reminded of this by the countless stories we hear about makers using their craft to give back the community. In this special guest post, we had a chance to speak with Sarah Imber Safda, resident knitter at WildCare Wildlife Hospital in California's Bay Area. Read on as she shares her story of how a simple handmade project is saving thousands of natures' most delicate and vulnerable creatures.
[/box]
Discover the heartwarming story behind the Baby Bird Nest Craft-Along & find out how you can join in on the efforts to help save wildlife!
Can you tell us a little bit about WildCare's Baby Bird Project?
Every spring and summer, WildCare Wildlife Hospital rehabilitates nearly 1,000 orphaned baby songbirds from dozens of different species. These tiny orphans come to us after being caught by cats, blown from their nests by wind or cut down by tree trimming, among other reasons. While a mother bird will absolutely take her baby back if the nest can be located (it is a myth that birds will reject their babies if they have human scent on them), if the nest can't be found or if the baby is injured, he must be admitted to WildCare to grow up in our care.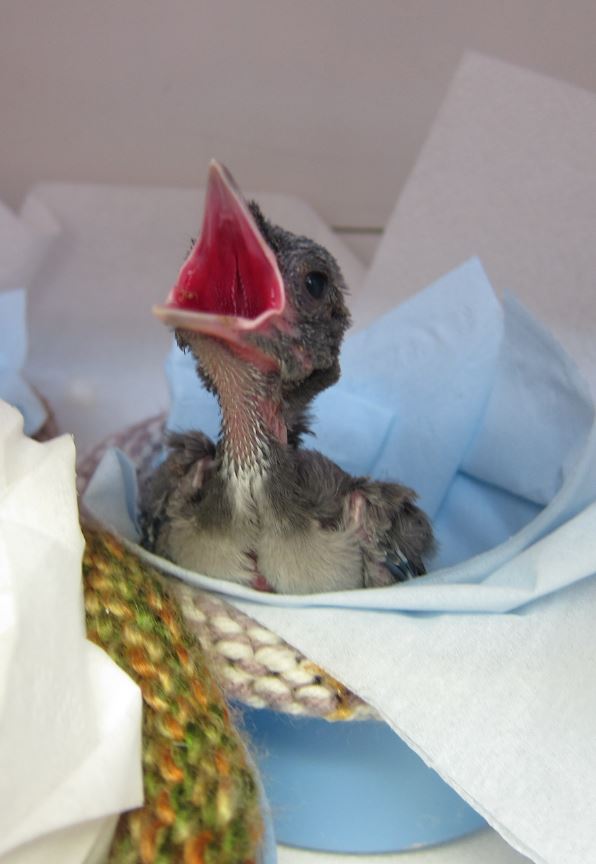 So, how are knitters & crocheters able to help these little birds?
In the wild, baby birds stay warm in a carefully-built nest made of twigs, grass and other materials. Downy baby birds that don't yet have feathers can't control their own body temperature, so without a soft, warm shelter, they won't survive. Crafted nests and pouches, whether they're knitted, crocheted or sewn, are vital tools we use in the Wildlife Hospital to emulate birds' natural nests. These handmade nests ensure the orphaned songbird babies in our care survive until they can be released back into the wild.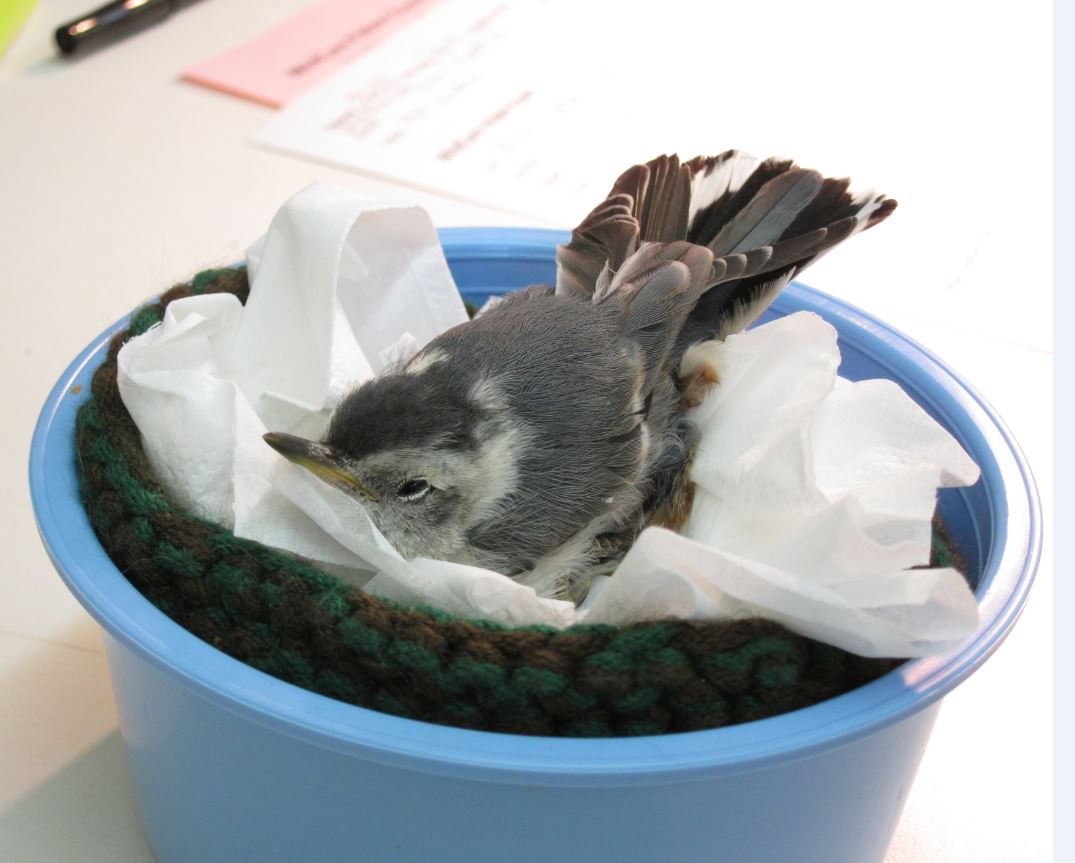 What type of nests are you looking for?
The basic dimensions of the nests we need correlate to the wide range of sizes that baby birds come in. A newborn hummingbird's nest can be tiny, 3" x 3″, but three turtle doves need a nest that is 7″ in diameter and at least 4″ tall. We tried to write a set of patterns that were basically the same, but using different sized needles and yarn would get you to the variety of nest sizes we need.
Can kids help too?
We also put together a pattern that is easy for kids. We've found that children really want to help the birds, and we want them to help them! But knitting and crocheting are often skills that takes a long time to master. So, to encourage children that aren't knitters or crocheters, we developed patterns for bird pouches. These pouches, which can be made by sewing together two pieces of a recycled wool sweater, become blankets that the bird caregivers tuck the birds and their wool nests into. This extra layer of warmth also protects them from drafts, and they are also important tools for saving the birds. The pieces of wool sweater are then felted, becoming a draft resistant, warm cave for the birds to snuggle in.
It's a great project for kids – they can sew the pieces with a blunt darning needle, and then toss a number of the pouches in the washing machine, in a pillow case, and see the results of their work shrink down to a cozy bird cave.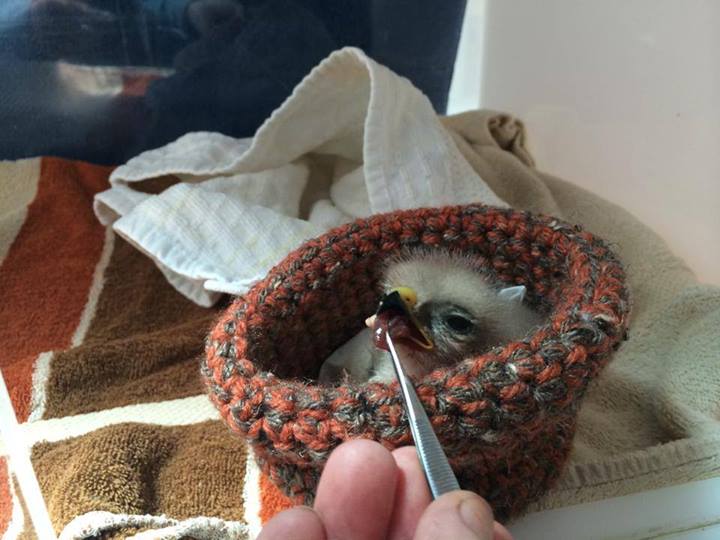 What type of yarn should you use?
The knitting patterns are written for both wool and washable yarns. When I asked the manager of WildCare's Birdroom what her favorite nests were, she handed me several nests that were made of acrylic and cotton and then she pulled out the only felted nest she had and said, "How did they make this one? It's so warm and solid?" A light bulb went on for me that our knitting instructions should include felted nests. However, we can use all smooth materials, as long as they won't trap baby bird feet, beaks and wings. Fun fur (even though it seems feathery) is not a good material, nor are bouclé or metallic yarn. Acrylic, washable wool, cotton, bamboo or plain old wool all make good nests. Wool nests just need to be made larger and felted, which is a fun project.
How wonderful! We're ready to join in on the efforts! How can we contribute?
WildCare has received amazing nests knit in every conceivable manner to get us to the final dimensions and texture, even knit flat and seamed. Some advanced knitters and crocheters don't really need the patterns, just the dimensions and the understanding of what a finished nest looks like. But, for those looking for a little more guidance we offer printable PDF instructions and patterns for a variety of nests — from knit nests, to crocheted nests to hand-sewn pouches — on our How Can I Help page. You can find more info on our website: www.babybirdnest.org as well as an FAQ thread on our Ravelry group page. Please join us, craft some nests and send them in to help WildCare's baby birds!
What type of yarn will you use for your bird's nest?