What is babka? It may soon be your favorite sweet snack bread — a dense loaf filled with cinnamon or chocolate and topped with a crumbly strudel. Is your mouth watering yet?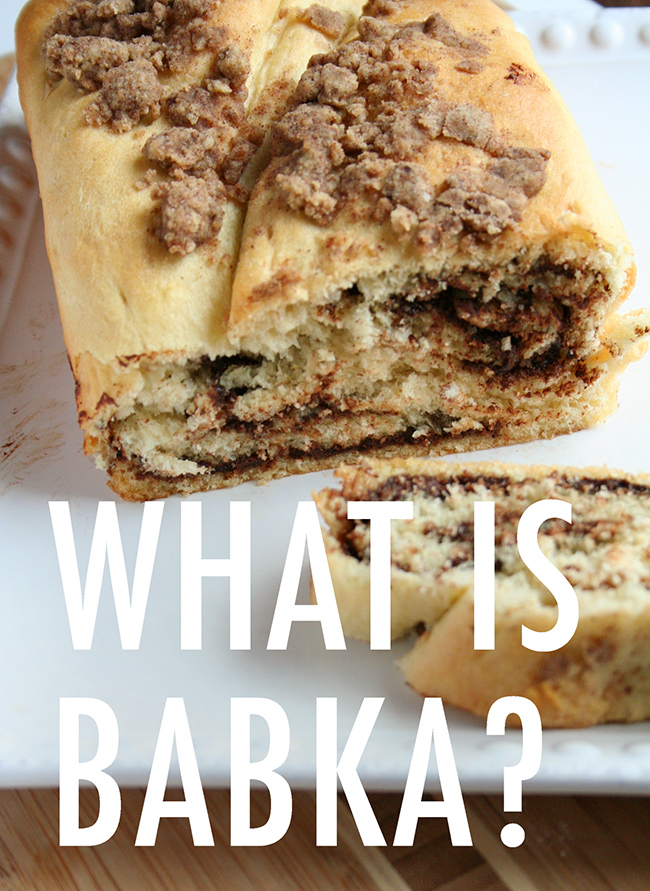 For readers of a certain age (myself included), the first reference that comes to mind might be the TV show Seinfeld, in which babka plays an important plot role in an episode of the iconic program. In the episode, procuring chocolate babka proves challenging; the characters are unwilling to settle for the "lesser" cinnamon-filled variety, and hilarity ensues.
Bring a little bit of small screen magic to your kitchen with this easy-to-make chocolate babka recipe. It'll make your kitchen smell like heaven while it bakes, and it tastes just as good as it smells.
What is babka?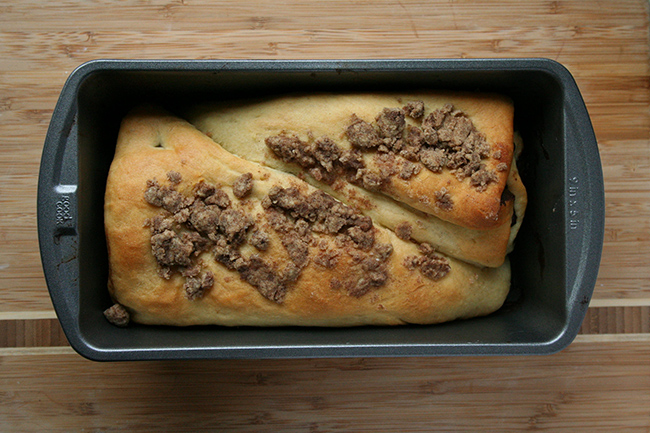 Photos via CakeSpy
Technically, there are two types of babka. The first is more like a cake, made with yeast but without filling. That type of babka is frequently served in Eastern Europe on holidays.
However, the version of babka that we're talking about today is the Jewish style, which is baked as a sweetened enriched bread. This style of babka usually comes swirled with flavorings such as cinnamon or chocolate, and with a generous helping of streusel on top. It's denser than brioche, yet more bread-like than cinnamon rolls or coffee cake. It's served in thick slices, and makes an ideal accompaniment to coffee.
What's with the funny name?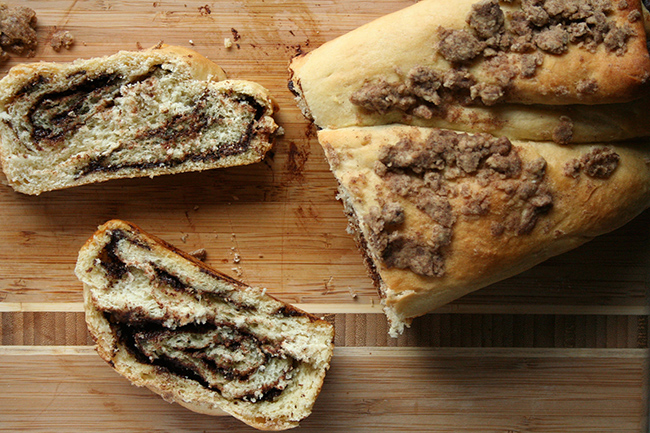 Turns out, this is not such an easy question to answer. The straightforward translation of "babka" is "grandmother." Some say it's derived from "baba," which is also a diminutive for a grandmother, but also refers to a number of different cakes, such as baba au rhum. Others insist on the grandma connection, citing that the folds in the bread resemble a grandmother's skirt pleats. Personally, I find that last one a stretch!
When should you eat babka?
Babka straddles the line between bread and pastry, and as such, when it's most appropriately enjoyed is somewhat ambiguous. Personally, I find it most appropriately served as a breakfast or brunch treat, but others insist that it's in dessert territory. What do you think? Leave us a comment and let us know!
Bring Your Baking Skills to a Whole New Level
Join baker Peter Reinhart and go beyond the recipe to make rustic, artisan breads. Enroll Today!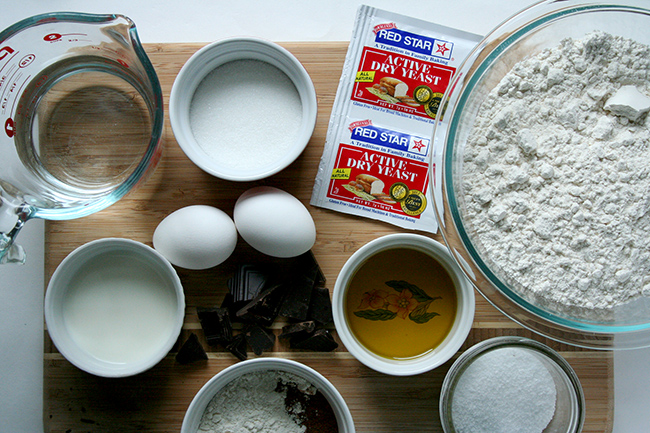 Easy chocolate babka recipe
Makes two 9-by-5-inch loaves
For the babka loaves:
1 cup milk
¼ cup water
¼ cup granulated sugar
¼ cup (4 tablespoons) unsalted butter
2 packets (0.25 ounces each) instant yeast
2 large eggs, lightly beaten
3¾ cups flour, sifted, plus more for dusting work surface
½ teaspoon salt
For the filling:
6 ounces dark chocolate, coarsely chopped
¼ cup unsalted butter, melted
1 tablespoon cinnamon
For the topping:
¼ cup all purpose flour
1 tablespoon ground cinnamon
Pinch salt
3 tablespoons unsalted butter, melted, divided
Step 1:
Generously grease two 9-by-5-inch loaf pans and set to the side.
In a medium saucepan, heat the milk, water, butter and sugar over low heat, stirring frequently until the butter is melted. Let the mixture cool to about 105 F, then add the yeast. Once it begins to bubble slightly, stir in the eggs.
Step 2:
Add the flour and salt, stirring until the dough becomes cohesive; switch to your hands and knead for 2-3 minutes. The dough will be smooth and somewhat elastic.
Step 3:
Form the dough into a ball and put in a lightly oiled bowl. Cover with a kitchen towel and let the dough rest at room temperature for 1 hour, or until it has doubled in size.
Step 4:
While the dough rises, make the filling. In the top of a double boiler, or in the microwave, melt the chocolate. Stir in the melted butter and cinnamon. Let cool while the dough continues to rise.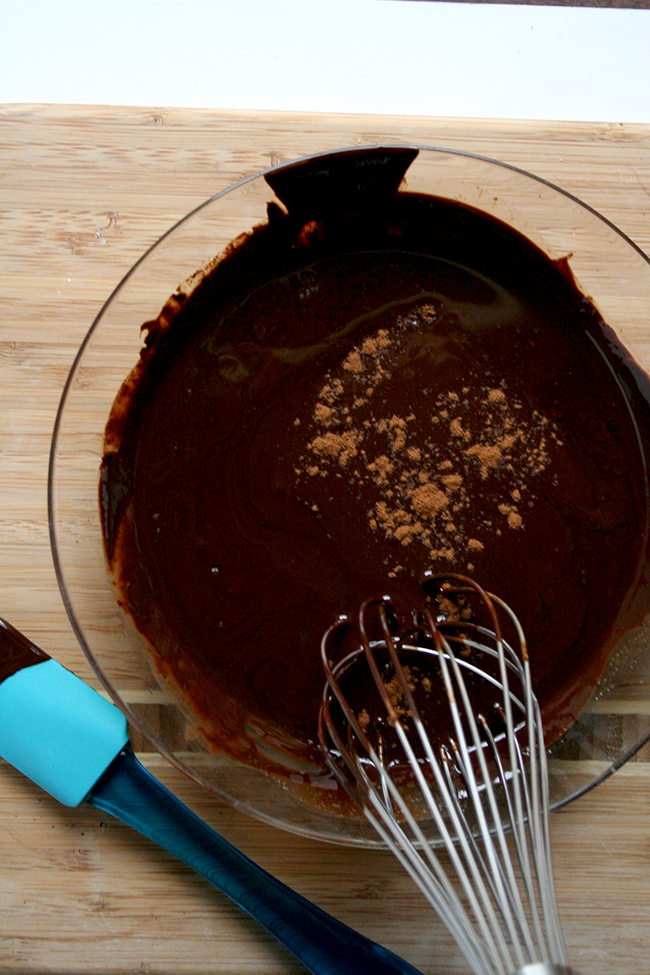 Step 5:
Gently deflate the dough using your fist. Turn the dough out onto a floured work area and roll into a rectangle about, 12″ x 15″.
The chocolate filling should have thickened to the consistency of peanut butter: easily spreadable but not drippy. Spread the chocolate filling over the dough, covering it evenly, but leaving a small perimeter of dough uncovered on all sides.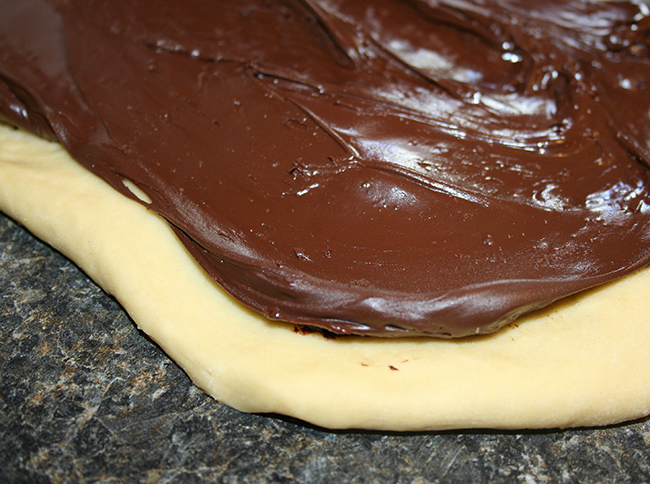 Step 6:
Cut the dough in half horizontally. Take the edge of each piece and roll it toward you, jelly-roll style. Now you'll have two tubes of dough and chocolate. Place the tubes side by side, and press the ends together. Now, give the entire unit a twist or two, so that they look somewhat braided. The dough will become longer during this process.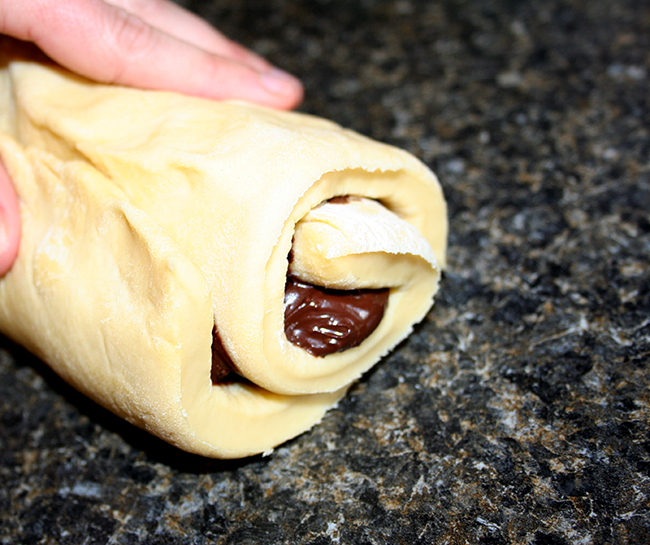 Note: Technically, you could just roll each portion, jelly roll-style, and place it seam side down in the prepared baking pan. The flavor of your babka will be just as good, but its interior won't look as complex, which is part of the fun!
Step 7:
Cut the long loaf in half and put half in each pan. Make sure that the dough is long enough to fill about ⅔ of the pan. Let the dough rest, covered with a kitchen towels, in the loaf pans for 1 hour or until it has filled out the pans. Near the end of this proofing period, preheat the oven to 350 F.
Step 8:
Prepare the topping while the oven preheats. Combine the flour, cinnamon, salt and 2 tablespoons of the melted butter in a small bowl, stirring until they come together into a crumbly streusel mixture. Brush the tops of the loaves lightly with the remaining melted butter, then sprinkle with the topping.
Step 9:
Bake for 25-30 minutes or until deep golden brown. Remove from the oven and let cool in the pans before serving.
Store well-covered babka at room temperature for up to 3 days, or store in the freezer for up to month.
Bring Your Baking Skills to a Whole New Level
Join baker Peter Reinhart and go beyond the recipe to make rustic, artisan breads. Enroll Today!