Airbrushed cakes are making a sweet comeback! As cake decorating professionals, we are often asked to create cakes use a new technique or that are out our current scope of knowledge. Clients will request the latest cake trends or perhaps they saw something they loved online, and we are asked to emulate it. Lucky for us, with the help of online classes such as Bluprint's The Art of Airbrushing led by paint artist Lisa Berczel, new skills can successfully be learned.
Here's a collection of creative ways to airbrush cakes, with designs ranging from antique-look rattan to skulls!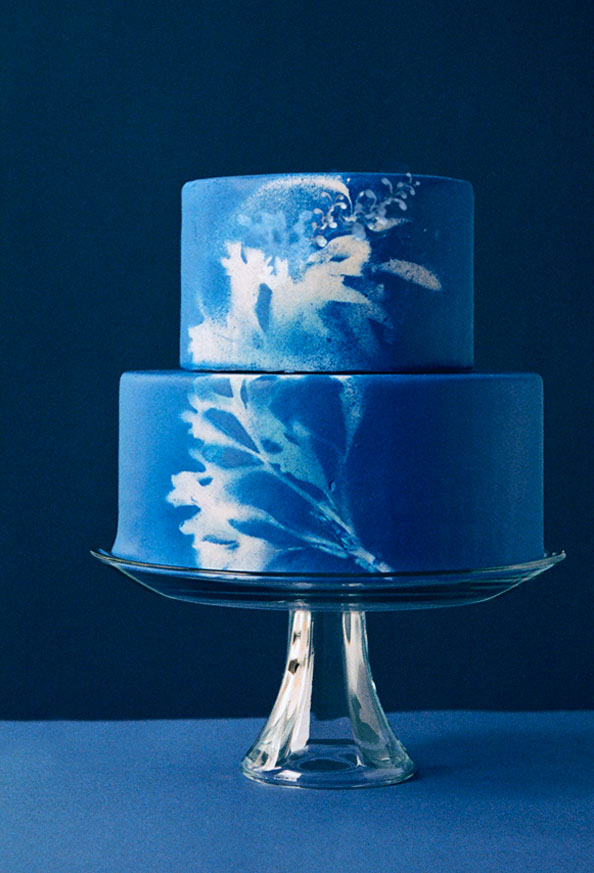 Photo via Joy Thigpen at Once Wed 
Cobalt blue sunprint themed cake:
This gorgeous cake by Joy Thigpen was inspired by lovely watery sunprint artwork. Sunprints are created by placing objects on top of a special light-sensitive paper; you set it in the sun and come away with a white silhouette of your objects on a dark, bright blue background. Joy used cobalt blue airbrushing paint and some foliage sprayed on top of fondant to make this uniquely beautiful cake.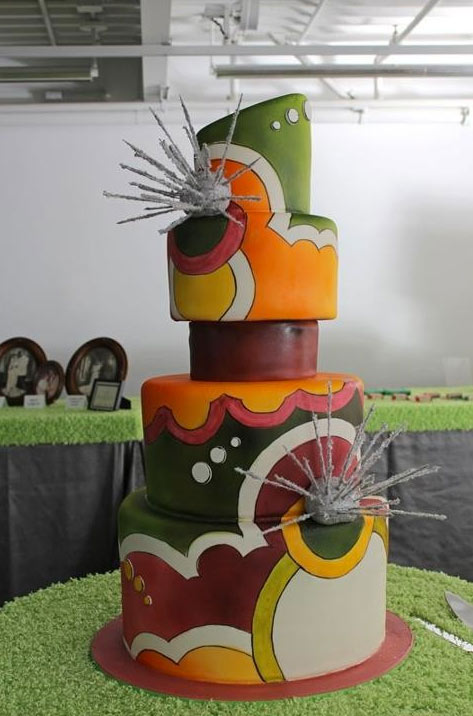 Photo via Amanda Oakleaf Cakes 
Vintage 1960s pattern airbrushed cake:
This cake pattern reminds me of some psychedelic artwork or 1960s Marimekko fabric patterned dress! I love the unique colors featured: red, orange, yellow, cream and green. The space satellite sputnik-style silver starbursts add an interesting touch too.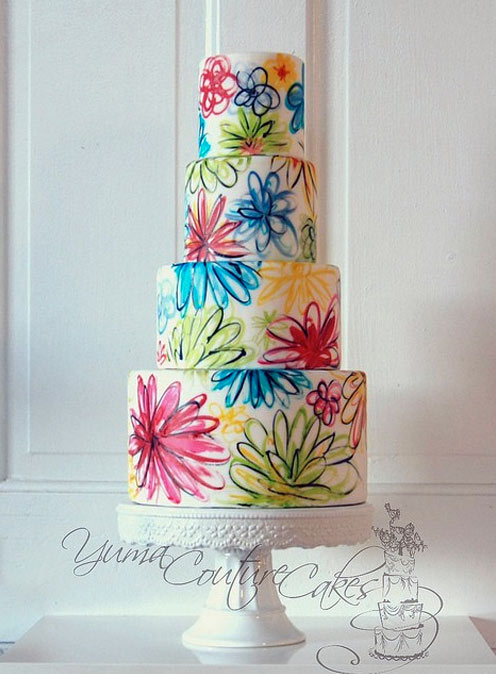 Photo via Yuma Couture Cakes 
Vintage floral airbrushed cake:
This retro four-tiered fondant and airbrushed cake reminds me of a tea towel or apron in the kitchen of a 1950s happy housewife! The colorful and painterly the florals look amazing, and the outlining in black makes the flowers pop in a unique way.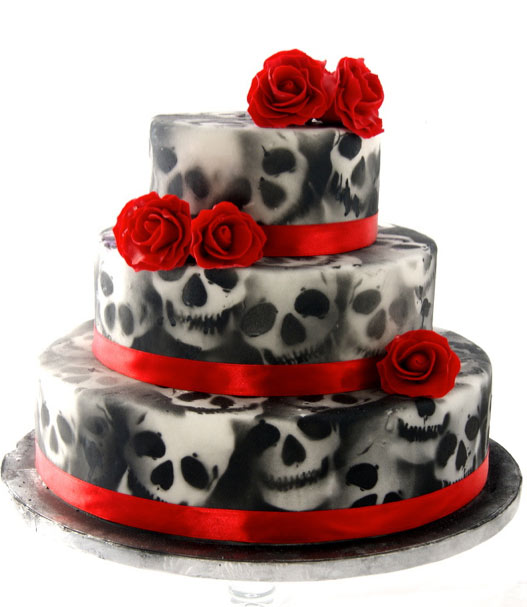 Photo via Stiletto Studio
Skull and roses airbrushed wedding cake:
Airbrushed cakes come in all shapes, sizes and styles: for example this cake layered with ghoulish looking smiley skull faces. Perfect for a gothic or alternative wedding, this cake could also double as a Day of the Dead celebration cake with its bright red roses!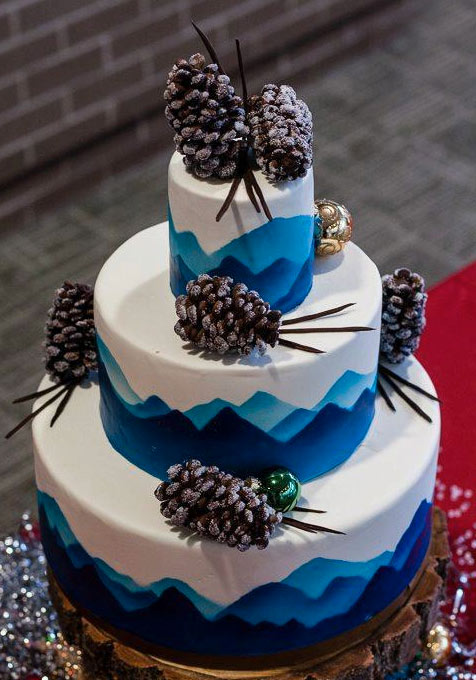 Photo via Bluprint member Quirky Bits n Pieces 
Winter mountain scene airbrushed cake:
I love the gorgeous watery rich tones of the overlapping mountains on this cake, which make me recall silhouettes at dusk. Believe it or not, those are edible dark modelling chocolate pinecones, too. This is a great winter cake by Bluprint member Quirky Bits n Pieces! Be sure you add your cake projects to your Bluprint profile page and you could be featured on our blog, too!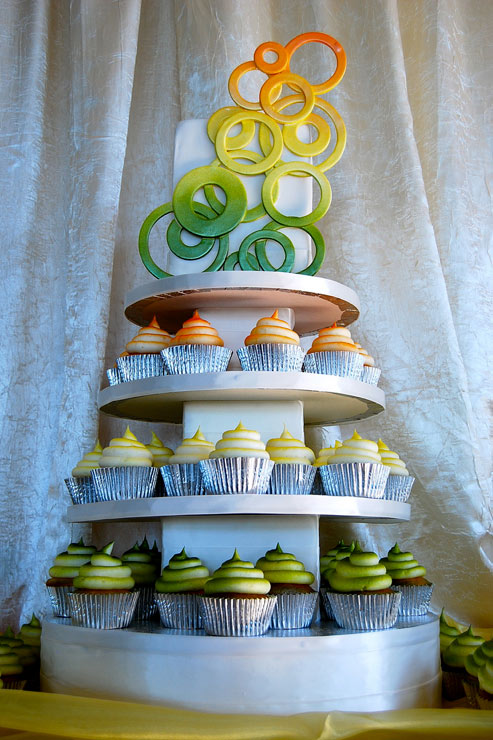 Photo via Elisha Shibuya
Unique ring themed wedding cake:
Airbrushing a wonderful tool for creating ombré cakes! This cake artist selected great colors for this airbrushed cake. And, I love the matching cupcakes, featuring rings with a bubbly 1960s cocktail party feel.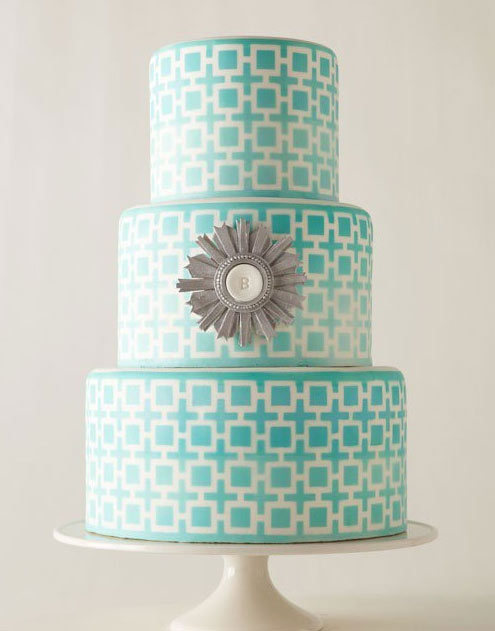 Photo via Erica O'Brien Cake Design 
Geometric airbrushed cake with silver monogram:
I love how this cake design was inspired by a beautiful rug: Jonathan Adler's Nixon rug. The aqua color was custom mixed, and the incredible silver monogram was hand cut from gum paste and airbrushed in silver. This cake has a fantastic retro geometric feel, don't you think?
Ah, airbrushing! I know I'm curious to try it out; how about you? Bluprint has so many new cake decorating classes in all the latest cake trends, including The Art of Airbrushing, covering practical tips and techniques for flawless airbrushing.
What will you airbrush first?