We're thrilled to have newly minted Craftsy instructor and renowned nutritionist Ellie Krieger sharing a sneak-peek from her online class, Flavor Comes First: Healthy Meals That Taste Delicious. Today she's whipping up an avocado green goddess recipe so delicious and versatile, salads are just the tip of the iceberg of tasty possibilities.
Avocado Green Goddess Recipe
Yield: Serves 6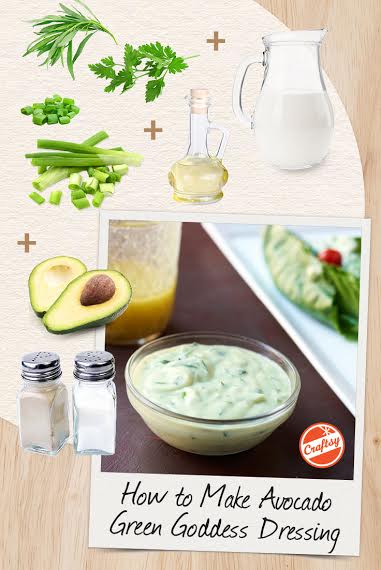 Ingredients:
1 ripe avocado, peeled and pitted
1½ cups (360 ml) low-fat buttermilk
3 tablespoons white wine vinegar
2 scallions, green and white parts, coarsely chopped
¼ cup (7 g) fresh tarragon
¼ cup (7 g) fresh flat-leaf parsley
2 tablespoons chopped chives
½ teaspoon salt, plus more to taste
Pinch white pepper
Method:
Place all the ingredients in a blender or food processor and process until smooth.
Serving suggestion:
Dress wedges of romaine lettuce hearts, scattered with halved cherry tomatoes.
Nutrition facts:
Serving size: ⅓ cup (80 ml)
Per serving: Calories 90; Total Fat 6 g (Mono Fat 3.5 g, Poly Fat 1.5 g, Sat Fat 1 g); Protein 2 g; Carb 7 g; Fiber 3 g; Cholesterol 5 mg; Sodium 27 0mg
Excellent source of: Vitamin K
Good source of: calcium, Vitamin C
Want more healthy tips and exclusive recipes from Ellie Krieger?
Find them here in her Craftsy online kitchen.

Join now »