It's that time of year when the leaves begin to change color and temperatures begin to dip. There is a crispness in the air and on some very special evenings, the moon rises lower than usual and glows in colors that rival the treetops — a harvest moon.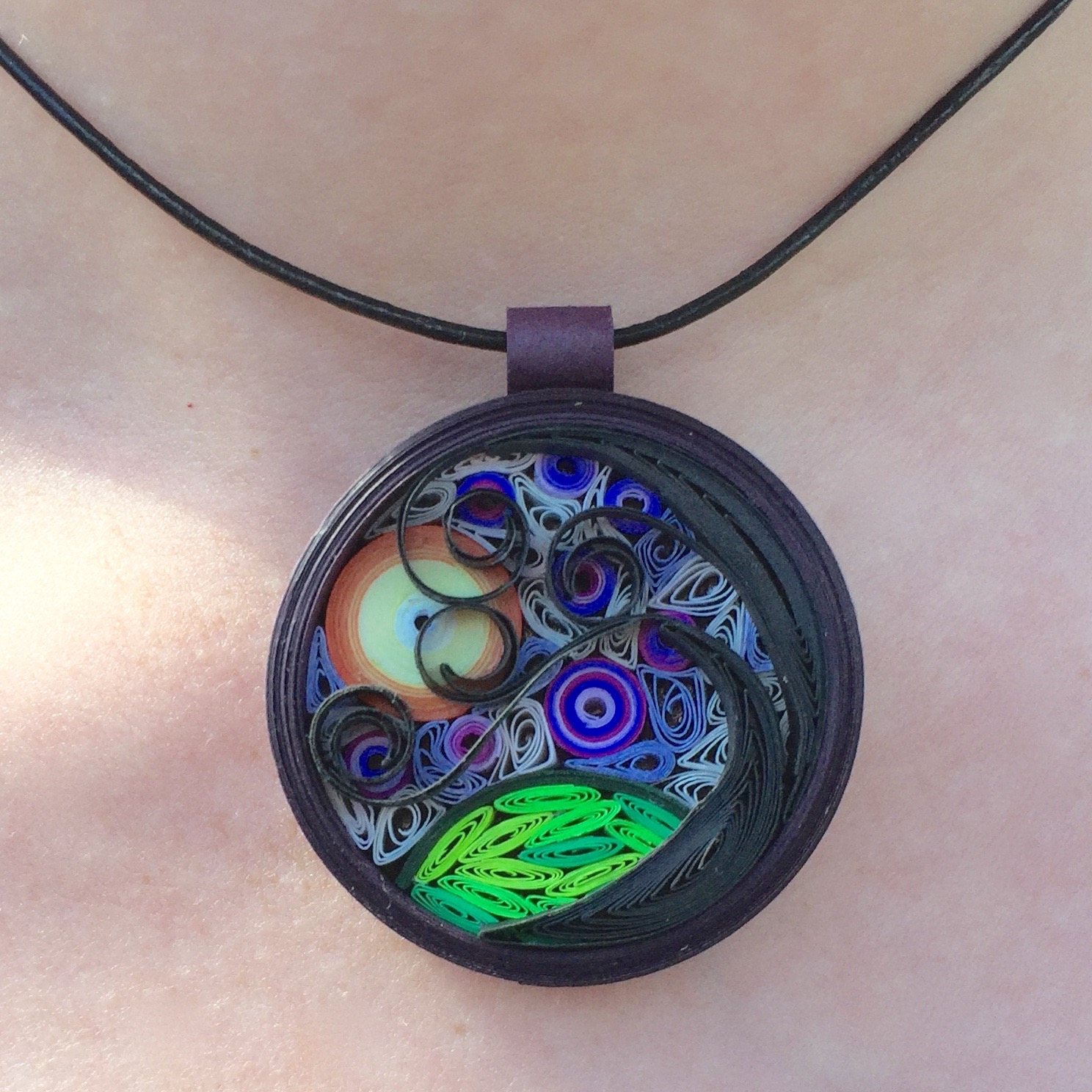 Images via Little Circles 
In celebration of this rare lunar occurrence, here is a free autumn quilling tutorial for a harvest moon pendant that can be rolled up in just a matter of hours. With three layers using multiple widths of paper, this pendant is a challenge to make — but when you have the right quilling tools and techniques, these step-by-step instructions and plenty of detailed photographs, even the new quiller can successfully tackle this project.
This quilling project assumes that you have some basic quilling knowledge. If this is your first quilling project, please download and practice this free basic quilling shapes tutorial before attempting the harvest moon pendant.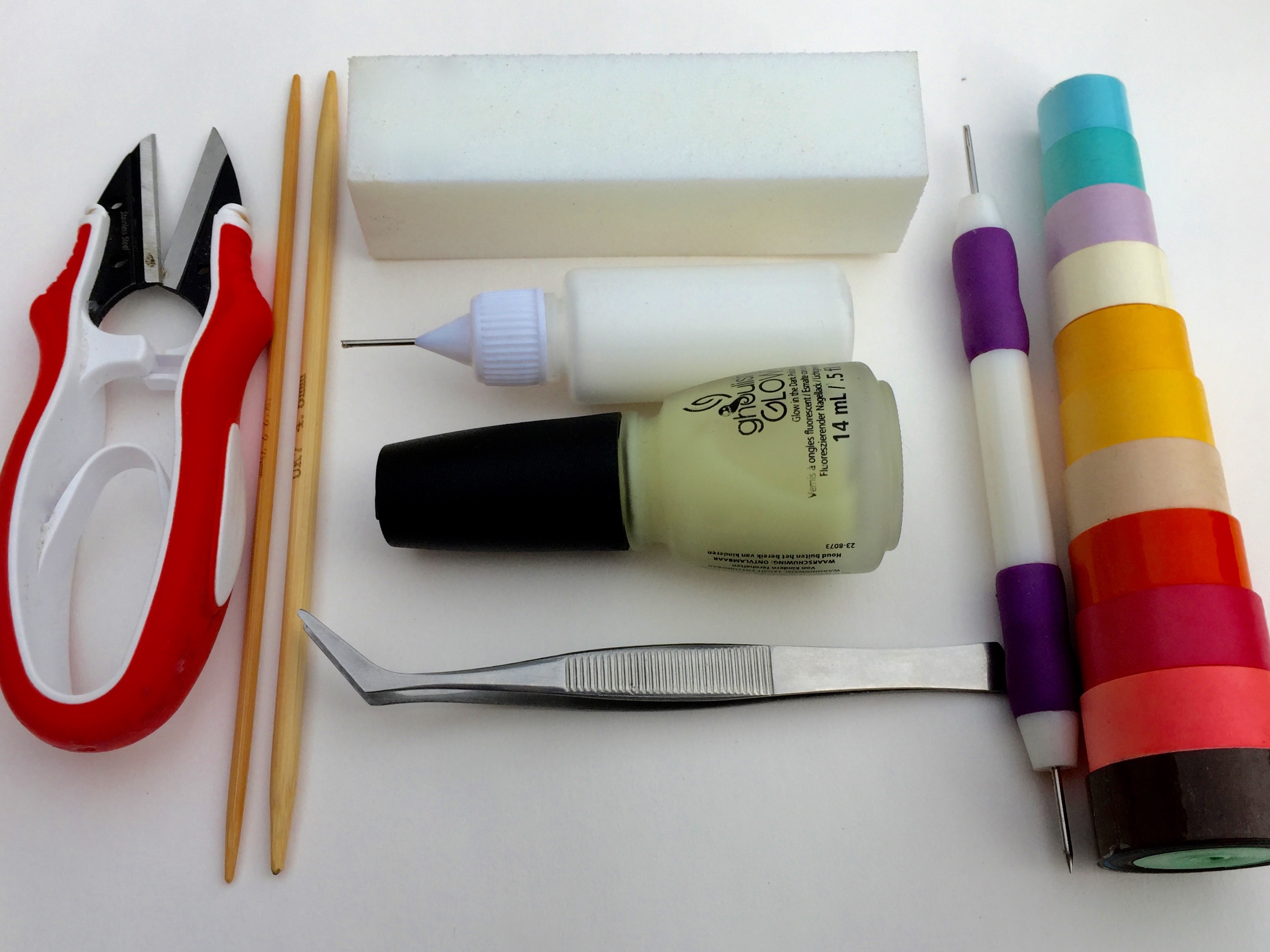 What you'll need:
Download free Harvest Moon Pendant pattern PDF
1/4″ quilling paper strips (one color)
Coordinating 2×2″ square piece of paper
1/8″ quilling paper strips in black, dark green, three shades of light green, four shades of yellows and oranges, three shades of violet and three shades of gray
Quilling glue in needle tip applicator bottle
Slotted or needle tip quilling tool
Nail buffer block or light sand paper
Scissors
Angled tweezers
Stacked quilling form
Quilling needle forms
Glow-in-the-dark nail enamel
Quilling craft enamel sealer
Cord/chain for stringing pendant
Jewelry hardware and tools if needed
Harvest moon pendant tutorial
Getting ready
First things first: Download the free Harvest Moon Pendant pattern PDF now. All specific paper cuts, lengths, widths, quilling supply resources and additional step-by-step images are in the download.
Step 1: Create the outer pendant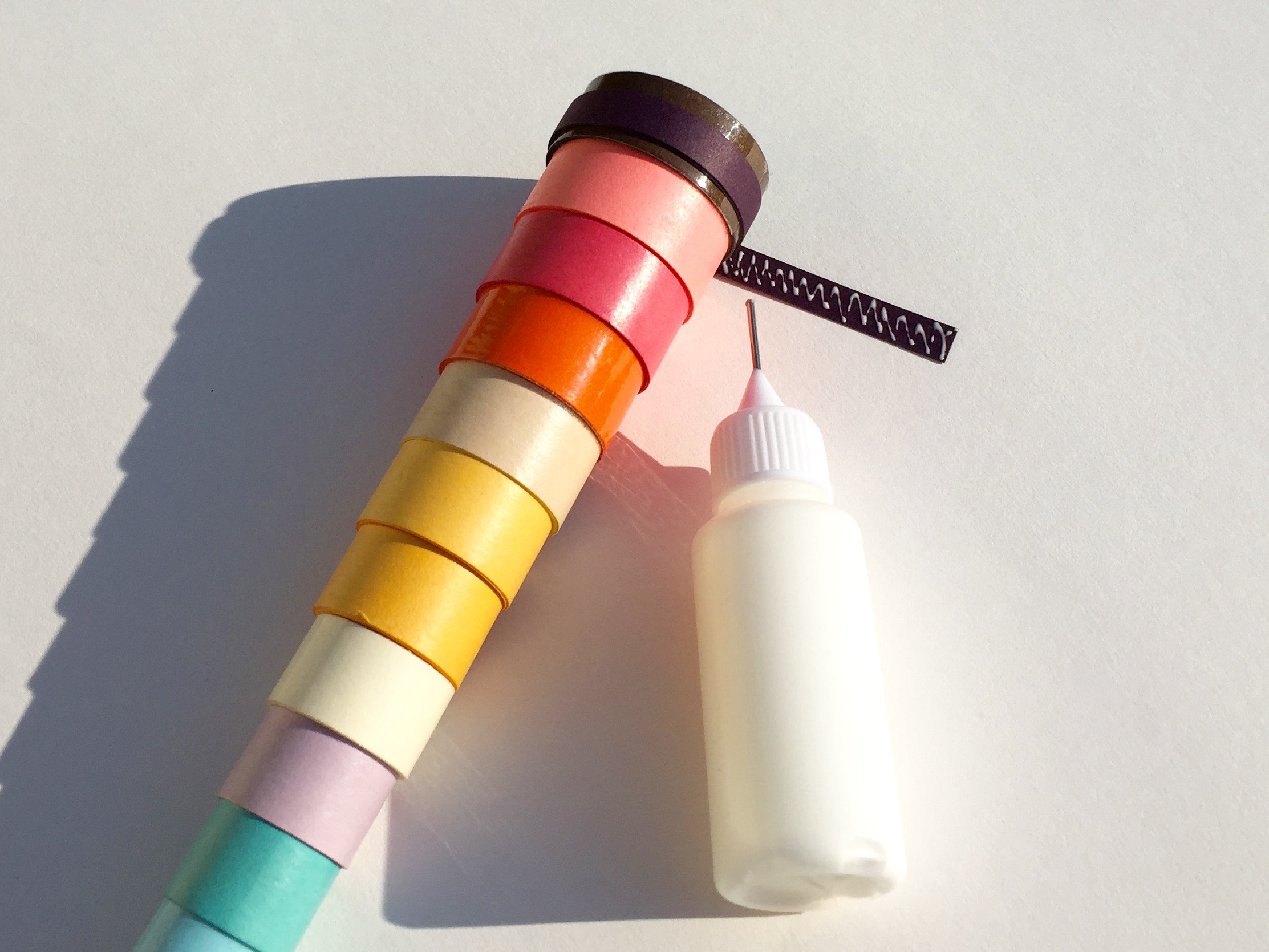 Unlike many quilled pendants, this project is created entirely out of paper. Begin by quilling an outer ring using three strips of 1/4″ quilling paper (17″ length) and the 10 cm tier of a quilling form. A layer of glue between the strips will strengthen the ring and prevent it from becoming misshapen in later steps.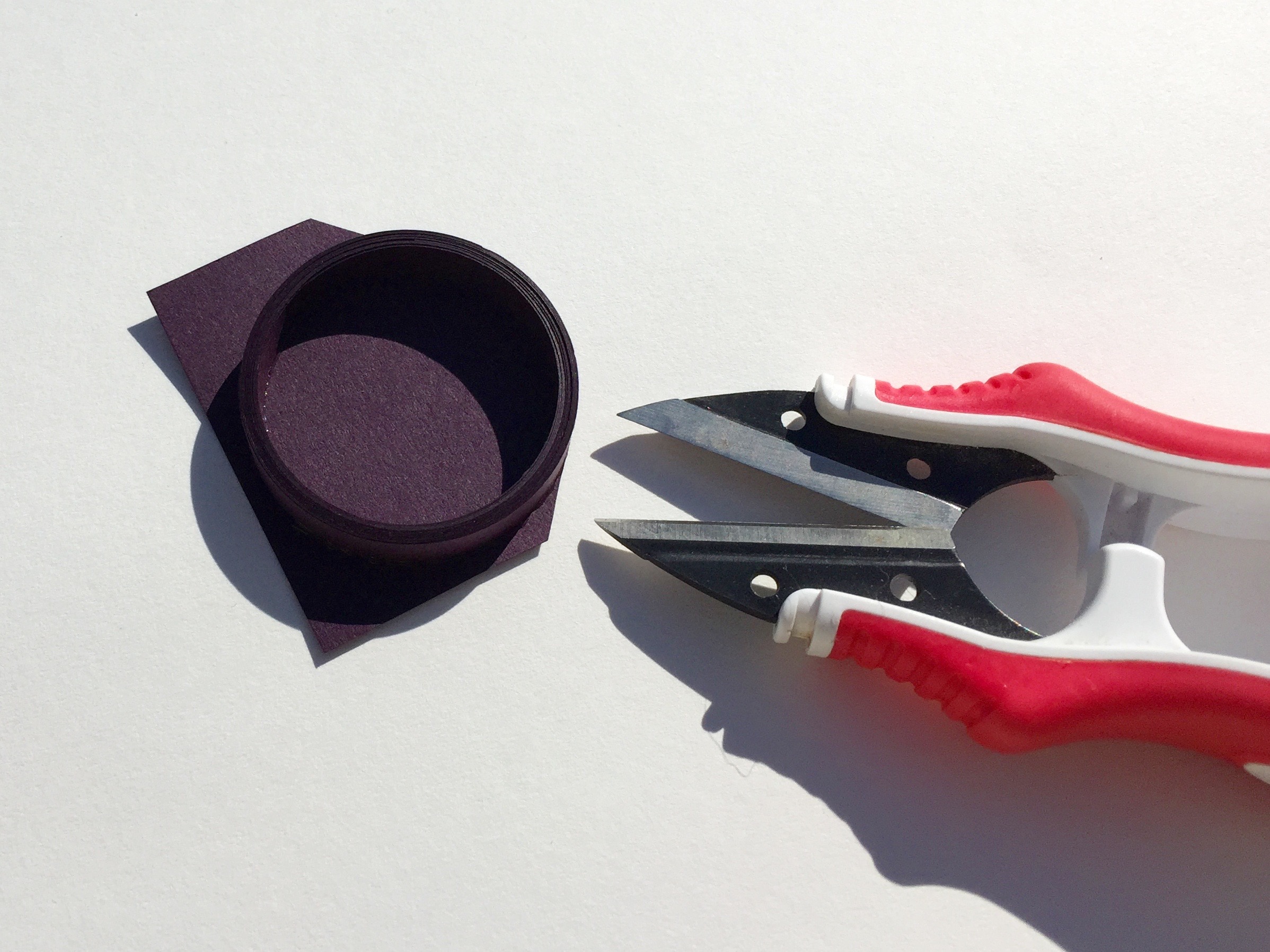 Once the glue has dried, trim away the excess paper around the pendant form.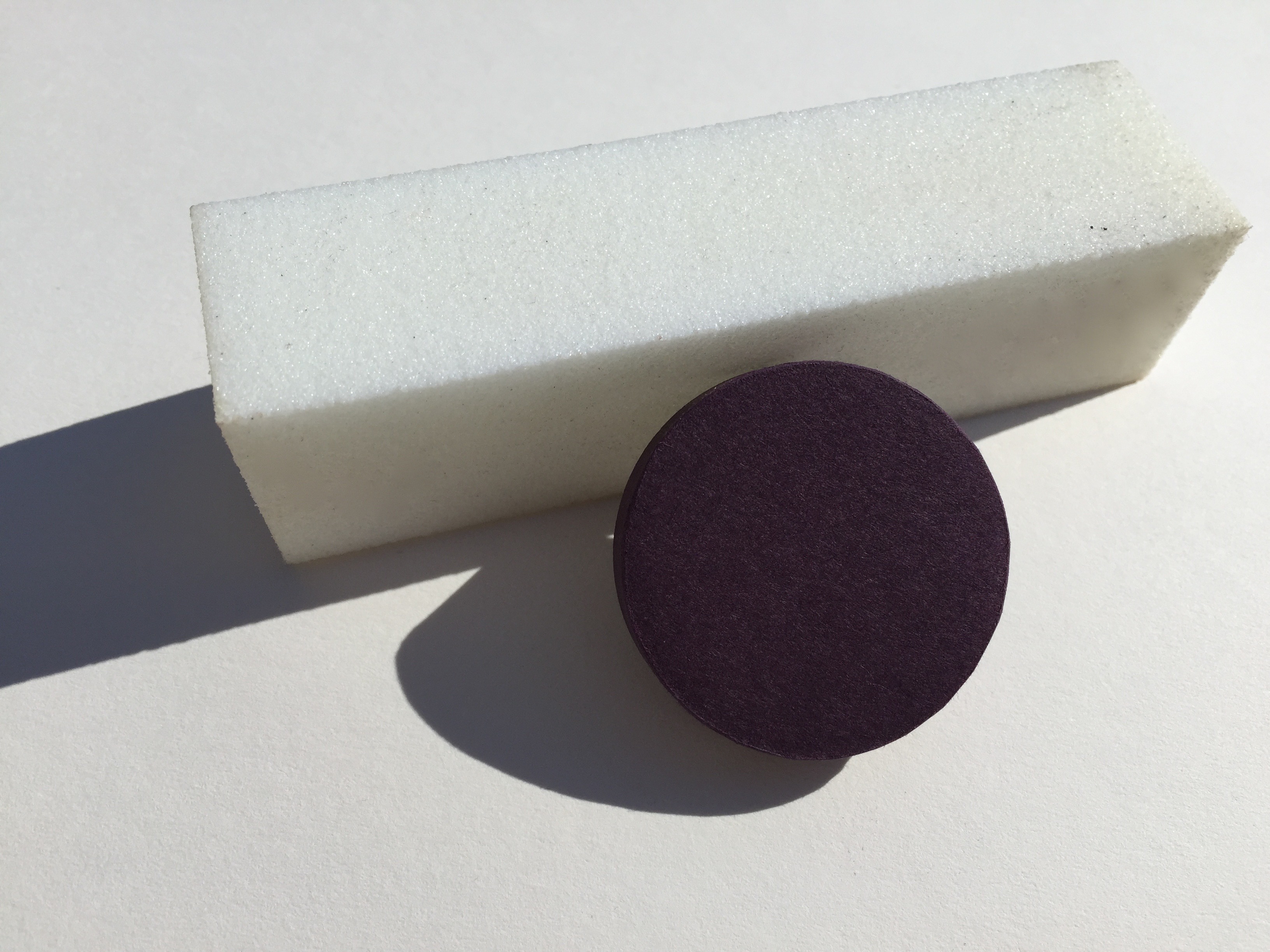 Use a nail buffing block or very light-grit sandpaper to smooth out the rough edges along the seam. Apply a small amount of water with a cotton swab or your finger to gently remove any paper pulp residue.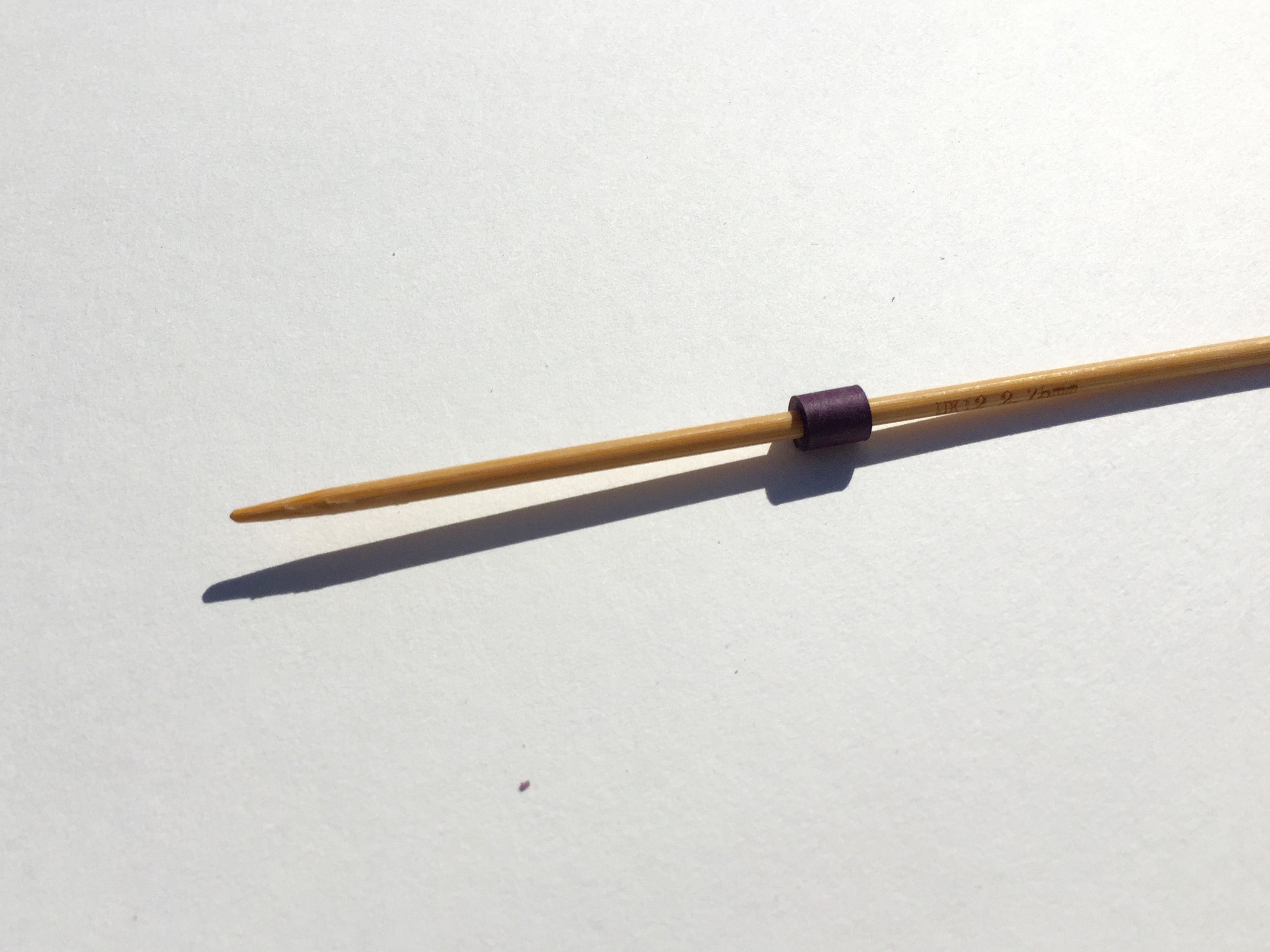 Roll a closed coil using a 2.75 mm quilling needle form and a 4-1/4″ long strip of 1/4″ quilling paper. Attach with an ample dot of glue to the top of the pendant and allow to dry.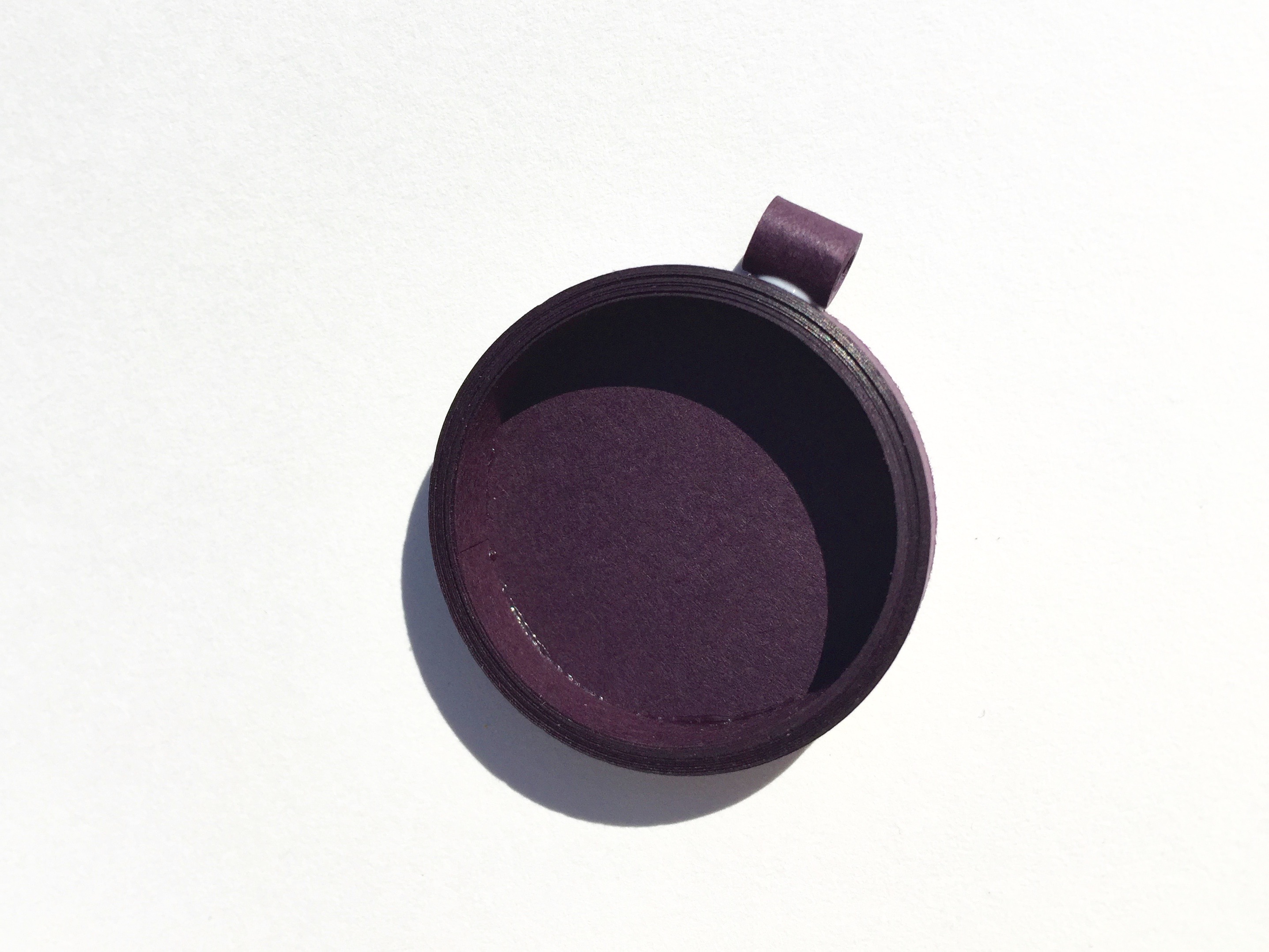 Step 2: Create the grassy hill
With the a 1/8″ wide strip in your darkest shade of green, create a closed coil. Roll one 17″-long strip with glue between the layers on the 5 cm tier of your stacked quilling form.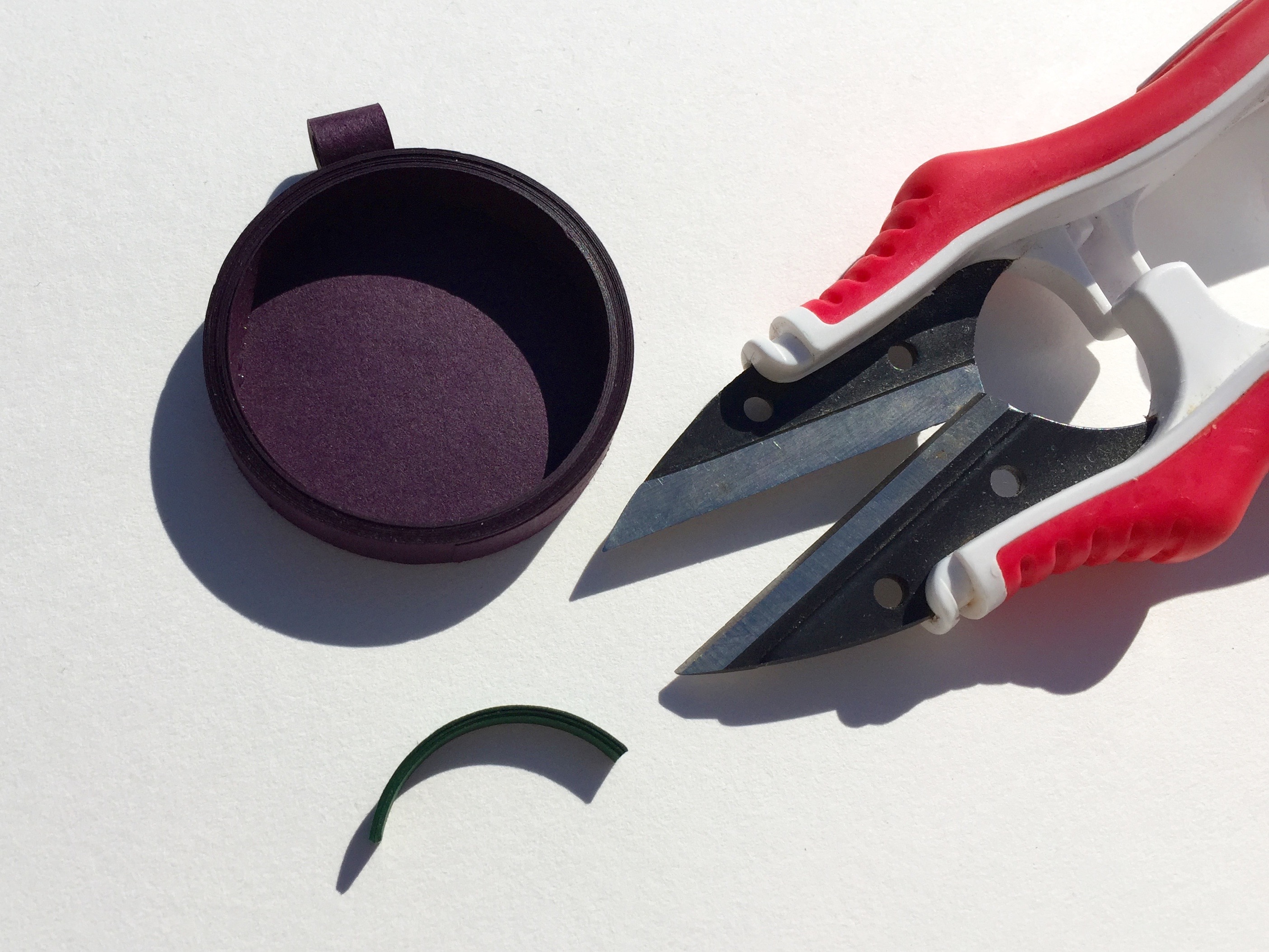 Once the glue has dried and the ring has hardened, cut a portion out (a little less than half of the ring) to use as the hill outline. Place glue on one edge and both ends of the semicircle and use tweezers to insert into the pendant. Take care to align the center of the hill with the top of the pendant.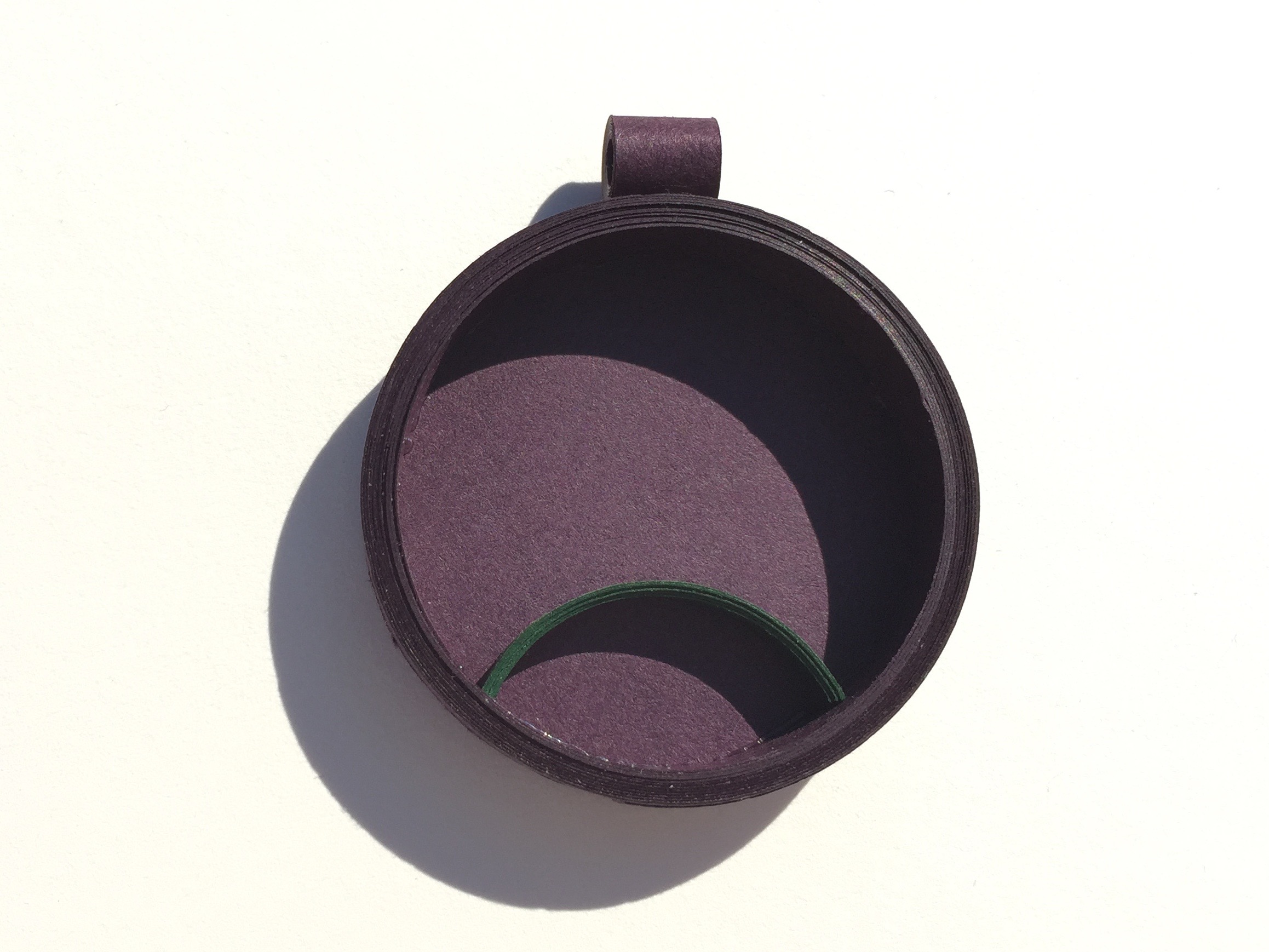 Cut two strips each of the 1/8″ three lighter shades of green into eight equal parts. Quill them into loose coils using your slotted quilling tool; secure the ends with glue. Shape each coil into marquis.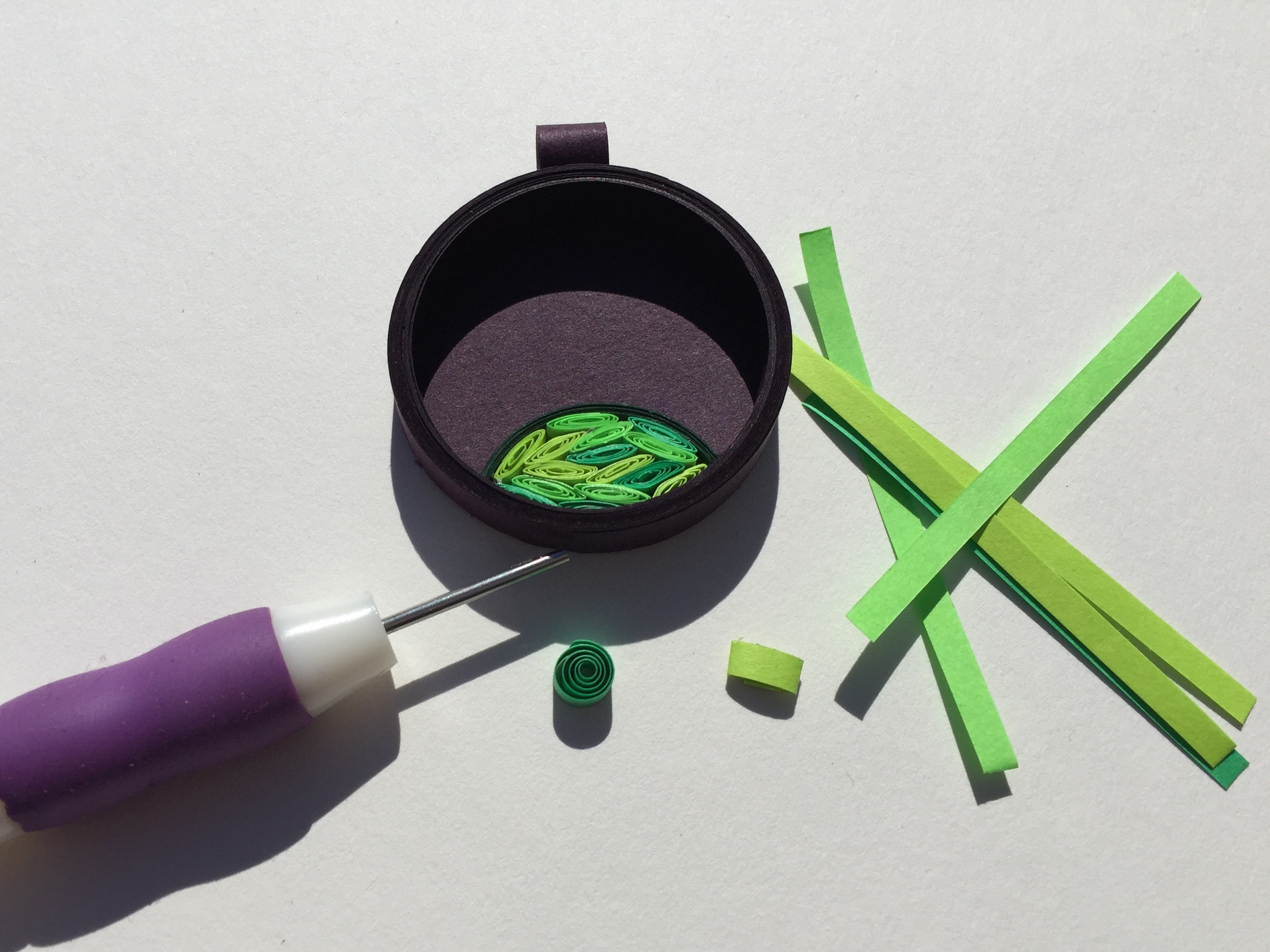 Once all pieces are rolled, apply a layer of glue to the hill portion of your pendant and insert the marquis using your tweezers. Pack the shapes in as tightly as possible without allowing the marquis to change shape.
Step 3: Roll the harvest moon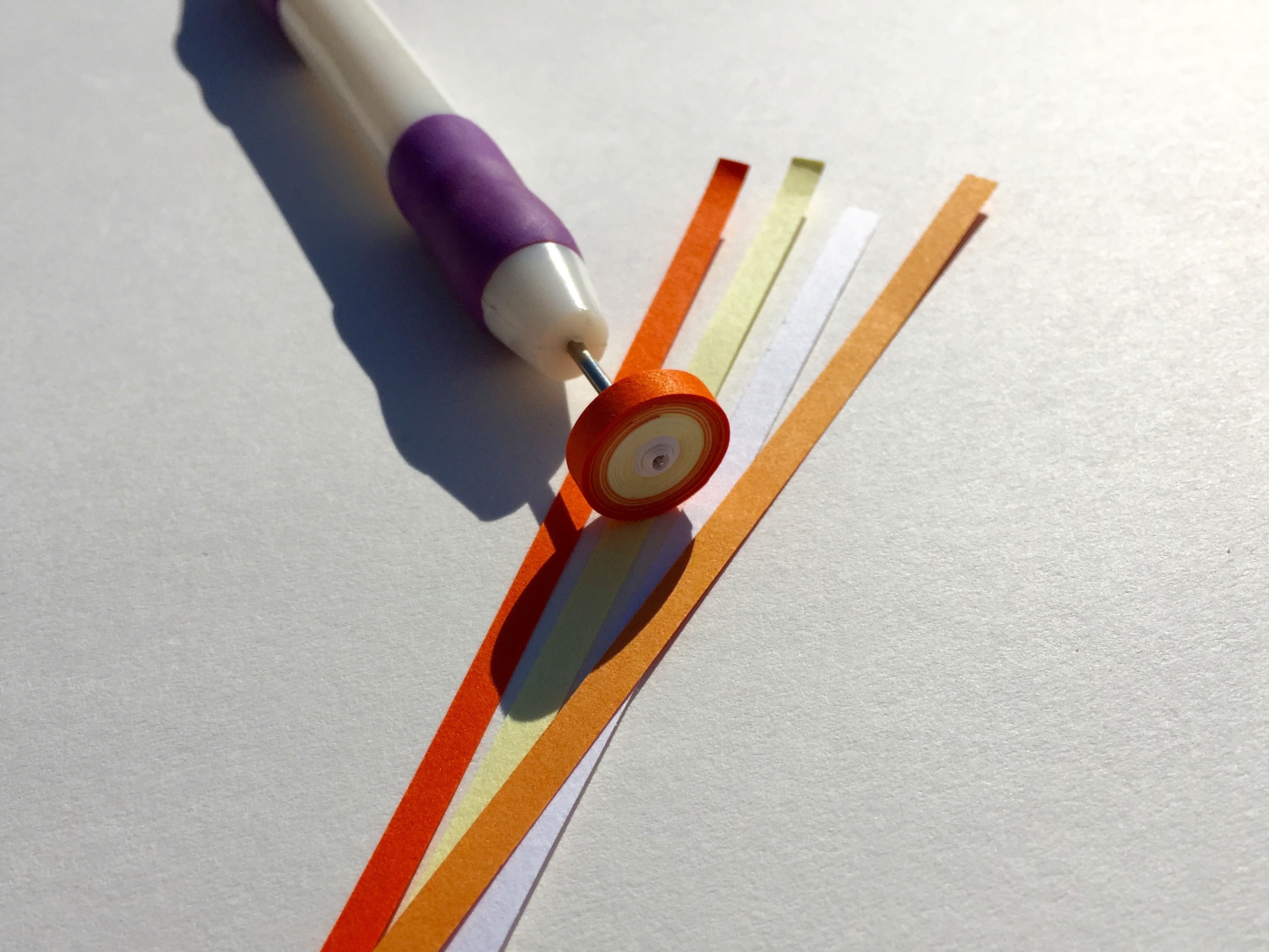 Using four 4-1/4″ strips of oranges and yellows, roll a closed coil with your quilling tool.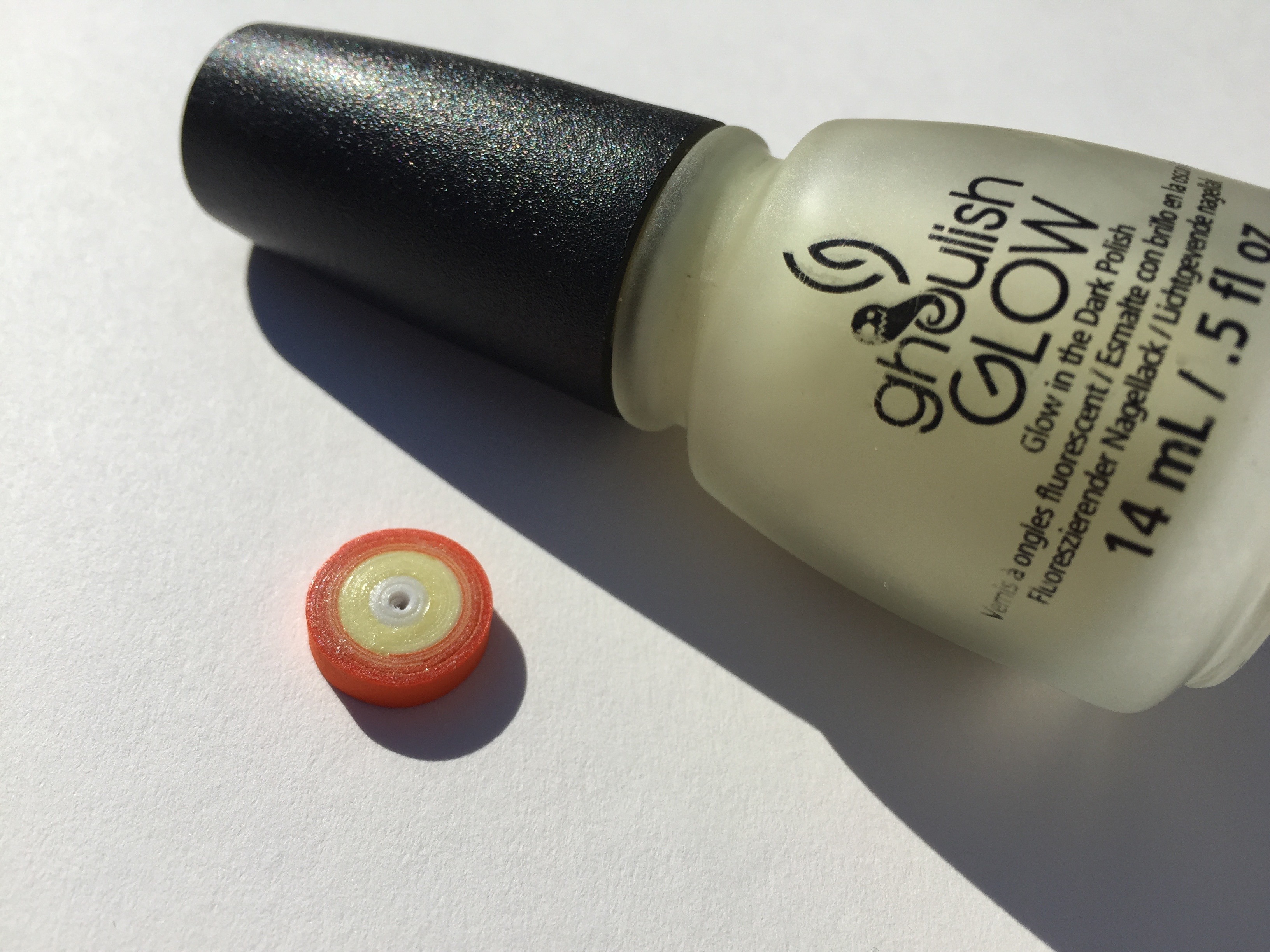 Paint the top of the coil with two layers of glow-in-the-dark nail enamel so that your harvest moon will continue to glow as the lights go out.
Glue the coil into place on the left-hand side of your pendant.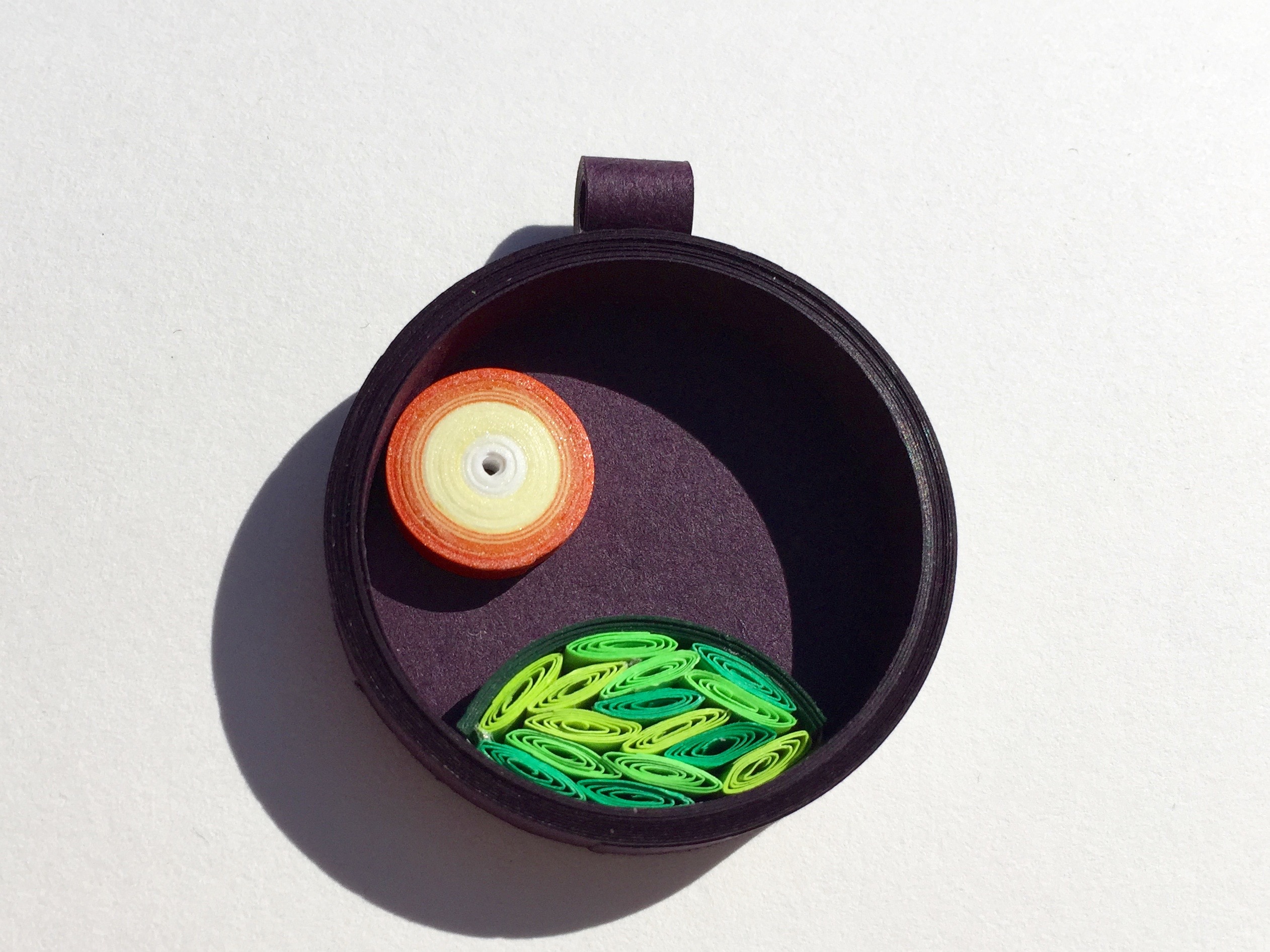 Step 4: Create small coils for additional interest
Cut two strips each of the three shades of 1/8″ violets into varied lengths (less than 2-1/2″ each). Roll multiple combinations of two or more colors into small closed coils and glue them into the pendant. Concentrate on the center and left-hand side for placement; the tree silhouette will cover a great portion of the right hand side and the coils will not be visible.
Step 5: Fill in the background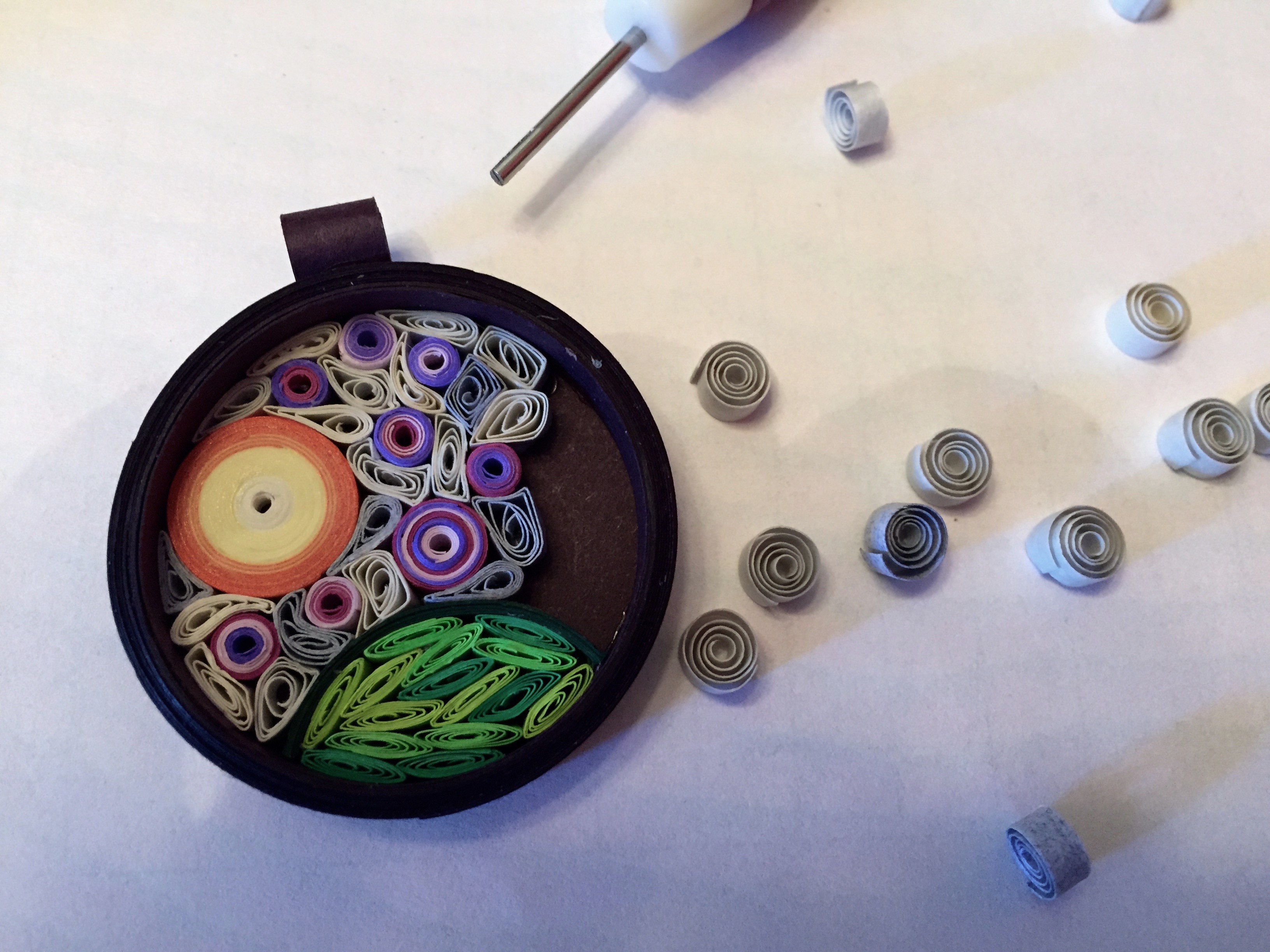 Cut the three shades of 1/8″ gray (approximately two 17″-long strips each) into 4-1/4″ pieces and roll into open coils with your quilling tool. Secure ends with glue and shape into whatever is needed to fill in the negative space of your background. Your quilling tweezers will be extremely helpful during this process.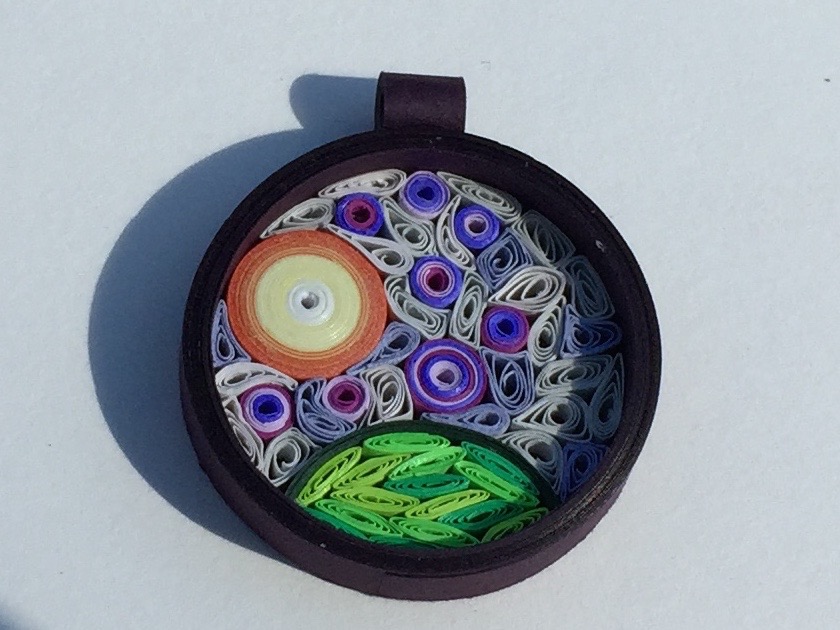 Step 6: Quill tree silhouette branches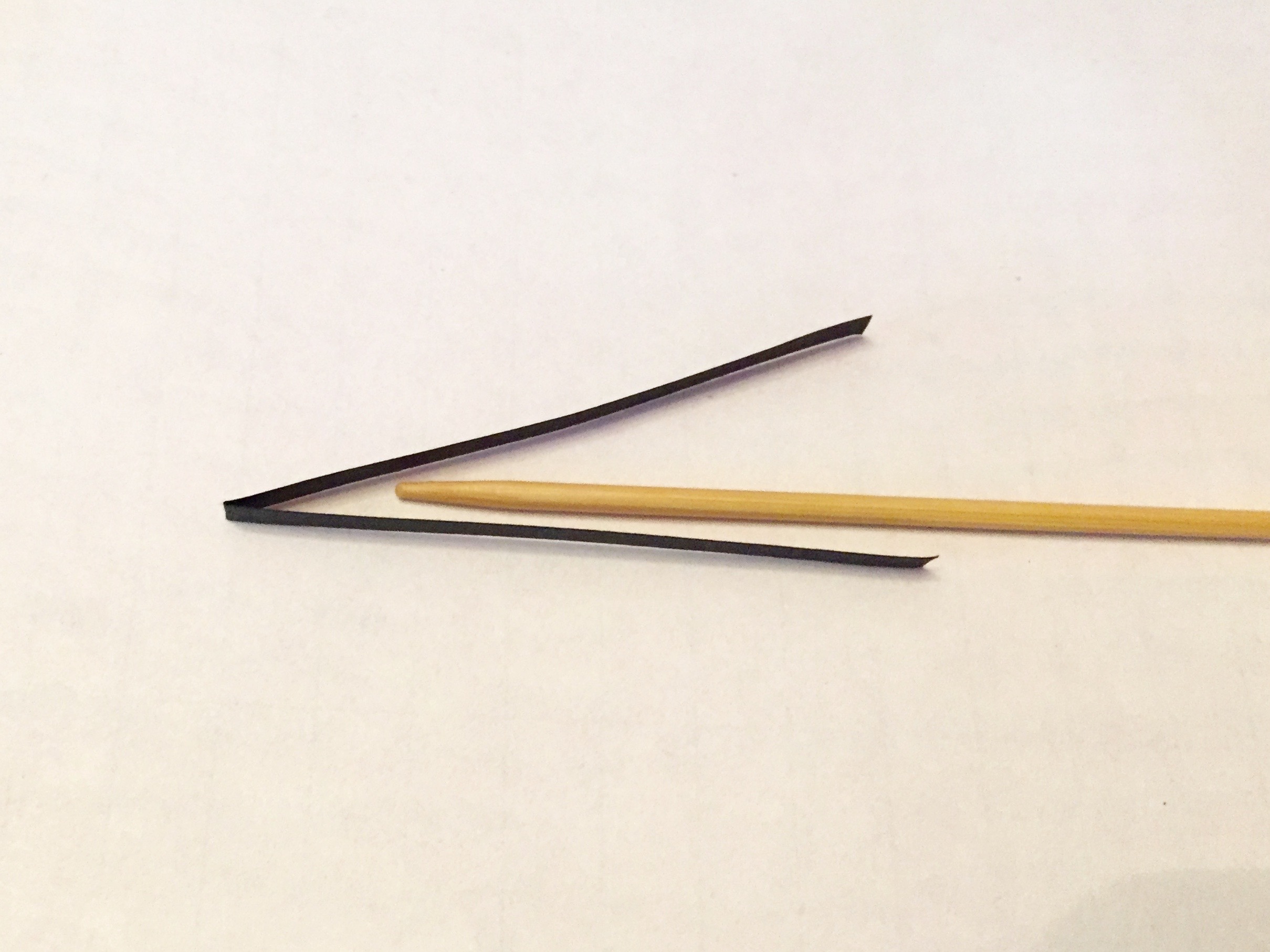 To create the four swirly branches of the tree, you will need one strip of 1/8″ black quilling paper cut into quarters. Fold each quarter in half and roll into a loose coil using your 2.75 mm quilling needle form. Begin the coil at the folded point and roll about half way down. Remove the form and glue the straight pieces together. Once dry, cut to size.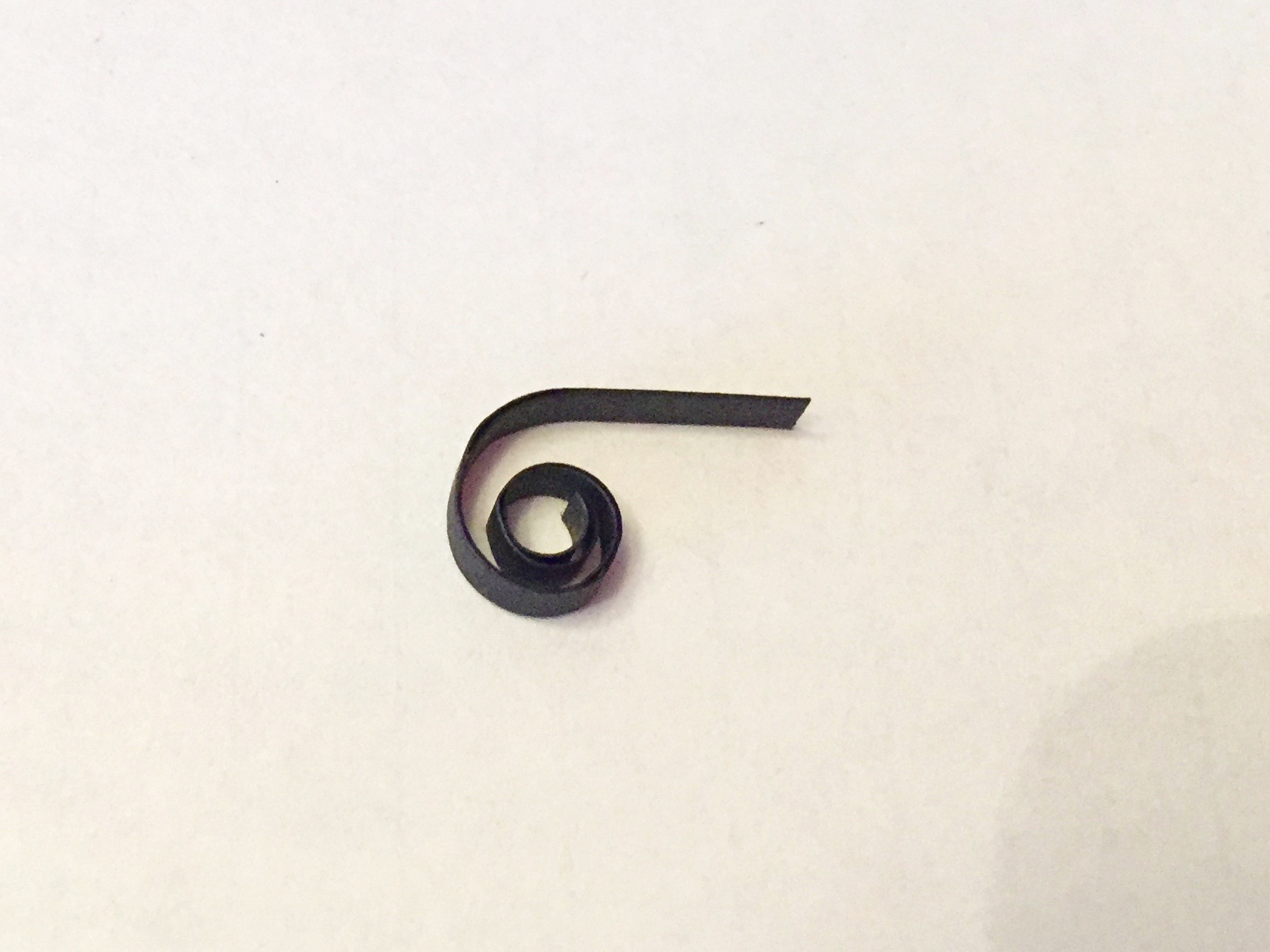 Step 7: Quill tree trunk and branches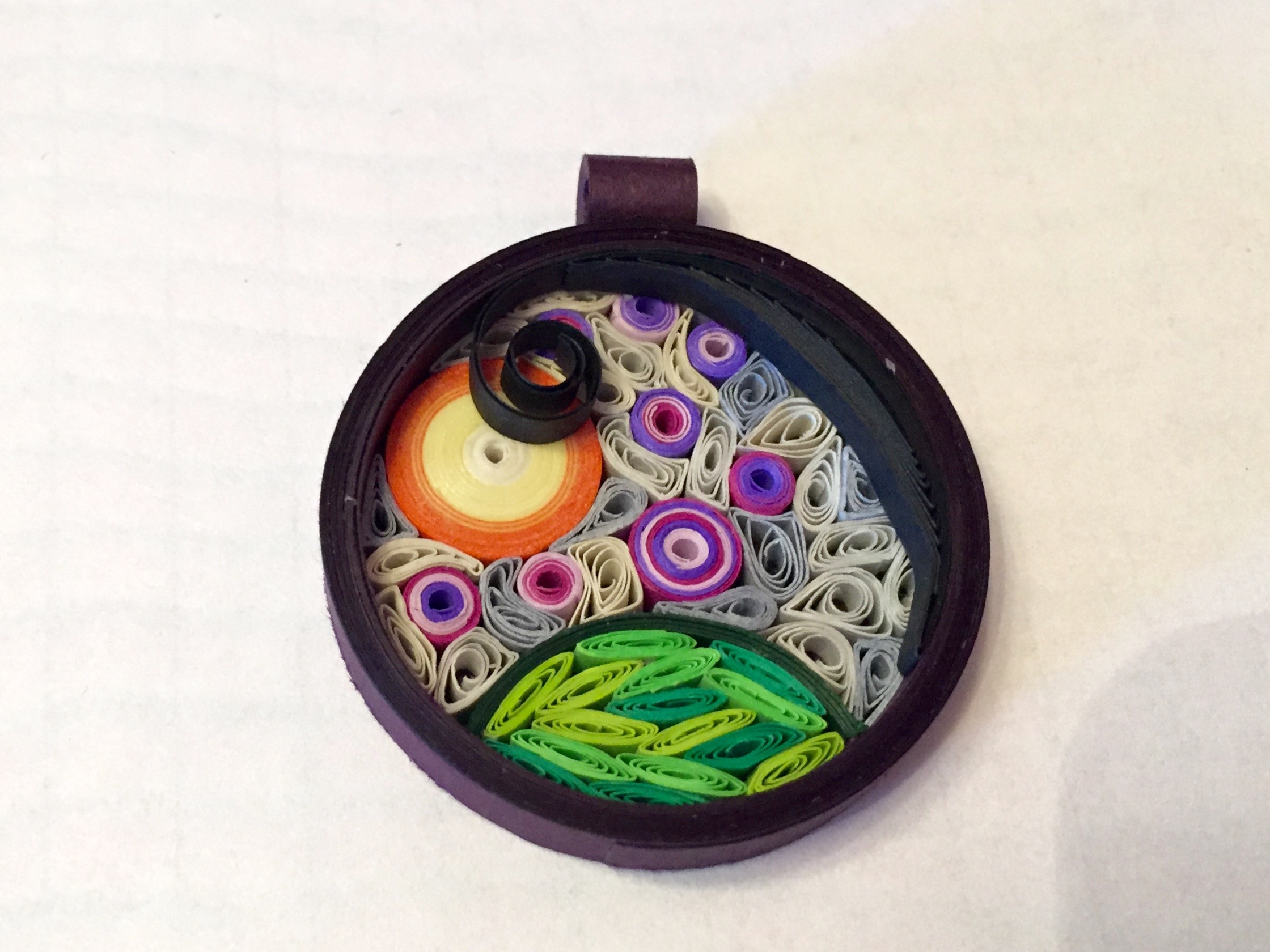 Create the top portion of the tree trunk by quilling an open coil using one 1/8″ strip of black (17″) with your 4.5 mm needle form. This tool will help create a more open center, which creates a lean, long shape. Shape the coil into a crescent moon and place at the top right-hand side, as shown above. Pair with one of the branches and glue into place.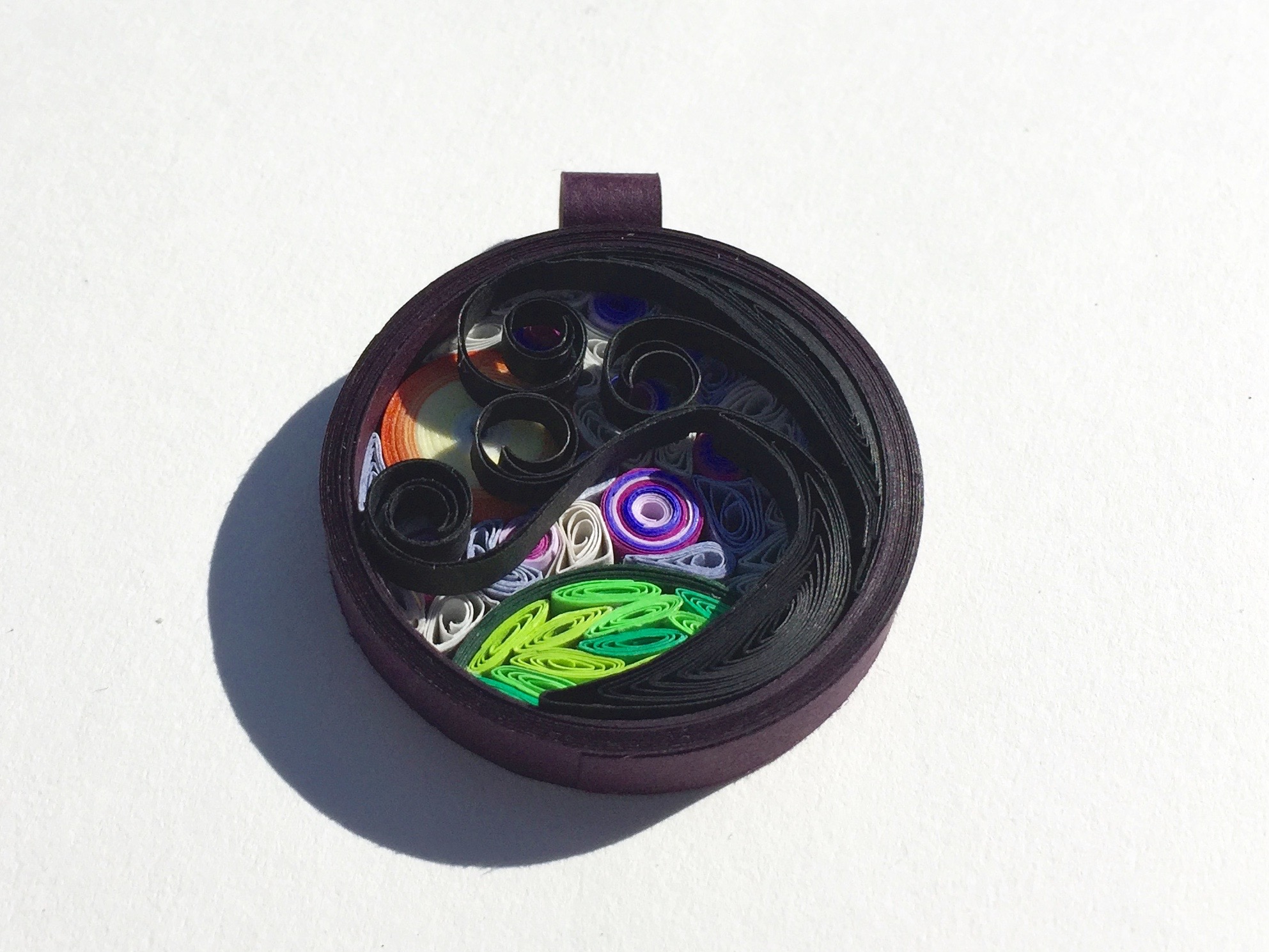 Quill the bottom portion of the tree trunk by using the same sized black quilling strip as the first coil but with your slotted tool. The tighter center will create a more densely formed coil. Shape the coil once again into a crescent moon shape, but curl down the points further. When glued into place, allow the top portion to break away from the trunk, thus creating a branch base. Attach the remaining three curly branches in any way you find appealing.
Step 8: Seal and protect
Now that you have worked so hard to quill this wearable art, you'll want to protect it with a sealer. I chose to use a quilling craft enamel that is painted on, but spray sealers and acrylic sealers are good options as well. When choosing a sealer, be sure to use one that offers UV protection (so your colors won't fade) and a water-resistant formula (so a little rain or sweat won't damage your pendant). 
Step 9: Turn your pendant into a necklace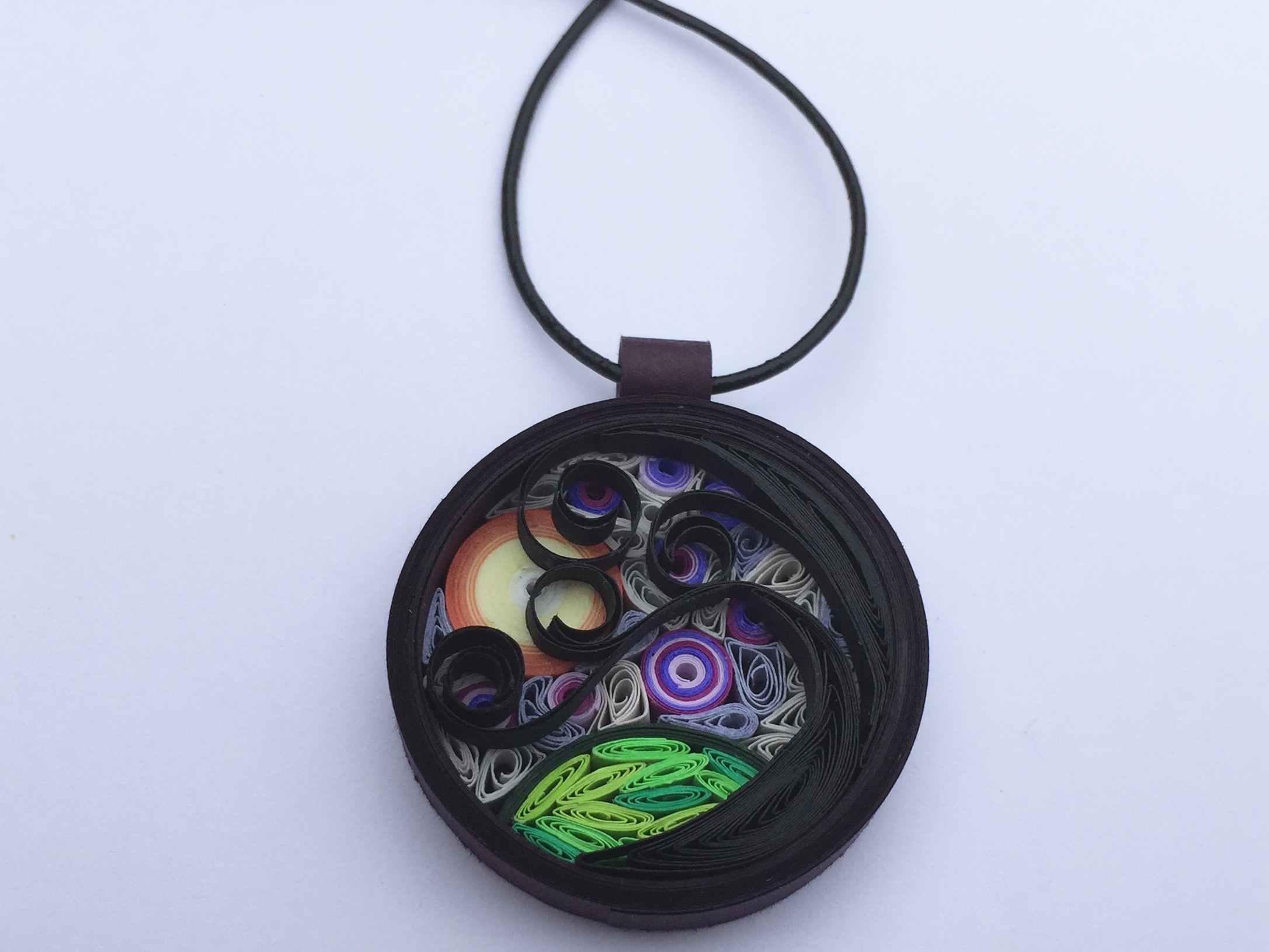 The last step is to string your pendant onto a cord or chain so that it can be worn as a necklace. I chose to use a leather cord and create my own findings, but you could just as easily use a store-bought version.
Autumn quilling at its best, this harvest moon pendant is sure to get some double-takes! The multiple layers provide a unique look, and, of course, there's the amazingness of it being entirely made of paper. It will be the perfect addition to any fall wardrobe, but you may want to consider rolling up a few more… It may be autumn now, but the gift-giving season is just around the corner!