Welcome to the Bluprint blog's Sunday drawing series! In Ask An Expert we share advice directly from our experts, in response to popular questions asked by our members. In this edition of our weekly series, professional artist Matt Rota explains how to draw perfect circles, fur in shadows and much more.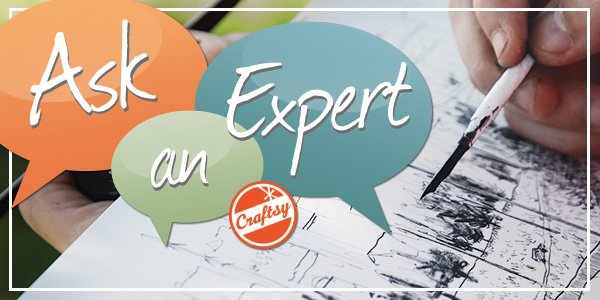 Meet this week's expert: Bluprint instructor of Mixed Media: Pen, Ink & Watercolor, Matt Rota
Matt Rota is a New York-based illustrator and fine artist specializing in narrative technique with watercolor and ink media. Named one of the top 200 illustrators in the world by Lürzer's Archive, Matt has received awards from the Society of Illustrators, Communication Arts and American Illustration. His clients include The New York Times, McSweeney's, The Washington Post and numerous additional publications. Matt currently teaches graduate and undergraduate courses in fine art and illustration at the School of Visual Art in New York City, The Maryland Institute College of Art in Baltimore and here on Bluprint.
Now onto the must-have answers:
A Bluprint student asks:
You make perfect circles so easily with your pen. When I do that, I get jumps and blotches. Any tips to keep in mind?
Bluprint instructor Matt Rota answers:
Great question! Always make sure the concave part of the pen is facing down, and as you're drawing your circle, make sure you are using a pulling motion and never pushing the pen forward. It's a good idea to experiment on a scrap piece of paper to loosen up: once you angle your wrist correctly, your circles will fall into place. Remember not to lock your wrist- that will help!

A Bluprint student asks:
Would you use crosshatching to mimic fur and feathers in shadow, or would you simply add more fur/feathers to darken the area?
Bluprint instructor Matt Rota answers:
Sounds like you're working on a very intriguing drawing! In this instance, I would not suggest crosshatching to indicate shading. Mimic the texture of the fur or feathers using a series of dashes. Then, use darker, bolder lines to darken this texture, and light, loose lines in highlight areas. You'll create contrast that will enhance the realism and quality of your work!

A Bluprint student asks:
How do you create a broader, looser brushstroke to use as a fill for shaded areas?"
Bluprint instructor Matt Rota answers:
My preferred method is to dip my brush in ink, dab it lightly on a paper towel, and test the stroke to make sure I'm happy with it. Then, I'll apply light pressure to flatten the bristles of my brush and create a sweeping, textural effect. This method is known as dry brushing, and it's a versatile, effective way to mimic texture, add shading and much more!

A Bluprint student asks:
How do you compose a piece so that there will be negative space left to fill in with watercolor? I'm having trouble "saving" areas of my work instead of adding detail and texture to everything.
Bluprint instructor Matt Rota answers:
Composition can be tricky, so I'm glad you asked this question. Part of the process is intuitive (and subjective), but I like to look to the areas of my drawing that would be highlighted based on a supposed light source, and leave those areas open. When you're just starting out, tt's also helpful to explore how other artists compose their negative space and shading and make similar decisions.