We recently had quite a few questions on free-motion quilting (FMQ) via our Ask an Expert questionnaire, in particular regarding free-motion quilting using a regular machine. In response, I thought it would be helpful to answer some of the many questions we received dealing with how to free-motion quilt on a regular sewing machine. Whether you enjoy machine quilting modern, art or traditional quilts, hopefully you will pick up a tip or two!
[box type="shadow"]
Join in on the fun by submitting your questions here– no matter what you're interested in, from knitting, quilting and cake decorating to photography, cooking or art– we'll pose the most frequently asked questions to our experts and share their responses right here on the Bluprint blog.
[/box]
Now, onto recent questions asked by Bluprint blog readers about free-motion quilting with a regular machine:
Question: "When quilting on a regular machine do you have to use special thread?"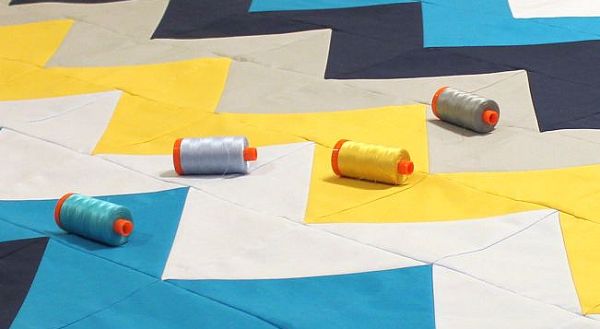 Auditioning thread choices is a great way to see what colors will work best.
Answer: No, you can pretty much use whatever thread you prefer, depending on the look you want.
For best results, try to match the thread colors in both the top needle and the bottom bobbin, and choose threads to match your fabrics. A thinner weight thread is great for when you are wanting to hide your stitches, or when you will be quilting a dense design, such as a background fill. A thicker weight thread works well when you really want your design to show. You can combine different weights and fibers of thread, even in the same quilt.
Here are some additional tips on making thread choices:
A 50-weight high-quality cotton thread like Aurifil is great for beginners because it's also the same thread used for piecing. It's thin, yet strong and comes in a wide range of colors. If you would like to your thread to show a bit more, try a thicker cotton such as a size 40 or 28 weight. Just remember that a thicker thread will require a larger needle.
A 40-weight high-quality polyester thread such as Superior Magnifico is great when you want your thread to show or want to add a little extra sheen to your design. Contrary to popular belief, today's high quality polyester threads will not cut into your quilt. If you want to use a thinner polyester, opt for a size 50 or 60 weight, and use the same weight in the bobbin.
Specialty threads like metallic or invisible threads can add just the right touch to your quilt, but they should be used with care as the top thread only. They may require a special needle and careful handling so as not to break while quilting.
Silk is the priciest of the threads and is thin yet strong. It's perfect for micro-stippling or machine appliqué work where you want your stitches to show as little as possible.
Question: "What is the stitch length we should use for quilting?"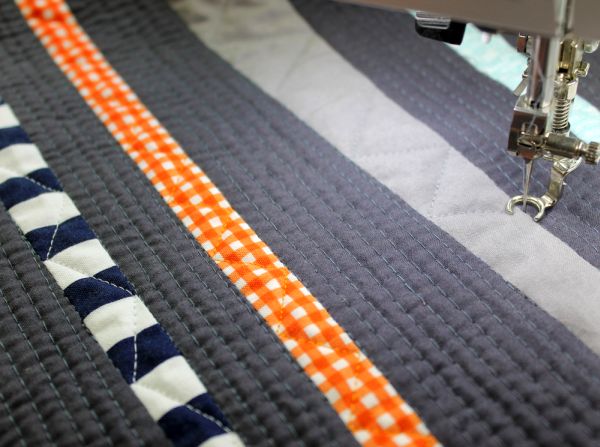 When free-motion quilting, set your stitch length to zero; photo via ChristaQuilts
Answer: When stitching in the ditch, or straight line quilting with a walking foot, increase your stitch length slightly. When using a free-motion foot with your feed dogs dropped or covered, set your stitch length to zero.
The weight or "drag" of your quilt can cause the stitches to shrink up while quilting. Therefore, increase your stitch length from 1/2 to one full number. For example, if your regular stitch length is a 2.5, increase it up to 3.5 and see if you like how that looks.
Always practice on a sample piece first using similar batting, fabrics and thread. When free-motion quilting, you are manually setting the length of your stitches by controlling the speed at which you stitch. Faster free-motion quilting will result in tinier stitches. Slower quilting will yield larger stitches.
Question: "I've tried free motion on my regular machine, but I either cannot fit the quilt under the arm or the stitches skip, and I have long lines of thread. How can I work with either issue?"
Photo via ChristaQuilts
Answer: Ann Petersen has put together a wonderful Bluprint class called Quilting Big Projects on a Small Machine that addresses those issues.
By utilizing quilt-as-you-go methods or other split-quilt techniques, you can easily fit your quilt under your machine. Skipped stitches are usually caused by dull needles or too much bulk under the machine. Be sure to switch needles after every 10-15 hours of quilting, and use a low loft batting, such as Warm N Natural, to reduce bulk.
Some of the newer machines, like the Bernina shown above, come with a larger throat space, which allows more room for containing the bulk of your quilt.
Sign up for Ann Petersen's Quilting Big Projects on a Small Machine.
What's your biggest issue when free-motion quilting on a regular machine?