We're back at it with more of the answers you need! This week in Ask An Expert, we share advice directly from our expert Elisa Strauss, in response to popular questions asked by our community members within our Facebook Club I (Heart) Cake Decorating. If you have a question you'd like to see answered be sure to submit it here— whether you're interested in knitting, quilting, cake decorating, cooking, art or more– and tune in every week to see if it's been answered.
Now, onto this week's intriguing questions and answers from Bluprint instructor of Sculpted Dog Cake, Elisa Strauss!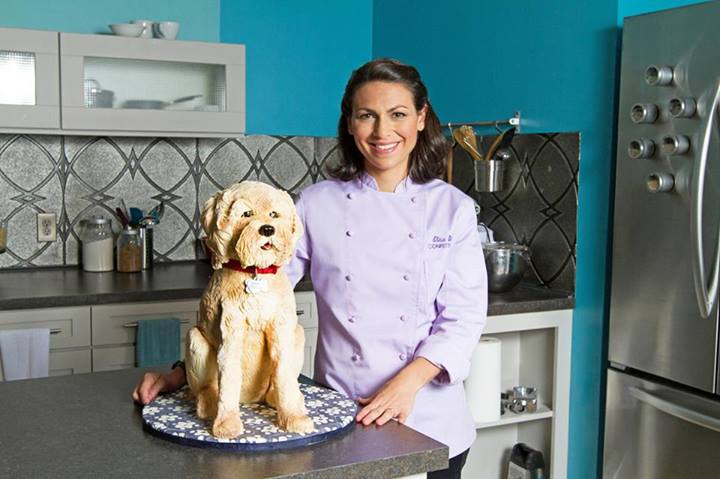 What is the one piece of advice you wish you'd gotten when you first started out?
Confetti Cakes: I wish I could tell you- I'm still learning every day! What I always tell people is not to underestimate the amount of "other" office work- its not enough to just love to make cakes. A lot more goes into running a business.
I (Heart) Cake Decorating: Which cake decorators do you admire most?
Confetti Cakes: How long do we have I love so many! Kate Sullivan is one of my favorites.
I (Heart) Cake Decorating: Are there any cake decorating techniques you still struggle with?
Confetti Cakes: Every time I make a new cake there is SOMETHING that goes wrong….that is the nature of custom cakes. I would love to have more time to learn more!
I (Heart) Cake Decorating: What inspired you to start decorating cakes?
Confetti Cakes: I always loved to bake but many, many years ago I picked up a cake decorating book by Colette Peters (another Bluprint instructor) and that was history!
I (Heart) Cake Decorating: What is your favorite cake you've ever made?
Confetti Cakes: That is hard- like picking a favorite child! But…I did love the 1st bday cake I made for my daughter Sophie.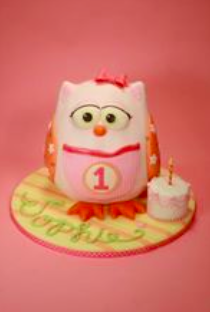 How do you stabilize whipped so it doesn't run?
Confetti Cakes: You need to put a stabilizer like gelatin inside- I prefer to use our Swiss Meringue BC…delicious, light and airy and stable!
Is there a cake you haven't made yet that you are dying to do? What is it?
Confetti Cakes: I love making animals look real- I've always wanted to do a sea turtle or something with a lot of interesting detail. Everywhere I look I want to make things into cake
I used to be a cake mix baker, but want to take the next step. Where should I start and what materials would you recommend? I love baking cakes and cupcakes. Thanks!
Confetti Cakes: I would search for one of your favorite bakers/bakeries and try some of their recipes or start with a recipe you like from a cake decorating book (look in the library so you don't spend a fortune).
I'm making an alligator cake and will be making the mouth open to show the teeth. What do you recommending I use to hold the mouth open? I saw a video where someone used cardboard and put cake on top for head and snout. Would that work?
Confetti Cakes: That is a hard question- I would think you need to secure it somehow under- so a dowel/bar that will hold up the foam core and hide it with "teeth" or a tongue.
How do you deal with copyright issues?
Confetti Cakes: Well- not easily I've had a few lawyers contact me in my time. I just get upset when it was the Company who hired me to do their product in the first place. But as someone with my own trademark I understand they need to protect it. It's just hard when it is for an art form- there are many loop holes.
My two layer cakes sometimes 'bulge' around the middle, the fondant looks all scrunched. Is there a way to avoid this? What am I doing wrong?
Confetti Cakes: There are no simple questions: You should work with your cake cold- and make sure all layers are even, fill with a pastry bag and pastry tip so filling is even then chill before covering. Have you watched the FREE fondant class I give on Bluprint?
I want to know how thick should the fondant be before putting it on a cake?
Confetti Cakes: Hi Rita: In general I try to roll it to about 1/8″ but sometimes I start with it thicker if I'm using an impression mat or I know it is going to stretch a lot like covering a square!
What is the hardest cake you have ever made and why?
Confetti Cakes: Hmmm, there have been so many when you do custom cakes…either a six-foot tall sock monkey or this victorian house cake.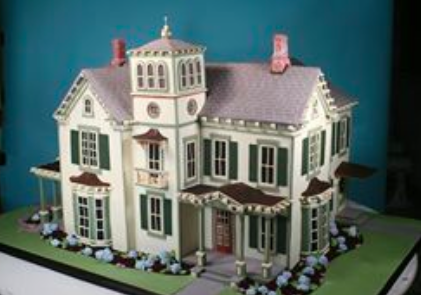 What do you recommend to get a perfect sculpted cake?
Confetti Cakes: I like to look at a lot of photos for inspiration and work with your cake cold!
I would like to know what is your preferred fondant to work on sculpted cakes to gain the best texture?
Confetti Cakes: I prefer Fondarific for sculpted cakes and either fondarific or Massa Tincino for Regular wedding /tiered cakes.
How easy or difficult is figuring out the time spent on making a sculpted cake?
Confetti Cakes: The more you do/make the quicker you become. I personally like to do things in sections/days. Bake, make fillings, dye all the colors, sculpt, put all together. Its the most time efficient.
For more help from cake designer Elisa Strauss, be sure to sign up for Sculpted Dog Cake, and gain exclusive access to her insights and answers to all your questions!