Join us for Ask an Expert for advice directly from our sewing expert Brett Bara, in response to popular questions asked by our community members within our Facebook Sewing Club. Join in on the fun by submitting your questions here– no matter what you're interested in, from knitting, quilting and cake decorating to photography, cooking or art– and tune in every week to see if your question has been selected to be answered.
Now, onto this week's new questions and answers from Bluprint instructor of Sew Ready: Garment Basics, Brett Bara!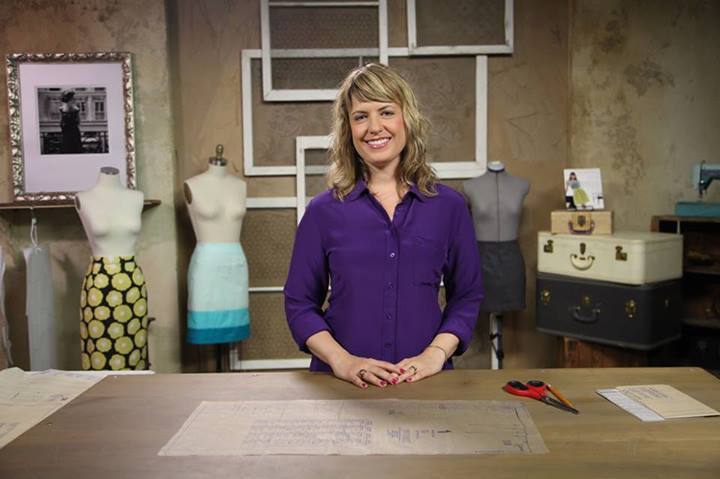 Sewing Club: Do you remember the first garment you sewed? How did it compare to the more recent garments you make?
Crafty Brett Bara: I totally remember! It was a simple short-sleeve top (just a front and back, slip over the head type) in a plaid cotton that was browns and beiges with a GOLD thread running through. I made it in second grade and wore it to show and tell. I was so proud of it! As to how it compares with what I make now… come to think if it, I'm still all about simple shapes combined with cool fabrics, so I guess things haven't changed much! And instead of show and tell I now have a blog.
Do you have a technique that that you struggle with? For example…zippers…buttonholes?
Crafty Brett Bara: I think I probably struggle most with fit. It is a challenge to get a garment to fit perfectly, which is why I often lean more towards handbags, curtains, quilts… I just avoid it! But I know the secret is to make a muslin first, and if you're sewing for yourself, get someone else to help you make adjustments while you try on the garment. I just need to follow my own advice.
How do you ensure a good 1/4 " seam? In our class different machines are set a 4.0 others 4.5 and my huskystar at home- hope and pray! Any suggestions?
Crafty Brett Bara: The best thing to do is measure 1/4″ from your needle — many machines will have a mark of some sort on the plate at the 1/4″ mark, but if yours doesn't, just place a piece of masking tape at that point. Then line the edge of your fabric with the masking tape as you sew, and you're good to go!
I have an older model Singer sewing machine that is seizing up on me. The thread bunches up on the underside of the fabric, and it looks like a tangled mess inside the bobbin case.
Crafty Brett Bara: I hate when that happens! It sounds like you need to take your machine in to get serviced. I think we all forget to do that, but you should have your sewing machine serviced often – every year if you sew a lot. Your machine probably just needs a tune-up and then it will be good as new!
I would like to know how old you was when you learned to sew and how?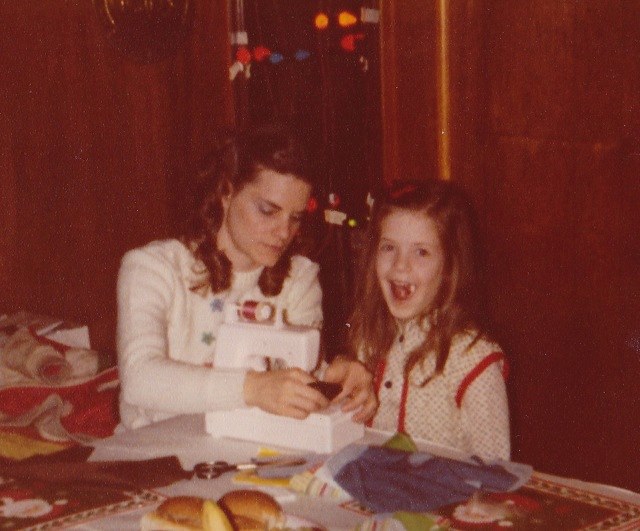 Crafty Brett Bara: My mom is a great sewer and she taught me to sew from before I can remember. I have very early memories of watching her sew and I was fascinated by the process. I loved going to the fabric store to pick out patterns and fabric, and I think I was sitting at a machine (with her supervision) at age 4 or 5. I am so grateful that she taught me the wonderful gift of creativity, design, and making things by hand!
Sewing Club: What is your favorite part about your newest online Bluprint class Sew Ready: Garment Basics?
Crafty Brett Bara: I just love that the class breaks down garment sewing into VERY basic steps. Even total beginners should walk away from the class understanding how to use a pattern and how to do many basic sewing techniques like finishing seams, installing a zipper, waistband, hem, customizing a pattern, adjusting fit — I love that we fit so much information into one class, and that you walk away with a great skirt in the end!
Do you have a favorite brand of sewing machine?
Crafty Brett Bara: I really don't have any particular machine that I recommend… if you just want something basic, I think it's best to just go to fabric store and test out the machines. Just find something that feels comfortable to you, in your price range. There really are no right or wrong choices! I would just stay away from the really, really cheap machines you see (like under $100) because I don't think they would last you very long.
For more help from designer Brett Bara, be sure to sign up for Sew Ready: Garment Basics, and gain exclusive access to her insights and answers to all your questions!