Here's a collection of Asian inspired cakes that may make you book your next trip to Hong Kong or Japan right away. From a delicate cherry blossom wedding cake to painstakingly detailed Chinese dragon cakes to a giant piece of salmon "sushi," dive into this roundup of Asian themed sweets!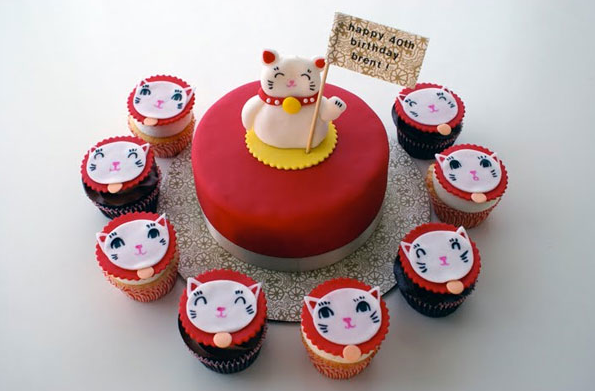 Photo via Coco Cake Land
Maneki Neko lucky cat cake and cupcakes:
Have you ever walked into a Chinese or Japanese restaurant and noticed the chubby white ceramic cat sitting next to the cash register or at the hostess table, bobbing its paw back and forth as if to say hello? This fat little guy is called Maneki Neko, and he is welcoming you into the establishment, and is also said to help bring luck and prosperity to a business! This maneki neko themed cake has a smiling happy cat waving, made of fondant, and matching cupcake toppers made of fondant and detailed in edible marker.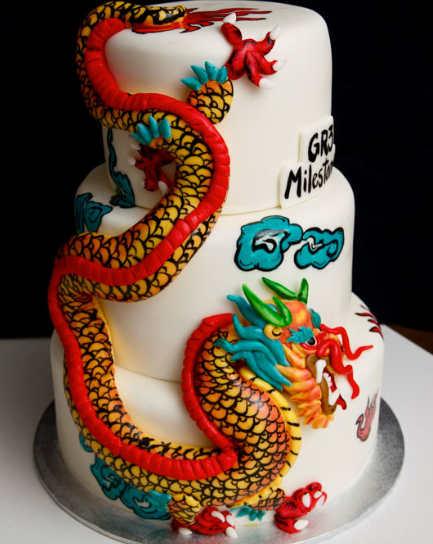 Photo via Love Your Cake
Three tiered Chinese dragon cake:
This awesome three tiered dragon cake was created in fondant with hand-painted details. I love how the dragon is 3-D and snakes its way along the tiers in its rainbow colors and and black outlined scales.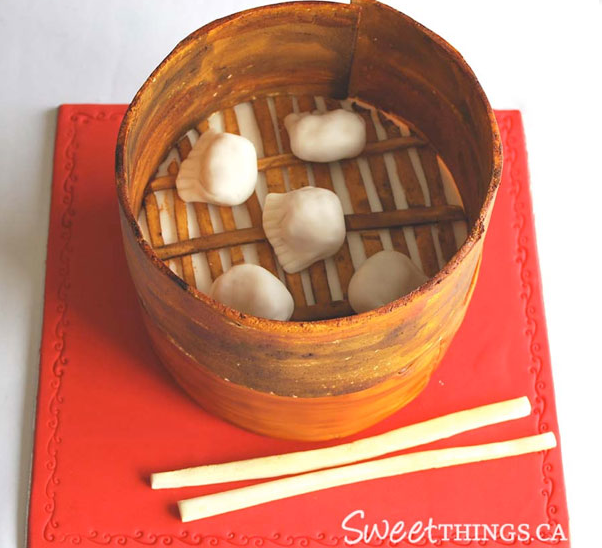 Photo via Sweet Things Toronto
Dim sum bamboo steamer cake:
Those perfect little dumpling purses appear to be filled with succulent shrimp, but really they are strawberry cake bites in fondant! The cake itself is banana sour cream cake with swiss meringue vanilla buttercream and the "steamer" is made from sugar paste. Dim sum or cake, either food is delicious!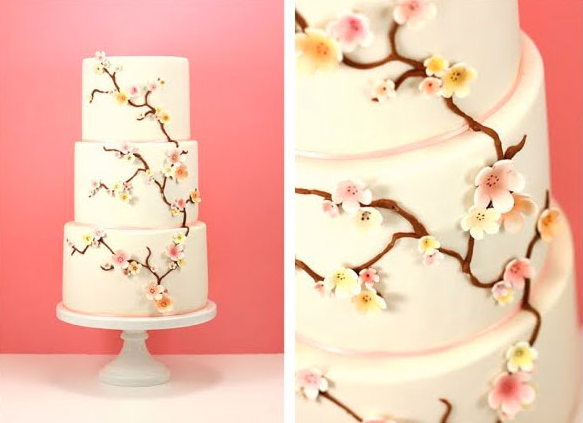 Photo via Eat Cake Be Merry
Cherry blossom wedding cake:
Liz Shim of Eat Cake Be Merry created this beautiful three tiered wedding cake with delicate branches of pink and yellow Japanese cherry blossoms. The thin fondant branches creep up the fondant tiers, and pretty flowers bloom amongst the branches. Simple, lovely and perfect for a Spring wedding.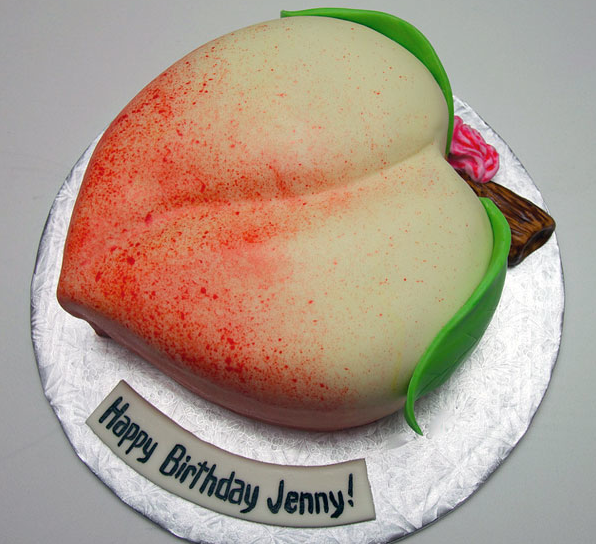 Photo via Love Your Cake
Giant lucky peach cake:
Another symbol of prosperity and abundance in Chinese culture – the lucky peach! Love Your Cake did a wonderful job in the coloring of this peach. The floppy green leaves, speckled food coloring and the textured and wood-grain-treated stem all add up to a unique and fun cake.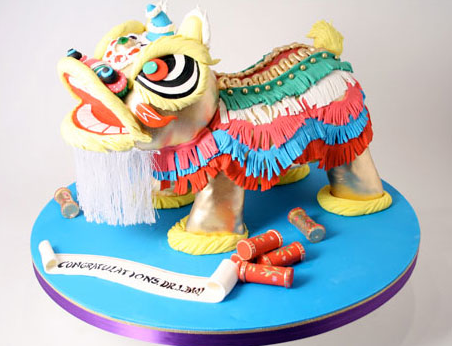 Photo via Charm City Cakes West
Chinese lion dance cake:
This cake is too cool for words! Have you ever experienced a Chinese New Year parade in your local Chinatown? In real life this lion is made up of two or more people, one shaking the head and one shaking the tail furiously to create a shimmying and celebratory dance! The detail of this chinese lion dance cake is spot on, from the multi-colored fringe to the details of the possessed looking face – awesome!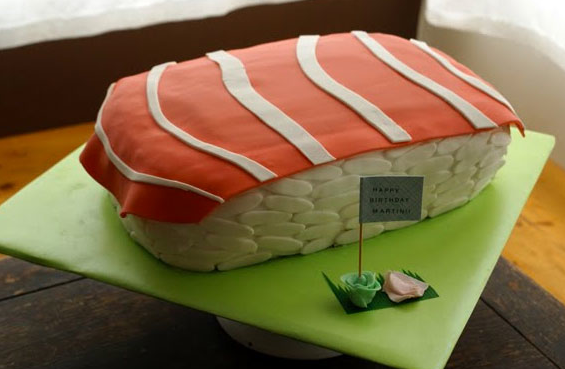 Photo via Coco Cake Land
This monstrously large sushi cake features the popular salmon nigiri: raw salmon sitting on top of vinegared Japanese rice. The cake was carved from two sheet cakes stacked on top of each other. Next, it was iced in buttercream and covered in fondant and adhered with fondant "rice." A layer of green buttercream was applied on top to mimic wasabi (spicy horseradish that accompanies sushi), then the "salmon" (made of fondant) was laid on top. The tiny slices of ginger and the green wasabi rose are all made from fondant as well.
Such a variety of cakes and cake styles! Fondant was the connecting factor to these cakes – do you enjoy working with fondant? If so, check out the online Bluprint class Advanced Fondant Techniques with Marina Sousa.