Before you can create better-than-takeout Asian dishes, you're going to need to stock up on some Asian food staples. Filling your pantry with Asian herbs and spices, dry ingredients and condiments will make it easier to create the vibrant and singular flavors that make Asian cuisines so unique.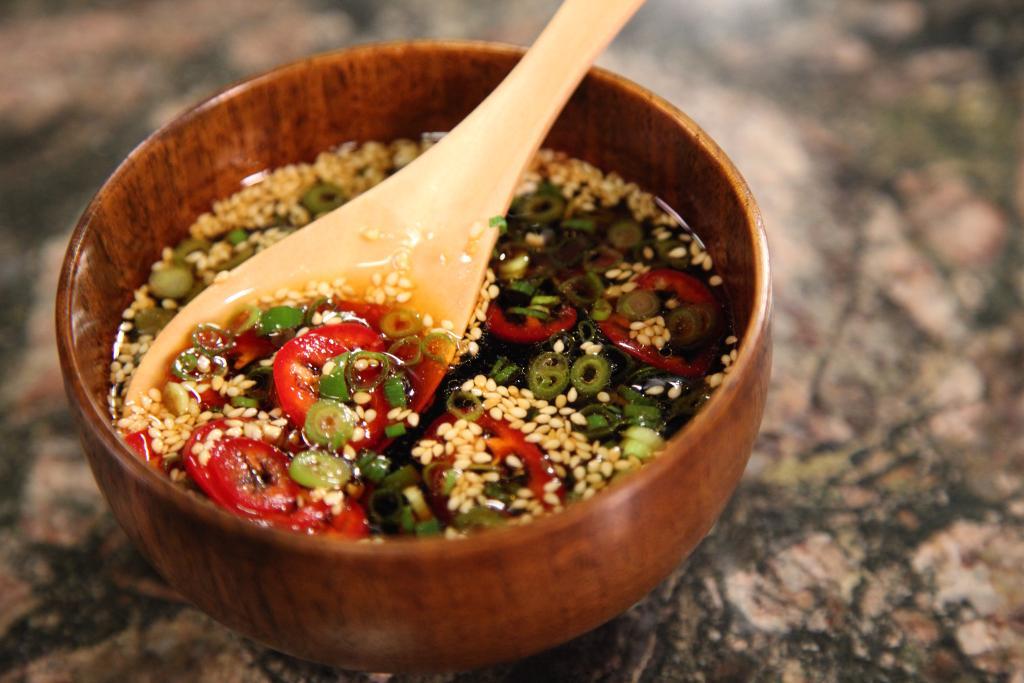 Mandu dipping sauce via Bluprint instructor Andrea Nguyen
So what items should you have on hand? We hit up Andrea Nguyen, instructor of the Bluprint courses Vietnamese Cooking: Pho, Noodles & Beyond and Favorite Asian Dumplings From Scratch, for suggestions on how to stock an Asian kitchen. In addition to Andrea's invaluable suggestions, we rounded out the list with a few additional items which will give you a head-start for the Bluprint course Thai Cooking Essentials.
While this list won't include everything you need for every recipe, it creates a strong base of staple ingredients that will minimize trips to the specialty Asian supermarket.
Condiments
Nguyen suggests that if you want to get started with Asian cookery, you should stock up on several condiments. Her suggestions include:
Chili sauce
Made from ground chili, these sauces will add heat to any dish, from noodles to soups to salads.
Curry paste
A thick spice paste that prominently features curry, and is considered a staple of Asian cooking. It adds intense flavor to dishes, and can be mixed with a liquid such as coconut milk or broth to create a flavorful sauce. Many types of curry paste exist;  it can also easily be made at home and tailored to the cook's preferences.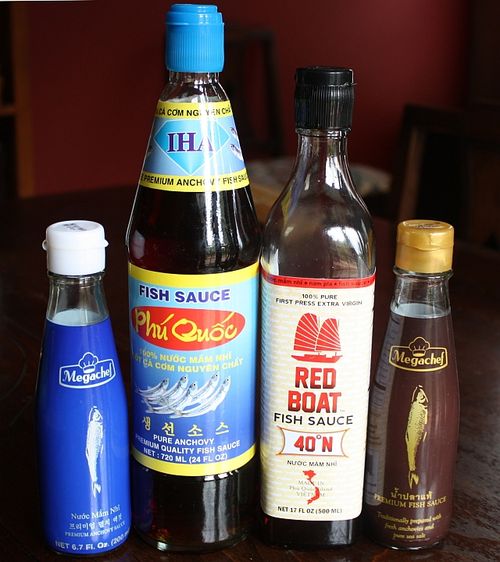 Photo via Viet World Kitchen
Fish sauce
This richly reddish-brown-hued sauce is made from fermented fish and salt. Not just a condiment, it is also a popular ingredient in marinades. Nguyen suggests these brands: Red Boat, Mega Chef and Viet Huong 3 Crabs/Flying Lion.
Soy sauce
This thin, dark brown sauce is made from a fermented paste primarily made of soybeans. It is used as a seasoning condiment or a flavoring for soup, or can be used as a dip. Nguyen suggests the Pearl River Bridge brand.
Unseasoned Japanese rice vinegar
This clear vinegar is made from fermented rice, and adds a tangy flavor to marinades, dressings and dipping sauces, as opposed to the seasoned variety more famously used for sushi.
Oyster sauce
This unique sweet-savory sauce is made by reducing briny oyster juices that have been reduced and caramelized. It is often sweetened, which balances the savory flavor. It is used as a flavoring for meat and vegetables, and can be used to top finished dishes.
Rice wine
Nguyen suggests having two types: Shaoxing and sake. Most have heard of sake, but what is Shaoxing? A mildly nutty tasting and amber-hued rice wine made from glutinous sticky rice — this is the standard spirit in Chinese cooking. It adds a signature flavor to a variety of recipes, from Asian dumpling fillings to marinades and stir-fry dishes.
Toasted sesame oil
A vegetable oil derived from toasted sesame seeds, this deep brown-hued oil should not be confused with light sesame oil, which is often used for frying. Because of its lower smoke point, toasted sesame oil is better suited for stir-frying or seasoning dishes.
Pantry items
Chinese 5-spice
Composed of star anise, cloves, Chinese cinnamon, Sichuan pepper and fennel seeds, this spice mix is important in Asian cookery. It can be used as a contrast to fatty meats such as pork or duck, or as a spice rub. It can be employed as part of the breading for fried dishes, or as an ingredient in marinades.
Coconut milk
Made from the "meat" of coconut, creamy coconut milk adds richness and creamy flavor to Asian dishes. Keeping canned coconut milk on hand is an easy way to augment your Asian kitchen.
Rock sugar
Large, coarse crystals of sugar known as "bing tang" (ice candy) are used in many savory Asian dishes, adding flavor to meats, vegetables and fruit.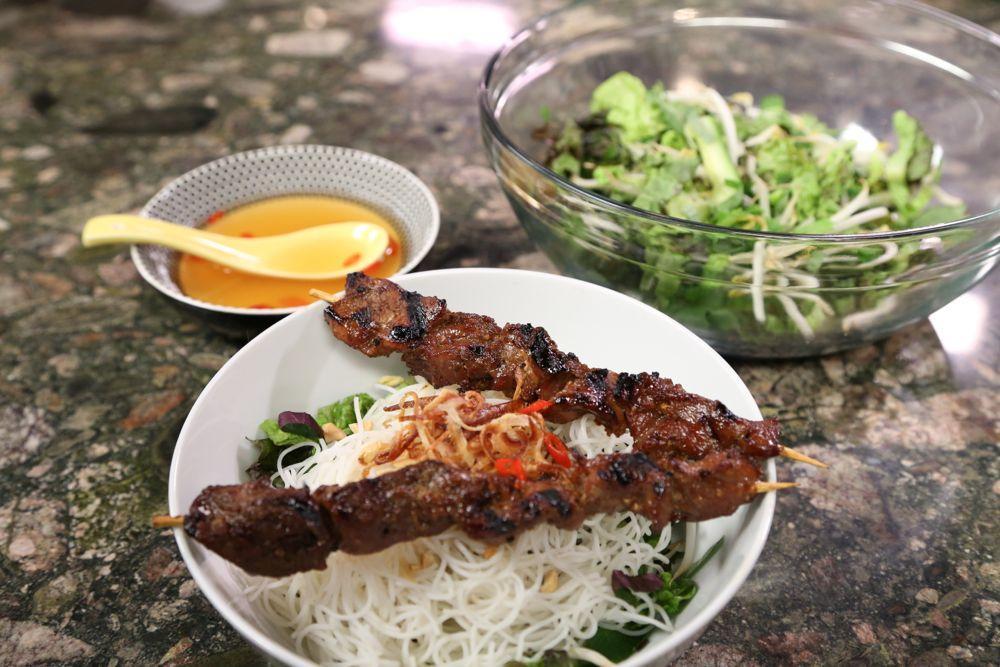 Noodle bowl with pork via Bluprint instructor Andrea Nguyen
Dried noodles
A variety of dried noodles is vital to the Asian kitchen. For the dishes in Vietnamese Cooking: Pho, Noodles & Beyond, Nguyen suggests banh pho flat noodles, round bun noodles, and rice paper noodles.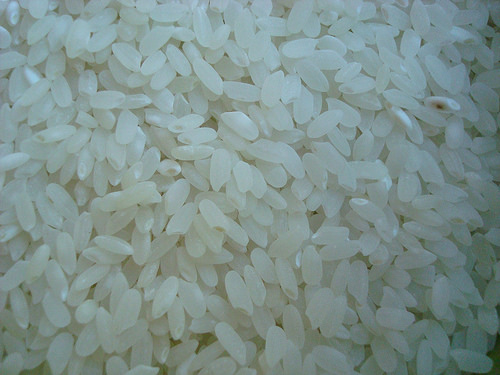 Photo via CakeSpy
Rice
Asian cuisines will call for different traditional rices. Keeping a couple types of white and brown rice on hand will be helpful. You can either start with types you like, or ask a grocery store employee for suggestions based on which cuisine interests you most.
Produce
Some of the produce items that will keep reasonably well for long periods and will be in frequent rotation are ginger, limes, cilantro and garlic.
Need these tips on the go? Andrea Nguyen also has an Asian Market Shopper App for the iPhone.
What Asian food staples do you keep in your pantry?