With many things in life, slow and steady wins the race, and this artisan bread recipe is no exception. Artisan bread is a sort of fancy way of talking about bread that hasn't been mass produced but rather created slowly and with great care. Use this recipe to bake your own and learn how virtuous your patience really can be.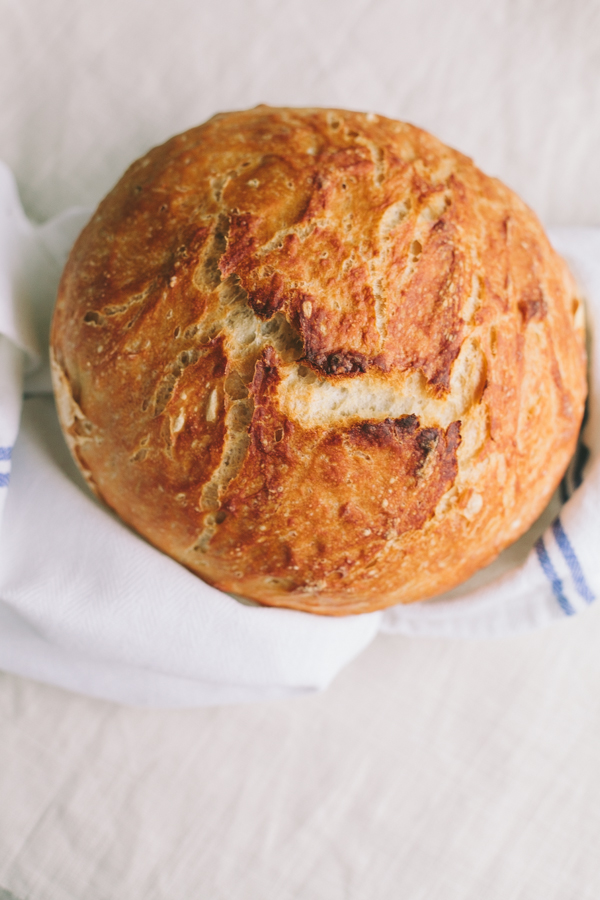 Making artisan bread at home
Slow really is a key part in this process. The recipe below uses very little yeast, so the bread rises over a long period of time. So long, in fact, that it needs a night of rest to fully develop. The benefit of this is that the dough is given the chance to slightly sour, which gives the final loaf a pleasant and interesting flavor. It's deeper and more full flavored than a loaf that is mixed and baked in the same day. If I plan well enough in advance, I allow my dough to rest in the fridge for two or even three days.
This process takes quite a bit of time but much of that time has nothing to do with you at all, it's just the bread relaxing, expanding and working on that gluten.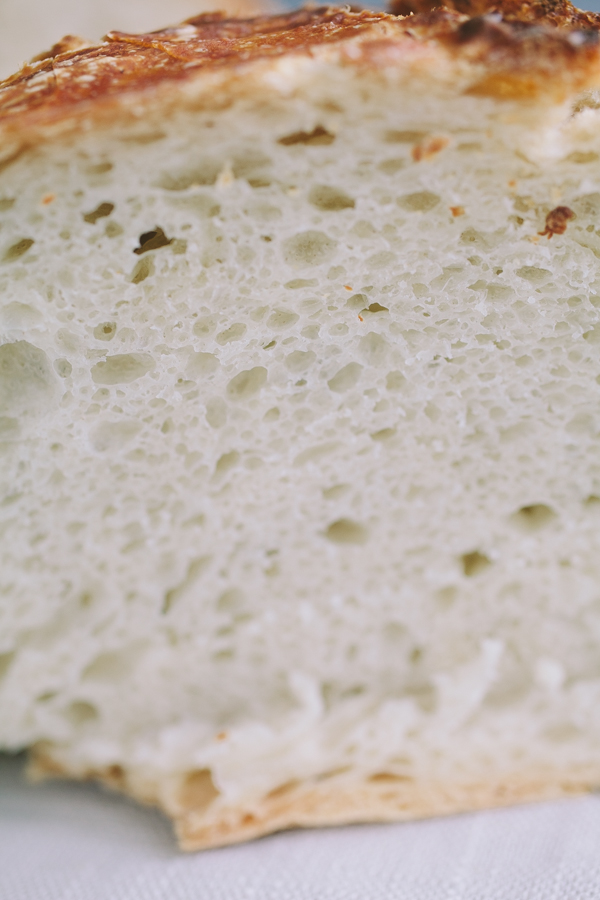 Recipe notes
A few things to note about this process that might be different than how you normally bake bread:
The dough is too wet to knead so we use time and folding to develop the structure and gluten. I fold with a rubber spatula by bringing the dough up and over on itself several times and then again every 20 minutes for a couple of hours.
The bread is baked in a pan with a lid. In commercial bakeries they have special ovens that release humidity during the initial phase of baking the loaves. This is what helps give the crust a deep crackle and thick outer layer. The bread is baked for 30 minutes with the lid on and then an additional 30 minutes or so with the lid off so that the crust can get a deep golden color.
Anytime yeast is involved I realize there is a bit of intimidation and then I go and throw in a few whole new ideas but I assure you it's easier than you think and the results are always impressive. My advice; have soft butter and good jam waiting for that first, warm slice. There's nothing better.

Basic artisan bread recipe
Makes 1 loaf
3 1/4 cups/1 pound all-purpose flour
1 3/4 cups/ 400 g lukewarm water
2 1/2 teaspoons kosher salt
1 teaspoon yeast
Step 1:
In a large bowl stir together the flour, yeast, salt, and lukewarm water. It will be slumped and very wet.
Step 2:
Cover the bowl with a clean kitchen towel and let sit overnight. You can also refrigerate the dough for up to 3 days.
Note: If you've refrigerated the dough, let it come to room temperature, which should take about 2 hours.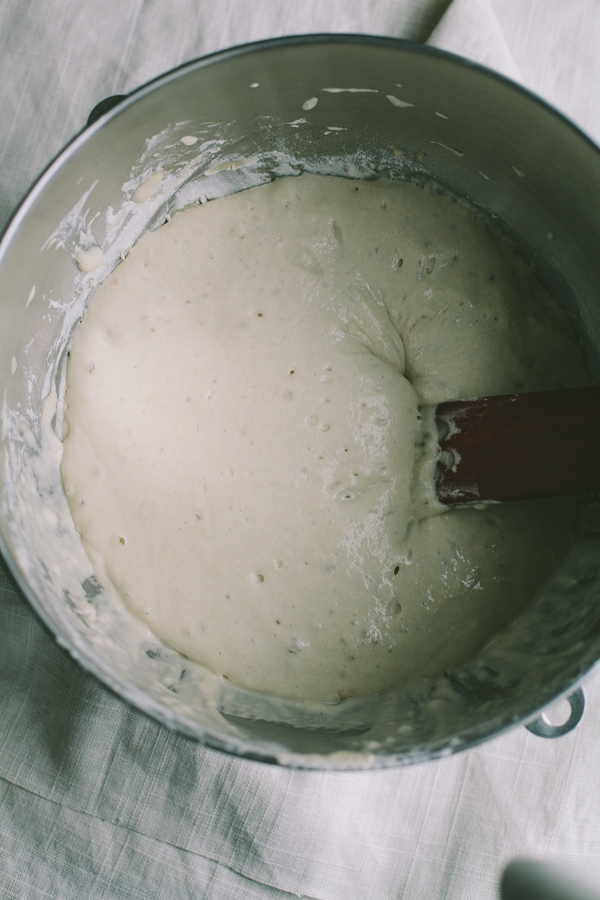 Step 3:
Use a spatula to fold the dough on top of itself to let out some of the gas. Repeat this folding every 20 minutes for a couple of hours. This will help develop the gluten and give the loaf structure.
When you are ready to bake, place a 3 or 4-quart oven-safe lidded pot in the oven and preheat to 450°F for one hour. Do not fold the dough while you wait for the oven to preheat.
Step 4:
Carefully remove the hot pan from the oven. Pour the dough into the hot pan. Give the pan a gentle tap on the counter to distribute the dough. Cover and return to the oven for 30 minutes.
Remove the lid and continue to bake for 20 to 30 minutes until the crust is golden and the loaf sounds hollow when tapped.
Step 5:
Remove the loaf from the pan. If you want a deeper set and more intensely caramelized crust you can return the loaf to the oven outside of its pan for another 5 to 10 minutes. Otherwise let it cool completely on a rack before slicing and serving.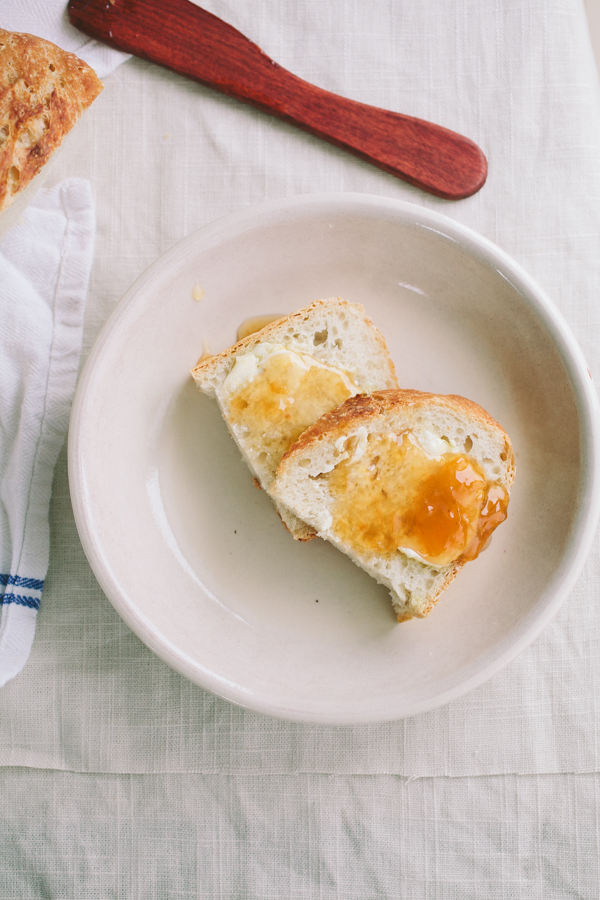 This bread is great with a bowl of hot soup, toasted and topped with poached egg or slathered with butter and homemade jam. No matter how you slice it, your patience will be rewarded with fresh, crusty-yet-fluffy piece of homemade artisan bread.