Cake artists and enthusiasts know that beautifully decorated cakes and cupcakes can be absolute works of art! Because art can be subjective, it gives people of all skill levels the opportunity to be creative and design what inspires them.
Art themes also continue to be a growing party trend and highly requested. With "Inspire Your Heart with Art" Day coming up on January 31st, these artistic confections based on art supplies and actual recognizable pieces are the perfect inspiration.
Become motivated to create your own sweet masterpiece with these art-inspired cakes and cupcakes!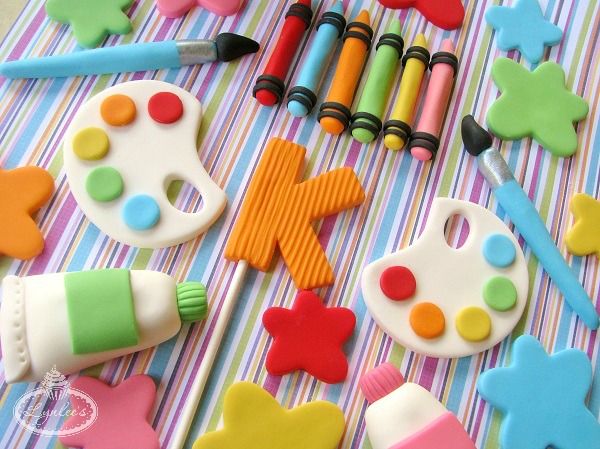 Photo via Lynlee's Petite Cakes
Fondant art cake toppers
These vibrant and colorful fondant cake toppers based on art supplies were created for an arts and crafts party by Banner Events, inspired by graphic designs by Anders Ruff. The paint and palettes were formed with the use of metal cutters, while the crayons, paint tubes and brushes were molded by hand. Easily personalize a collection with a fondant initial or number with the guest of honor's information.
[box type="shadow"]To brush up on your basic fondant skills, be sure to check out Elisa Strauss's FREE mini-class Basic Fondant Techniques.[/box]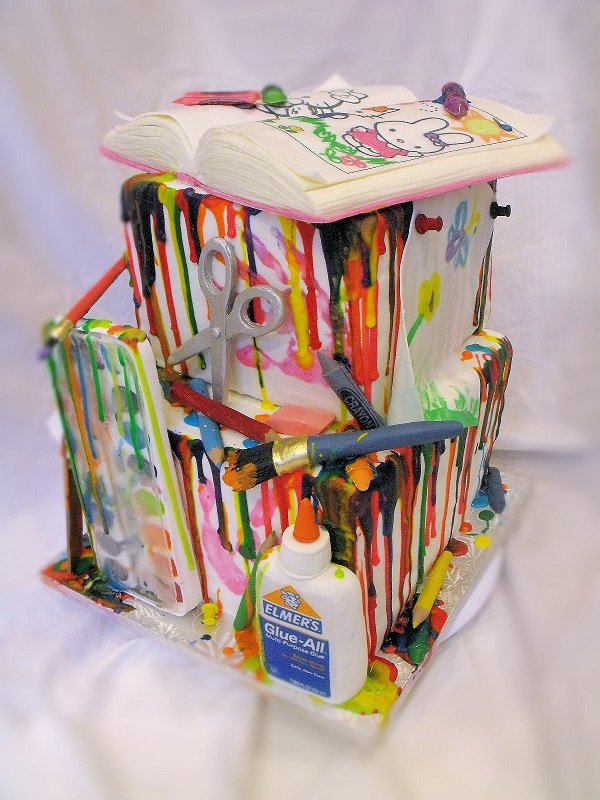 Photo via Cake Rhapsody
Children's art cake
For her daughter's 8th birthday, Cake Rhapsody captured her love of art in this fabulously messy art cake! After stacking two square tiers, the paint and colors were brilliantly dripped over the sides of the cake, while incredibly detailed modeled supplies were placed around the perimeter. The cake is topped by a coloring book that can be achieved with the use of printed edible images.
[box type="shadow"]Learn more about painting on fondant in the FREE Bluprint mini-class The Hand-Painted Cake with Erin Schaefgen.[/box]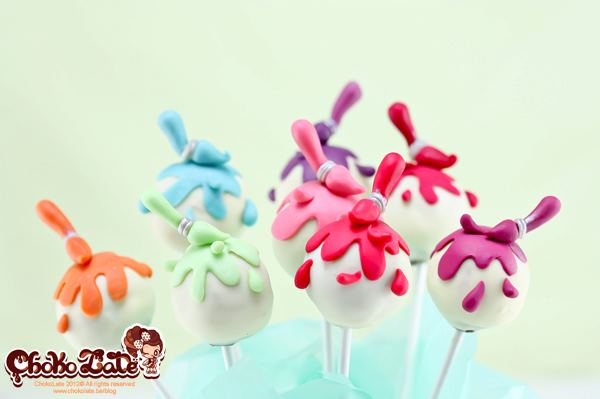 Photo via Choko Late
Paint brush cake pops
Choko Late created these incredibly adorable and colorful cake pops topped with paint splotches and brushes. The super smooth cake pops were covered, then embellished with fondant details resembling dripping paint. The molding and placement of the brushes resemble movement and give the entire presentation great dimension.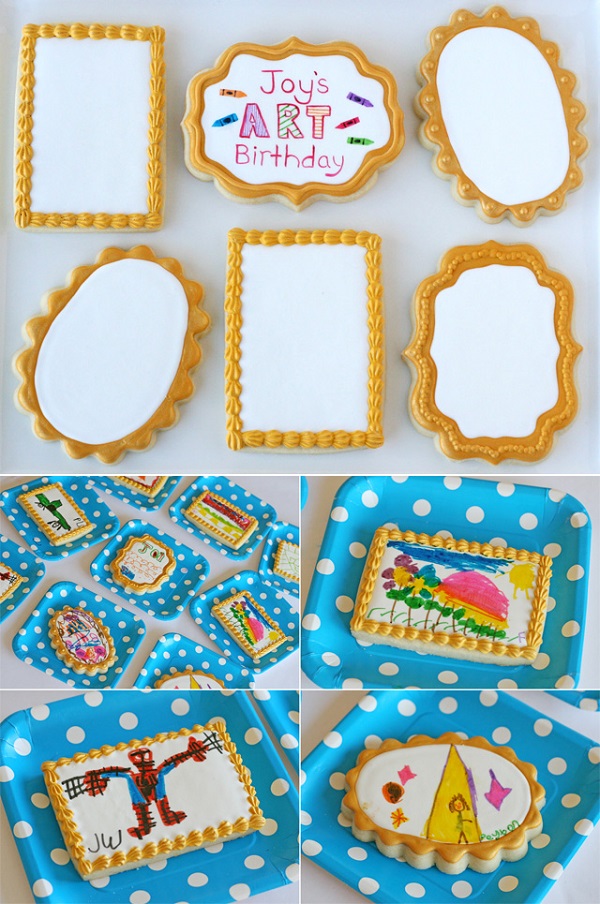 Photo via Glorious Treats
Art canvas cookies
For a children's Rainbow Art party, Glorious Treats created these blank canvases from baked cookies, which were covered and decorated with beautiful piping in royal icing. When it came time for an activity, the kids were able to create their own works of art on their blank cookie canvases with the use of edible color markers. The piece de resistence!
[box type="shadow"]From heartwarming treats to sophisticated sweets, find out how you can design, decorate and present artful cookies that will be unforgettable party favors or dessert table favorites in the new Bluprint class Decorating Essentials: Designer Cookies with Autumn Carpenter.[/box]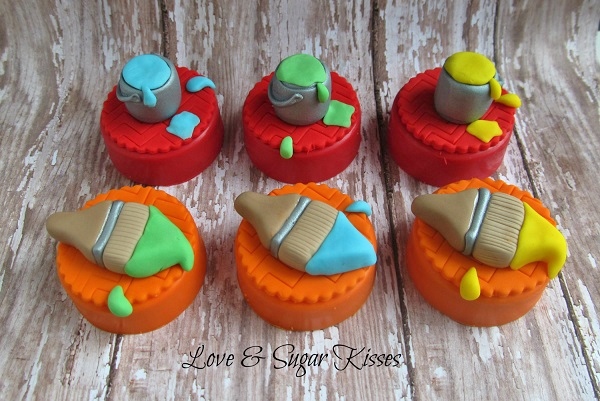 Photo via Love & Sugar Kisses
Paint fondant Oreo toppers
Love & Sugar Kisses is a master at making the perfect fondant toppers to top chocolate-covered Oreo cookies! Perfect for an art party, these three-dimensional toppers resembling paint buckets and brushes were carefully modeled out of fondant. The silver accents can be achieved by mixing silver shimmer or luster dust with a clear alcohol (i.e. vodka) and painted directly onto the fondant with a brush. The added texture on the flat toppers was achieved with the use of impression mats.
[box type="shadow"]Learn additional texturing techniques in Marina Sousa's Designer Fondant Textures course.[/box]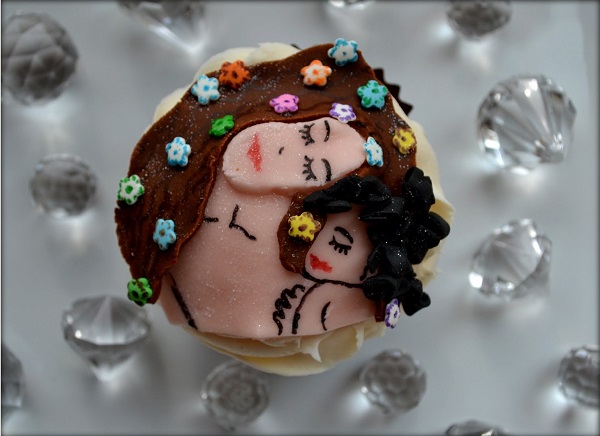 Photo via Sweetology
Gustav Klimt-inspired cupcake
Inspired by the highly-recognizable artwork of  Gustav Klimt, Sweetology re-created the renderings of the piece Mother and Child for this beautifully detailed cupcake. Constructed out of fondant and enhanced with edible markers, Sweetology provides the tutorial for this adaptation of a famous art print.
[box type="shadow"]For an in-depth course on creating people with incredibly detailed accents, check out Global Cupcake Design with Sheryl Bito.[/box]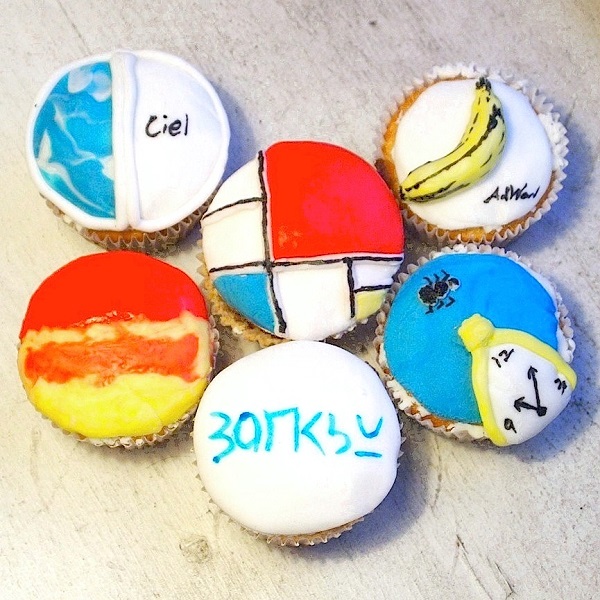 Photo via Cookbook Archaeology
Modern art cupcakes
In honor of a modern art theme, Cookbook Archaeology created these amazing fondant-covered cupcakes to resemble famous pieces, utilizing a variety of primary colors and edible markers to achieve the writing and added details. Can you guess each artist? Starting from the top row left: Magritte, Mondrian, Warhol, Rothko, Banksy and Dali.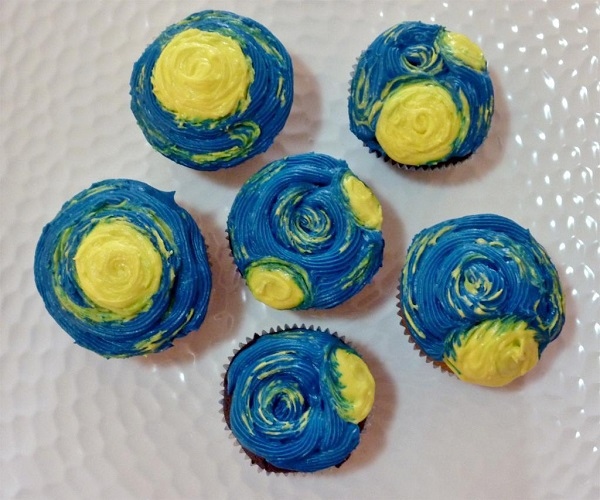 Starry Night cupcakes via Bluprint member Salomie
Starry Night cupcakes
Bluprint member and cake decorator Salomie created these beautiful cupcakes inspired by Vincent Van Gogh's famous painting The Starry Night. The colors were piped with icing utilizing a variety of decorating tips, in addition to toothpicks, creating a wonderful adaptation of the original artwork.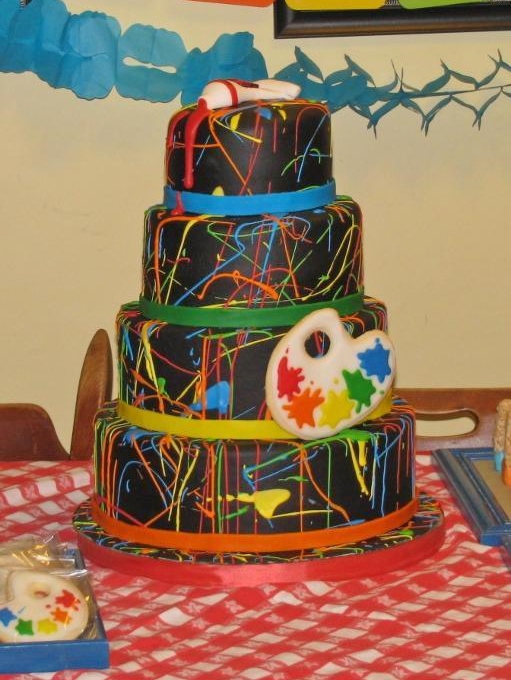 Art Party! via Bluprint member ZiggyHopper
Art party cake
In the FREE online cake decorating course Basic Fondant Techniques with Elisa Strauss, Bluprint member and cake artist ZiggyHopper created this Art Party cake as a class project. Though the guest count was not large, a larger presentation was desired, so the tiered cake incorporated a couple of foam cake dummies for the two bottom layers. All tiers were covered in black fondant and the paint splatter was achieved with the use of colored royal icing flicked with plastic straws. The paint palette adornment was created with a decorated cookie to finish off the impressive display.
[box type="shadow"]For additional art-inspired techniques, check out Lindy Smith's Cake Design Made Simple: Art Deco and Piece of Cake! with Colette Peters.[/box]
What is your favorite art style and how will you translate it into cake?