Inspired by industrial design and architecture, the Art Deco style originated in 1920s France and migrated to America in the decades following. If you've seen the Chrysler Building in New York City, its iconic spire is a perfect example of the Art Deco style. Some say that bold shapes, geometric symmetry and rich, contrasting colors are characteristics describing Art Deco. When this daring style meets quilting, the results are vibrant, bold works of fabric art.
What happens when the art style is reflected in fabric and thread? We've rounded up some inspirational art deco quilts for your viewing pleasure!
With strong references to the Chrysler Building's famous spire, or perhaps the Sydney Opera House, this Art Deco quilt from Don Linn of Mr. Quilt utilizes bold colors of both solids and small fabric prints. Instead of being built with traditional quilt blocks, this design centers on a focal point (the cathedral tower) and moves outward for layer upon layer of angles and modular, ornate details. This quilt appears on the cover of Don's book, titled Design Art Deco Quilts, which explores topics like effective fabric choices, color ideas and design ideas for borders.

Linda Miller shares her A Touch of Art Deco Quilt, which embodies multiple elements of the Art Deco style. Her bright color palette is offset by a great contrast in the black background, with geometric embellishments radiating from the quilt center to its edges. Can you spy all of the Dresden plate blocks?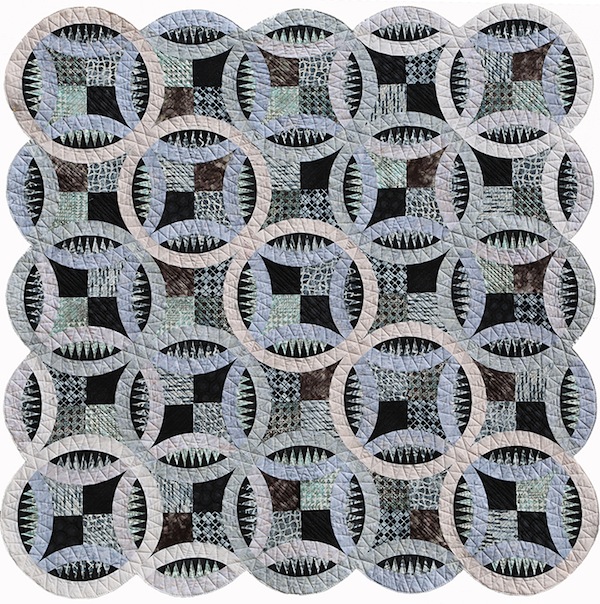 Judy Niemeyer of Quiltworx has designed this quilt, a version she calls the Art Deco Sawtooth Wedding Ring. The paper-pieced quilt pattern calls for fabrics that lend to a clean, geometric design. The sawtooth pattern in particular is seen on Art Deco architecture, such as the Chrysler Building.
The Modern Dresden Block is a free paper-pieced quilt pattern from Christa Quilts. The geometric rays are like wedges radiating from a central spoke, and each block is pieced from four units. Does this block remind you of the Art Deco quilting style?
Many members of the Bluprint community have already taken to the Art Deco quilting style, making references to famous art pieces and creating masterpieces of their own. Bluprint member Shane Jenkins made an Art Deco quilt inspired by a stained-glass window. He says, "I am a huge fan of Frank Lloyd Wright's style. Since I can not afford to own an original FLW piece, I chose to make my own." This was only his second attempt at making an art quilt, and the angles and borders within the design really capture the stained-glass look.
While not an Art Deco artist himself, Piet Mondrian's abstract artwork was perhaps inspired by the Art Deco style, art historians say. Bluprint member Quilt Dude pays tribute to one of the artist's famous pieces in his Mondrian quilt. The bold geometric designs and bright colors are bold, and yet the quilt top is easily pieced. This Art Deco quilt was also pieced together from a fleece material with only minimal stitch-in-the-ditch quilting.
The Diamonds Plus Quilt by Bluprint member dkaym shows elements of art deco architecture in its angular blocks and ornate symmetry. With a color palette of three dark and three light fabrics, the blocks show a good amount of contrast between the units, which is another hallmark of art deco quilts!
[box type="shadow"]
If you're anxious to explore more of the Art Deco style, why not take a quilting class? Art Quilting 101: Design Basics with Wendy Butler Berns will help you stretch your creative muscles into new territory. If you're looking for something more advanced, Lola Jenkin's Thread Art will inspire you with unique techniques to incorporate into art deco designs.[/box]
What do you think about Art Deco quilts? Are there elements of this style that you could incorporate into your own quilting projects?