By definition, an arrow is a weapon that is made to be shot from a bow. It is usually a stick with a point at one end and feathers at the other end. Sounds rather dangerous, right? Of course there are other definitions, and in its less threatening form, an arrow is a symbol used to show direction. This tool has been a staple in decor for ages, and it continues to be a popularly featured item in contemporary quilting.
Take a look at these 6 stunning patterns available right here on Craftsy that will leave you inspired to sew your own arrows.
Photo via Cluck Cluck Sew

Pow Wow Pattern
The ever popular Pow Wow quilt is a versatile pattern that includes directions for four different size quilts. It uses 1/4 yards and is a fun beginner quilt to make. A scrap-saver tip is included in the pattern to minimize waste, and color illustrations will help you along the way.
Photo via Kaye Prince
Orion Pattern
The Orion quilt is a stunner! Due to the size of the start block, this fat-quarter-friendly pattern is a great way to utilize those larger prints in your stash that can be difficult to sew with. This pattern includes diagrams, written instructions, and templates needed for the paper-pieced arrows.
Photo via Craftsy member HTaBQuilts
The Queen's Floor Pattern
The Queen's Floor is a quick and easy quilt pattern that's a modern take on the classic Ozark Maple Leaf block. This design is especially eye-catching, partially due to the alternating layout featuring printed fabrics and a crisp white solid. The pattern includes instructions for making a 36″ square baby version or a larger throw size quilt, and both versions are layer-cake-friendly.
Photo via It's Sew Emma
Home Sweet Home Pattern
Home Sweet Home is a unique design full of neat arrow blocks. This is perfect for playing prints against one another, and it is easy to mix fabrics and colors with this quilt. Show off intricate motif quilting in the bright, solid space if you'd like!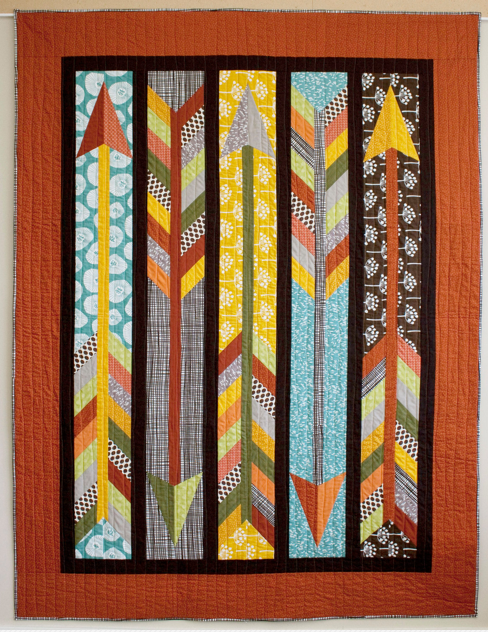 Photo via Craftsy member NYROTM_rachel
Straight as an Arrow Pattern
The Straight as an Arrow quilt is perfect for an archer or hunter of any age, both male and female alike. One arrow design is featured beautifully here. Several different backgrounds are used in the photo above, or you can keep it simple by using just one. This listing is for a 16-page PDF pattern that has color photos, illustrations and full-sized templates.
Photo via Craftsy member hxxrmonkey

Feathered Arrow Pattern
Are you loving arrows but cannot to commit to a quilt? The Feathered Arrow pattern is perfect for you! This is a paper-pieced block pattern, and it would be great for a pillow, table runner, wall hanging, borders, sashing or pretty much anything. Use your imagination!
For more fresh and modern quilting inspiration, check out Inspired Modern Quilts: 7 Small Projects With Big Style, taught by Elizabeth Hartman and Designer Modern Quilts, taught by Weeks Ringle.
Tomorrow on the Craftsy blog, we'll share tips for organizing your sewing studio.
What do you think of arrow quilt patterns? Have you made an arrow quilt?