Fondant frills and gum paste pearls are nice, but why not let Mother Nature's bounty inspire your next cake design? From sugar orchids to tropical blooms, the flower choice is up to you. And, with a little help, you can learn how to arrange flowers on cakes for tiers overflowing with beautiful bouquets, fragrant with the sweet smell of sugar.
Here are 7 sweet tips (along with delight projects) to inspire your sugar flower cake decorating.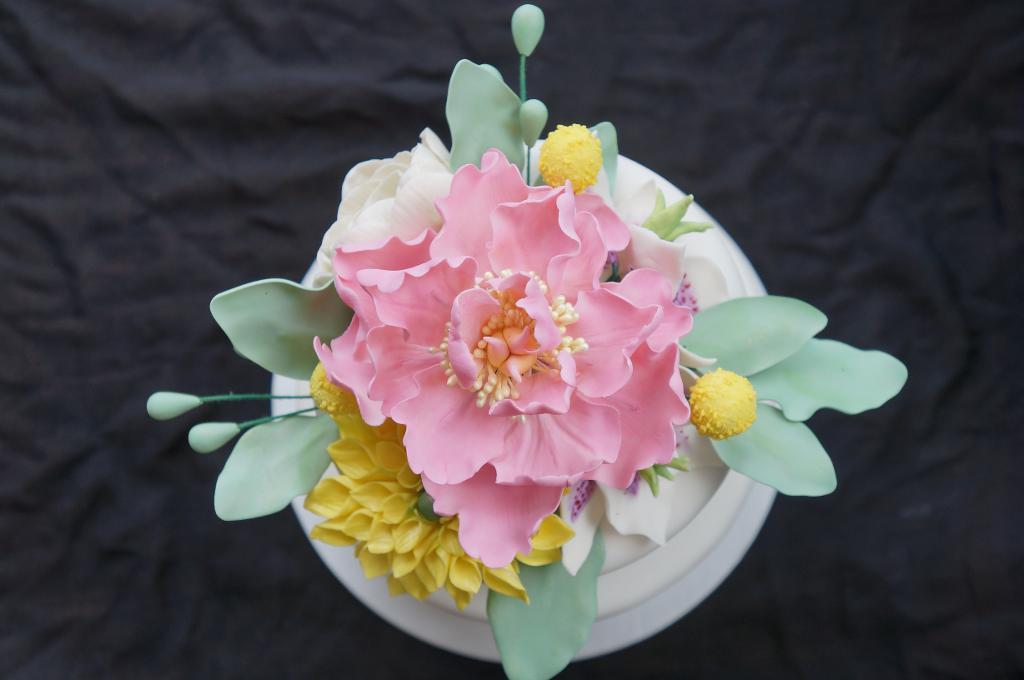 Sugar flowers cake via Lucre Quesada
1. Create a strong foundation.
Create a foundation for your flower arranging with the perfect foliage. Layer the foliage in an asymmetrical fashion, but not too thick — you want to leave ample room for the flowers. This helps draw the eye to the main event, as on this cake with delicate foliage that complements a beautiful blooming flower with gum paste details.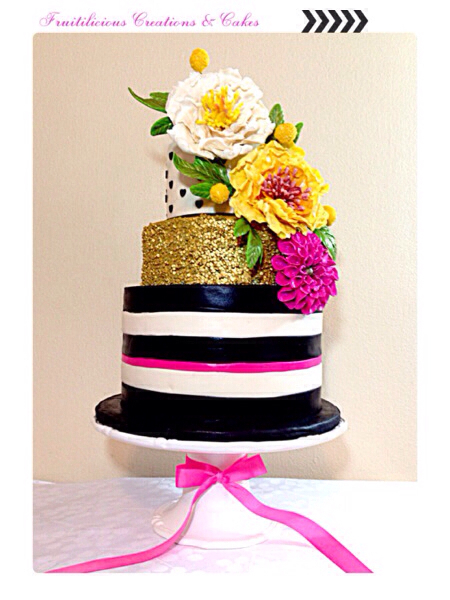 Stunning wedding cake via Fruitilicious Creations & Cakes
2. Add some variety: It's the spice of life!
If you want a collection of bountiful blooms on your cake, embrace variety in your arrangement. Using different colors and textures (as well as statement flowers punctuated by smaller flowers or buds and filler foliage) will add to the visual appeal. Making different aspects of the arrangement at different heights will further enhance the realistic look of your sugar flowers.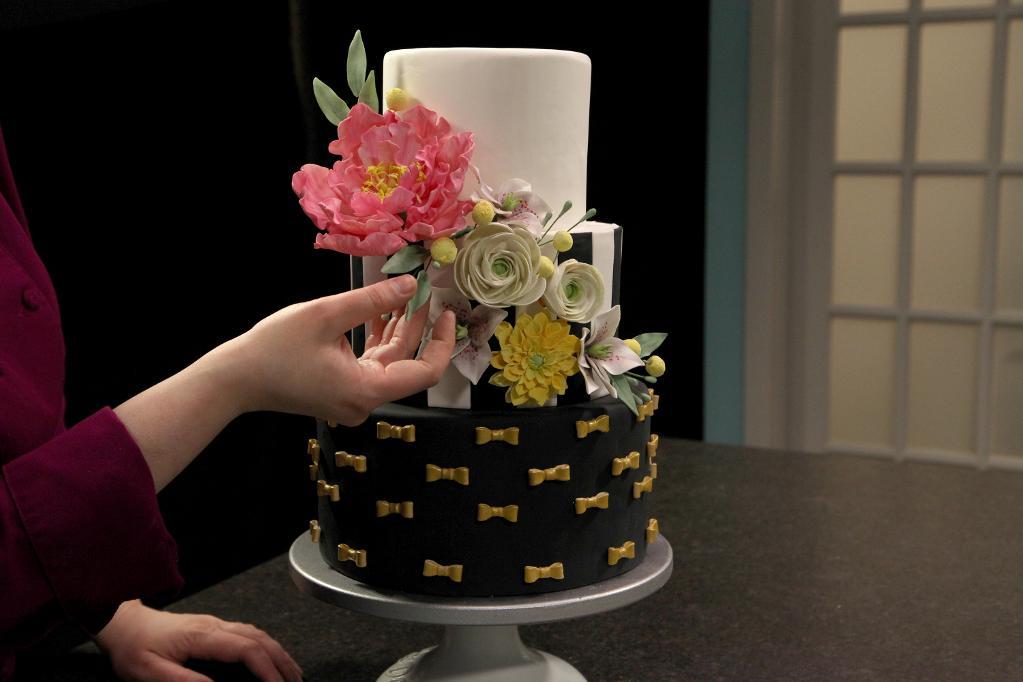 Monoglam cake via Erin Gardner
3. Embrace movement.
Forming a gentle cascade with your flower arrangements creates a beautiful sense of movement in your cake decorating. This lovely cake starts with a statement flower on the lower edge of  the top tier, followed by a cascade of flowers that draw the eye both down and to the side of the cake. All this is punctuated with wispy elements woven into the cake's design. The cascade ends with a smaller star-shaped lily that keeps the design from fizzling out toward the end, but doesn't draw too much attention away from the pink statement peony.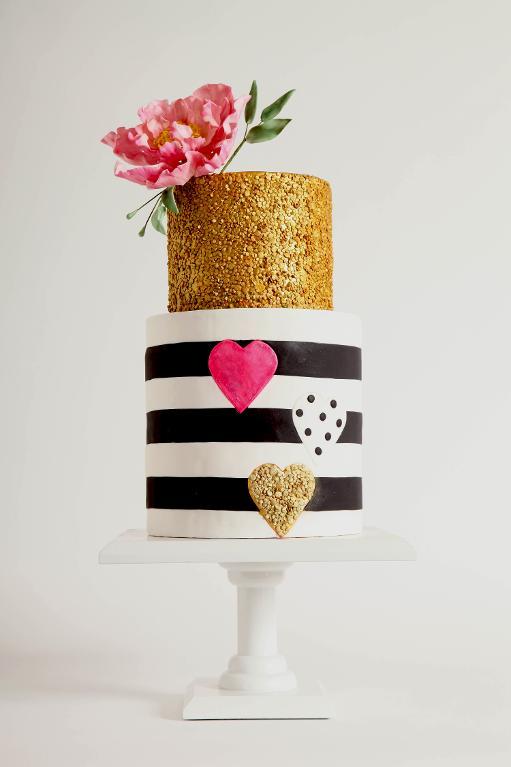 Love cake via Erin Gardner
4. Use the color of your flowers to bring harmony to your design.
This cake has a lot going on: bold stripes, a blinged-out edible gold sequin layer, an assortment of patterned and colored hearts, and a prominent pink peony. What keeps the cake from becoming busy, however, is the unity attained in using a controlled color scheme. The vibrant pink statement flower echoes the color of one of the hearts on the cake, immediately bringing harmony to an action-packed design.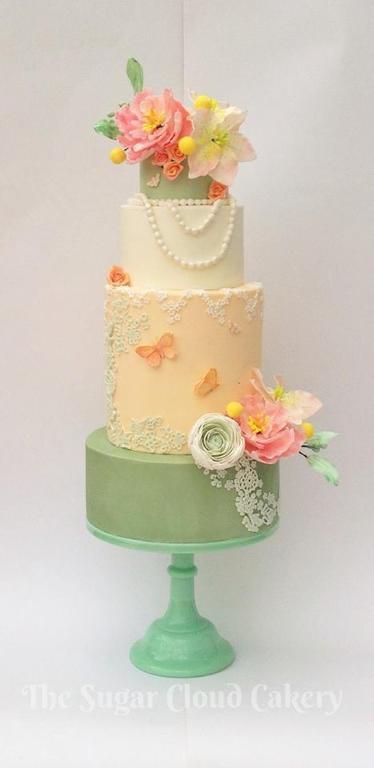 Floral cake with pearls via thesugarcloud
5. Create multiple focal points.
Take a look at the top of this cake. Two statement flowers are crisscrossed with smaller, more delicate stems and fillers, creating a nice visual appeal. Very pretty, but with this arrangement alone, the cake could tend toward top heavy. However, the arrangement is cleverly echoed on the bottom of the cake with a similar arrangement to create perfect balance.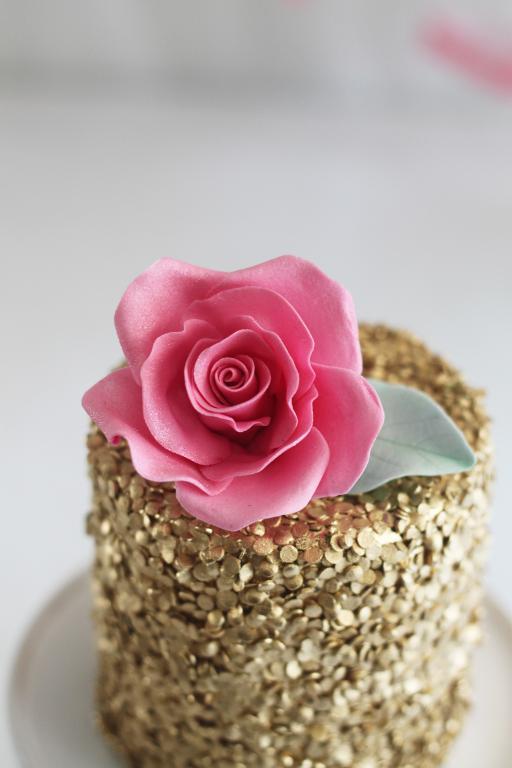 Gold sequin cake via sockerrus
6. Don't be afraid to make a statement.
Sometimes, arranging flowers can be as simple as the artful placement of a single stem. On this cake, a top tier adorned with edible golden sequins has enough texture and shine to attract the eye; a single realistic rose with minimal greenery is the perfect complement. It makes a statement, but neither the flower nor the gold cake outshine one another.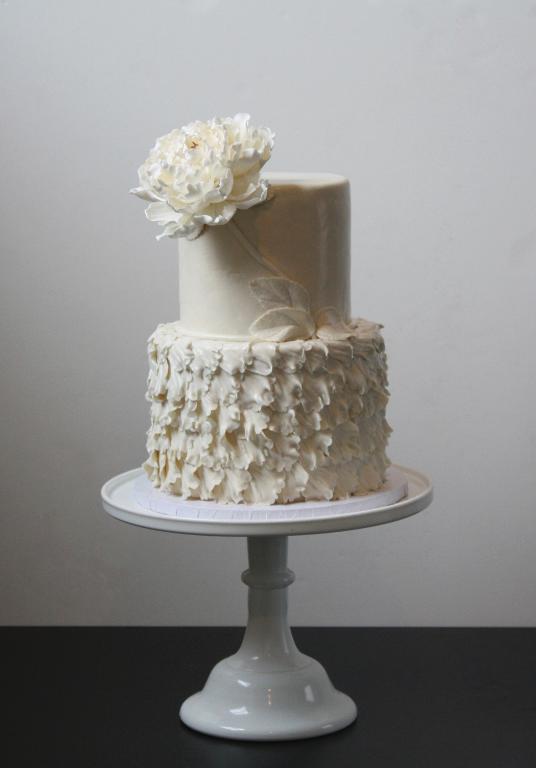 Peony petal cake via Erin Gardner
7. Remember the sweetness of subtlety.
Sometimes, subtlety can make for a most stunning sugar flower arrangement. Though the design of this cake is quite assertive and textural, with a big, beautiful peony perched atop the cake and a bottom tier composed of highly textural fondant-formed "petals," the all-white color palette makes the cake understated, sophisticated and absolutely stunning.
Learn to apply modern design principles to your sugar flower arrangements with the Craftsy class Cakes in Full Bloom. Instructor and cake artist Erin Gardner will impart smart techniques to create radiant, floral-inspired cakes. You'll work with a variety of flower types, from statement flowers like peonies or dahlias to creative fillers like eucalyptus and hellebore flowers, applying your sugar creations to cakes in creative and beautiful ways.
Do you have any tips for arranging flowers on cakes?