Learn to mix colors in ways you never thought of before! In Color Play, we've rounded up some of the season's top fabric colors and paired them perfectly with new project ideas to inspire your next colorful quilting creation.
By January, the light, fluffy snow that felt so delightful during the holidays now looks less inviting (and let's face it, sometimes even soot-covered and downright depressing). Never fear… spring is near! The upcoming season has us looking to our stashes for splashes of bright color, doses of playful prints and pops of nature-inspired inspiration to lift our spirits.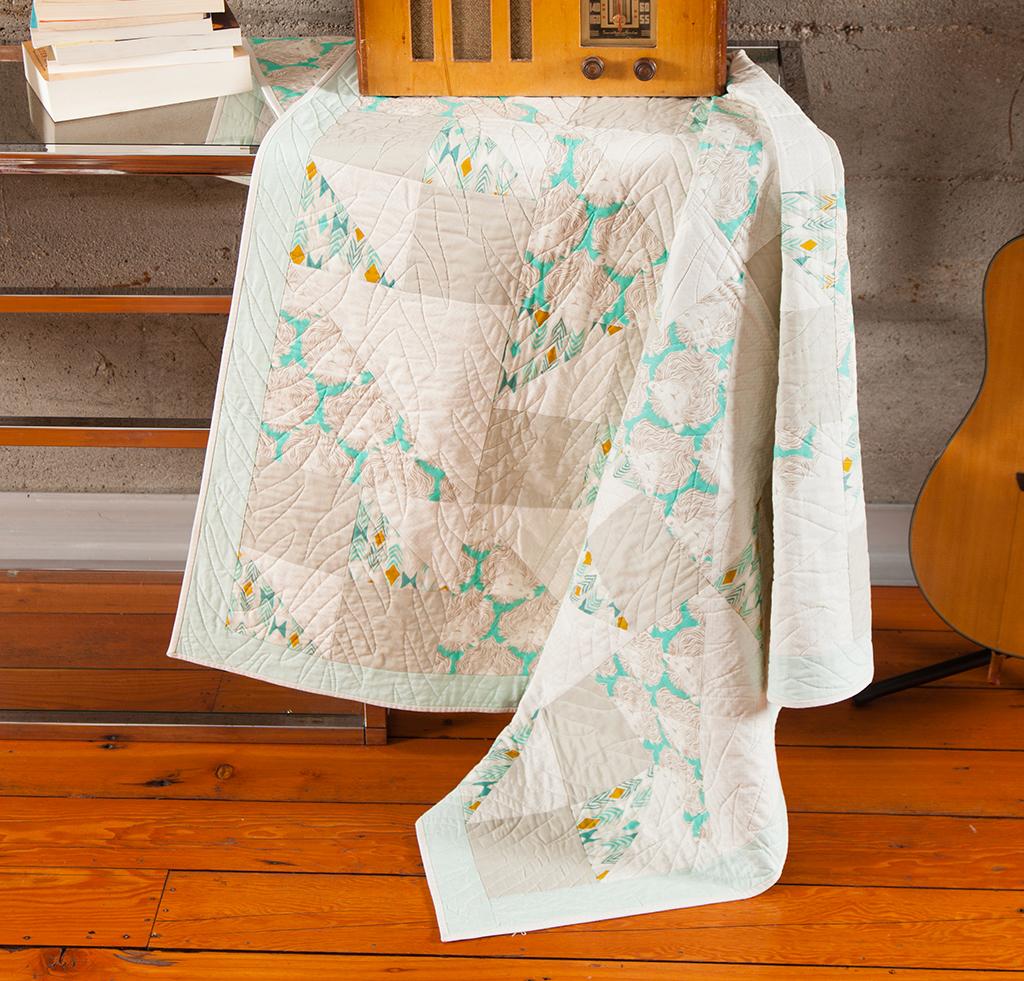 Exploring aqua
Enter aqua, a lively and most surprising color that although within the same color family, evokes anything but winter blues. Fun-loving, fresh and vibrant, aqua is as refreshing as it is comforting. Precisely situated between green and blue on the color wheel, this cyan hue can be spotted in robin's eggs, peacock feathers, and calming, clear seascapes.
Equally as eye catching when paired with warm red tones like cherry, coral, or for a punchy, 1950s vibe, flamingo pink. A vibrant grassy green adds unexpected depth while pairing aqua with buttercream will create a light, airy feel.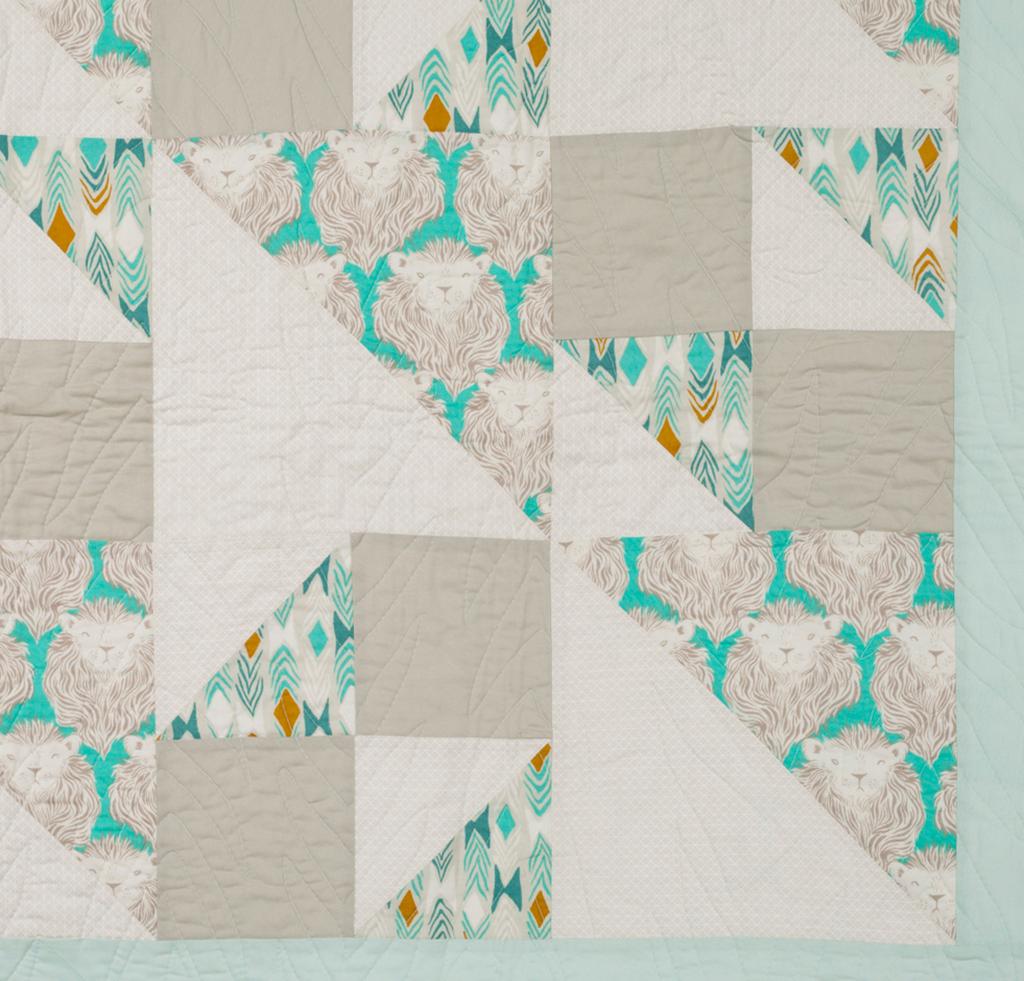 Our favorite pairing with soft aqua? Mustard and grey as shown in this Mezzanine Quilt Kit designed by Sarah Watts from Cotton + Steel. This easy project can be done in one weekend, so while the weather outside is frightful, you can cozy up with this eye-catching quilt top project that showcases unique, nature-inspired prints that will have you daydreaming about springtime.
Get the Mezzanine Quilt Kit »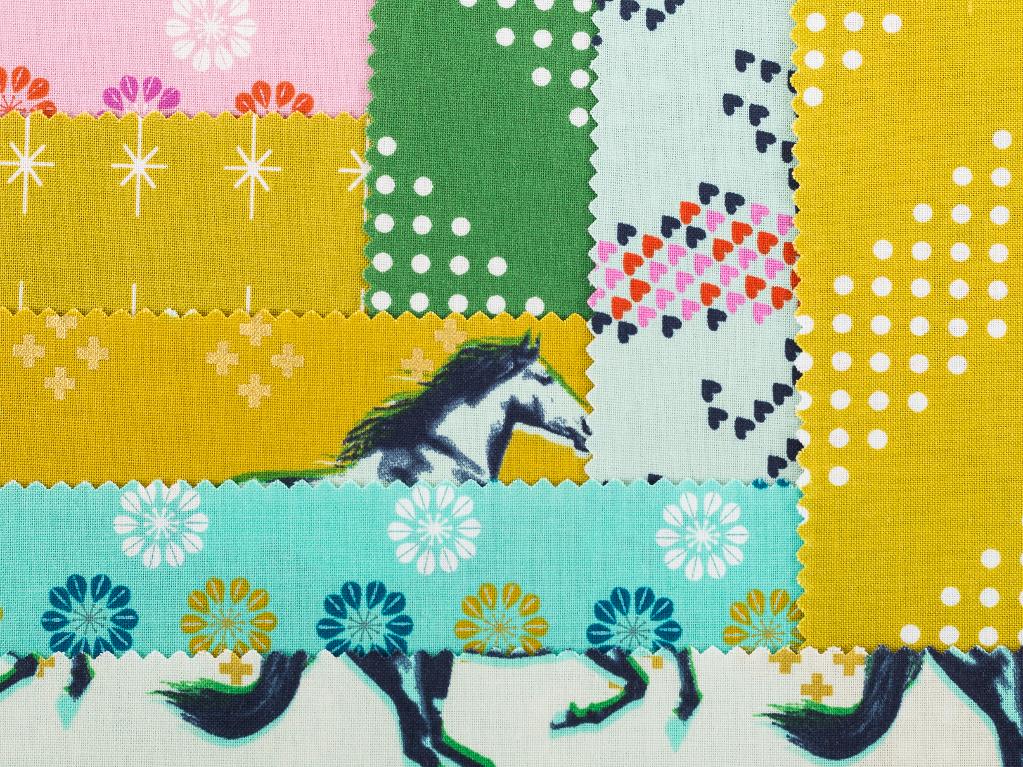 A collaborative division of RJR Fabrics, Cotton + Steel offers an entirely new aesthetic from colorful, distinctive designers Sarah Watts, Melody Miller, Rashida Coleman-Hale, Alexia Abegg and Kim Kight. Blurring the line between fashion and quilting, Cotton + Steel authentically churns out beautifully designed fabric inspired by vintage reproduction prints, playful animals, metallic infusions and even a line of more subdued basics with a fun twist.
More weekend inspiration: Red, pink and aqua
Want to hibernate and quilt every weekend (us too!), or just can't get enough aqua? This fun and easy nine-patch quilt from Bluprint member Not Your Run of the Mill beautifully showcases bright and bold modern fabrics in a traditional pattern. This pattern's proportions are perfectly suited to big prints balanced with white negative space that gives bright colors and bold designs just the right amount of breathing room.
Get the red, pink and aqua 9-patch quilt pattern here.
Touches of aqua in a baby's quilt
If you'd prefer to incorporate this bright shade in a more subdued way, adding small patches to in a quilt for your little one might be the best option. This soft baby quilt has fun frills and small strips that create dimension and texture, and is the perfect way to use leftovers that may be sitting in your stash.
Get the A Soft Place to Land Quilt pattern here.
Just because the aqua in your quilt will be more subdued, doesn't mean you can't have fun with patterns! We'd recommend this fun Basic Variety Rolie Polie from Riley Blake. Featuring gorgeous gingham, cheerful dots, and trendy chevrons, these fabulous fabrics can be used as bright blenders or vibrant borders for a whimsical children's quilt.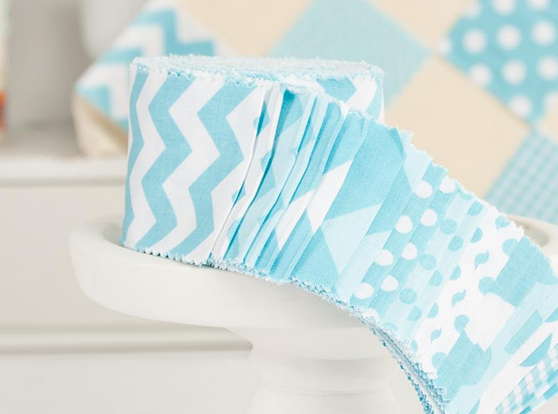 Get the Riley Blake Basic Variety Rolie Polie here.
On the hunt for more color inspiration? Check out more ways to play with color in your quilting projects here.
Free Online BOM Class
Build your skills and a breathtaking quilt, one fun block at a time!Enroll FREE Now »