You might recall that last year on April Fool's Day we released a pasta crafts class to take part in the spirit of tom foolery typically celebrated on April 1st. Well, this year we were back at it, trying to make our Bluprint members smile again. Did you notice we released Foundations of Foil Fashion on April Fool's Day? If you guessed it was a joke, you were right!
In our fake foil class we encouraged you to turn your burrito wrappers into bustiers, wrap your leftovers in last year's lingerie, and create designs you'll never see on anybody else. Plus, we also gave you a peek into how Madame Sylvia Reynolds discovered her interest in foil, with our Maker Monday blog post. Since you came along for the ride in good spirits, now we want to show you the making of the joke from behind the scenes. Let's dig in!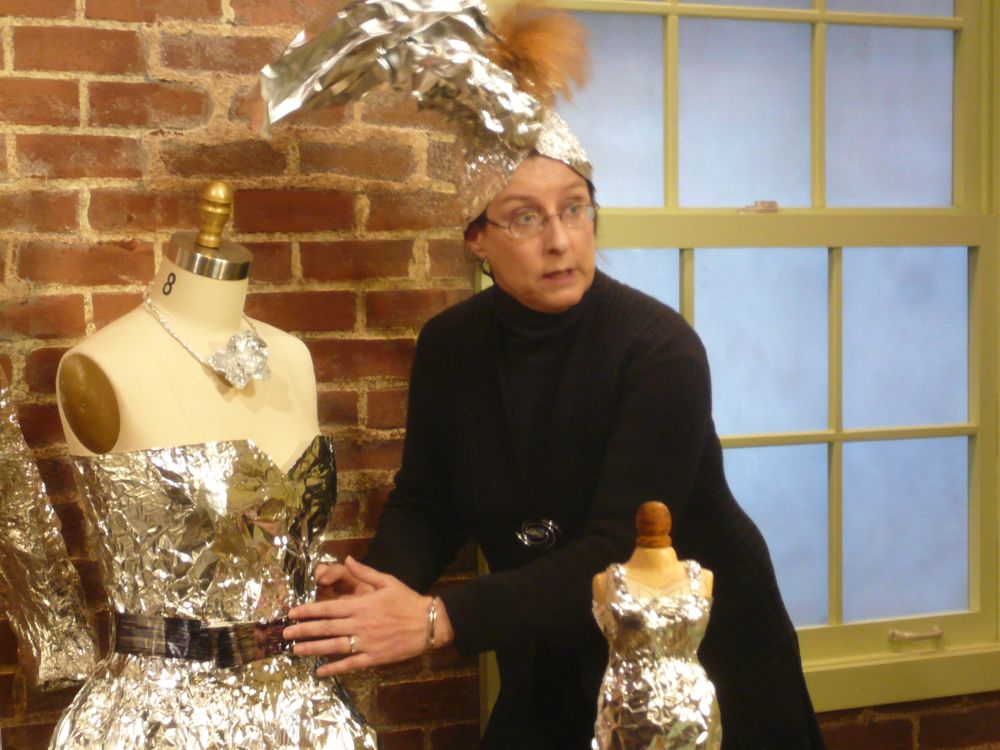 Presentation Editor Katherine Greden in her "Madame Sylvia Reynolds" persona, complete with foil turban. "We were brainstorming April Fool's video ideas — Knitted Appliance Cozies, Dust Bunny Crafts, Perfect Toast at Home — and it occurred to me that foil fashion would be an easy and fun material to use in a parody class. Everyone on the team could have some involvement and it would almost — but not quite — believable as a class"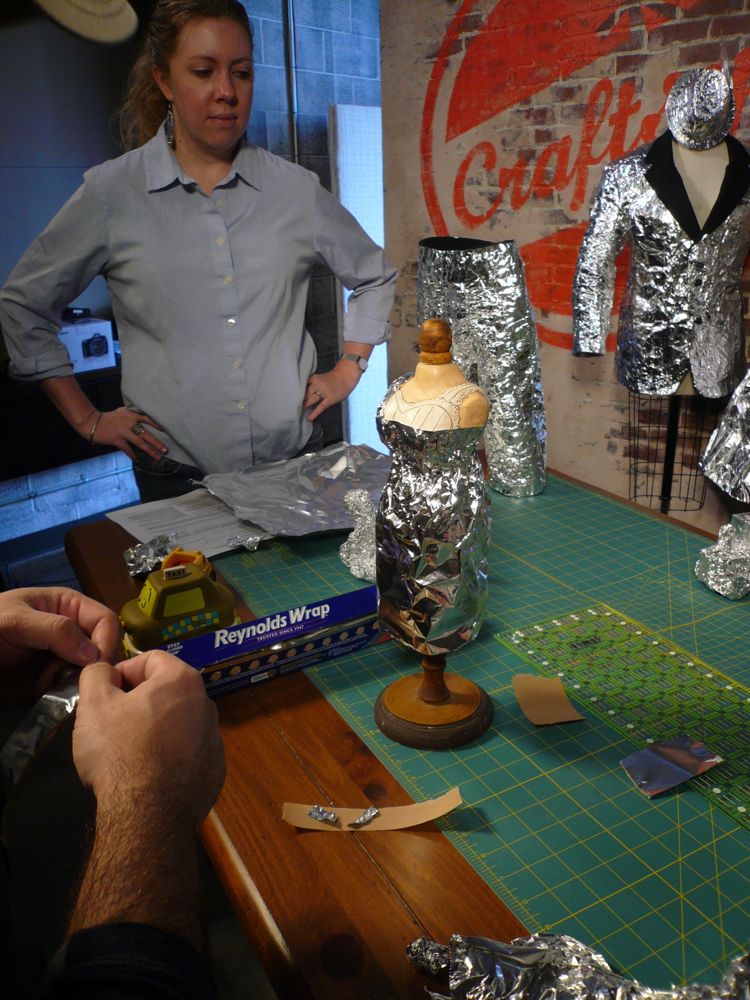 Producer Jane Glenn oversees the set dressing.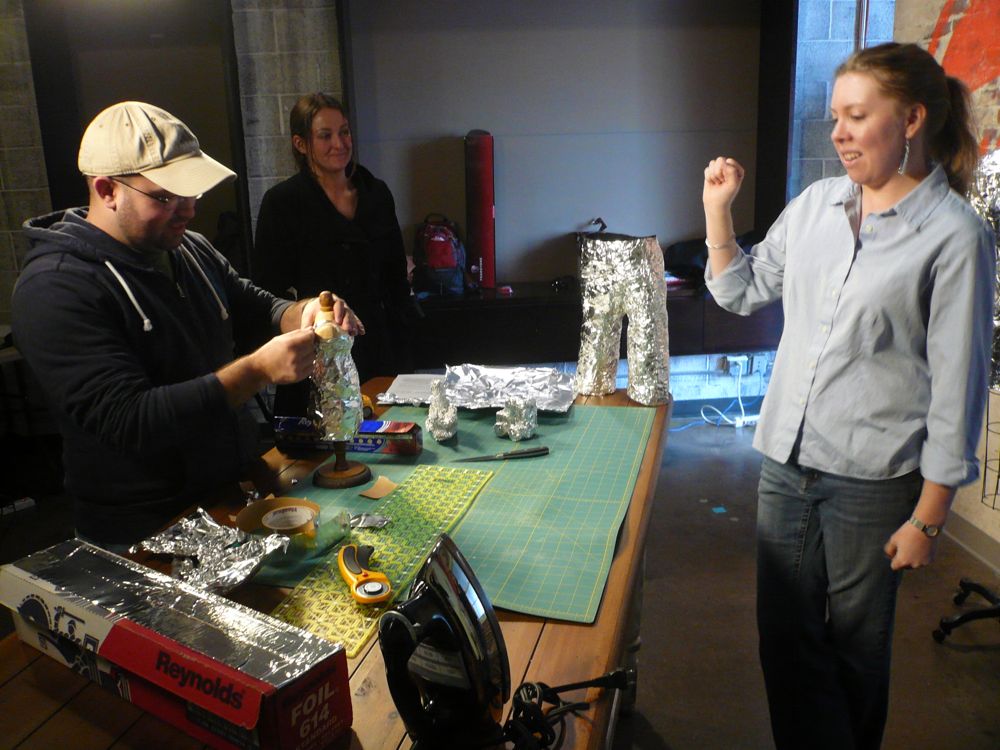 Presentation Editors Jonathan Garcia and J.C. O'Connell work on foil props. The larger foil dress was inspired in part by a cake topper from Bluprint Instructor Ann Heap's class, Cake Topper Techniques: Figure Modeling, and was built by Jonathan and his brother, Joseph Garcia, with help from Kristin Bellini. Associate Presentation Editor Abby Claybough created other accessories for the set, including "Madame Reynolds'" ring.
With the pieces were made, it was time to begin shooting! Take a peek at the Bluprint studios where "Madame Sylvia Reynolds" was busy ironing foil.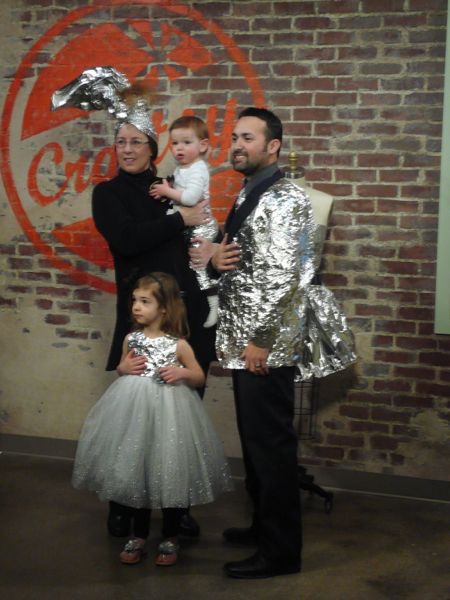 Foil fashion for the whole family. Even a couple of Bluprint kids got in on the fun!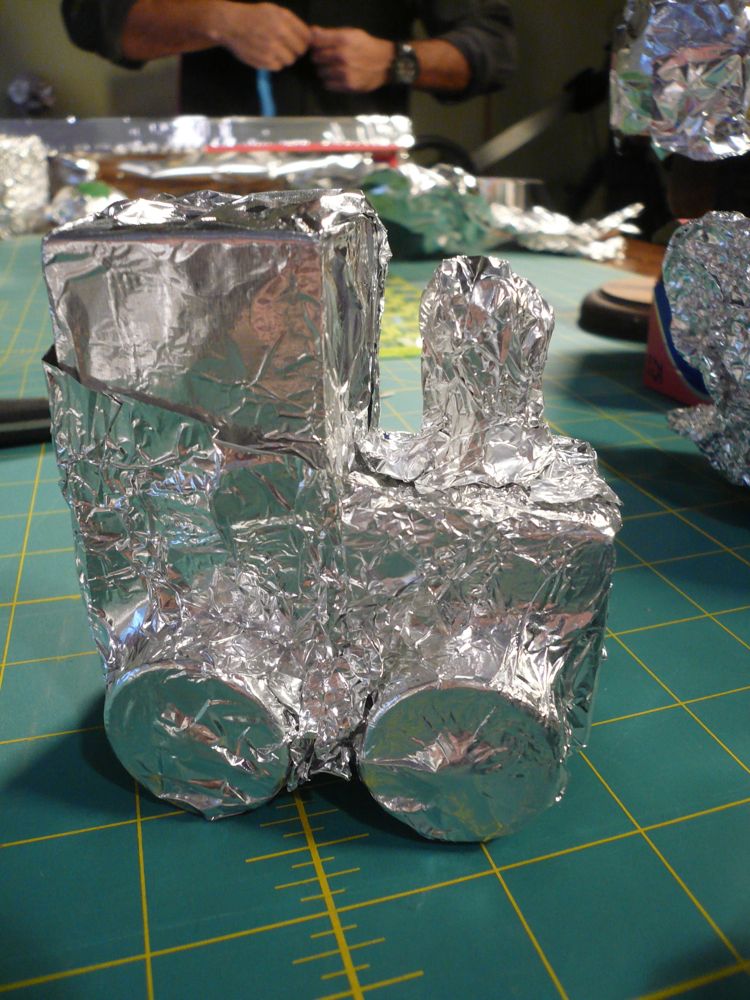 A foil train, one of many foil props our Production team enjoyed making. Once we got started creating with foil it was hard to stop. See, the possibilities really are endless!
So did you know it was a joke and did you enjoy it? Would you wear a foil dress? Let us know in the comments!