Apps are everywhere these days. There's an app to track every glass of wine you ever drink, an app track how many miles you run, and even an app to help you find the cheapest gas in town. Fortunately for us knitters, there are also apps for knitting.
Here's a list of just a few the apps for knitting we're digging lately, from apps that keep track of your stash to ones that let you count rows on the go.
A note to Android and other non-iPhone/iPad users: Some apps for knitters are made exclusively for iPhones. If the app isn't available for your operating system, I've provided alternatives.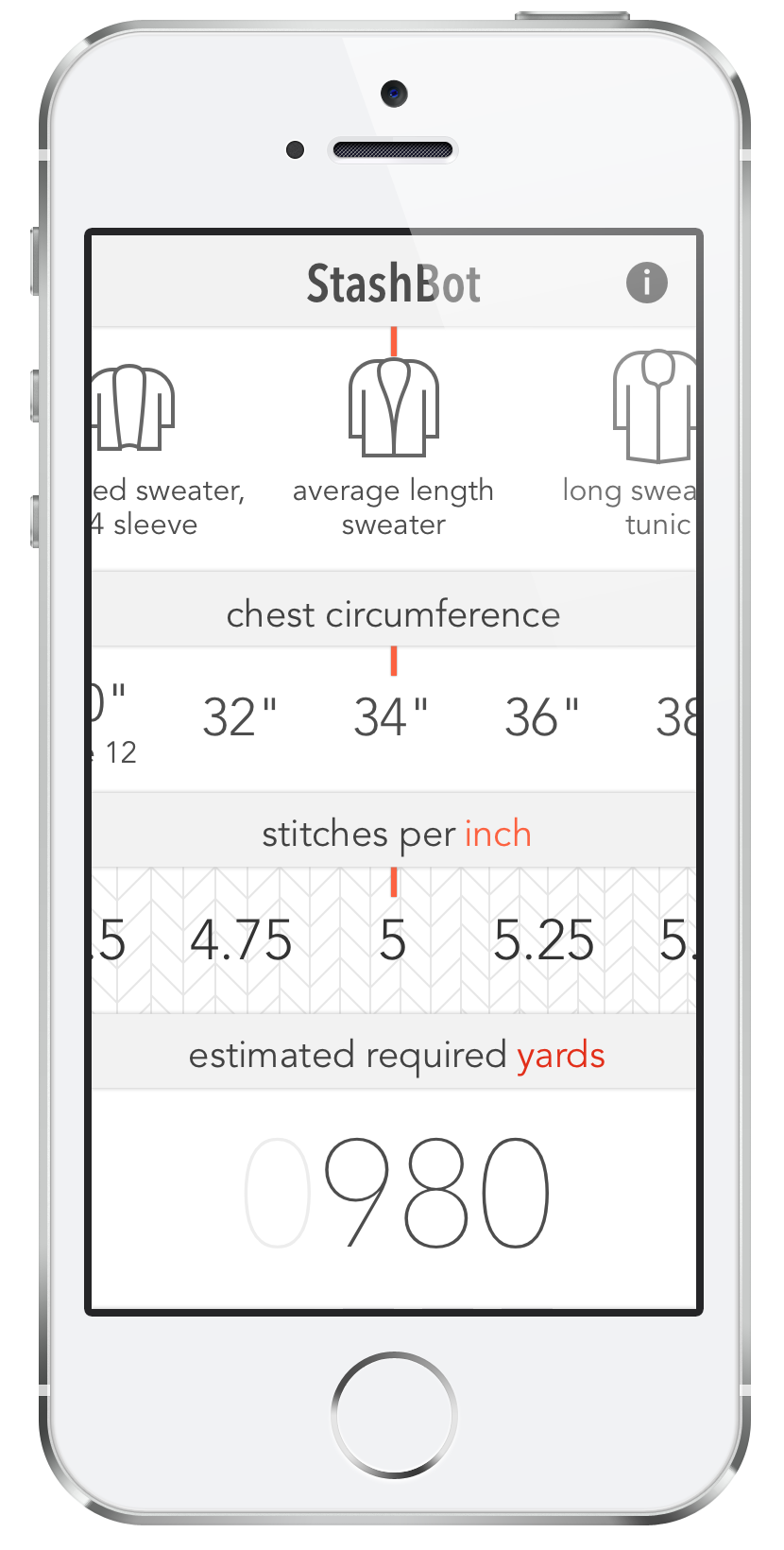 Photo via KnitBot
1. StashBot
What it does: Helps you figure out how much yarn to buy
Where to get it: StashBot on iTunes
For non-iPhone users, StashBot is also available as an 8-page booklet from your local yarn store.
Cost: $4.99
Are you constantly buying either too much or too little yarn for a project? StashBot calculates how many yards of yarn you'll need based on many factors, including project type, gauge and body measurements. It's perfect for when you find a yarn on a whim that you just can't pass up, but aren't sure how much yarn to buy.
It's not an exact calculation, but it will definitely save you a trip to the yarn store — and may even help you cut down your stash.
Read more about StashBot here.
2. Knit Counter
What it does: Keeps track of your row count and repeats
Where to get it: Knit Counter Lite on iTunes or Knit Counter on iTunes
Android users can try the similar Knitting Counter app
Cost: Free, if you download the Lite version; $3.99 for the full version
I have the lite version of this app on my iPhone. It's great for when you're knitting on the go, and I prefer it to the scraps of paper I used to keep track of my rows with. The lite version doesn't offer as many features as the full version, but it will give you a taste of it and help you decide if the complete version is right for you.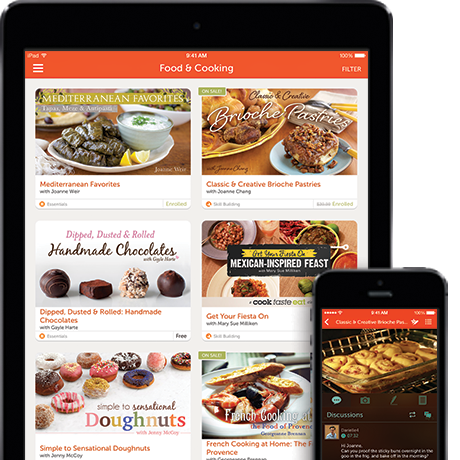 3. Bluprint
What it does: Lets you watch Bluprint classes anytime — even when you don't have Internet access
Where to get it: Bluprint App for iPhone and (now available!) for Android devices
Occasionally we find ourselves in that peaceful moment without wifi or other Internet access.  I don't know about you, but in those moments, I usually want to craft. With the Bluprint app, you can download your classes to the app and watch them anytime. Once you've downloaded them, no need to have an Internet connection to access them.
Cost: Free
4. Vogue Knitting
What it does: Keeps project notes, multiple row counters, needle and crochet hook inventories, yarn stash and swatch info
Where to get it: Vogue Knitting app on iTunes (no longer available)
Cost: $3.99
Not sure if you have a 16-inch size 8 circular needle? Need to know if you have any laceweight yarn in your stash? Our friends at Vogue Knitting have you covered. This app is handy for when your local yarn store owner persuades you into buying all the yarn you need to make that beautiful shawl that's on display in the store — not really a difficult task for most owners, as we knitters are easily persuaded. You'll never buy another duplicate needle again as long as you have this app with you.
5. Lion Brand
What it does: Lets you browse thousands of Lion Brand patterns on the go, plus has access to Lion Brand yarn info, videos, and stitch how-tos
Where to get it: Lion Brand app on iTunes 
Non-iPhone users can access Lion Brand's mobile site to get the same info
Sometimes I'm at my stitch group or on public transportation and something comes up in a pattern that I don't know how to do. In that case, an app like this would come in handy. You can see how to make a yarn over, for instance, or check out what the abbreviation sk2p means.
These are just a few of the knitting apps out there. If you don't see one here that you like, there are plenty more to choose from! Just search for "knitting" in your phone's app store and see what you come up with.
Your Next Knit Made Easy
With our knitting project kits, you get a designer pattern paired with the perfect yarn, so you can get stitching faster.Shop Now