This isn't your grandma's apple pie! In fact, it's not a pie at all. Meet the apple galette, your new, go-to pastry. While undeniably similar to many fruit filled pies and tarts, it's the shape of this French pastry's crust that really sets it apart.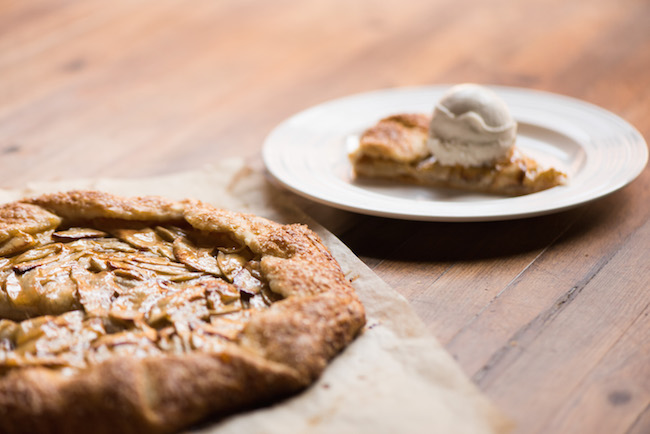 By definition, a galette is a flat, round pastry.
So if your first thought was that this treat looks like a dessert pizza, you're not wrong. Technically pizza is a galette, though in Italy they're called crostatas.
Pies and galettes are made from the same flakey, buttery crust. The biggest difference is that while a pie is traditionally deep dished and baked in a pie tin, galettes are baked flat on a cookie sheet. To keep the filling and juices from spilling out, the edges of this pastry are folded over and sealed.
Next time you're baking a holiday dessert, consider this twist on the traditional apple pie. The familiar flavors and handmade, rustic look of the galette only add to it's charm. With a little vanilla ice cream or a dollop of whip cream, you'll be well on your way to a tradition in the making.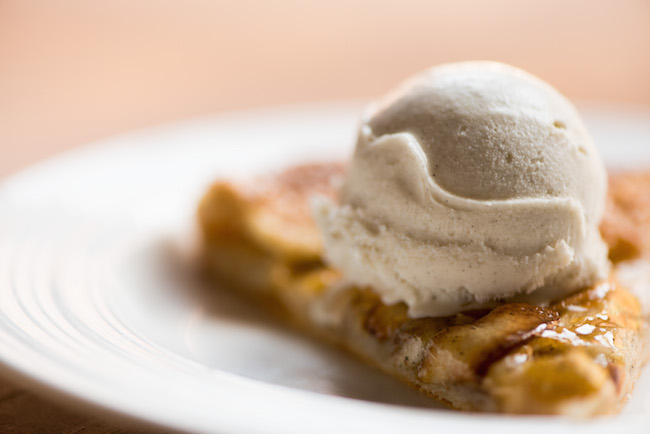 By the way, this recipe comes from our brand new FREE online class, Holiday Baking, which includes more crave-worthy recipes from Bob's Red Mill.
Cardamom vanilla apple galette recipe
Makes one 9″ pie
Ingredients:
3 large Granny Smith apples, peeled, cored and sliced 1/8″ thick
¼ teaspoon ground cardamom
¼ teaspoon ground cinnamon
Pinch of salt
1 teaspoon fresh lemon juice
3 tablespoons granulated sugar
•½ vanilla bean, halved lengthwise, seeds scraped out with the back of a knife, or 1 teaspoon pure vanilla extract
1 teaspoon cornstarch
1 egg
Bob's Red Mill Organic All-Purpose Baking Flour or Gluten-Free 1-to-1 Baking Flour, for dusting
1 batch pie dough
2 teaspoons turbinado sugar
1 tablespoon cold unsalted butter, cut into small pieces
1½ tablespoons apricot jam
Vanilla ice cream or whipped cream, for serving
Step 1:
Preheat the oven to 375 F. If necessary, take the pie dough out of the fridge to soften.
Step 2:
In a large bowl, combine the apples, cardamom, cinnamon, salt, lemon juice and sugar. Toss to combine. Add the vanilla seeds and toss to incorporate. Stir in the cornstarch.
Step 3:
Beat the egg in a small bowl with 1 teaspoon water (this will be for the egg wash).
Step 4:
Line a work surface with a large piece of parchment paper and dust it lightly with flour. Roll out 1 disk of pie dough on the parchment into a 1⁄8-inch-thick round—it should be about 12″ in diameter. Brush any excess flour off of the parchment paper. Slide the parchment and dough onto a baking sheet.
Step 5:
Pile the apples in the center of the dough, then spread them in an even layer, leaving a 1″ border. Fold the dough up over the apples, overlapping it and pinching it together (if the dough starts to get too soft, pop the pan in the fridge for a few minutes to chill).
If needed, patch up any tears. Brush the crust lightly with the egg wash (you won't need it all), and sprinkle the crust with turbinado sugar. Dot the butter over the apples. Refrigerate the galette for 5-10 minutes.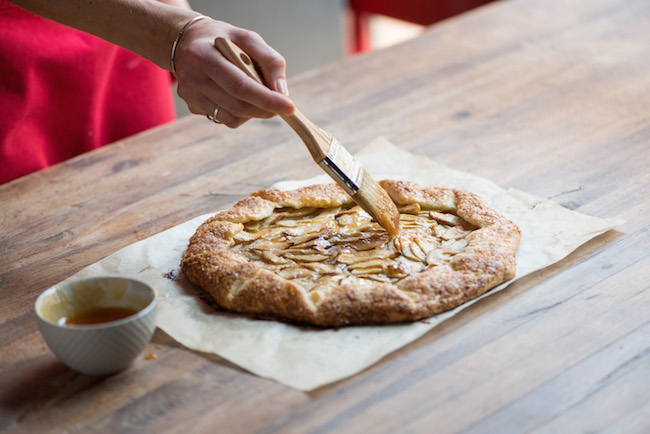 Step 6:
Bake the galette, rotating once, until the crust is a deep golden brown and the juices are bubbling,
50-60 minutes. Let cool for 5 minutes.
Step 7:
Heat the apricot jam in a microwave or on the stovetop until warm and runny (if needed, add a splash of water). Brush the jam over the apples.
Step 8:
Serve the galette warm or at room temperature with a scoop of vanilla ice cream or a dollop of whipped cream.
Make it ahead
The galette can sit at room temperature for up to 8 hours. It's best day-of, but leftovers can be refrigerated for up to 2 days.