Bluprint has grown by leaps and bounds since it began and the reason is because there are truly amazing, creative and awesome artists and crafters in the Bluprint community! Especially in the realm of the ever-popular cake decorating field.
Whether you're a cake designer by trade, a hobbyist or a first-time fondant slinger, we're so impressed by your incredible cakes, we want to start dedicating blog posts to them. We love how you so lovingly photograph your works of edible art and take the time to share them in our Cake Decorating Projects Gallery.
Have you ever surfed the Bluprint cake projects? Did you know there are more than 11,000 cakes? Here are a few we were most inspired by: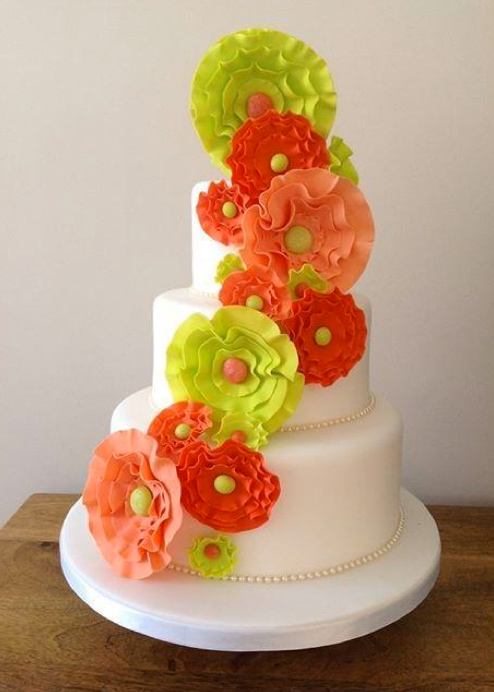 Ruffle Flower Wedding Cake via Bluprint member Kims Cakes
Bright and bold craft ruffle rosette blossoms:
Bright and brilliant in peach, tangerine and lime, these ruffled rosette fantasy sugar flowers climb up so artfully in a range of sizes, giving interest and balance. I like how the designer chose to keep the cake itself white to leave room for the flowers to shine brightly. This cake was created as a project in the class Fondant Ruffles, Pleats & Drapes, taught by cake designer Marsha Winbeckler. Makes me want to sign up for that class immediately!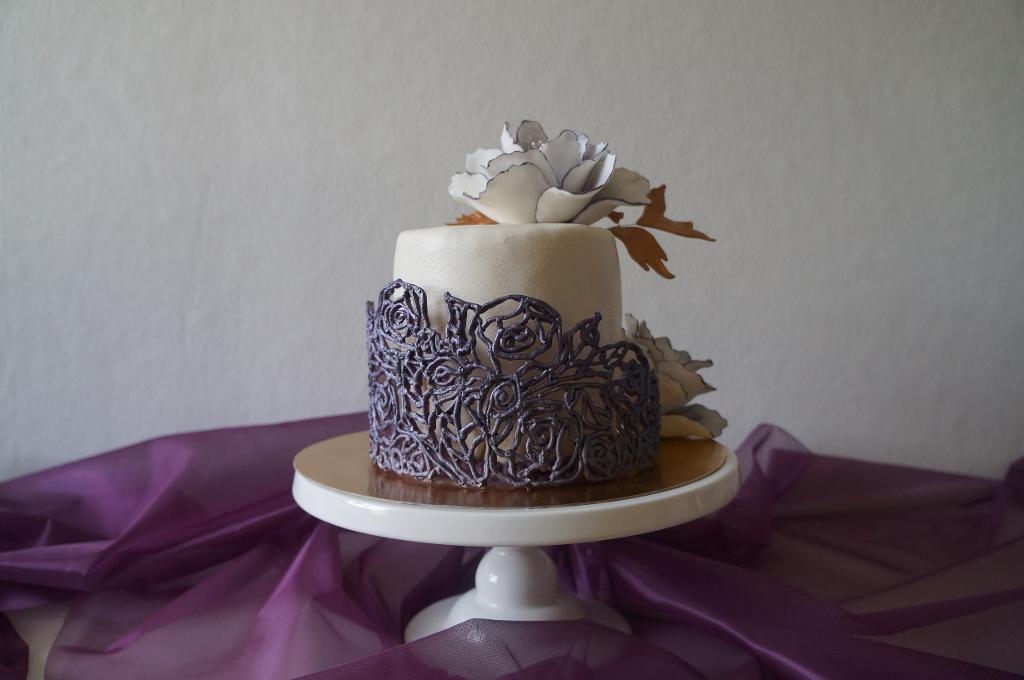 Photo via Bluprint member Angelica G
Vintage-inspired royal icing gilded filigree cake cage:
When I see beautiful, delicate works of art like the work on this exquisite cake, it just blows me away that Bluprint has such an incredible selection of cake artists who share their skills and techniques with the rest of us. It's what the Bluprint community is about: learning, sharing and teaching. In Vintage Cakes, Modern Methods, Colette Peters shares her techniques in making romantic, vintage-inspired cakes like this one, Bluprint member Angelica G made while enrolled in the class. This cake is just perfect for a romantic, Old World-inspired wedding.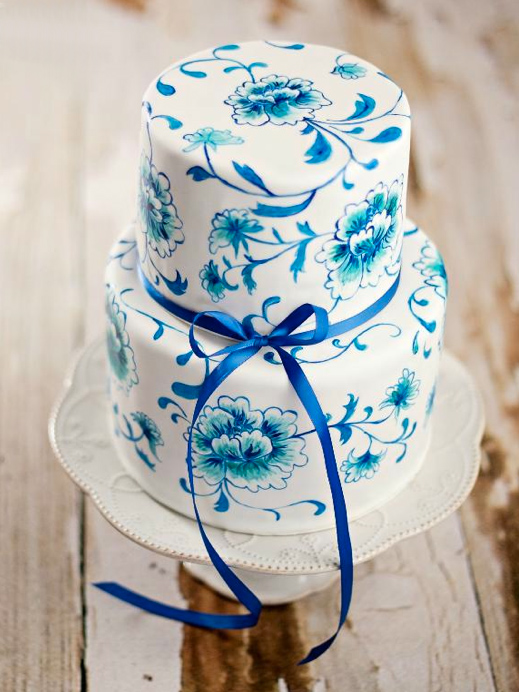 Hand Painted Floral Cake via Bluprint member SweetandSwanky
Retro hand-painted blue blossom floral cake:
Vibrant gel food coloring combined with vodka was used to hand-paint this white fondant cake, which boasts a bright, traditional feel, like a delicate porcelain plate hanging on a wall. You can learn the technique showcased here in the FREE mini-class The Hand-Painted Cake with Erin Schaefgen.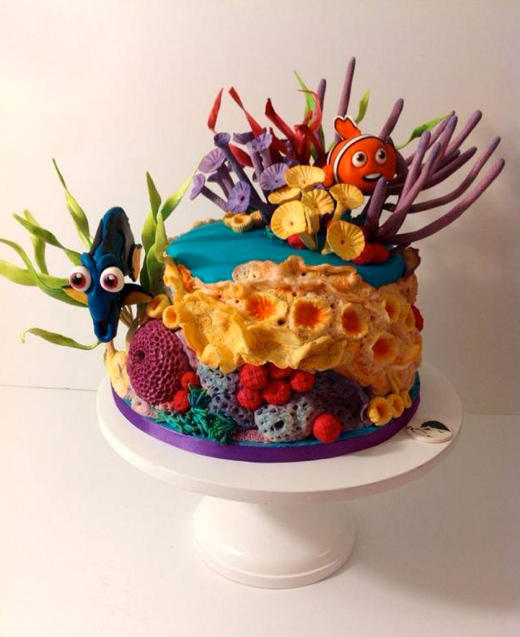 Finding Nemo Cake via Bluprint member Alex Narramore
Bright and brilliant coral underwater cake:
This intricate, colorful cake is oh-so whimsical! Doesn't the myriad of bright and boldly colored corals look like sugar flowers? Amazing work, Alex!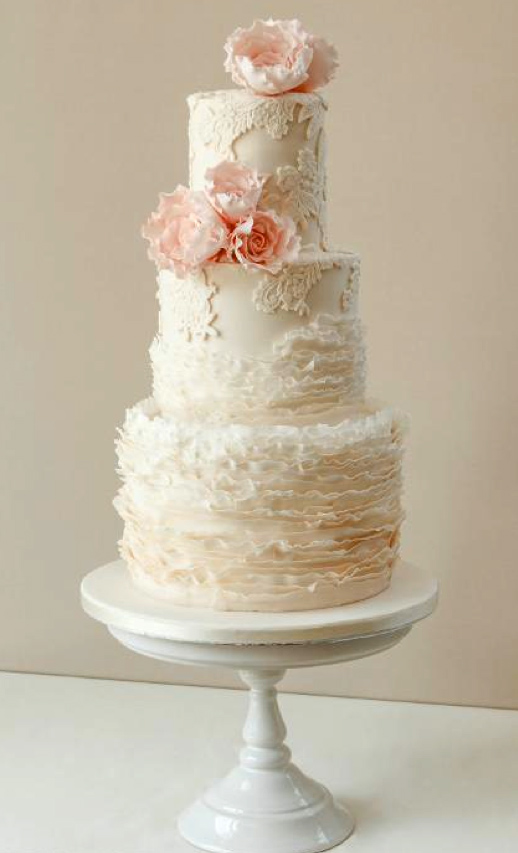 Frills and Roses Cake via Bluprint member uta.seile1270115
Romantic lace, frill and roses wedding cake:
Custom colored ivory fondant, lace molds for the lace application and an homage to Maggie Austin's couture cake ruffling fondant technique to create the frills — what's not to love about this sumptuous, romantic cake? The sugar roses also have frilled edges to complement the fondant frill of the bottom tier.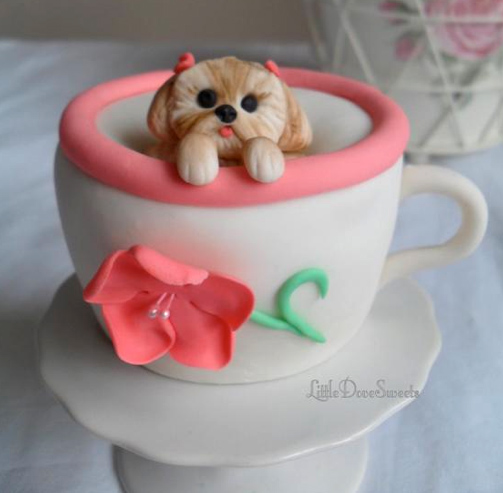 Photo via Bluprint member LittleDoveSwts

Little shih tzu in a teacup cake:
This cake was too precious not to include! Look at that little gum paste shih tzu popping up to say "hi!" Want to learn how to make adorable cake toppers and characters such as this? Sharon Wee's class Cake Topper Techniques: Fondant Animals is right up your alley!
Okay, Bluprint cake artists! We're looking out for your very best work to feature right here on the Bluprint blog. Be sure to post your best photos in the Bluprint Projects Gallery to show off your incredible works of cake art! But first, see our post on how to photograph cakes! Then, come back to the Bluprint blog tomorrow for tips on styling your cakes for photographs!
Which Bluprint classes have you taken so far? What's next on your list?