Both kids and adults alike have a fascination with planes, trains and automobiles! With the recent release of Disney's animated movie Planes: Fire & Rescue, the demand for airplane-inspired treats and celebrations will be soaring high! Keep up with demand using these inspiring cake decorating ideas!
Get your head out of the clouds to check out these high flyin'  planes cakes, cupcakes and parties!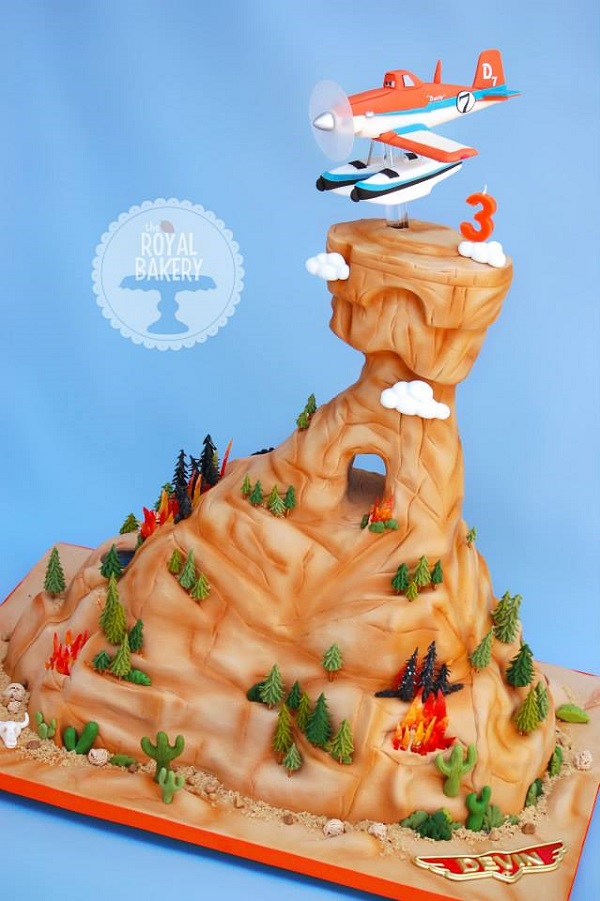 Photo via The Royal Bakery
Planes Fire & Rescue cake
This mind-blowing cake by contributing Bluprint writer Lesley Wright of The Royal Bakery was inspired directly from the film Planes: Fire & Rescue. The birthday boy's father aided in creating the structure with an acrylic rod to hold up the fondant plane and Lesley stacked and carved the cake in the form of a mountain. The very top of the rock formation was created from Rice Krispies treats and the entire cake was covered in fondant, then airbrushed. Additional fondant embellishments and sugar flames with flickering lights were added, while dry ice produced smoke to the final masterpiece!
Learn the basics of cake sculpting in the Bluprint course Cake-osaurus Rex with Catherine Ruehle. Take your skills to the next level in Elisa Strauss' Sculpted Dog Cake and Mike McCarey's Advanced Cake Sculpting: Bobbleheads.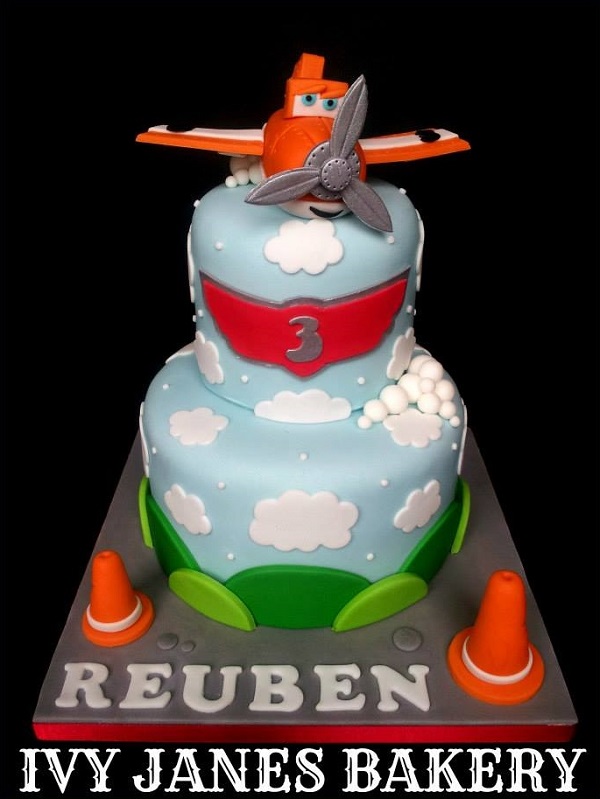 Photo via Ivy Janes Bakery
Planes two-tier cake
This super adorable two-tier cake by Ivy Janes Bakery would be perfect for any fan of the Disney Planes movie series! The two stacked cakes are covered in light blue fondant to resemble the sky, while simple geometric hills and cloud shapes are added with the birthday boy's age reflected in the film's title plaque. The beautifully molded fondant plane tops the cake, while the cake board was covered, decorated and personalized. Incorporating your cake board into the design can make all the difference in your presentation. Get tips for creating a quilted cake board or starburst design for your board to translate into further themes and looks.
Learn the basics in The Wilton Method®: Decorating With Fondant with Beth Somers and find out more tips and techniques to personalizing your cakes in Custom Lettering & Monograms with Nicholas Lodge.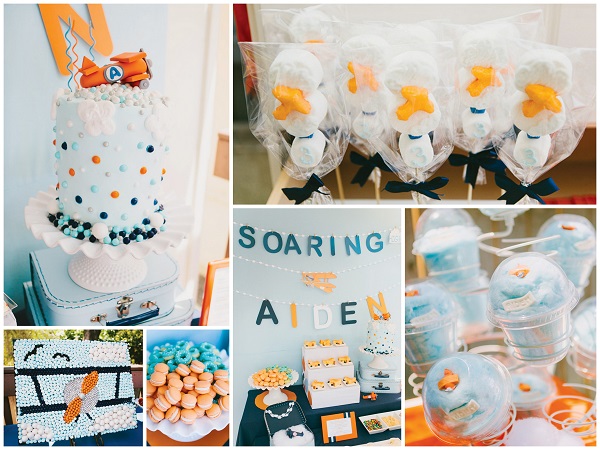 Photo via Melissa Biador Photography
Bright airplane party
This adorable bright airplane party by Alejandra of The Marshmallow Studio is the perfect blend for the plane-loving kid, without the commercialized look. Alejandra is a master at marshmallow treats, as demonstrated in the custom art she created with the use of marshmallows, gumballs and sixlets and the marshmallow airplane pops. The beautiful extra tall cake was soaring high, iced in a light blue buttercream, adorned with coordinating candies and clouds and topped off with a fondant biplane from Lynlee's. The remainder of the dessert table was filled with french macarons from Le Pop Shop, donuts and pound cake planes. Little cotton candy cups served as favors with handmade miniature candy planes and personalized fondant banners. See more details on the Soaring High party here to find additional inspiration.
Make sure to check out The Wilton Method®: Buttercream Skills with Beth Somers to create beautiful cakes such as this one.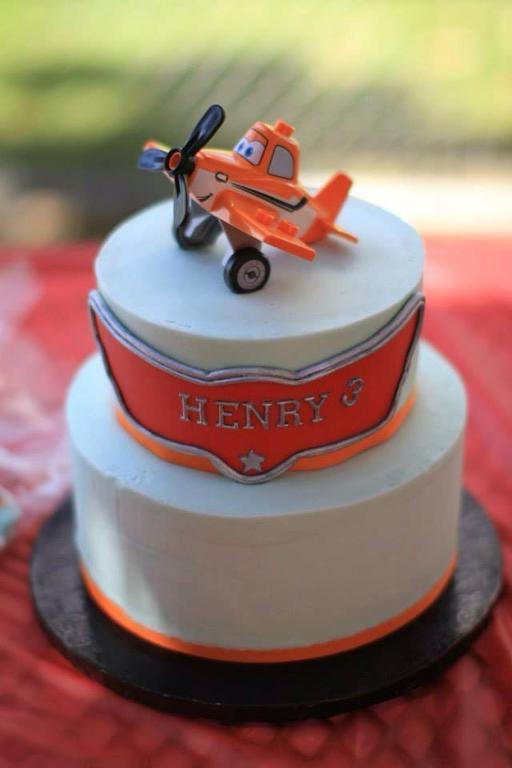 Photo via Bluprint member Natoya
Planes buttercream cake
Bluprint member Natoya created this simple and beautiful Planes buttercream cake in the FREE mini-class Modern Buttercream with Joshua John Russell. The two cake tiers are iced smoothly and the birthday boy's name and age are reflected on a decorative plaque, similar to the film's title. Due to a misfortune, the fondant plane topper had to be replaced with an actual toy, demonstrating a cake artist's constant need to improvise and deal with last minute issues!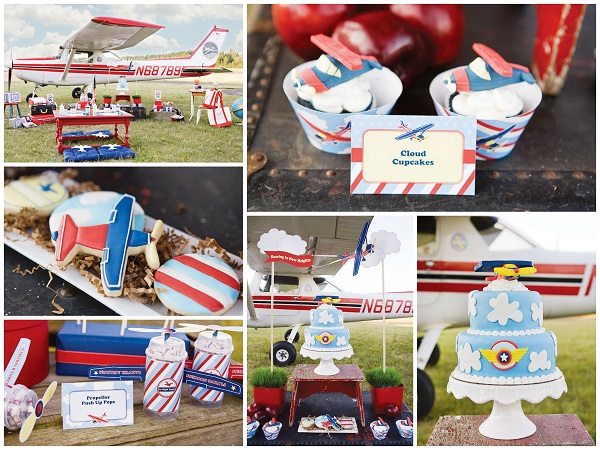 Photos via A Fresh Take Photography
Soaring to New Heights airplane party
This amazing airplane party by Banner Events was styled for a Soaring to New Heights back-to-school event. The beautiful tiered cake by 4 Kids Cakes matching back to the printable graphic designs by Bird's Party created the centerpiece for the dessert table. Additional delicious sweets included fondant airplane toppers by Edible Details and sugar cookies by Flour de Lis.
Develop your cookie-decorating skills in the Bluprint course Decorating Essentials: Designer Cookies with Autumn Carpenter to accentuate your dessert tables.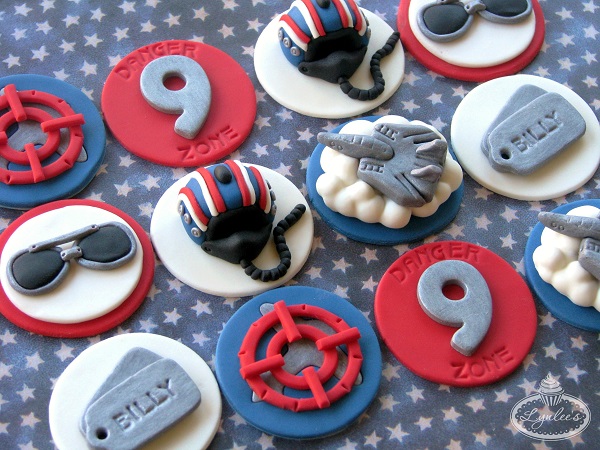 Photo via Lynlee's
Top Gun cupcake toppers
How can a plane-themed conversation be complete without the classic 80's film Top Gun?! These fondant cupcake toppers were created for a Top Gun-inspired party by Oh Goodie Designs, incorporating iconic items from the movie, such as jets, helmets, aviator sunglasses. Personalization for the birthday boy is included in several of the themed designs. See all the details of the Top Gun party for additional ideas and inspiration.
Practice working with fondant in Sheryl Bito's Tiny Cupcake Toppers to feel comfortable working on a smaller scale for cupcakes and miniature treats.
What is the best destination you've flown to by plane?