Are you a colorful knitter? I'm always inspired by knitters, or any kind of crafter for that matter, who can combine colors to make beautiful handmade work. It's tempting to knit everything in neutrals — especially winter accessories that you'll wear with a lot of different colors. But there are so many gorgeous yarns out there that it seems a shame to keep them hidden from the world.
Take a look at these different ways to incorporate color into your knitting, then see if you change your mind next time you reach for that gray yarn!
Use variegated yarn
Not a fan of stranded color work or changing yarn? Variegated yarn is yarn that's dyed with more than one color. It's the perfect way to use color without all the fuss of joining yarn. Knitters often use variegated yarn for blankets. Craftsy instructor Kristin Omdahl designed and knitted the shawl seen above using one skein of Freia Ombre Lace yarn. Notice how those gorgeous colors blend into one another! .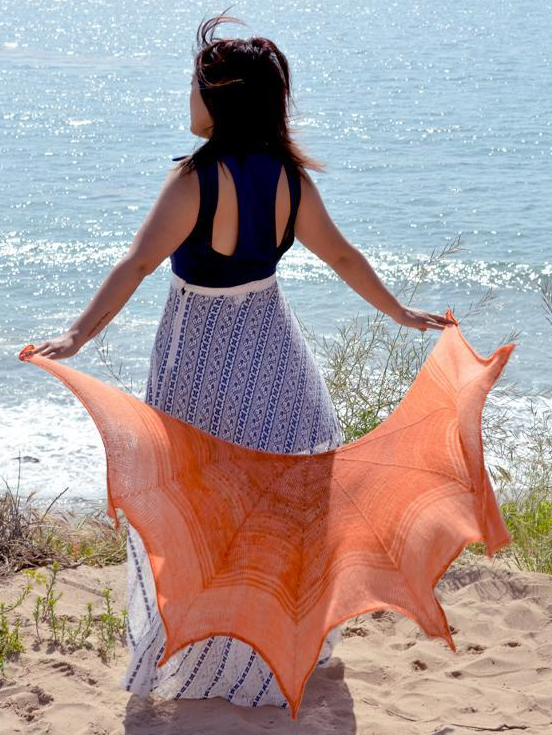 Photo via Craftsy member Ruby Submarine
Keep it in the family
Put your favorite color in the spotlight when you choose yarns from the same color family. Craftsy designer Ruby Submarine used three different shades of orange to achieve an ombré effect with this shawl. Her inspiration? A photo of a semitranslucent vampire squid!
The color family idea can work for any color. If you're a fan of blue, for example, try knitting with teal, royal blue and indigo. Hold those skeins next to each other and use your best judgment! .
Get cozy with intarsia
Intarsia is one of the simpler stranded color work techniques, using just two colors at a time. This Autumn Scarf pattern presents a little variation on stripes, where the neutral and the bright color collide for just a few rows each time there's a color change, making the intarsia super easy.
.
Yikes, stripes!
Knitting stripes is a brilliant way to combine colors. Even if the pattern you're working from is knit in one solid color, you can add your own stripes to mix things up a bit.
Neutrals aren't totally off limits when working with color, and this baby cardigan makes that obvious! Add a little touch of white or gray to any color and see what happens. .
Cross the border
Don't want to commit to so many colors? Knit your piece up and then add a border in a complementary color. I love the blue and purple of this Tetbury Throw. You can add borders to anything, from sweater hems and sleeves to hat brims and bag handles. Even one little row of knitting can bring a much-needed pop of color. .
Need step-by-step help with your color work? Take The Fair Isle Vest Craftsy class with Mary Jane Mucklestone. You'll learn to read color charts, shape your stranded color work, and more!
If you're feeling uninspired by color these days, read up on using color wheels to help choose color schemes in your crafts.
How do you incorporate color into your knitting?