Acrylic paints add wonderful texture and color to your paper crafts projects — something watercolor, inks and other mediums just can't quite achieve. Today, I'll show you three different ways to use acrylic paint on paper to create very cool visual effects. I hope that these versatile techniques will inspire you to have some acrylic adventures of your own!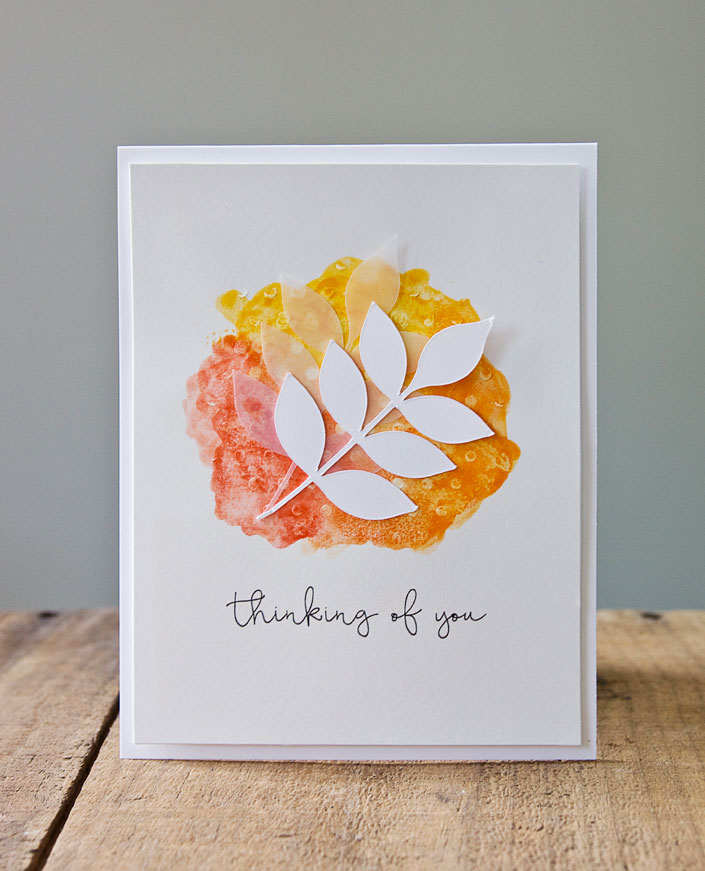 1. Acrylic resist stenciling
Stenciling or stamping with acrylic paint allows you to create textured graphic resist elements that are revealed when you add watercolor paint or ink on top of them.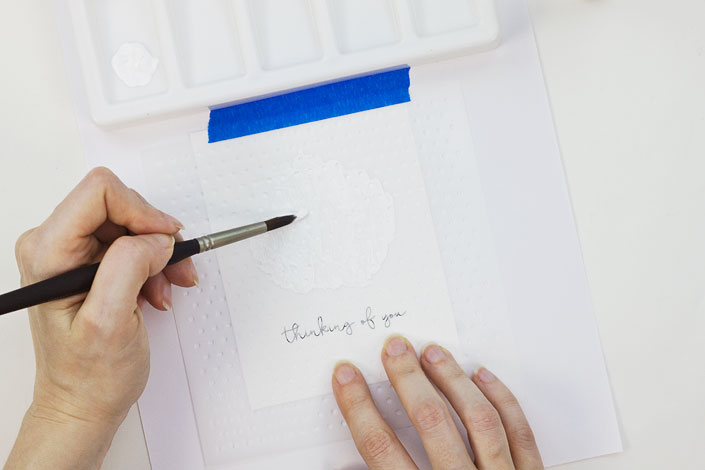 First, attach a stencil on top of a card front cut from watercolor paper (you can adhere the stencil more tightly with a temporary adhesive). I wanted a loose and organic look, so I just attached the polka dot stencil with a piece of painter's tape.
Next, use a paintbrush (I used a No. 8 round brush) and acrylic paint to cover the area where you want your resist element to be. I used white paint, but you can use any paint color for this.
In addition, I painted the surface with just a light coat of paint using a random up and down motion, which creates a more subtle and textured resist effect when painted with watercolors or inked. If you would like a more prominent and uniform resist effect, add a heavier coat or multiple coats of paint. When finished painting, remove the stencil and allow the paint to dry completely.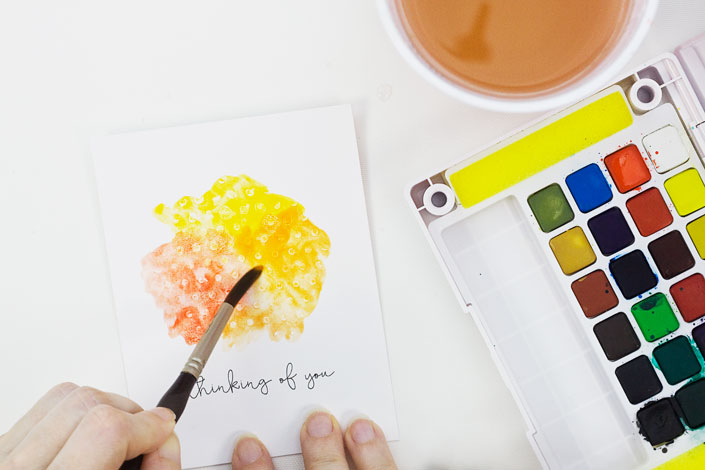 To finish, paint with watercolors on top of the dry acrylic paint. Allow to dry completely and attach the card front to a card base. Adhere any finishing elements, like my die-cut leaves, over the painted resist area.
2. Painting die cuts
Instead of using watercolor or ink to color die cuts, why not try acrylic paints? Acrylic creates dimensional areas on the surface of the die cut and adds great texture and color to the finished project.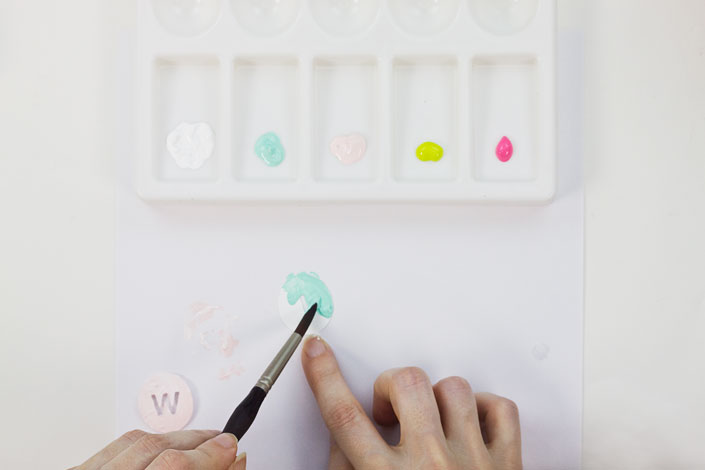 First, die cut several balloon elements and paint each in a different color. Create a subtle marbled effect by adding a touch of white paint to each color and randomly swirling it to blend. Allow the painted die cuts to dry completely*.
To finish, attach the die cuts to a card front using dimensional foam tape. I used dye ink and a round blending tool to create the appearance of a sky on the card front and drew the balloon strings by hand using a metallic silver pen.
* If, after painting the die cuts, you notice that the card stock is warping, don't worry! It will flatten out again as the paint dries.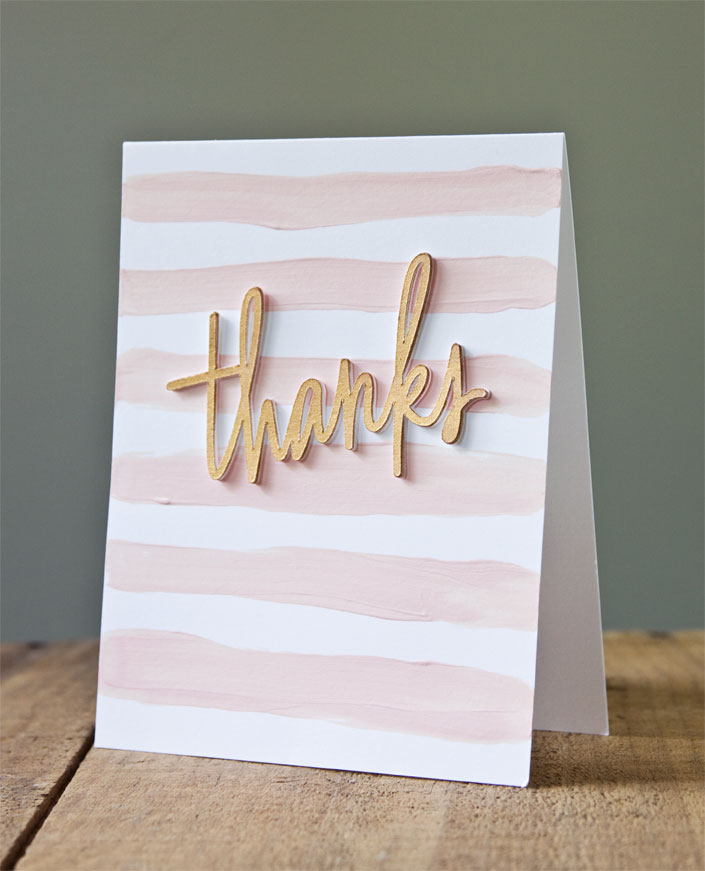 3. Painterly patterned backgrounds
This simple technique offers a world of creative possibilities and creates the painterly look that's so popular right now.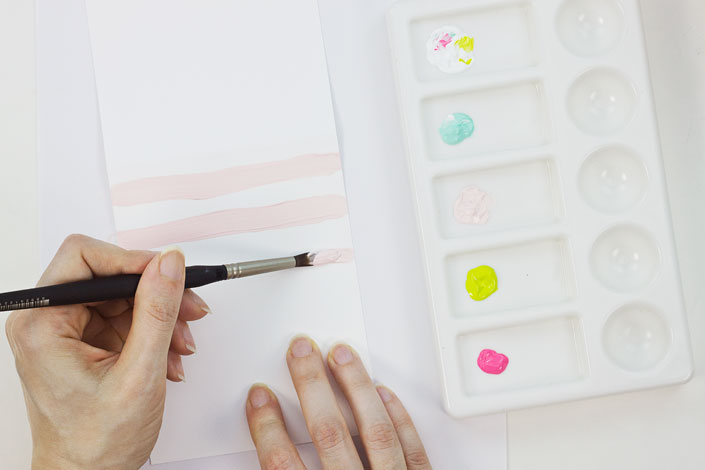 First, paint stripes onto a card front using long, continuous strokes. Paint over the same area multiple times to add more paint to areas that need it or to thicken the stripes. Allow the paint to dry completely.
Then, attach a bold, die cut word or sentiment to the front of the card. I cut out "thanks" four times and glued the die cuts on top of each to add some dimension. Then I covered the top surface with metallic copper ink using a sponge dauber before attaching it to the card.