Realism is fun, but abstract art gives you the perfect opportunity to express your emotion in a wild way. The amount of choices in medium and subject matter can be daunting, however, so it's best to something as a starting point. Animals are a broad topic and a great choice for abstract art. With fur and feathers, there are a lot of opportunities to play with color and texture.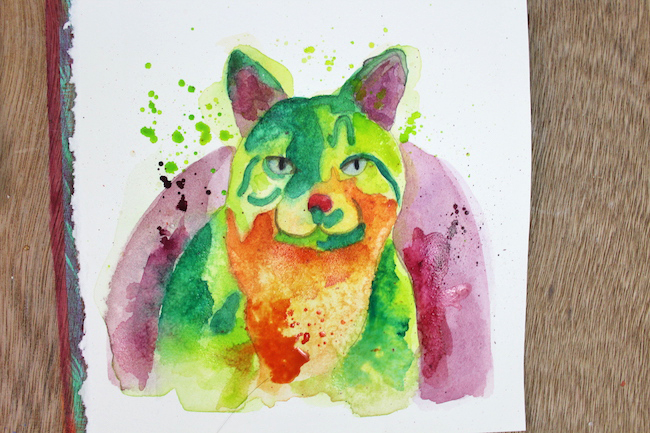 Get started painting abstract animal art with this tutorial.
Painting abstract animals can be done with any type of pigment, but today I'll be using watercolor pigment. Rather than taking a measured, controlled approach — as what's often seen in realism — I'm going to let my paints do the talking.
Supplies I used: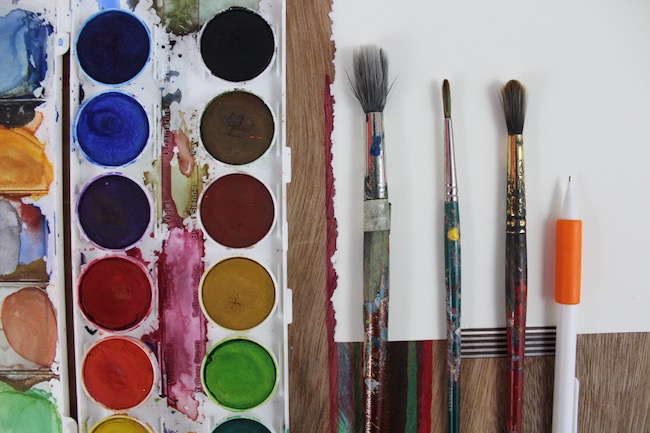 Watercolor paper. Pick your favorite, but I used cold press paper, which has some tooth to it.
Watercolor paints. I really like the simple tray, but watercolor paint is also sold in tubes. I think the tray, however, offers a nice built-in palette.
Paintbrushes. I selected a few different sizes that range from large to small.
Pencil. You've got to draw your animal first!
Step 1: Draw your subject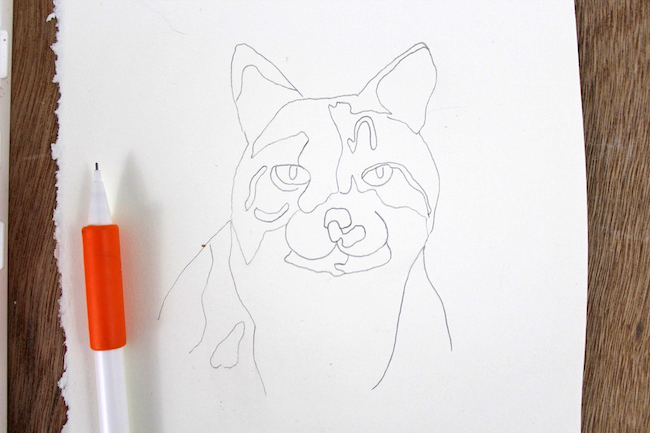 Select the animal that you'd like to draw. It can be your cat, dog, a zebra, an elephant — whatever suits your fancy. Once you've got a reference, draw that animal onto your watercolor paper. Be sure to press lightly, as you don't want your pencil lines to show through your painting. (I should've pressed more lightly!)
I included some defining features, but I preferred to keep this drawing fairly simple. Since I'm working abstractly, this image is more about color and great washes rather than tiny details.
Step 2: Determine a color palette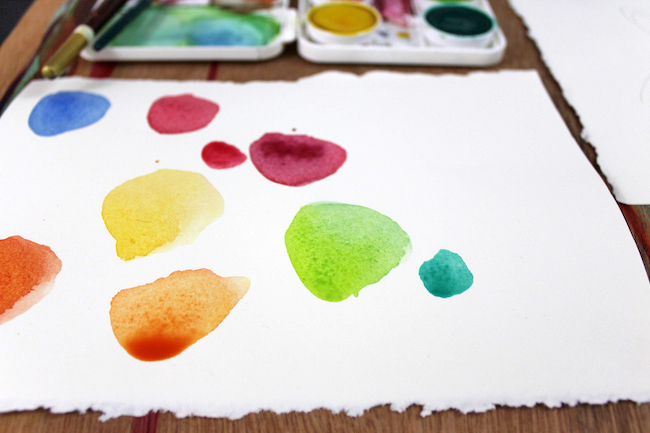 Planning is an important part of image making, but even more so when you're making up the palette. Before you begin, determine what colors will be your darks and lights. Paint a few swatches to see how they look together. If you don't love the colors together, keep mixing until you've got three or four that you like.
To achieve an abstract look, avoid using browns and blacks. Instead, opt for vibrant colors that pop off the page!
Step 3: Lay down your first layer of color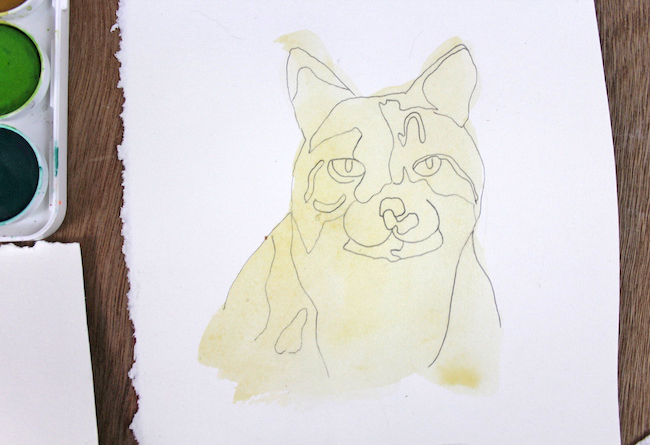 If you've ever used watercolor before, you'll know how important layers are — working too dark too soon will make your colors appear flat and one dimensional. Instead, you'll want to start with light washes (by adding a lot of water to your pigment) and before adding another one.
Select an all over base color and water it down. Then, paint a wash over your drawing. Don't worry about staying in the lines — go for a raw edge.
Note: Balance is important in a composition. Focus on an area where you'll tighten your focus (such as the face) to add a bit of realism among the unpredictable fluidity of watercolor.
Step 4: Add pigment using the wet-on-wet technique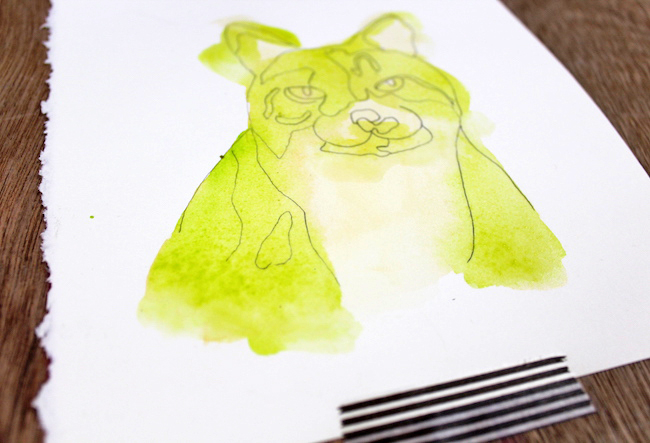 Here's where you can make your colors sing! Using another pigment, select an area of the animal — like the fur on the neck — and brush it on top of the still-wet first layer. The color will look feathered and have diffused edges, but will give it a great sense of texture.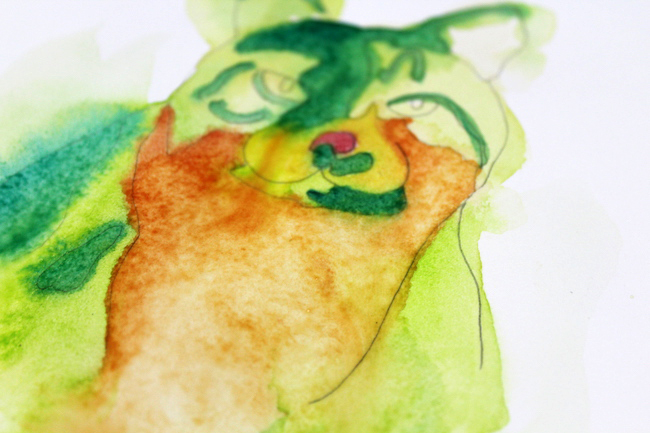 Step 5: Paint using various watercolor approaches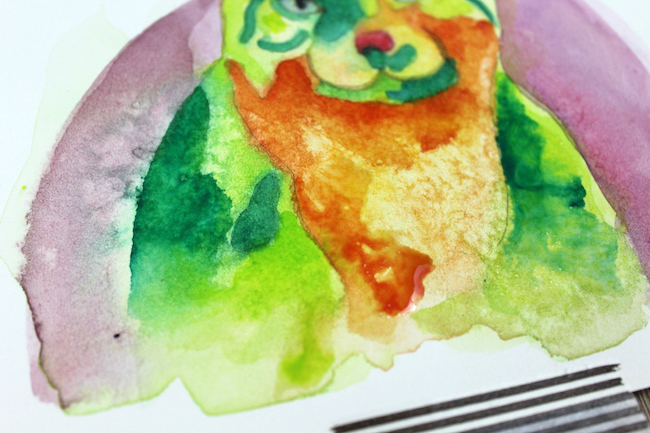 Continue to add color to your abstract animal art using some favorite watercolor techniques, like:
Wet on wet: Paint water (or light pigment) on the page and add touches of dark color for a diffused look.
Salt: When the paint is still wet, sprinkle salt onto the paper. The granules will soak up the pigment and give it a heathered effect.
Splatter: This one is messy — dip your brush in pigment and use your fingers to peel back the bristles and release, launching color on your page. You won't be able to control where the splatters go, so proceed with caution.