'80s cupcakes and sweet treats are all the rage and in high demand as neon, retro cartoons and toys, and ghost-busting have recently made a comeback, especially with those who grew up in the decade! For adults feeling nostalgic and young ones being introduced to the trend, the resurgence of various cultural icons and fads have increased the popularity of 1980s-inspired parties and celebrations.
Like, totally check out these rad '80s cupcakes and confections that are sure to make your next creation so totally awesome!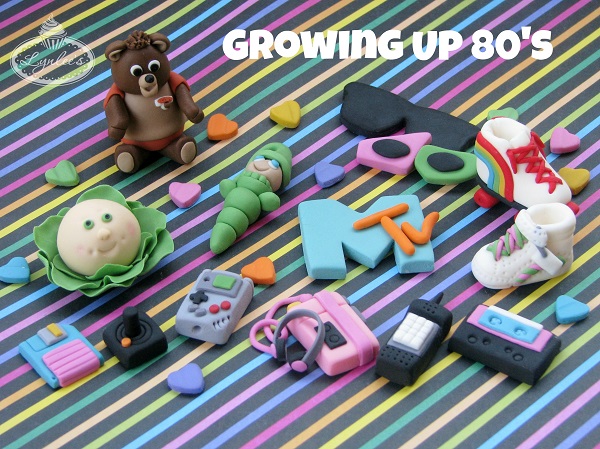 Photo via Lynlee's Petite Cakes
Growing up '80s fondant toppers
These cupcake and treat toppers were modeled out of fondant to resemble classic icons of the 1980s, including popular toys, like Teddy Ruxpin, Cabbage Patch Kids and the Glo Worm, as well as the technological advances of the decade, such as cassette tapes and players, video games and the ever-so-bulky cell phone! Pop culture trends were represented with the iconic MTV logo, roller skates and, of course, sneakers (if you're looking to make a sweet pair of 80s kicks, check out our fondant sneaker tutorial.
Practice your fondant modeling skills in the course Cake Topper Techniques: Fondant Animals with Sharon Wee to learn how to re-create three-dimensional items like these.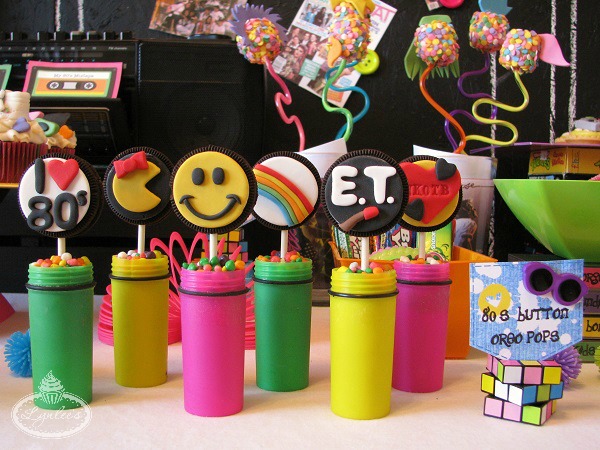 '80s button cake pops
During the '80s, buttons and pins were all the rage. From your favorite bands and movies to popular images and sayings, these buttons were displayed on backpacks, acid wash jeans and denim vests! To represent these pins, flat fondant buttons were made to represent fads of the decade and attached to cookie sandwich pops with clear piping gel.
'80s toy cake pops
In addition to the previously mentioned popular toys of the '80s, pogo balls, Teenage Mutant Ninja Turtles and Popples were also abundant among children, re-created here in the form of cake pops with the combination of Candy Melts and fondant embellishments.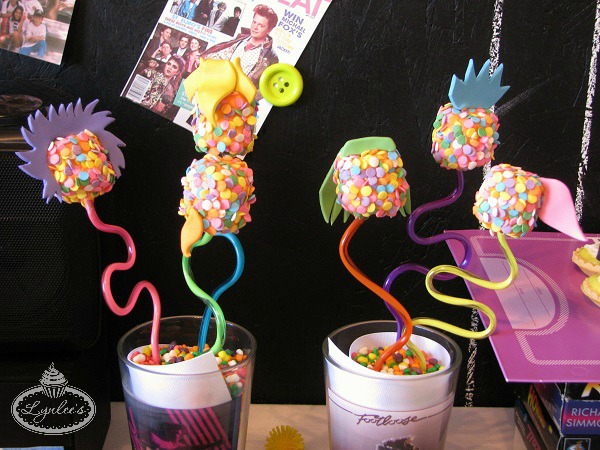 '80s hair marshmallow pops
It is easy to determine a decade with its popular and identifiable trends, and hairstyles of the 1980s are no exception! From the heavy metal hair band to the Flock of Seagulls 'do to the mullet, side ponytail and more, here all hair styles were reflected in the form of fondant and attached to candy and sprinkle-coated marshmallow pops on curly straws.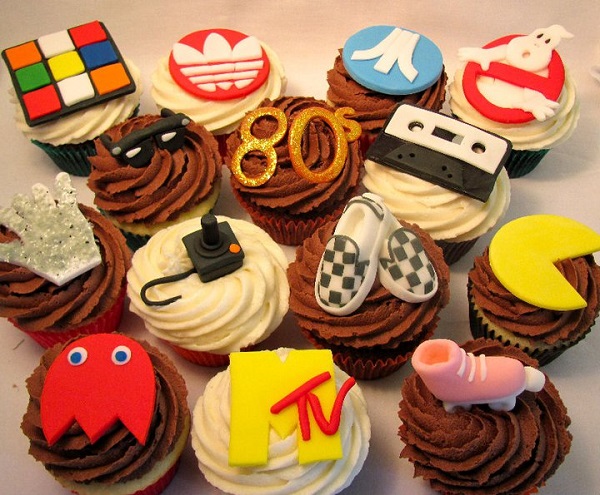 Photo via Zoey Cakes
'80s cupcakes
Zoey Cakes did an awesome job in reviving some of the most popular '80s icons in this cupcake collection. Recognizable logos, such as those of Atari, Adidas and MTV, were hand-cut, while three-dimensional pieces, like the checkered sneakers were modeled out of fondant. The sheen of Michael Jackson's quintessential glove was achieved with shiny sprinkles and the iconic Rubik's cube ties all the different colors together in the set.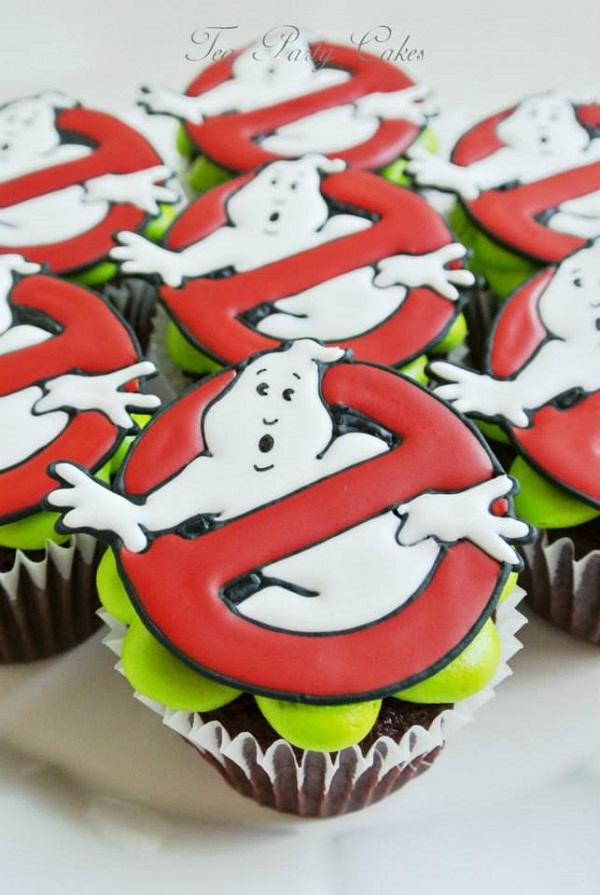 Photo via Tea Party Cakes
Ghostbusters cupcakes
The Ghostbusters movie series was first introduced in 1984 and made ghost-hunting fun and exciting! Tea Party Cakes brilliantly replicated the Ghostbusters logo with royal icing transfers, which were then transferred to cupcakes topped with slime-resembling icing.
Photo via Hey There, Cupcake!
'80s neon cupcake tower
The bright and vivid hues of neon were prominent in fashion, and '80s-inspired designs and have made a resurgence in the recent months. This gorgeous cupcake tower by the fabulous Hey There, Cupcake! captures the essence of the neon era without taking the elements of the decade too literally. The stand itself was adorned with neon paint splatters and topped with a hot pink cake, accentuated with leopard print, ribbon and tulle, representing the 1980s perfectly.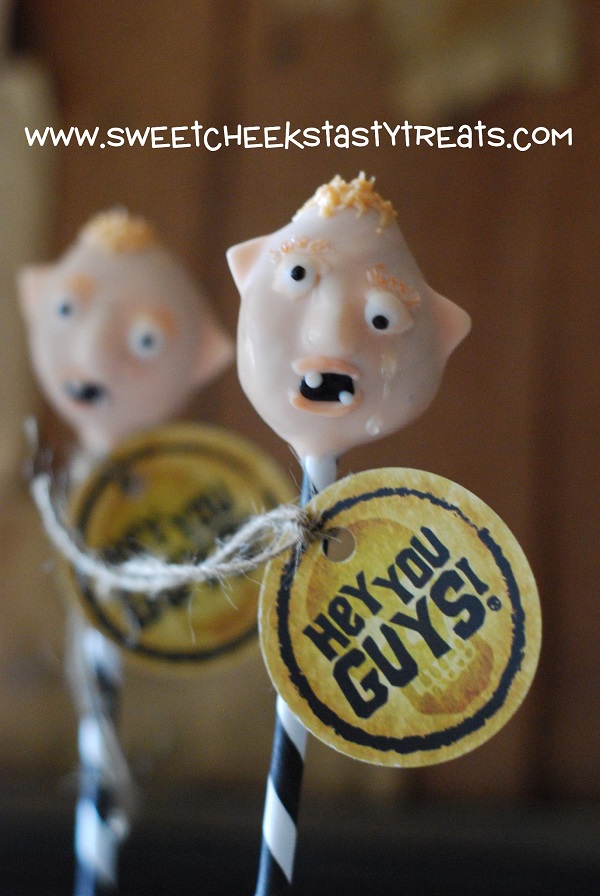 Photo via Sweet Cheeks Tasty Treats
Goonies cake pops
The Goonies, a movie released in 1985, has become a classic film with an adventurous storyline that is enjoyed until this day! Sweet Cheeks Tasty Treats so cleverly transformed one of its most discernible characters, Sloth, into an amazing cake pop creation for a Goonies-inspired party. A paper tag is attached, displaying the recognizable movie quote.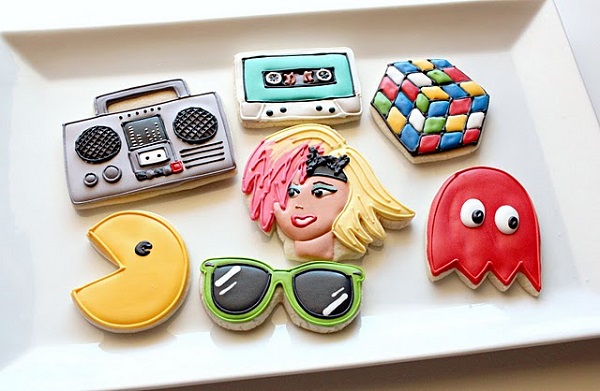 Photo via Sweet Sugarbelle
'80s decade royal icing cookies
The incredibly talented cookie decorator, Sweet Sugarbelle, adorned these amazing confections, representing the distinguishable '80s games, technology and fashion trends with royal icing utilizing flooding and piping techniques.
Check out our delicious royal icing recipe from Joshua John Russell, instructor of Modern Piping.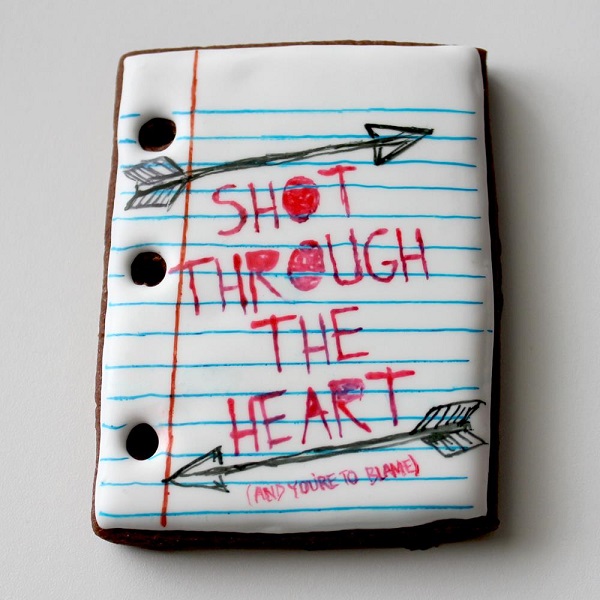 Photo via Arty McGoo
Bon Jovi painted cookie
Cookie artist extraordinaire, Arty McGoo, created notebook paper on an iced cookie and in true classroom note-passing style, doodled lyrics from Bon Jovi's legendary '80s song! Utilize edible markers and gel pastes to draw and/or paint on dried royal icing or fondant for a similar effect.
To learn more about painting techniques, check out Craftsy's FREE class The Hand-Painted Cake with Erin Schaefgen.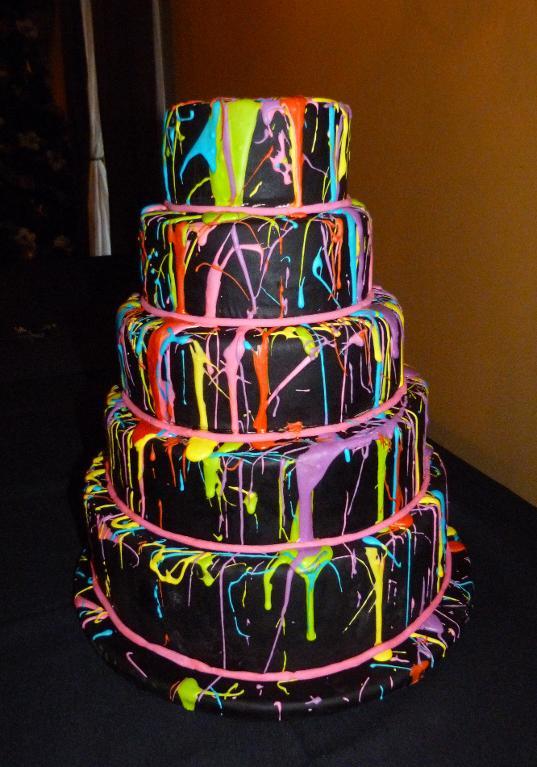 Photo via Craftsy member Mrsgillespie
Splatter paint neon cake
Craftsy member and cake artist Mrsgillespie covered this five-tier cake in black fondant and splattered the iconic '80s neon colors with tinted royal icing to create this totally awesome masterpiece!
Feeling that retro vibe? Rad! Don't forget to check out our retro 1980s cakes and 1990s cakes.
How will you bring your '80s flashback to life in cake form?