When you think of a wedding cake, what does it look like? For most, it's a multi-tiered stack of round cakes, decorated in white. But a sweet way to mix up the tradition? Make the cakes square-shaped. It's a simple enough cake decorating technique, adding an instant visual appeal that can still be dressed up as traditional or as avant-garde as you'd like.
Here's a collection of eight inspiring and lovely square wedding cakes.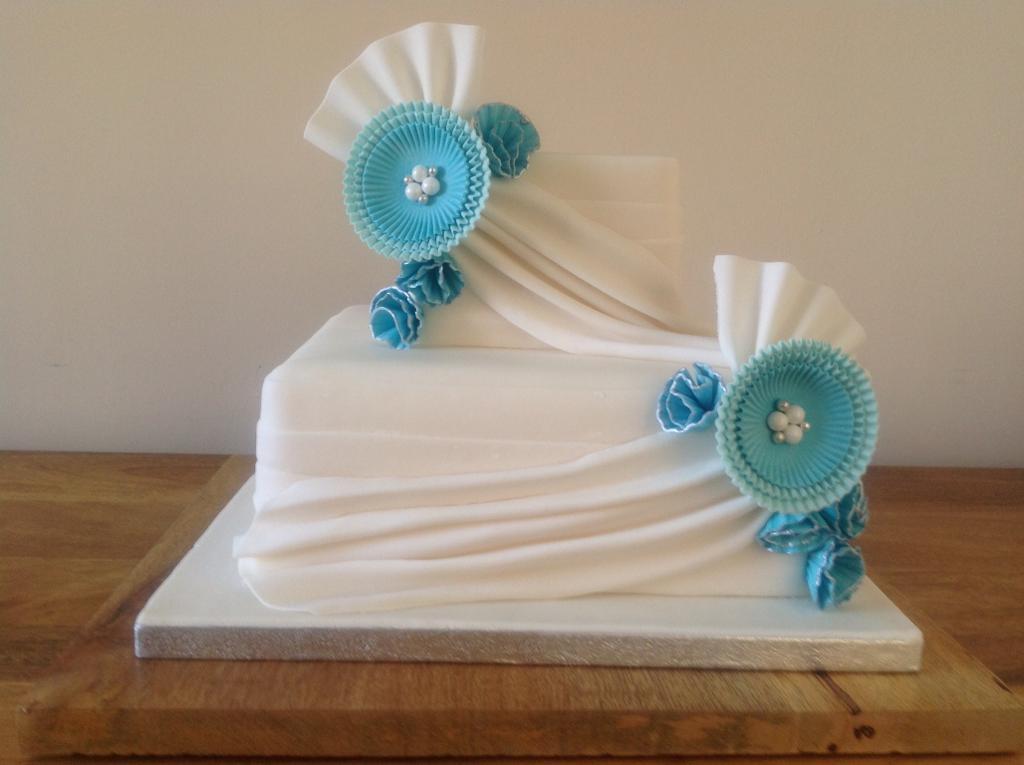 Photo via Craftsy member Kims Cakes
Ruffle and rosette cake:
After taking the Craftsy course Fondant Ruffles, Pleats & Drapes, Craftsy member Kims Cakes was inspired to create this classy two-tiered affair. The edges of the square tiers are softened by fondant drapes, and the pretty blue flower clusters lead the eye up and down all of the cake's pretty surface.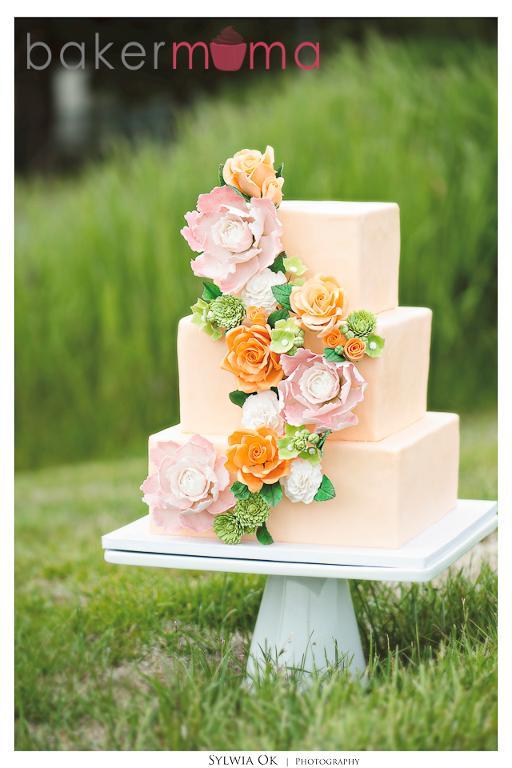 Photo via Craftsy member thea lrae
Cascading flowers cake:
This cake is a beautiful example of how a traditional cake treatment can look fresh and new when presented in square form. Tiers of square cake are covered in fondant and then topped with a cascade of sugar flowers made with painstaking detail out of gum paste. It's a skill that was honed thanks to Craftsy's Handcrafted Sugar Flowers class.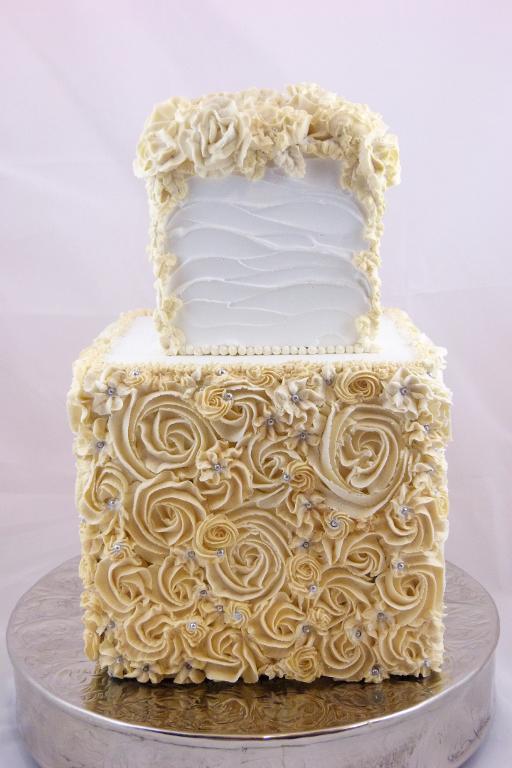 Photo via Craftsy member Mrsgillespie
Buttercream stunner:
That stunning buttercream work isn't magic, it's a skill learned in Craftsy's Modern Buttercream course. This is a square stacked vanilla cake with vanilla buttercream filling covered in more buttercream, piped on the top in ivory and white. It was created out of a desire to prove that a beautiful wedding cake can be created without using fondant. The mission appears to have been a success.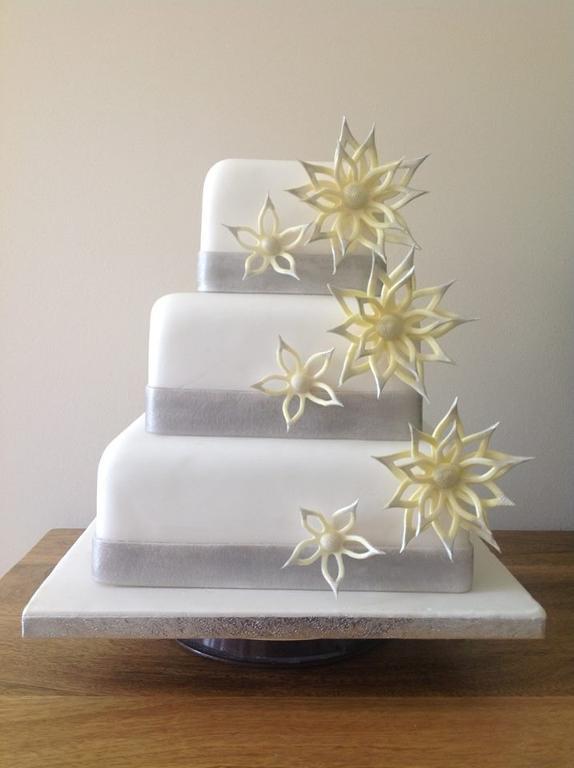 Photo via Craftsy member Kims Cakes
Simple squares with flowers:
Simple squares create the perfect backdrop for dramatic flowers on this cake. The round, snowflake-meets-flower look is contrasted beautifully by the strong edges of the fondant-covered square cakes.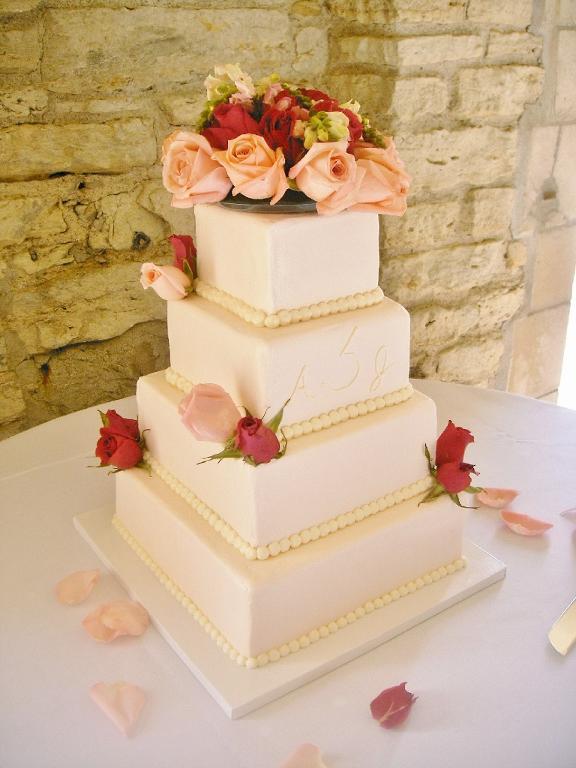 Photo via Craftsy member lisascakes
Piped borders and roses:
The construction is simple: four tiers of cake iced in a delicate peach buttercream and piped along the edges in a beaded border, with a lovely topping of fresh flowers. But the fact that this cake is square rather than round is unexpected and makes you look twice.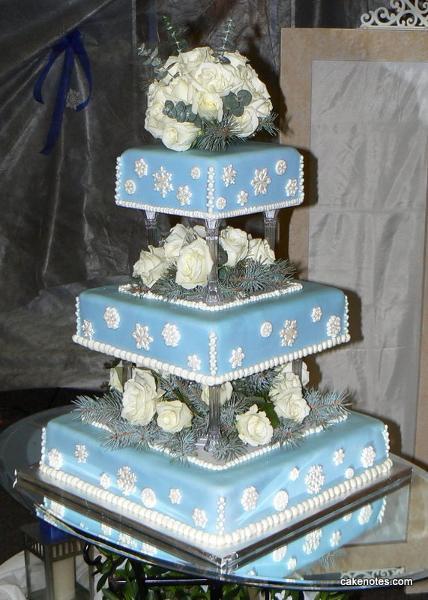 Photo via Craftsy member Cake Notes
Square cakes on pedestals:
Separating cake layers with pillars raise the bar — and the drama of presentation. It's actually not difficult to do, but does require some precision with preparation: the cakes need to be firm, and perfectly level, or the pillars won't line up quite right. This will keep you from "crying with cake on the floor," according to Craftsy member Cake Notes.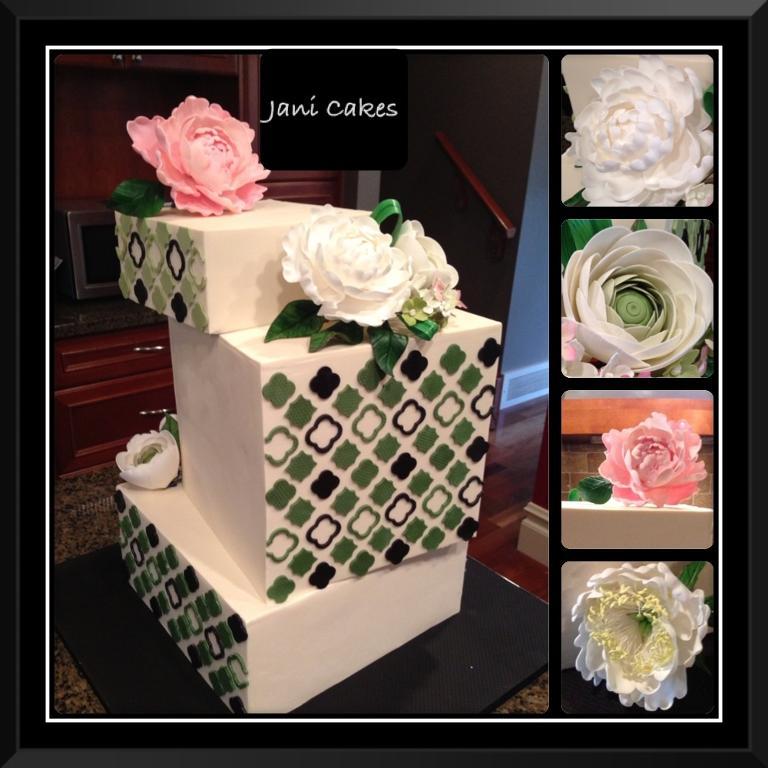 Photo via Craftsy member Jani Cakes
Offset square cakes:
After learning the rules in the Clean & Simple Cake Design Craftsy class, this member then turned this cake on its side — literally. Offset cakes can be tricky — if they are not constructed with precision, they can look unintentional and messy. In the case of this cake, clean wax-paper transfer designs on a precisely iced cake make for a purposeful and stunning sweet.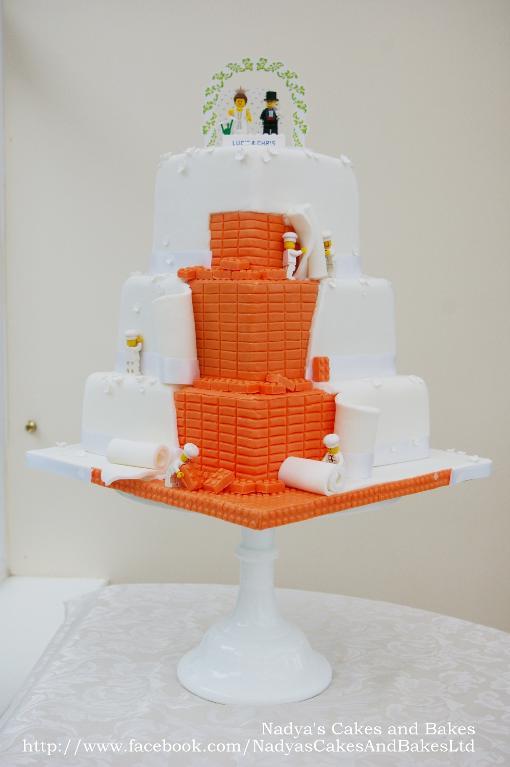 Photo via Craftsy member Nadyatk
Lego wedding cake:
If you look at this cake from the one side, it looks like a typical wedding cake, only square. But on the opposite side, it reveals an extraordinary design: the white fondant is "unrolled" to show a Lego pattern rendered in fondant, which appears to be in progress, being created by adorable Lego men. It's a clever, whimsical, but also absolutely gorgeous cake.
As you can easily see, it's hip to be square with cakes like these. If you have a square cake, do you prefer a corner, edge or middle piece?