Whether you are curled up on the couch or lying in bed, nothing beats a cozy quilt. Don't hide your quilting by tucking your handmade artwork away inside drawers and closets when they are not being used.
Wondering how to display a quilt around your home proudly? Here are a few ideas!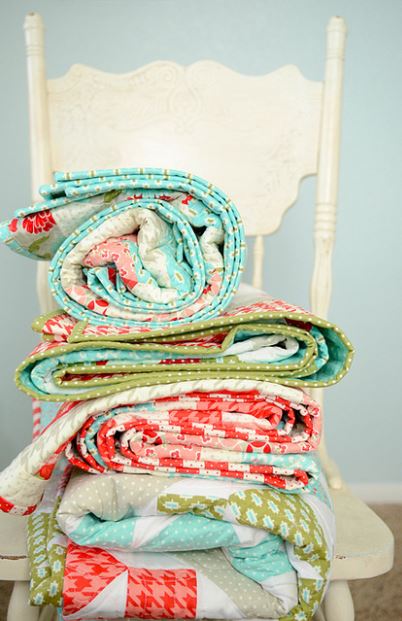 Photo via Craftsy instructor Camille Roskelle
Quilt racks
Quilt racks are a very traditional way to exhibit your artwork. A quilt rack is a frame that has one or more rods for quilts to be hung over. Some racks are designed to be mounted on the wall, while others stand alone on the floor. Both varieties are very convenient and allow multiple quilts to be stored in small area.
Ladders
Check out a local antique shop, yard sale, or flea market for vintage ladders. Simply lean one against the wall and drape your folded quilts over its rungs. Be sure to clean the ladder thoroughly before using it. And if there are children around, it's also a good idea to anchor the ladder to the wall.
Bookshelves
Many people have bookshelves scattered throughout the home, so why not add a little fabric to them? Neatly folded or rolled quilts that are stacked carefully on a shelf can brighten up any room.
Beds
Don't let warm weather stop you from displaying your quilts on your bed. Yes, they can be used as a bed covering during the cold months, but you can also leave them folded in a pile at the foot or stretched across the bottom of the bed like a runner.
Porches
Dress up your rocking chairs or outdoor furniture by draping quilts across their backs. This is especially handy during cool evenings spent outdoors. Choose quilts that you don't mind getting a little wet or dirty, and be sure to use them only in spaces that are covered.
Chairs
Gather, fold and stack your quilts nicely on a chair that has been pushed up against a wall or tucked into a corner. This is an especially charming display when paired with a pretty vintage chair.
Hooks
Drape your quilts on hooks to truly show off their design. This looks wonderful with one quilt on a hook or a series of them in a row. Find individual hooks, coat racks or shelves with pegs to make this display in your own home.

Photo via Jennifer Casa
Many quilters like to hang their projects on the wall.
These wall hangings can be any size, varying from mini to large. The most common way to hang a quilt is with a standard hanging sleeve. Once the sleeve is created and sewn onto the back of the quilt, a wooden rod is easily inserted and the quilt is ready to be hung on the wall.
Check out this great tutorial on how to create a hanging sleeve from Jacquie Gering, instructor of the Craftsy class Improvisational Piecing, Modern Design.
Are you ready to display some of your treasured quilts? Keep these three tips in mind:
Never hang in direct sunlight, which causes fabrics to fade.
Avoid heating and air conditioning vents. They can damage the quilt or bring back quilt markings.
Reposition or rearrange folded quilts regularly to prevent permanent lines and creases.
What is your favorite way to display your handmade quilts? Please share!