The holiday season is upon us and late fall is a great time for your clients to start thinking about family photos for their holiday cards. I'm going to share some thoughts on how to make the most of a family shoot and to make it a fun experience for the whole family.
[box type="shadow"]For more detailed instruction on staging successful family photo sessions, including how to turn any room into portrait studio, how to direct and pose large groups, how to engage children, and how to shoot flattering portraits of mature subjects, check out Bluprint's FREE mini-class Professional Family Portraits with Kirk Tuck.[/box]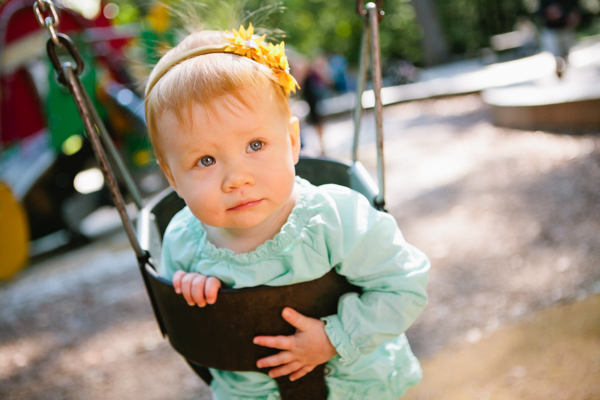 There a lot of good shots to be had on the playground. 1/800 sec at f/2.8
1. Go somewhere fun
Typically, kids are not excited about dressing up and sitting for a photography session. But if you turn it into something fun, like a trip to the pumpkin patch, they are more likely to be excited about it and be more cooperative. I like taking families to the park because there are open green spaces, colorful trees and flowers, and when the kids need a break, they can go play on the playground for little while. Consider taking the family ice skating or sledding. Or, maybe you'd like to the kids involved in the process. Ask them where they would like to go and make it their idea. Just get the kids excited about being there.
2. Bring toys and snacks
If your location is limited or there are just no fun spots nearby, make sure to have the parents bring some favorite toys that will keep the kids occupied. Toys can be used to cheer up a poor disposition or to bribe kids into behaving well for a few minutes. You can use the toy to get a child's attention or to look toward the camera if they are very young. Snacks can be used for the same purpose and to keep kids from getting hungry and acting cranky.
3. Think like a kid
If you were a kid, how would you want to be photographed? Would you want to be sitting on a bench with your hands folded? Probably not. You would want to be running around. You'd want to be jumping. You would want to be showing off on the playground or showing off your newest toys. Let kids be kids and photograph them being kids. It makes for more compelling photos. Ask them to show you how high they can jump — just do it in a spot with perfect light, if possible. Ask them to show you their scariest face. Chances are, they will laugh or smile right afterward and you'll be ready to capture the expression.
4. Get on their level
Get ready to get dirty! Kids are down on the ground a lot and getting dirty. Don't be afraid to get down and play a little to get on their level. Shooting from their perspective helps to capture what their world looks like.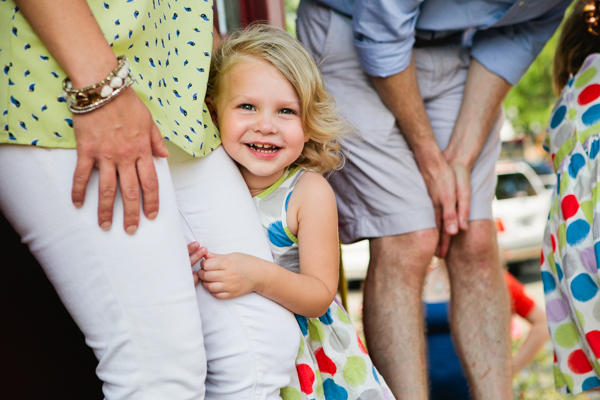 Get down to their level. 1/320 sec at f/4.5
6. Let them take a photo or two
Sometimes, if I'm working with curious children (which covers most kids) I will teach them how my camera works and let them take a few photos. Kids love being a part of the action! Sometimes I can even bargain with them. If they can take a few photos of me, I can take a few photos of them. Many kids understand this type of equity and build some trust around your deal.
7. Clothing
How the parents choose to dress their kids is also an important element of the family shoot. Kids are much less likely to be cooperative if they are uncomfortable or very focused on not getting their clothes dirty. Plan to bring extra clothes. If the kids are wearing nice clothes, get those shots first and then get them into something more comfortable that they are not afraid to move around in.
On Monday, I'll be sharing more family photography tips, including the Top 5 mistakes to avoid when photographing kids.
What are your favorite places to do family shoots? Do you have other techniques for working with kids? Leave your thoughts in the comments.