Sometimes you get lucky and book a bride who's a former pageant girl and knows exactly what to do in front of the camera. And then there's everyone else. It's normal to feel nervous and awkward when you're not used to being photographed. Every bride looks beautiful on her wedding day. It's your job is to let her happiness shine through her uneasiness in your photography.
Here are a few tips to help you work better with any bride.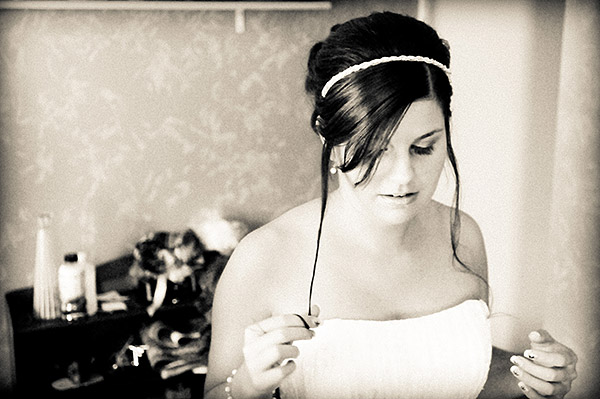 1. Give her direction, even if it's "that looks great."
When you are doing posed portraits, brides expect a little direction. They don't see what you are seeing. All they know is they are really uncomfortable.
Some things all women want to minimize is their double chin, arms and waist. We have some other posts on how to pose people for portraits, but the main thing you need to do is keep talking to the bride and tell her she's doing a good job. Slowly but surely she will start to relax. Once she is relaxed, that's when the best photos happen.
2. Show her your favorites.
Once you have a photo you think is really good, show it to her. Not only will this technique make her feel better, it will give you a gauge if she is happy with the photos or not. If I show a bride a photo of herself and she isn't happy, we can talk about what she's looking for. Most of the time, we can work together to make them everything she wants them to be, as long as she doesn't say something like, "I want to look like Beyoncé," we can get it right.
Don't be afraid to hear some criticism during a session. Our job as wedding photographers is to make images people want to put on their walls, keep forever and be proud of.
Work with your clients on the front end to make sure they are happy with the images even before you edit, not after the day has come and gone and there is nothing you can do about it.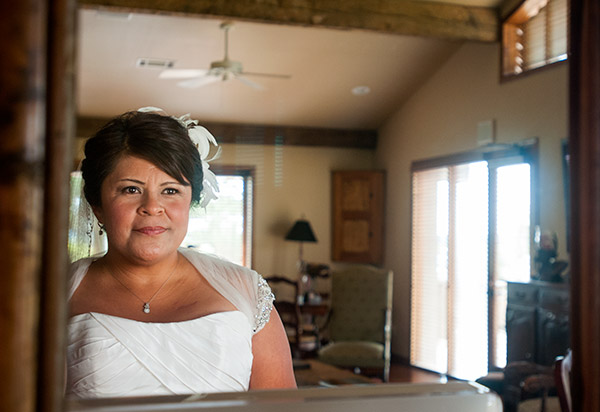 3. Have the bride show you images she likes.
When I am meeting with a bride for the first time I always ask her to send me some photos she has seen in wedding magazines or on Pinterest. It helps me see what she is looking for and what is going to be important to her on the wedding day. If she sends a lot of photos of brides with their mothers, then you know she wants a lot of photos of family, and if she sends lots of photos of brides with their friends, you know to focus on that.
Try to remember the poses she sent you and re-create what you can. Of course, use your own ideas and always be creative, but take a few with the poses she picked out in the beginning. With digital, there is no such thing as too much.
4. Get the candid moments.
Nothing says natural more than a candid moment. Most couples will make each other laugh or do something a little goofy while you are photographing a bride and groom. Be sure to capture as many of these moments as you can. While you are posing the couple or looking for the next location, have your camera ready to snap a natural moment. Some of my favorite couple portraits are actually natural moments taken in between the posed photos.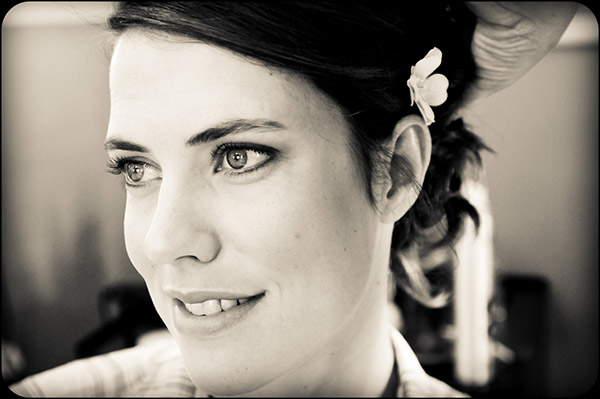 5. Take the bride and groom away from large groups.
Whether you take the couple portraits before or after the ceremony, try to make it as intimate as possible. It will be harder for couples to relax if there are multiple relatives taking photos over your shoulders or trying to pose them differently. That can be very overwhelming and it will come through in the photos. Either dismiss family members before photographing the couple or take the couple to a more intimate location and don't invite anyone else to come. The less distractions, the better.
One thing I have learned over the years is everyone hates photos of themselves but with patience and a few posing tricks, most brides will be happy with their photos as long as they trust their photographer. Gain that trust by being open and easy to work with.
You may also enjoy our tips for mastering group portraits.
What are some things you have done to make a bride feel more comfortable?