Food photography seems easy enough, you put the food in front of you and start taking photos. In reality, photographing food presents some challenges. The wrong angle, light and exposure can all take a delicious meal and make it look dull.
Here are a few things to think about when photographing food: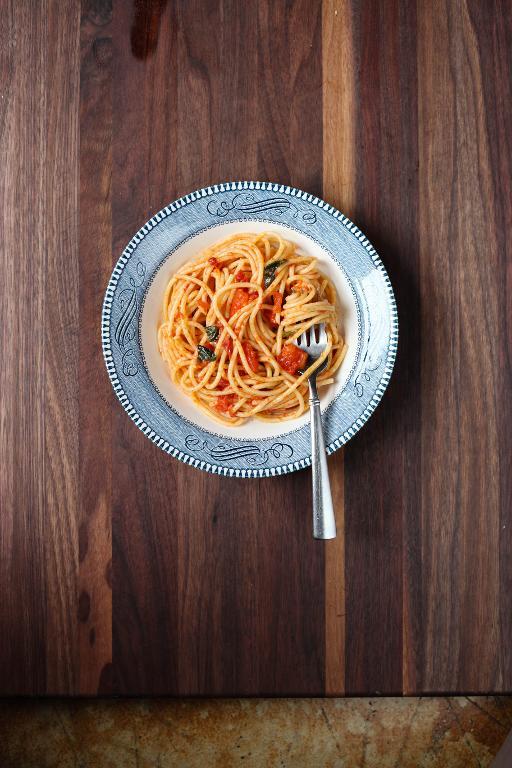 1. Bring the right lights.
If you can't photograph outside in the shade or near a window, off-camera lights are essential to making food really pop off the image. You'll want to have soft light, so diffusers and light boxes are good tools to bring. Two lights work great, but three is ideal. The third light plays as a backlight, so it can really help make the food look 3-D.
Also, bring a clean, plain backdrop along so you can set it up if needed. You want the focus to be on the food, not on anything else, like a tablecloth or the kitchen. Using multiple off-camera lights helps light the food in a way that will give it depth, not flatten it like an on-camera flash would do.
Need some tips on finding your best light for a photo? Learn the best methods for shooting in a variety of settings (with a variety of light sources) including indoors and outdoors, in the class Off-Camera Flash Photography, taught by Neil van Niekerk.

2. Get close and use interesting angles.
The best way to make food photographs more interesting is to get close and use interesting angles. Getting eye level with food, such as pizza, is a good way to focus on the colorful components. You don't need need to have the entire item in the photo to make it look interesting. Everyone knows what a hamburger looks like, so get in close and focus on what's in between the buns that's making this burger unique.

3. Position everything on the plate.
Another way to make a full plate of food look interesting is to position the different items in a well composed way. High-end restaurants have chefs that are trained on how to style food on a plate, but if something needs to be nudged here or there to make the photo look better, get in there and mess with it. Use your composition rules to think of how to move food around on a plate.
One time, when I was photographing restaurant food for client, the owners wanted to serve the dish after I was finished with it. Be upfront with your clients and let them know it takes more than one photo to get the right shot, and you may have to touch the plate, so it probably won't be suitable to serve to customers.

4. Find the color and use it.
Color is a great thing to use when photographing food. So, when talking with clients before a shoot, ask them to provide you with a colorful dish. Then you have an idea of what to expect when you get there. Using dark and muted colors as your backdrop will also help the color of the food to pop.
5. Use some easy tricks.
Big-time food photographers who shoot advertisements for nationwide food chains have all sorts of tricks to make the food appear more beautiful that it really is. Oftentimes, by the end of the shoot, the food isn't even edible anymore. For example, one trick for photographing soup is to place marbles in the bottom of the bowl. They help keep the liquid on the bottom and push the yummy chunks to the top. You can also incorporate fresh ingredients. For example, when photographing gumbo, add some fresh okra or other veggies. The dash of color will help photograph the food better. Also, bring a squirt bottle to your shoots so you can spray a mist on the food and give it a glow.
There are so many more tricks to photograph food but these are a few to help you get started. What is your favorite trick to make food look it's best?