Circular scarves, also known as infinity scarves,  seem to have replaced regular old rectangle-shaped scarves as the new knitter norm. After all, it's just as easy for a beginner as a traditional scarf — as long as you're willing to give seaming a try.
My take on the new norm is that, like traditional scarves,  you can never have too many circular scarves. I like them because I can wrap them around my neck even just once and know that the scarf won't come slipping off of my shoulders, falling to the floor.
The really awesome thing about a circular scarf is that you don't need advanced or even intermediate knitting skills to make one. The circular scarf really is just a basic rectangular-shaped scarf joined with a seam! You can make the design as intricate or as basic as you'd like.
Here are a few ideas for beautiful circular scarf designs, plus a few tips on seaming the ends to make that all-important circle.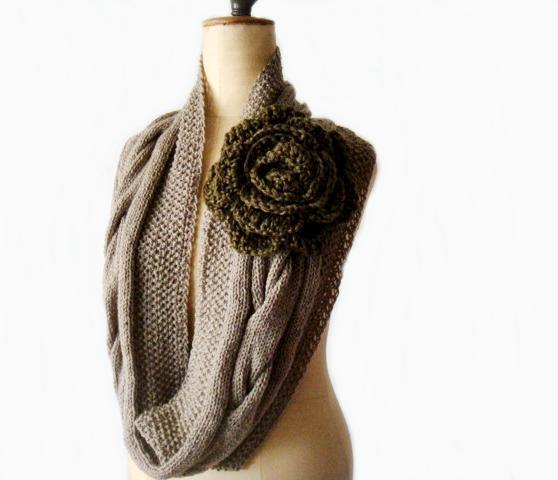 Photo via PATTERNSbyFAIMA
Add a Simple Cable
A basic cable can go a long way — literally — when it cascades down a long scarf. The cable in this Mocca Cabled Infinity Scarf is simple, but it adds so much style. .

Photo via wildtomato
Ruffle it
Put those other ruffle scarves to shame when you knit a ruffle on the edge of your circular scarf, like the one in this lovely Tilden Park Scarf. Get the pattern.

Photo via Pepperberry Knits
Get chunky
How many times do you want the circle scarf to wrap around you? That's one factor to think about when deciding what type of yarn to use. Chunky yarn, like the yarn used in this Poppy Infinity Scarf, can look gorgeous when knit up as a circle scarf, but you probably won't want to wrap it around your neck more than two or three times, else you'll risk looking like the Abominable Snowman! .

Photo via Pam Power Knits
Mix it up
This Challah Infinity Scarf might look complicated, but the challenge is actually in the construction rather than the knitting. Knit three separate strips, then join them together to create this beautiful effect. The pattern uses only knits and purls, so beginners shouldn't be intimidated. .
Seaming the ends
Longer circular scarves are usually knit flat, then joined at the edges to make the circle. But we want to make that seam as neat as possible, as if one end flows right into the other end.
One way to make that seam beautiful is to think ahead and use a provisional cast on. A provisional cast on allows you to pick up stitches from your cast-on edge easily, even after you've knit the entire circular scarf. Not sure how to knit a provisional cast on? Get the tutorial.
Once you've picked up your stitches, you'll need to graft them together using a Kitchener stitch. New to grafting? Consider enrolling in Anne Hanson's Craftsy class Ins & Outs of Grafting and you'll be able to connect any two seams together, from shoulder seams to circular knit scarf seams!
If you can't get enough circular scarves, see more great circle scarf patterns and get started on your fall knitting. (I know. Can you believe we're already talking about fall knitting?)
Do you rock circular scarves? How do you seam your edges?