A newborn photo shoot is any shoot with a baby under one month old. A lot of parents want these but have no idea what to expect. And the truth is– the photographer doesn't really know what to expect either. The newborn is the one calling the shots when it comes to these photos. Who knew someone so tiny could change a situation so much?
Here are a few tips to help capture some special moments with the least amount of stress to the baby and parents.
1. Go to them.
I have a studio light kit I can pack up and bring anywhere. It's so much easier for me to go to the family. Then you can work around the newborn's schedule. I usually try to go over around nap time so they will be tired and hopefully easier to get to sleep. Newborns look so cute when they are asleep. Also, while I would never say this to the parents, newborns can only see what is 6 inches or so in front of them, so it's really easy for them to get cross-eyed.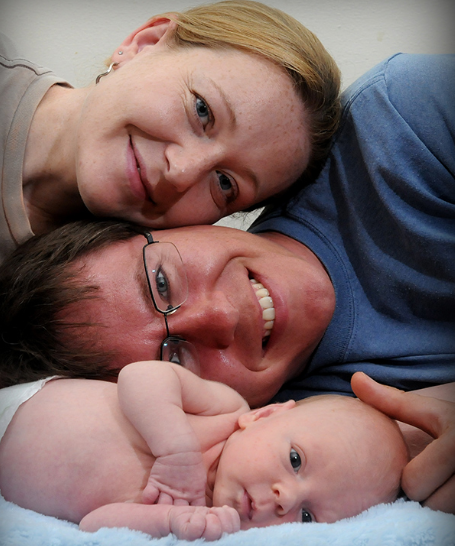 2. Have patience.
I usually give myself four hours to dedicate to one shoot. It might not take that long, but I don't want to rush anything. Newborns get over stimulated easily so it's important to take lots of breaks. It looks so easy– when you see newborn photos on the Internet they look so peaceful in their silly hat– but it takes time to get them relaxed and in a deep sleep. Parents are usually too quick to say, "OK they're asleep lets start taking photos." But give it some time, at least five to ten more minutes, to let the infant get really asleep. Then you can move and pose the babies without them waking up as easily. Either way every baby is different so give yourself enough time to walk away with good images. Also, know when the newborn has had enough, just a few weeks ago I was at a shoot where the little guy refused to go to sleep. He was so tired but as long as I was there he was not going to relax, so I called it a day. Luckily, he was a good sport early on so we have plenty of portraits to break out and embarrass him when he is a teenager.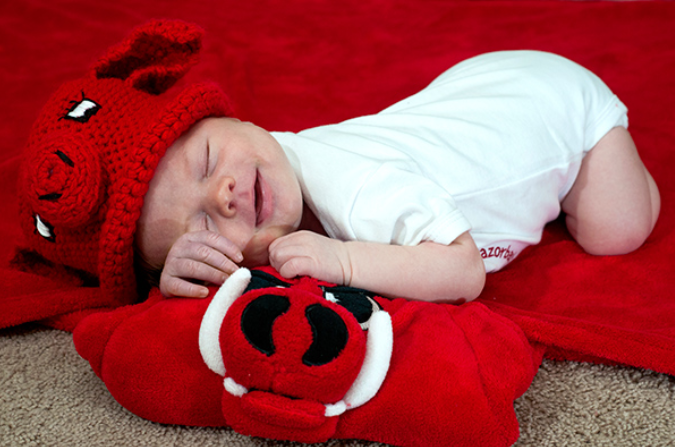 3. Keep it simple.
There are all sorts of props and silly things to put a baby in these days, but these collections take some time to build up. You could look at the knitting blog posts here on Craftsy and make your own hats but in most cases it's easier to work with what the family already has. All you have to do is ask these three questions:
Do you have any baby blankets? Do you have any handmade gifts? Do you want naked baby photos?
Use the blankets as a backdrop. I usually drape them on the floor or a couch in the best lit room of the house. As my mom friends told me when I was a new mother, "They can't fall off the floor." It's the safest place. Handmade gifts are great as props because they are usually super cute and will add a personal touch to the photos. Hats are best since they're the easiest to take on and off. Don't go overboard with outfits, the more you mess with the baby the more fussy they get. I also recommend doing any naked baby photos last. Most of the naked babies I have photographed have peed, everywhere, during the shoot. The shoot is usually over once there is pee everywhere. Simple props can be just as adorable as a bucket or Christmas stocking. In one shoot we just put a pink bow on the little girl. It was simple but it got the point across.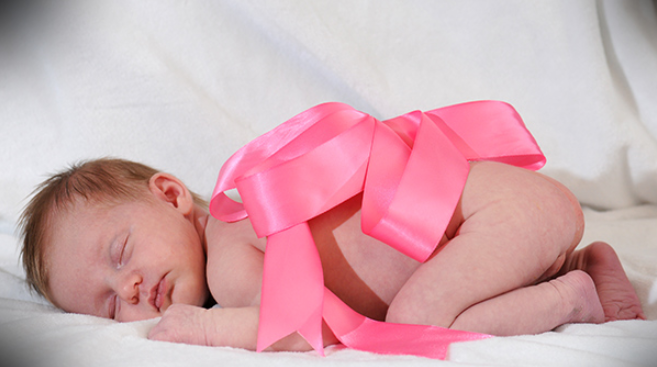 4. Everything can be a moment.
Since there is a lot of downtime during a newborn shoot there are also a lot of opportunities to get candid family moments. Always be on the look out for the little moments parents didn't even know they wanted. Once I captured a photo of a father smiling at his son. The mother and grandmother both cried when they saw it, and thought it was a very sweet moment. Some of the best photos I have gotten are from the little candid moments during our downtime.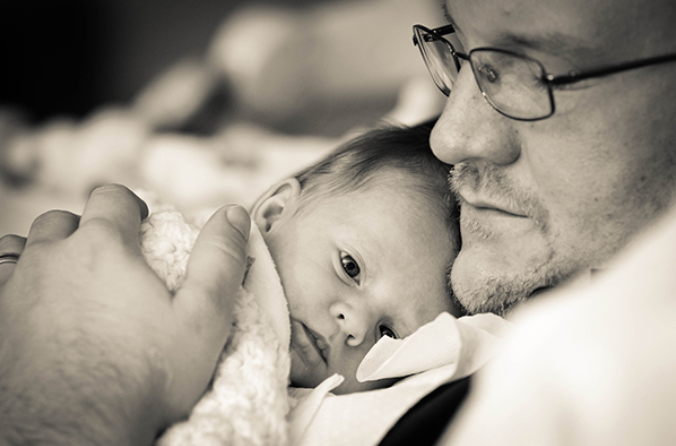 When photographing a family you want to make sure you get the photos they are going to cherish and remember. Be easy going and calm, parents can get stressed out easily, especially if their newborn isn't acting the way they thought they would. Part of your job is to remind them it's ok and they will get good photos no matter what. The calmer everyone is the more likely the baby will cooperate. Once you throw older siblings into the mix the photo shoot becomes totally different. Stay tuned for tips about that. Today, you might also enjoy learning how to build rapport with your photography subjects.