It is already mid-October and Halloween and fall festivals are just around the corner. This year, I plan on making some fun Halloween decor for my home using my embroidery machine, including door hangers, which are a fun and easy in-the-hoop project, personalized mug rugs to give as gifts to my friends, and trick-or-treat bags.
Here are some Halloween-themed projects and patterns to get you inspired for fall!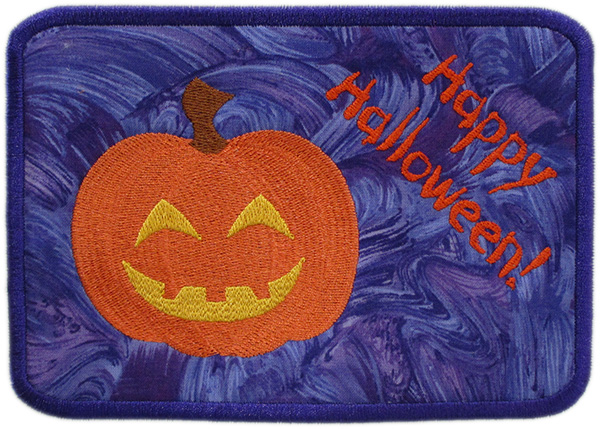 Door Hangers
Door hangers are one of my favorite things and EmbLibrary has some really fun Halloween designs.
These designs are made in the hoop and the process is exactly the same (except for the ribbon) as the gift tags we made last week. I used the Silhouette Cameo to cut the shapes after the fusible medium weight craft interfacing was fused to the back of the fabric. This saved the work of cutting the shapes (a front and a back) using scissors. The cut settings on the electronic cutter had to be much higher because of the thickness of the fabric and interfacing together, but the machine cut them perfectly. These door hangers are going to go to the kindergarten and first grade classes at our local school. I am sure the teachers will find a great way to use them. They will also look great on your front door to welcome trick or treaters.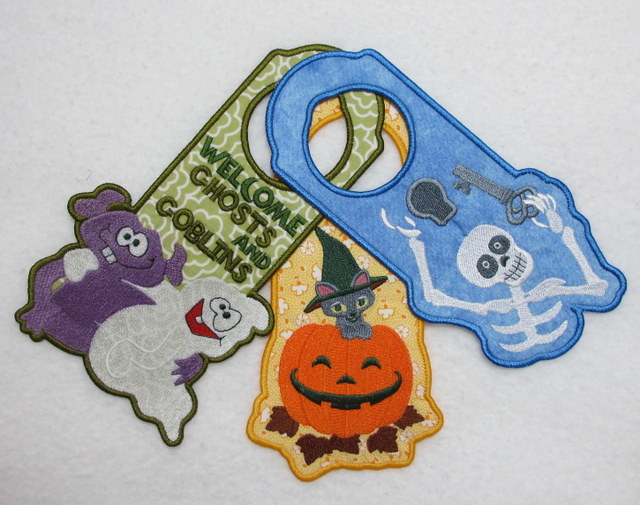 Treat Bags
Another fun project for the trick or treaters at your house is to make treat bags.
With a simple machine embroidery design (see the links below for fun Halloween designs) and some lettering to personalize the bag with the child's name, you quickly have a treat bag. Bluprint has several patterns for treat bags as shown on the links below, or you can make your own bag with a rectangle of fabric folded and stitched on either side, hem the top of the bag, and use grosgrain ribbon for handles. Just be sure to stitch some really 'haunting' embroidery design and the child's name on the front of the bag. And you can use a fun Halloween font like "Chiller" for the lettering to complement the theme.
Looking to explore machine embroidery designs? Learn in-depth methods on bringing your embroidery designs to life from expert instructor Cookie Gaynor in her class Digitizing Machine Embroidery Designs.
Here's an example of text that you can create with your embroidery software to add along with a Halloween motif on a treat bag.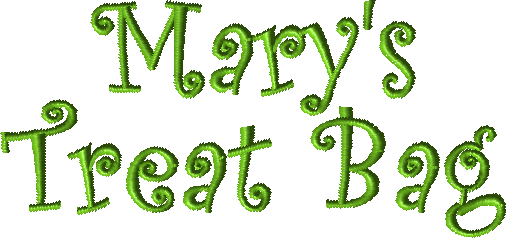 You will find a lot of fun patterns for treat bags in the Bluprint pattern shop. Just search the Patterns for "Halloween" and you'll be surprised how many wonderful ideas are out there. Do you have a favorite pattern or idea for treat bags? Here are some very cute bags that I found: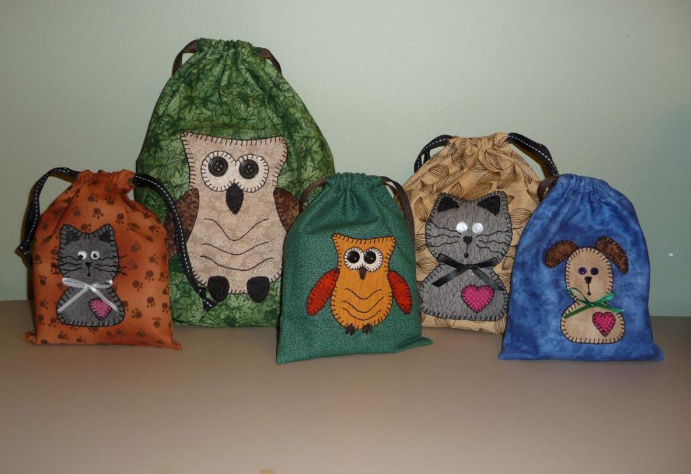 Dog-Cat-Owl Treat Bag by Sher's Creative Space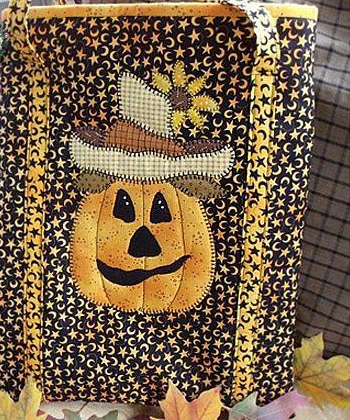 Trick or Treat Tote Bag  by Cottage by the Pond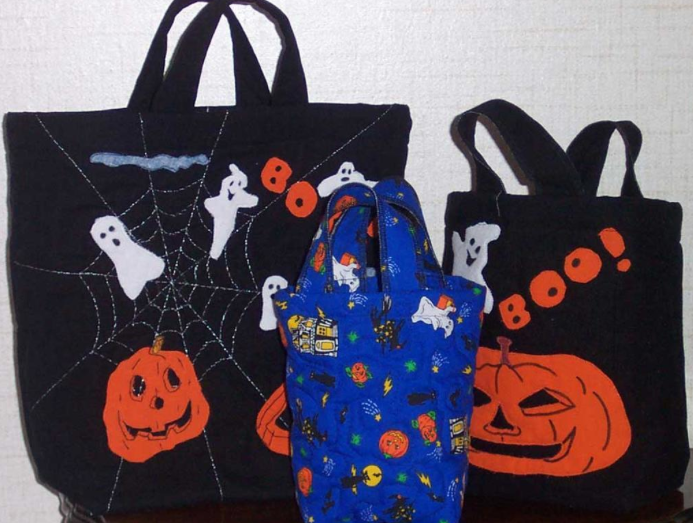 Boo Bags by Maria Michaels Designs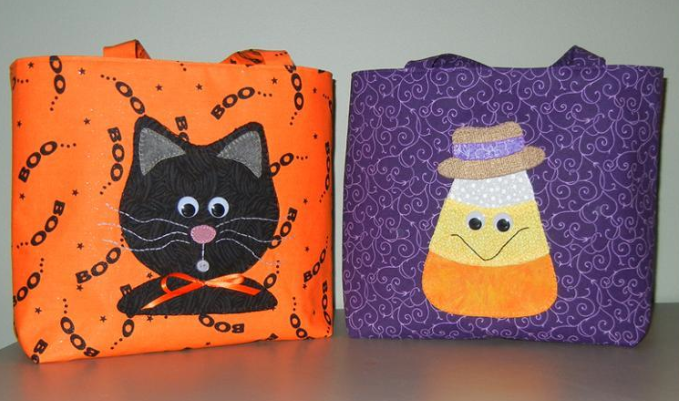 Halloween Trick or Treat Bags by Sher's Creative Space
And you will find some fun Halloween machine embroidery designs here: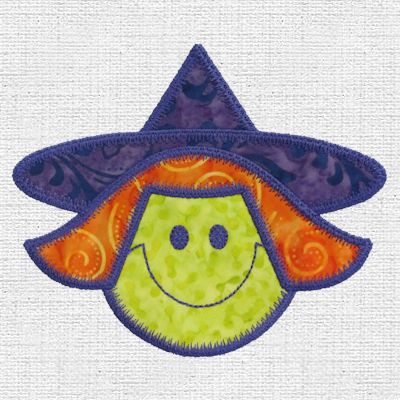 Happy Halloween Pattern (includes mug rug design)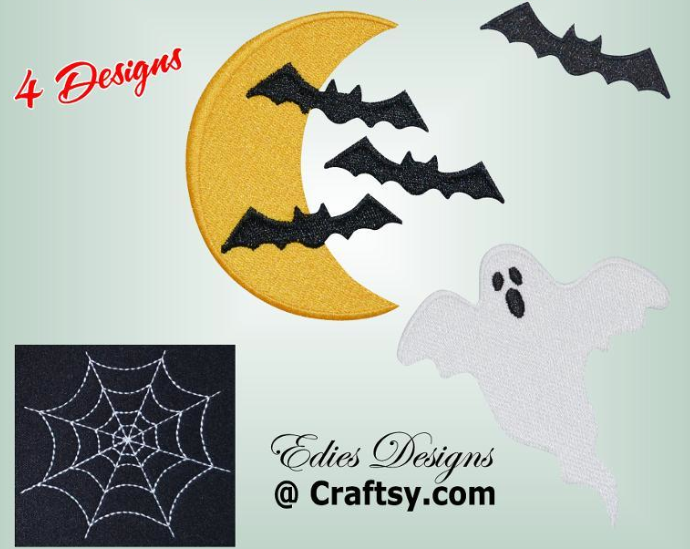 Halloween Machine Embroidery Designs by Edies Designs
Last, but not least in your bag of Halloween tricks is a personalized gift for your 'ghoul' friends.
Mug rugs are very easy to make as shown in this tutorial.
They can also be made as in the hoop projects like the one shown below. And the sky is the limit– let your imagination and your machine embroidery inspire you.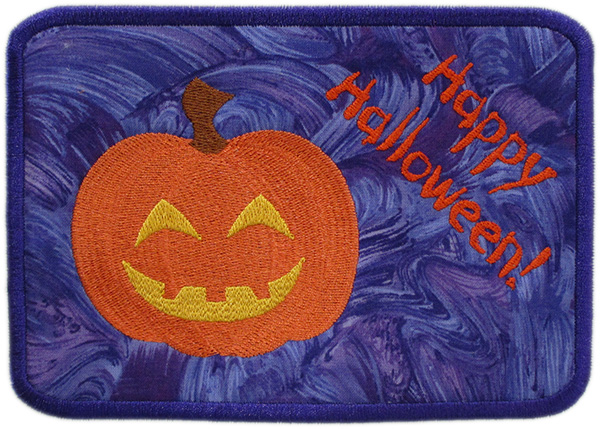 Halloween In The Hoop Mug Rugs & Designs by b-quilts
Door hangers, treat bags, and mug rugs are just three of the Halloween ideas in my studio. What are your plans for Halloween stitching?