Are you a collector with a love of all things vintage? I think my favorite era was the bright and punchy graphic (and psychedelic) 1960s. Swarms of color and swatches of great fabrics in mind-melding patterns, rooms jam packed with visual delights from floral wallpaper to pops of colored furniture, and pendant lights in brilliant hues.
Craving the days of 1960s yesteryear gone by? These mod-inspired graphical cakes will do the trick!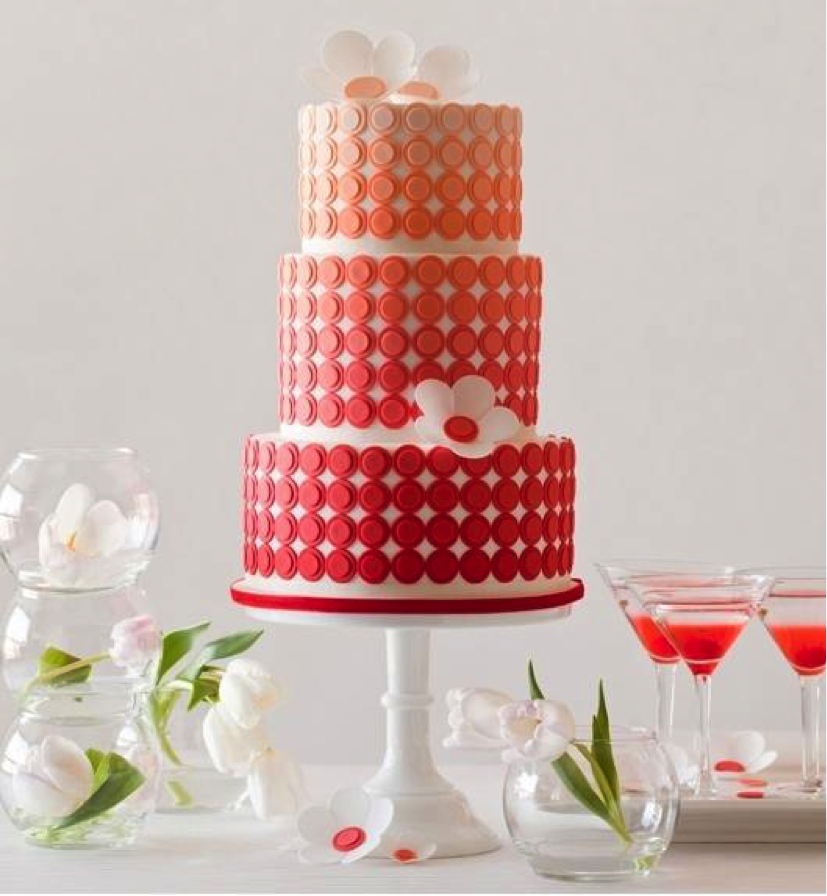 Photo via AK Cake Design
This cake seems like it could walk out of a chic nightclub in the form of a vintage-look dotty patterned dress! I love the perfectly placed fondant ombré dots going from tomato red to pink to coral orange to pale peach. The 1960s style daisy flowers perched amongst the cake add a feminine and textural touch.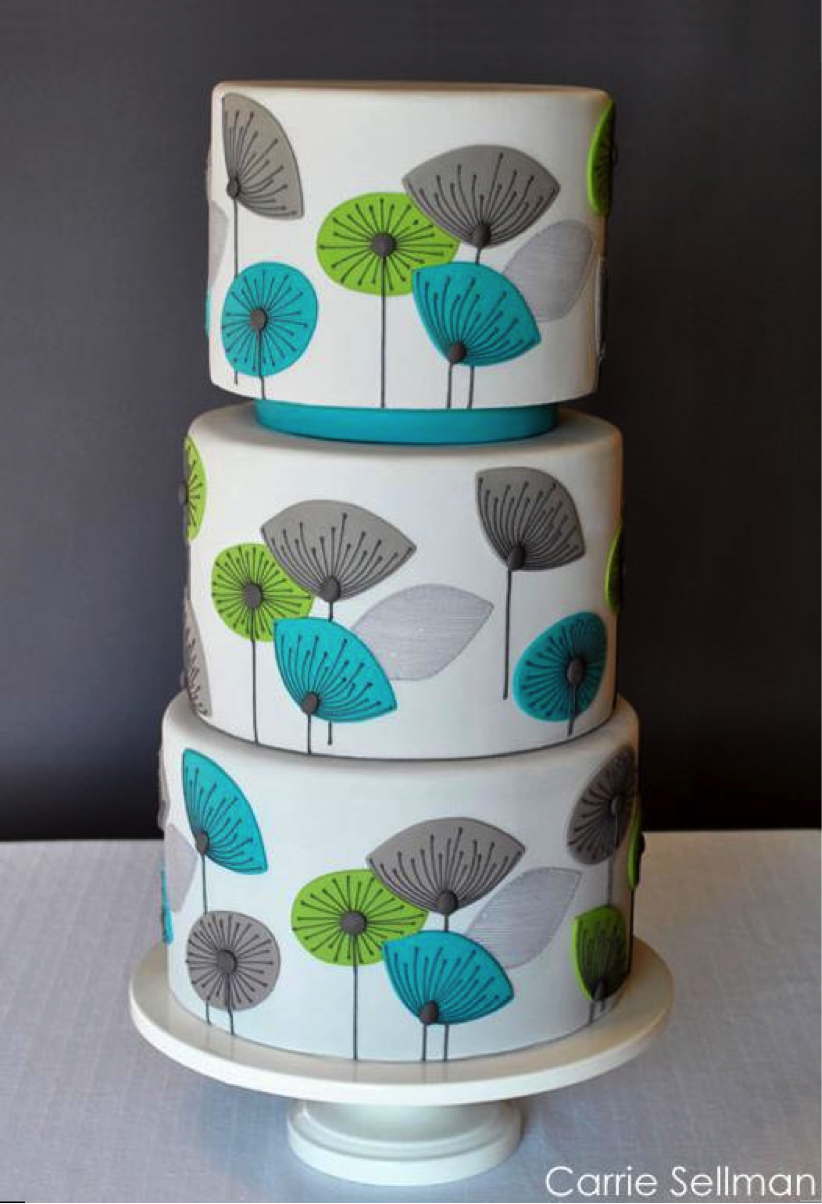 Photo via Carrie Sellman/Half Baked
Retro dandelion tiered cake:
Carrie of Half Baked blog explains that this cake was inspired by some very awesome vintage dandelion wallpaper. The grey cake tiers are peppered with handcut retro dandelion shapes and the details and leaves are all hand-piped. I absolutely love the color pop of this cake– turquoise and lime green offset by the more subdued grey tones, making it a perfect retro cake for a birthday or vintage-themed wedding!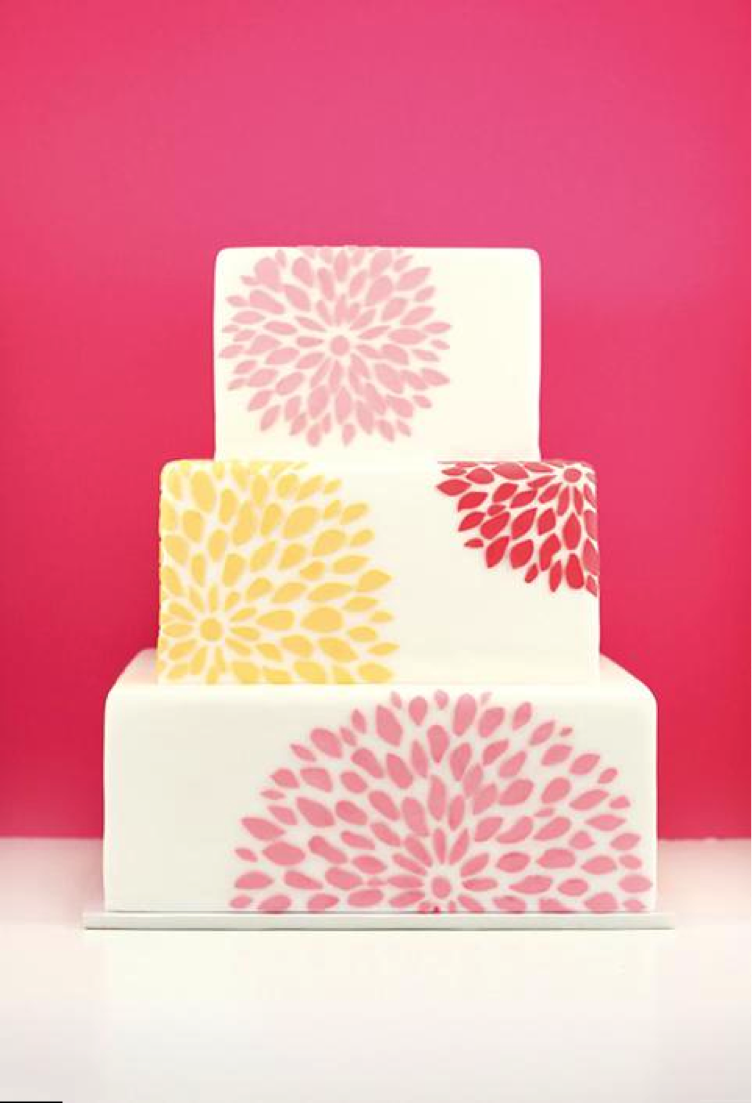 Photo via Eat Cake Be Merry
Vintage look garden party cake:
Liz Shim of Eat Cake Be Merry has such a beautiful modern and artful cake making style! This cake is great example, featuring bright white square tiers and colorful sunbursts of flower petals in complementary color wheel shades of red, yellow and pink. I visualize a perfect Asian-inspired vintage silk shantung shift dress printed with this pattern of flowers! Such a fun cake idea for a garden party bridal shower or wedding cake.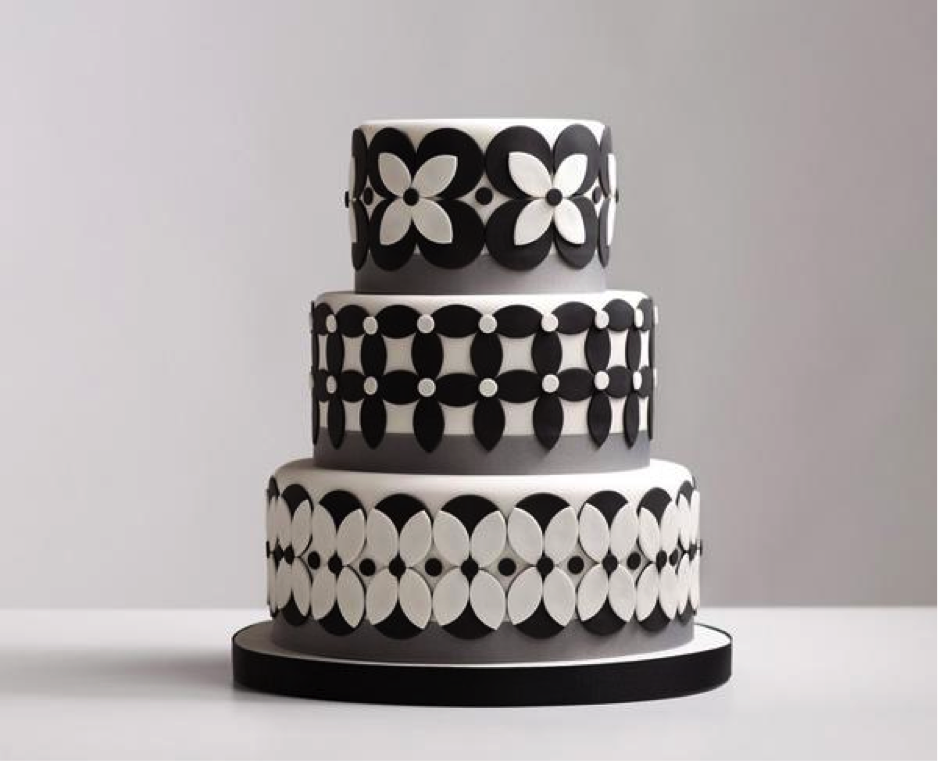 Photo via AK Cake Design
Black and white Marimekko inspired cake:
This precisely created vintage modern beauty was brought to life by AK Cake Design. It reminds me of Finnish design house Marimekko's awesome patterned textiles. This would be such a cool cake to have as the centerpiece of a black and white mod-themed wedding! I'm picturing the bride in white gogo boots.

Photo via Sweet & Saucy Shop
Chevron arrow piped cake:
Another lovely offering from Sweet & Saucy Shop, this cake is three white tiers piped with a simple but graphic and effective chevron arrow pattern in black and coral pink, reminiscent of a retro Scandinavian textile pattern.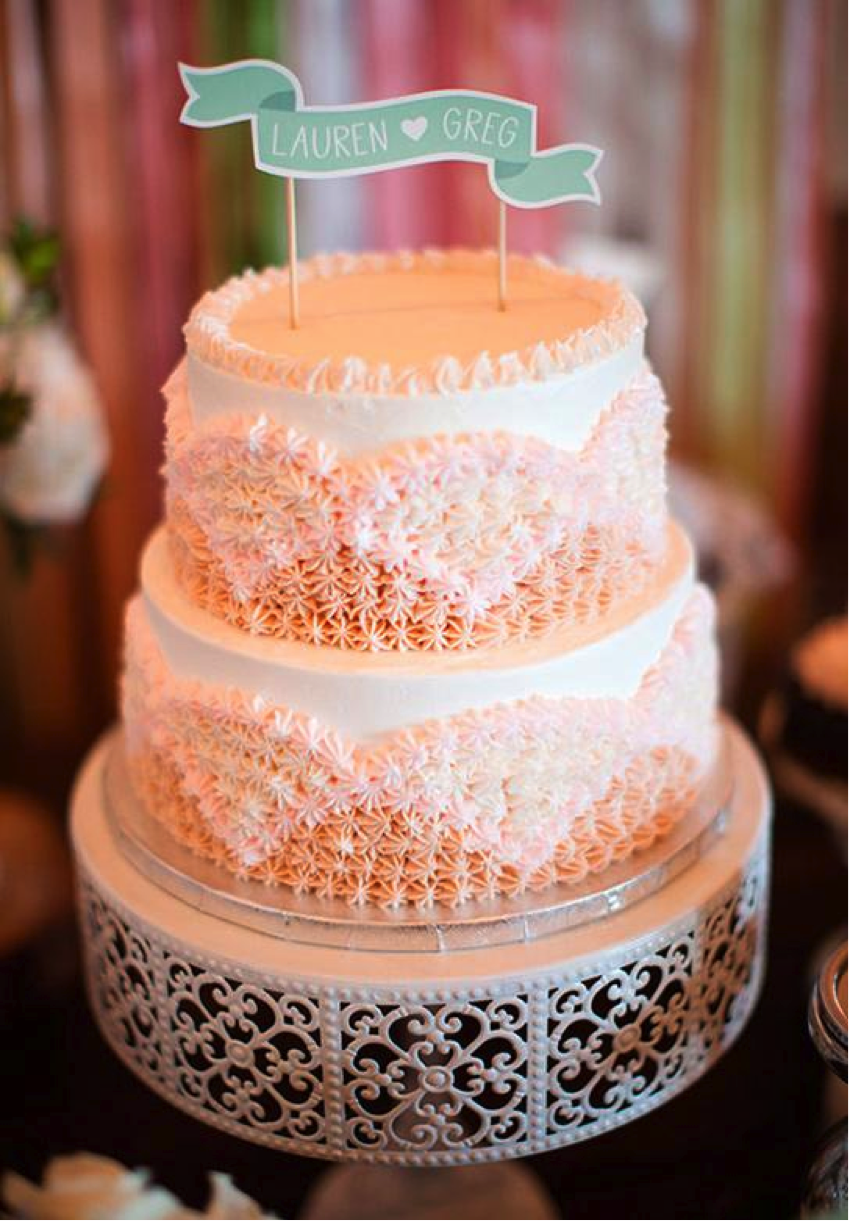 Cake by Dee's Bakery. Photo via 100 Layer Cake.
Vintage look buttercream piped fans:
This adorable two tiered buttercream beauty was just one of a huge slew of desserts for a gorgeous looking wedding. I love the small drop star buttercream piping effect in coral and peach, creating the vintage style fan design. Doesn't an awesome cake topper and cool cake stand make all the difference in presentation, too?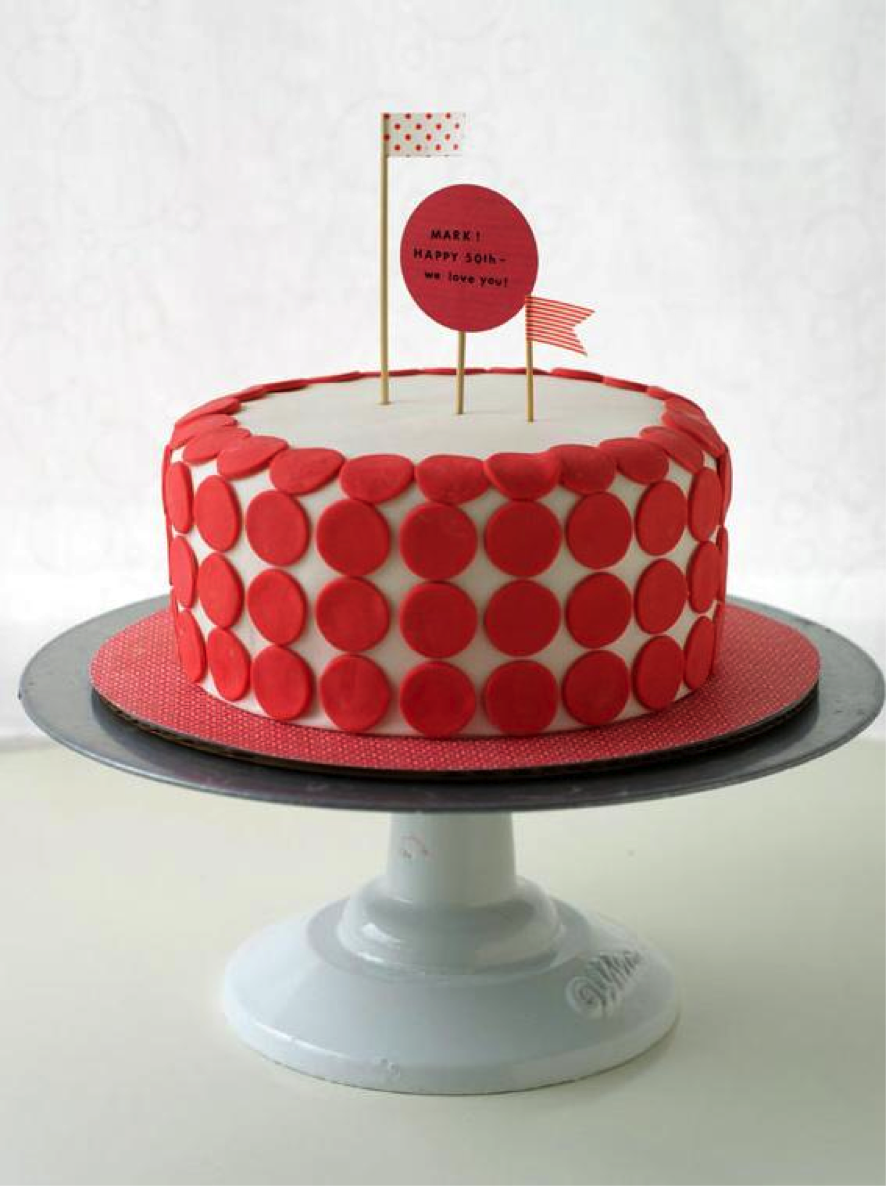 Photo via Coco Cake Land
Modern vintage red dots birthday cake:
So simple: a white fondant cake adorned with red fondant polka dots to create a graphical circle themed 50th birthday cake! The cake flags play a role in the overall design, as does the craft paper covered custom cake board. It's the little details that create a cohesive overall cake.
Turn up the record player and begin boogying as you start sketching out your 1960s inspired cake! Buttercream piped or fondant fun, you'll be able to create many a retro-look cake with your superb skills learned from the very talented instructors of Bluprint.
Come back to the Bluprint blog tomorrow to learn how to make fun cactus-shaped cakes!
Check out Colette Peters' class Vintage Cakes, Modern Methods to delve into learning how to create some vintage-look cakes of your own!