Quilts from the 1930s are some of the most sought after by quilt collectors. The beautiful quilts from that era have certain trademark characteristics quilters still use when quilting today.
Read on to find out more about these amazing quilts from an era gone by that have wide appeal to quilters today.
Marcus Fabrics Gracie's Schoolhouse Classics Quilt Kit
Characteristics of 1930s quilts
1930s quilts often have solid-colored backgrounds — many backgrounds are simple solid muslin, but bright pinks, blues, yellows and reds were also common background colors. The prints used in the quilts of the 1930s were an eclectic array of small and large florals and geometrics, polka dots in all sizes, plaids, stripes and novelty prints with animals and children's motifs. With all of the sweet simplicity and charm of these quilts from the past, it's no wonder that contemporary quilters often make this same style of quilts today.
Pretty Posies 1930s reproduction fabrics from Robert Kaufman
A common motto in the 1930s was: "Use it up, wear it out, make it do, or do without."
Because of this, and because times were hard for many American women during the late 1920s and 1930s, quilters often pieced their quilts with leftovers from "necessary" sewing projects: men's shirts and trousers, women's aprons and dresses, children's clothing, and even cotton feedsacks that household staples like flour and sugar were packaged in.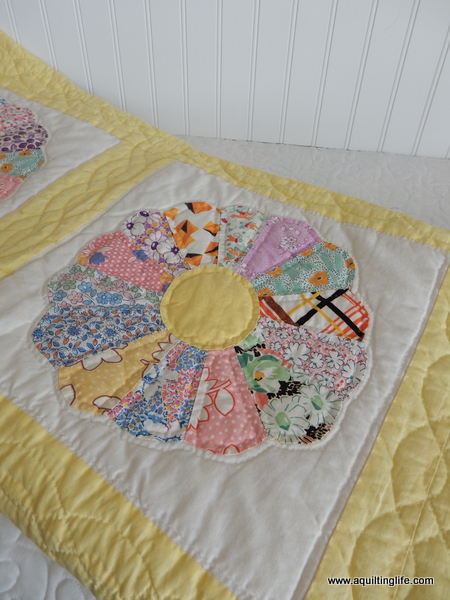 Photo via A Quilting Life
Two of my great-great grandmothers were quilting during this era. One of them used her money from selling eggs to purchase fabric. When purchasing fabric for the family clothing needs, she often added an extra quarter yard so that she could add that fabric to her quilting fabric stash. My grandmother used to tell me that when looking at the quilts her grandmother had pieced, she could always pick out fabrics in the quilts that were from dresses and aprons her grandmother frequently wore.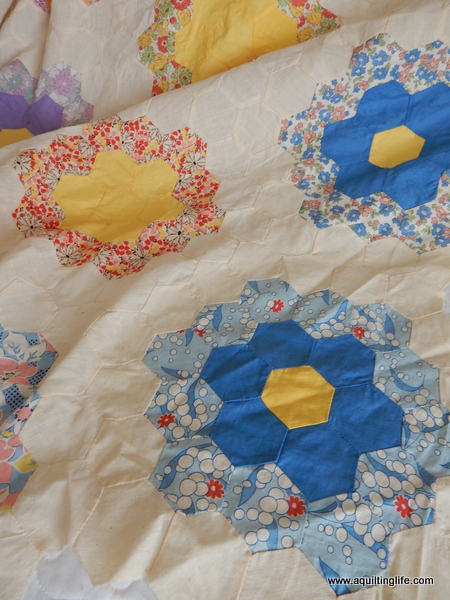 1930s quilt patterns
While some quilt designs are usually associated with this era of quilting such as the Grandmother's Flower Garden quilts, Dresden Plate quilts, and quilts ranging from those pieced with simple patchwork squares to ones made utilizing intricate appliqué, quilters from this era actually had a wide variety of patterns available to choose from. Women often traded patterns in their sewing groups, and they also ordered patterns through the mail and found them in newspapers. Many of the quilts from this era were hand-pieced from small scraps; however, sewing machines were also widely used for piecing quilts during this era.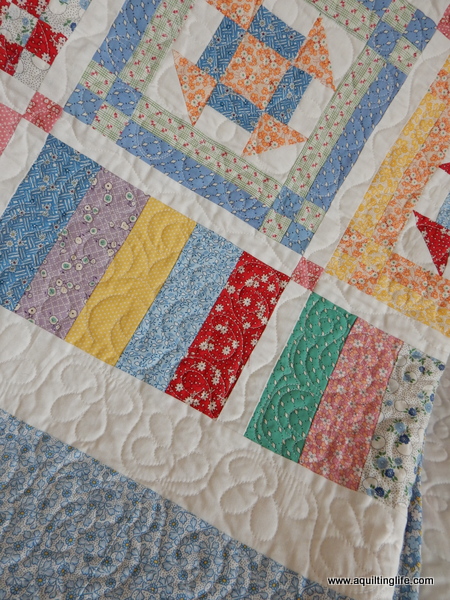 When a woman finished piecing a quilt top, it was a common practice to get together with a group of friends for the actual quilting of the quilt.
Nearly all quilts from this era were hand quilted. My grandmother remembers sitting on a small stool underneath her grandmother's quilts, listening to her grandmother's friends visit and talk while they quilted. They often quilted through the morning, ate a potluck lunch, and then quilted in the afternoon until it was time for the women to return home to their families. Some women hired out the quilting of their quilts, just as women do today. The price for hand quilting was usually based on the number of spools of thread that it took for the quilting rather than the number of hours the quilting actually took.
While original quilts from the 1930s are a true treasure today, there are also many modern-day quilts pieced with reproduction 1930s fabrics.
Nearly every fabric manufacturer currently produces or has produced these beautiful reproduction fabrics. It is easy to sew using these fabrics since they coordinate well, and many companies also produce and sell reproduction solid fabrics in the colors of this era.
Want to sew your own 1930s-style quilts?
Find beautiful reproduction 1930s fabric and quilt kits, perfect for creating your own modern-day heirloom, right here on Bluprint.Shop fabric now »