Love is sweet, but cake is delicious. Luckily, you can enjoy both in one sweet confectionery form with a heart shaped cake. A bit different than an expected round or rectangle cake shape, it's nonetheless very easy to create, either with a special pan or simply by cutting a cake into a heart shape. A heart shaped cake also opens the door to some lovely cake decorating ideas and an opportunity to create a piece of sweet art.
Feel the love with this collection of inspiring heart shaped cakes.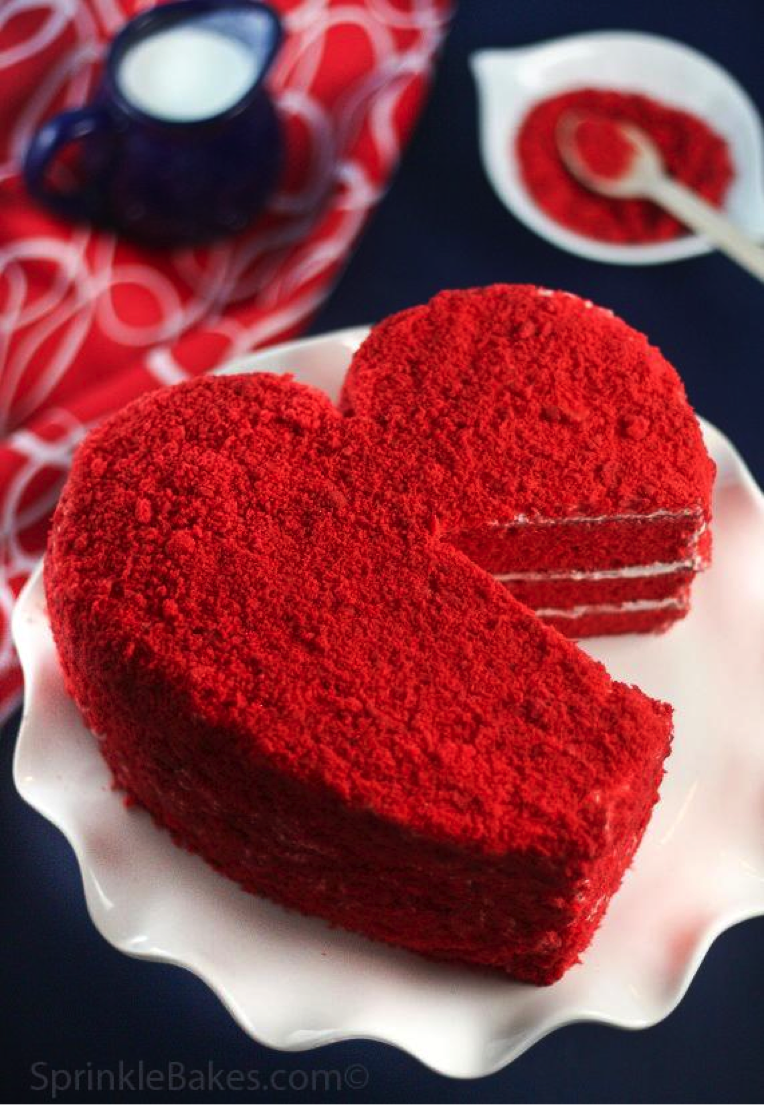 Photo via Sprinkle Bakes
Red velvet heart cake:
This cake is made for romance. Red velvet cake layers are simply stacked with cream cheese icing, and then cleverly topped all over with red cake crumbles (you could crumble the scraps from when you level the cakes) for an eye catching and vibrant red treat.

Photo via Bluprint member Thelma UK 1953
Pastel flower heart:
Here's an example of a lovely heart shaped cake that would be at home at a fancy luncheon or at a birthday party. The heart cake is topped with buttercream to a smooth finish (a crusting buttercream works well for projects like this) and then topped with gorgeous flowers along the edge and pretty stripes piped along the sides.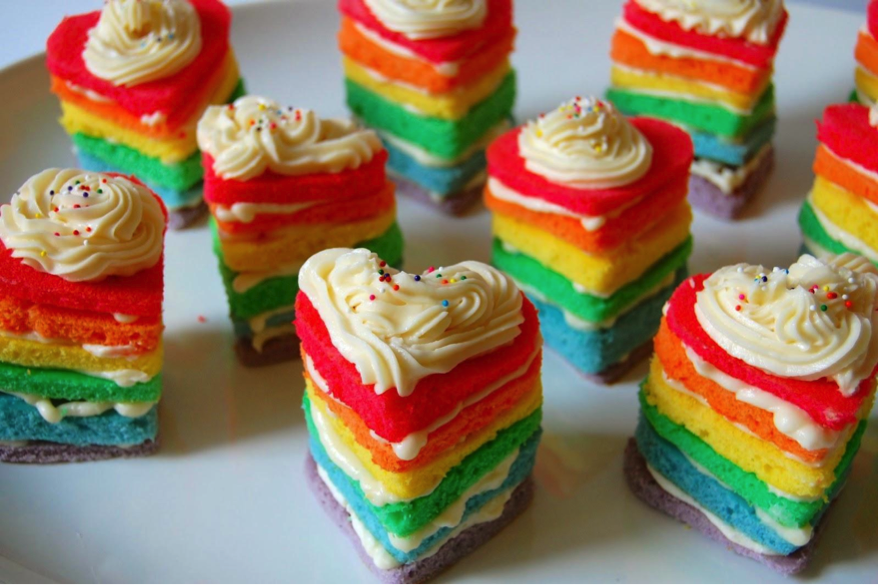 Photo via Wine and Glue
Rainbow heart cakes:
Ready to party? Make a batch of these vibrant rainbow mini heart cakes for an instant festive feel. Layers of rainbow cake are baked in separate low pans then cut out with a cookie cutter and stacked with buttercream for this lovely effect.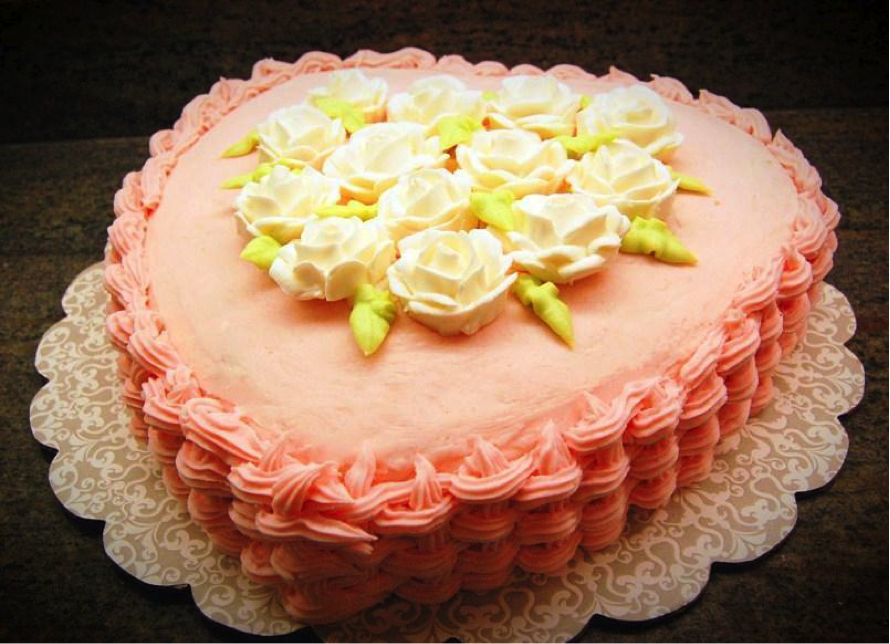 Photo via Bluprint member Viannecakes
Basketweave heart cake:
A basket of love can be created quite easily in buttercream: simply follow the example of this cake and use a basketweave tip to create a pattern on the side, and some flowers on the top for a color contrast that really catches the eye.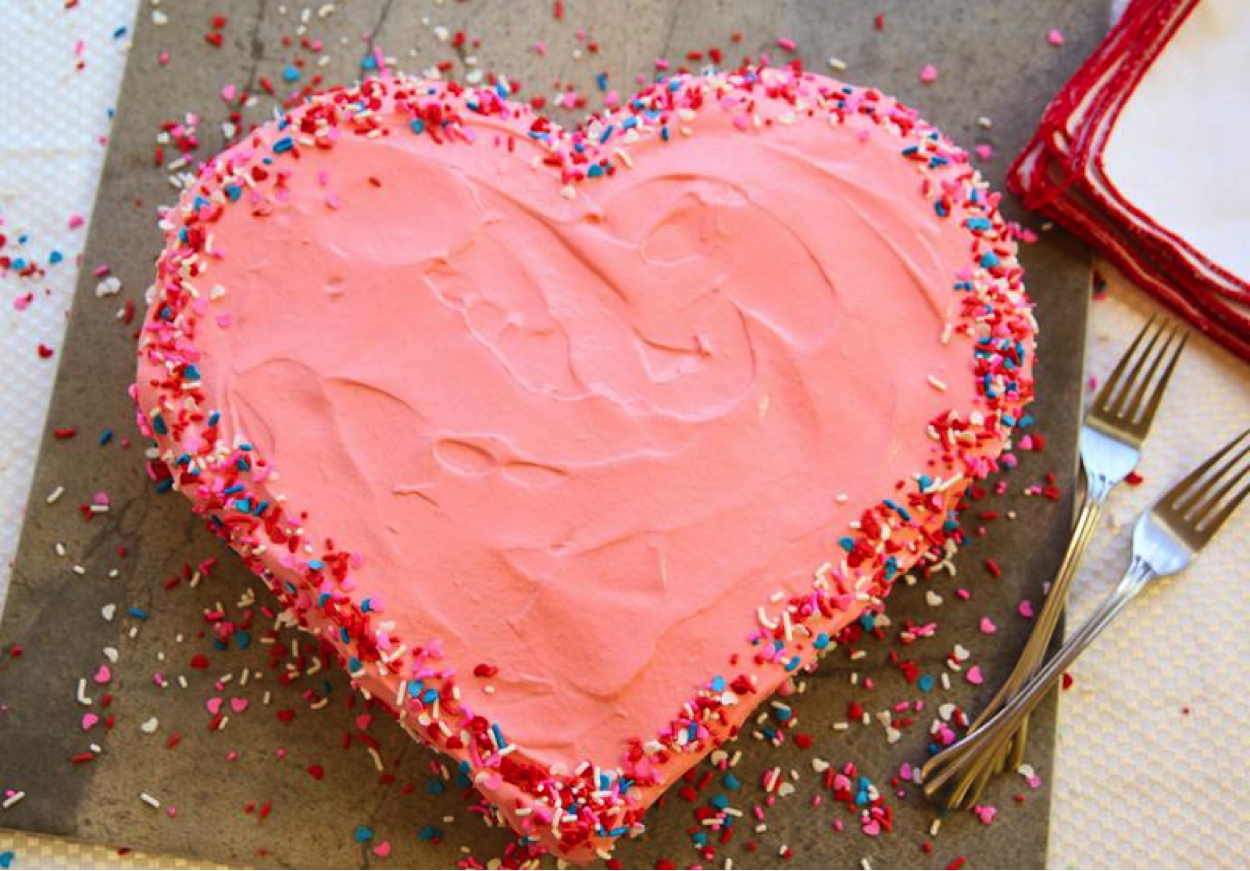 Photo via Better Recipes' Daily Dish
Simple heart cake:
Of course, sometimes keeping things simple is the way to go. This simple cake, shaped like a heart and iced with pink buttercream, is only "decorated" by the shape of the cake and by some colorful sprinkles on the side. Simple, but stunning.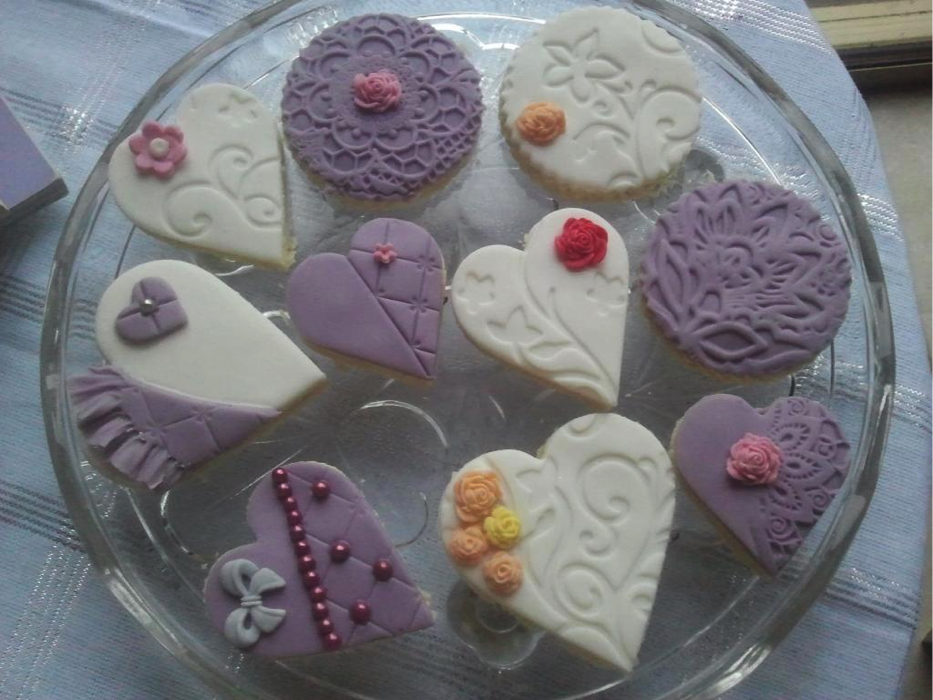 Photo via Bluprint member Sweet Delights
Patterned cupcake toppers:
Using cake impression mats on rolled fondant and then cutting them out in heart shapes can be an easy way to make your cupcakes heart shaped and sweet! These cupcakes go one step further, with dragées and small flower details.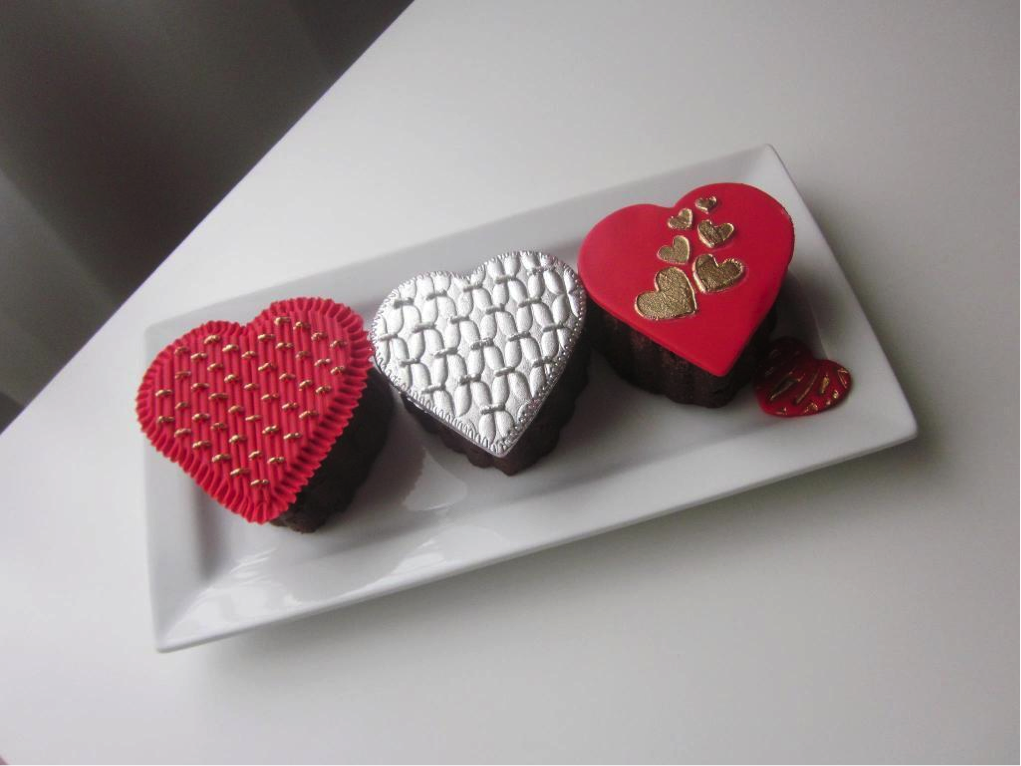 Photo via Bluprint member Sibel
Metallic heart cupcakes:
Created in the same basic method as the cupcakes pictured above, this batch of elegant heart shaped cupcakes also feature metallic luster detailing.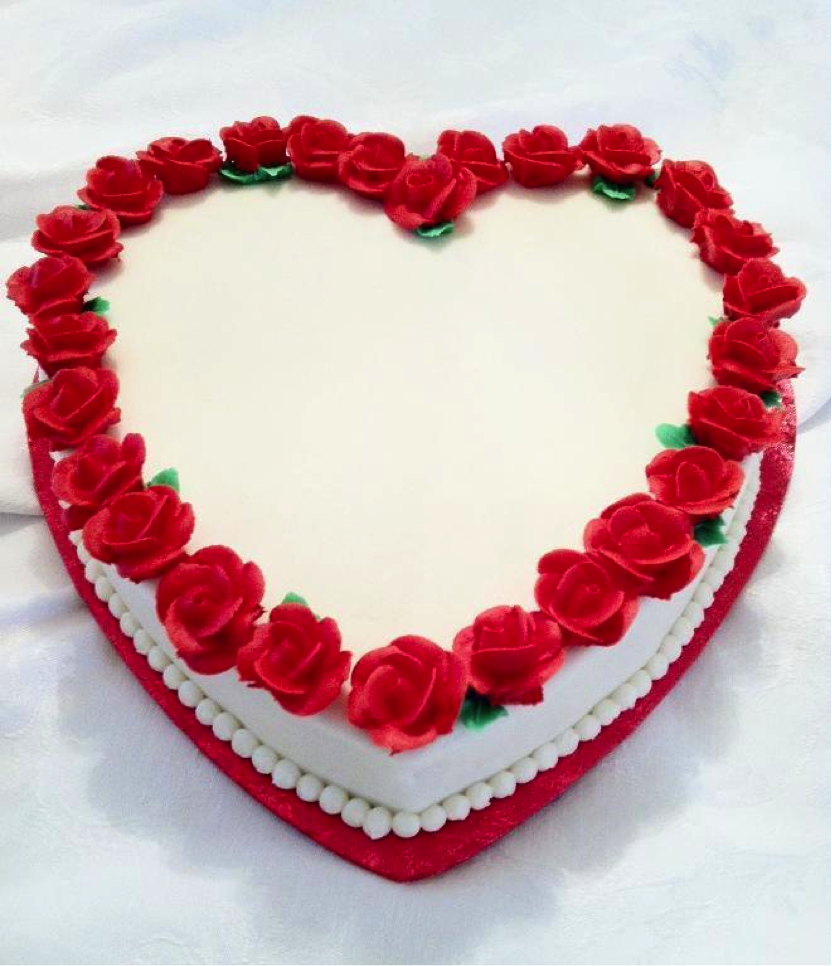 Photo via Bluprint member Lisascakes
Flower and bead piping:
Break out the decorating bag and your decorating tips. This cake, iced in white buttercream, gets its decorating wow factor from a piped bead border along the bottom of the cake, and piped roses in a vibrant red along the top edge, which not only accentuates the heart shape, but is lovely all on its own.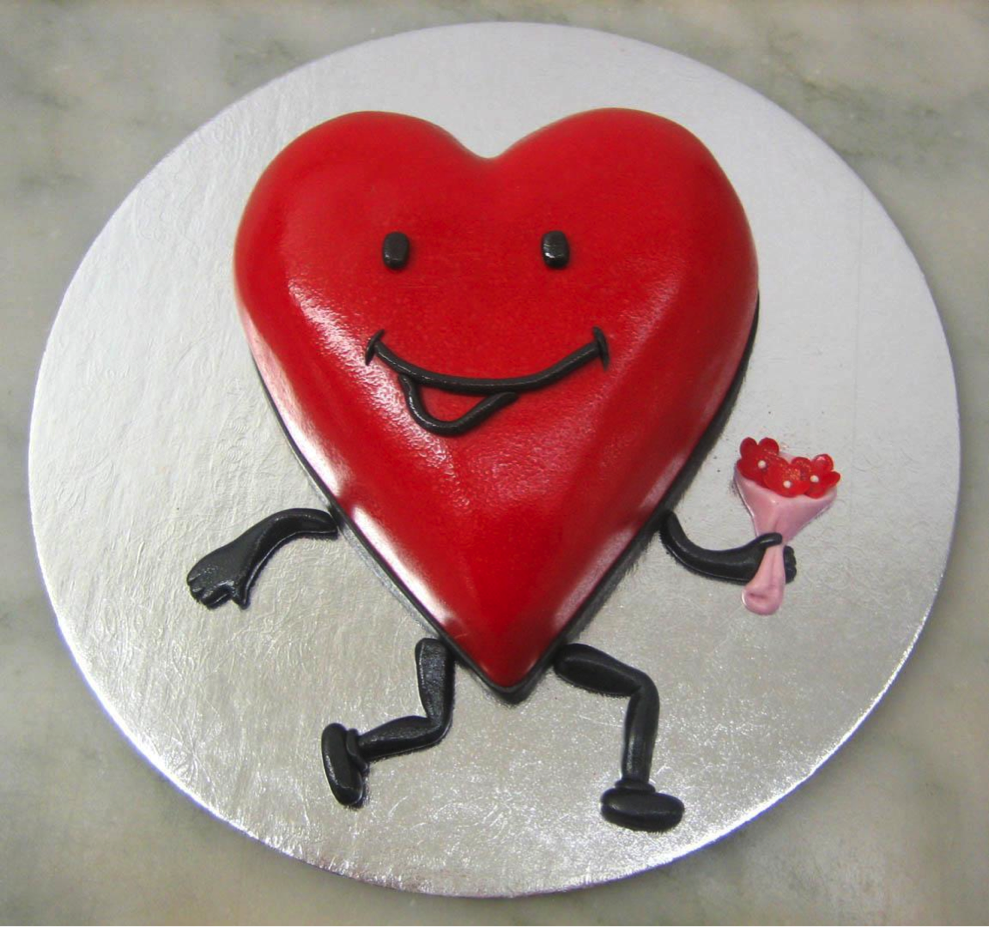 Photo via Betty Bakery
Heart guy cake:
Whimsical and clever! This heart cake accentuated with piped black icing to form a little face, arms and legs, and a bouquet of flowers. A simple cake shape is instantly rendered whimsical and romantically sweet.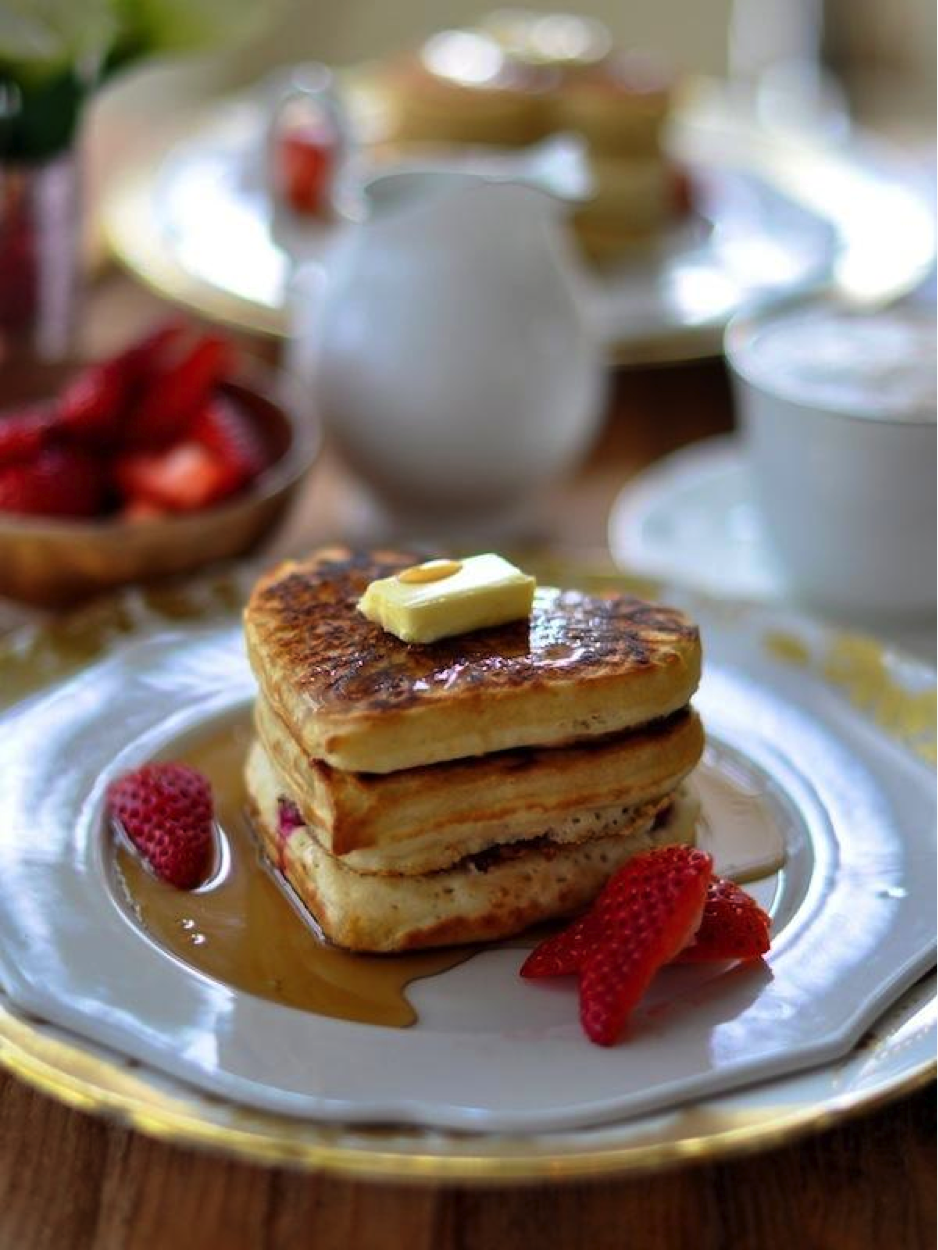 Photo via Camille Styles
Heart shaped pancakes:
Of course, who says you need icing at all? These heart shaped pancakes prove that heart shaped cakes are ideal for morning eating, making it a lovely day from the start.
Love is in the air with these sweet cakes! Which do you prefer–a sweet and simple heart shaped cake, or an ornate and over-the-top affair?