Looking for a way to jazz up a striped cake? Consider incorporating chevron into your cake decorating. "Chevron" refers to an inverted v-shape, and the motif has been employed since ancient times in carvings and on pottery, and has been used as part of military badges, highway signs, flag design…and, of course, to form the famous pattern on Charlie Brown's iconic shirt. When it comes to cake decorating, these zigzag stripes give a definite "wow" factor to a confection, adding dazzle without making the viewer dizzy.
Here are 10 lovely examples of chevron cakes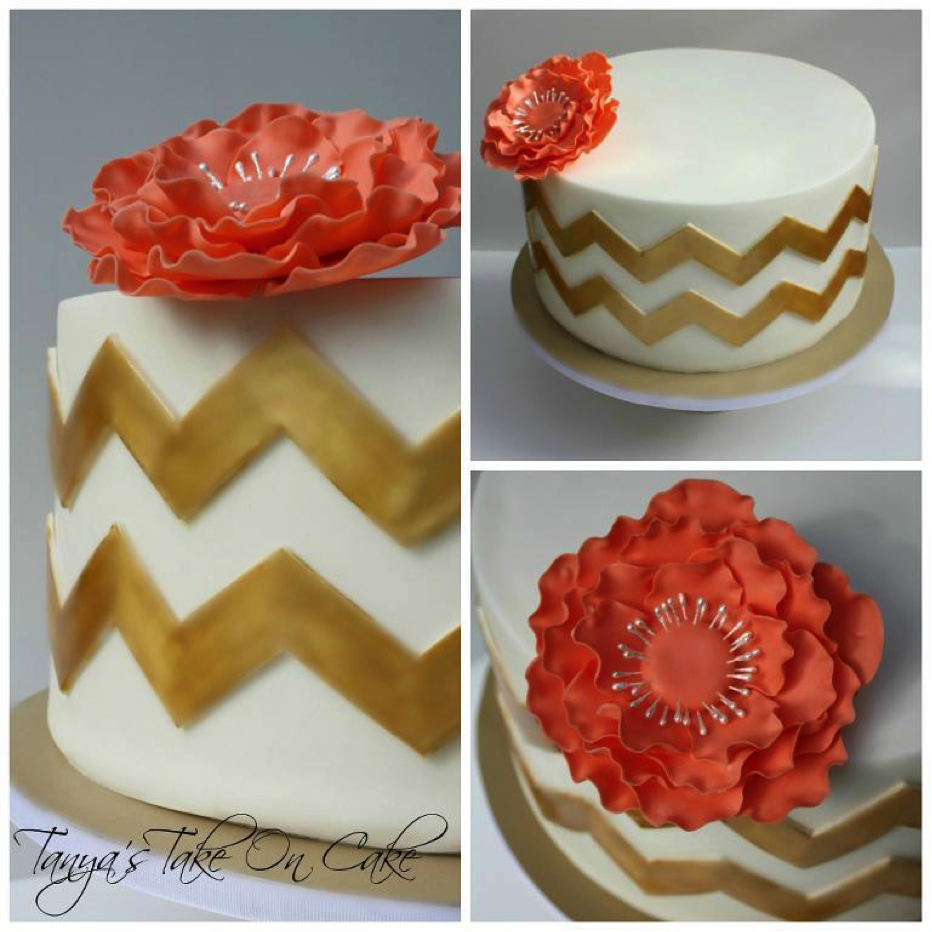 Photo via Craftsy member Tajg003
Gold chevron cake:
After learning the effective wax paper transfer method taught in Craftsy's Clean and Simple Cake Design class, Craftsy member Tajg003 created this lovely cake by first topping a cake in fondant, then adhering the golden chevrons. But to prove that all that glitters isn't gold, a stunning gum paste flower tops off the confection.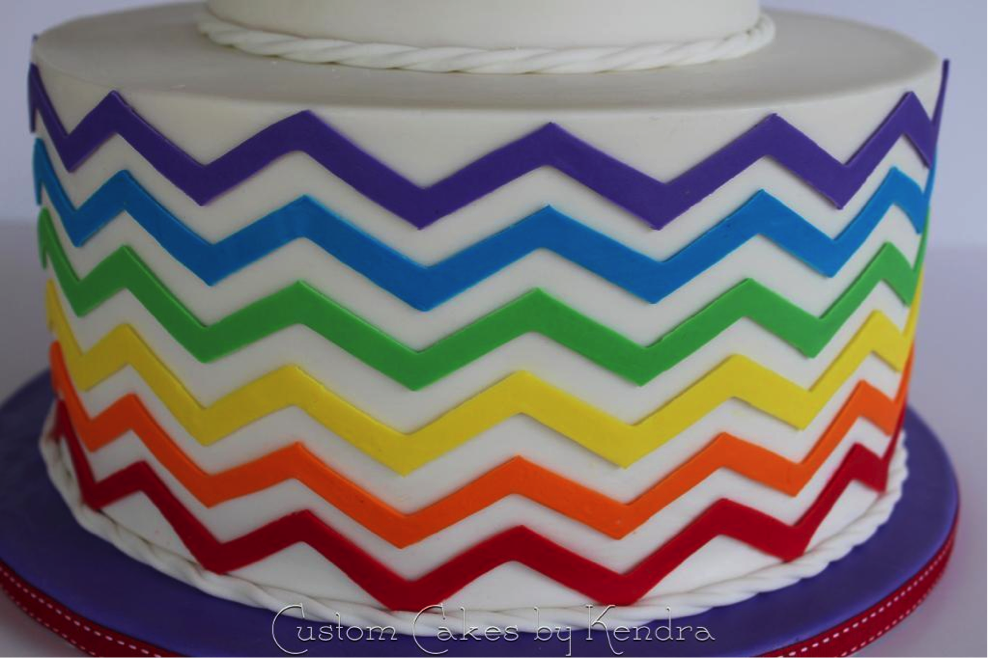 Photo via Craftsy member kendra.hicks
Rainbow chevron cake:
Chevron stripes are in vibrant attendance on this cake, which is decked out in all the colors of the rainbow. Made using the same transfer method as the cake featured above, this cake proves how a different color scheme can really change the feel of a cake!

Photo via Craftsy member Whisk Me Away
Chevron mustache cake:
The chevron pattern can certainly contribute a sense of fun to a finished product, as proven by this whimsical cake. Chevron stripes in medium blue atop a light blue background make up the bottom tier, and are playfully contrasted by a second tier with a similar chevron pattern, but rendered in red. A mustache and a name placard add a touch of elegance to an adorably irreverent cake.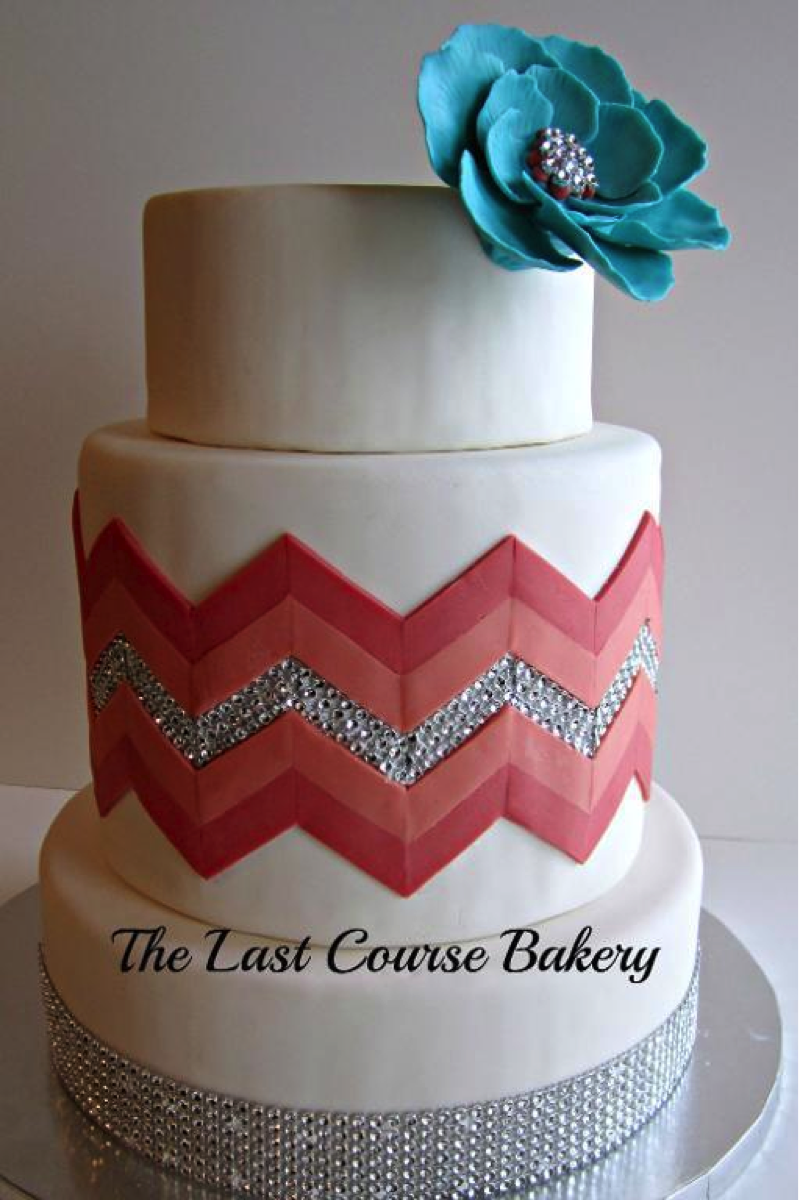 Photo via Craftsy member The Last Course Bakery
Chevron and sparkles:
Bling it on! This cake was created by another talented graduate of the Clean and Simple Cake Design class, and employs an ombré effect with the pink chevrons, which are complemented by strips of something called "glam cake ribbon" which certainly lives up to its name, adding sparkle and flair to the lovely cake.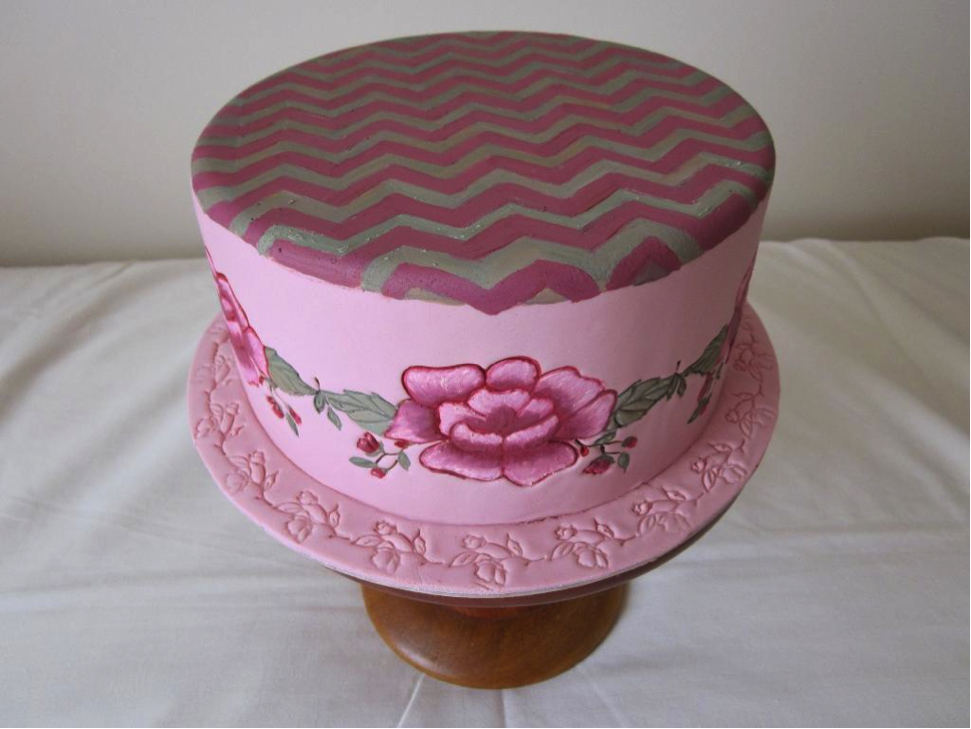 Photo via Craftsy member Pixie Trix
Hand-painted chevron cake:
Believe it or not, all of the motifs on this cake were hand-painted. Following the online Craftsy class The Hand-Painted Cake, one talented member created this lovely cake by starting with a fondant "canvas", atop which lovely flowers and a hand-painted chevron pattern were applied. The chevron pattern's appearance on the top, rather than the side, of the cake makes it different from many others.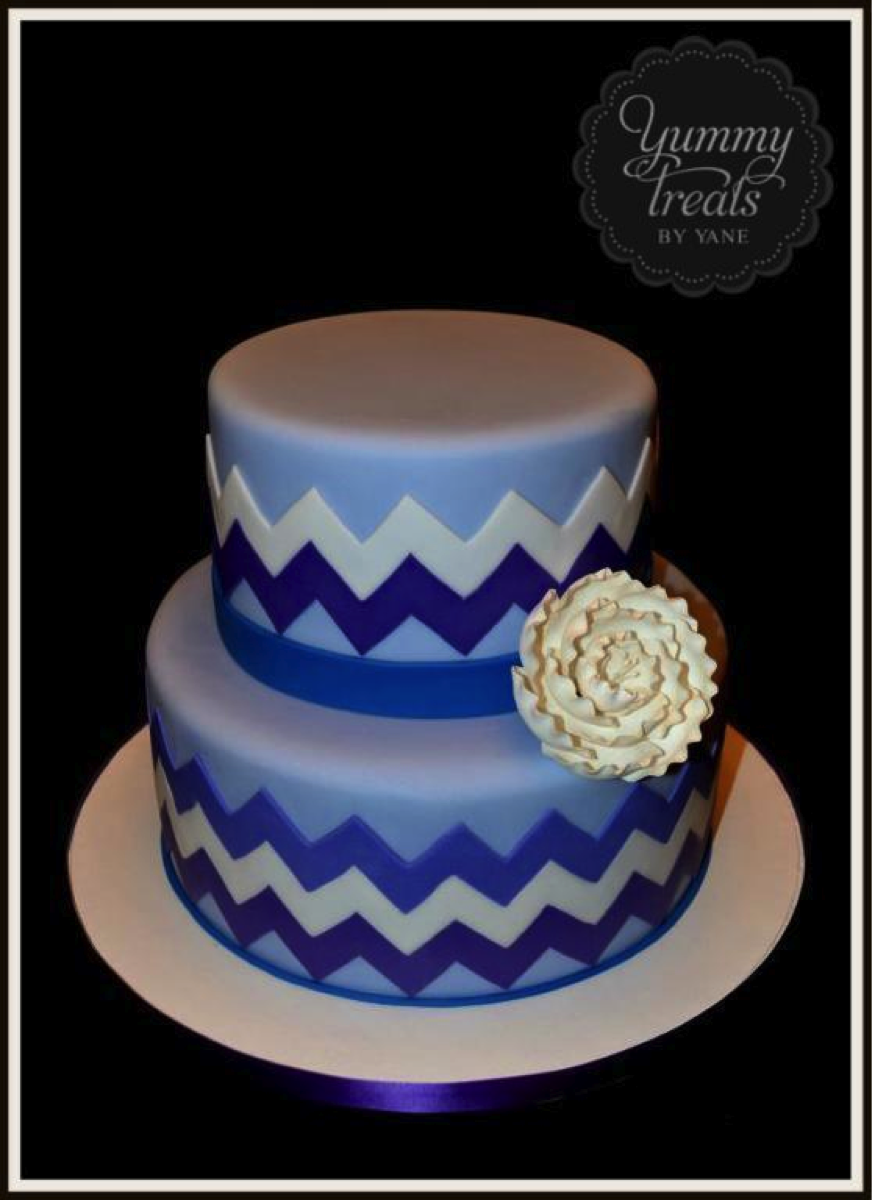 Photo via Craftsy member Yane
Blue wonder:
This pretty chevron striped cake was created using fondant in cool, soothing shades of blue. Using a wax paper transfer method ensured clean, smooth lines for the final product.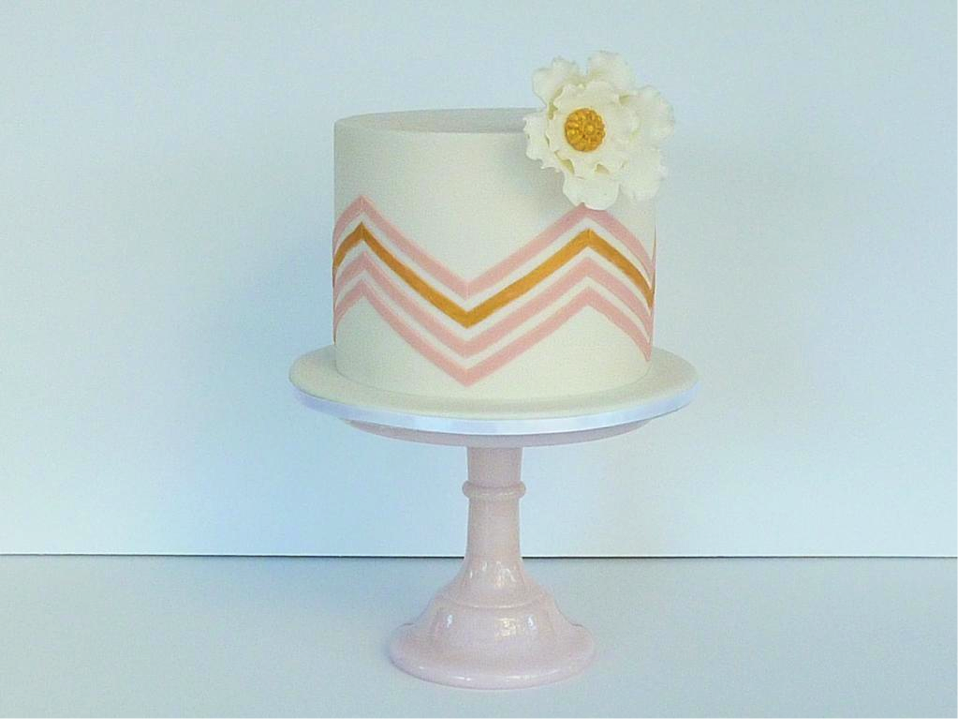 Photo via Craftsy member cakearcade
Pink and orange chevron cake:
Sweet, simple sophistication. Pink chevrons assembled in a striped pattern line the perimeter of this cake, with a single line in metallic gold to echo the stamen of the gum paste flower.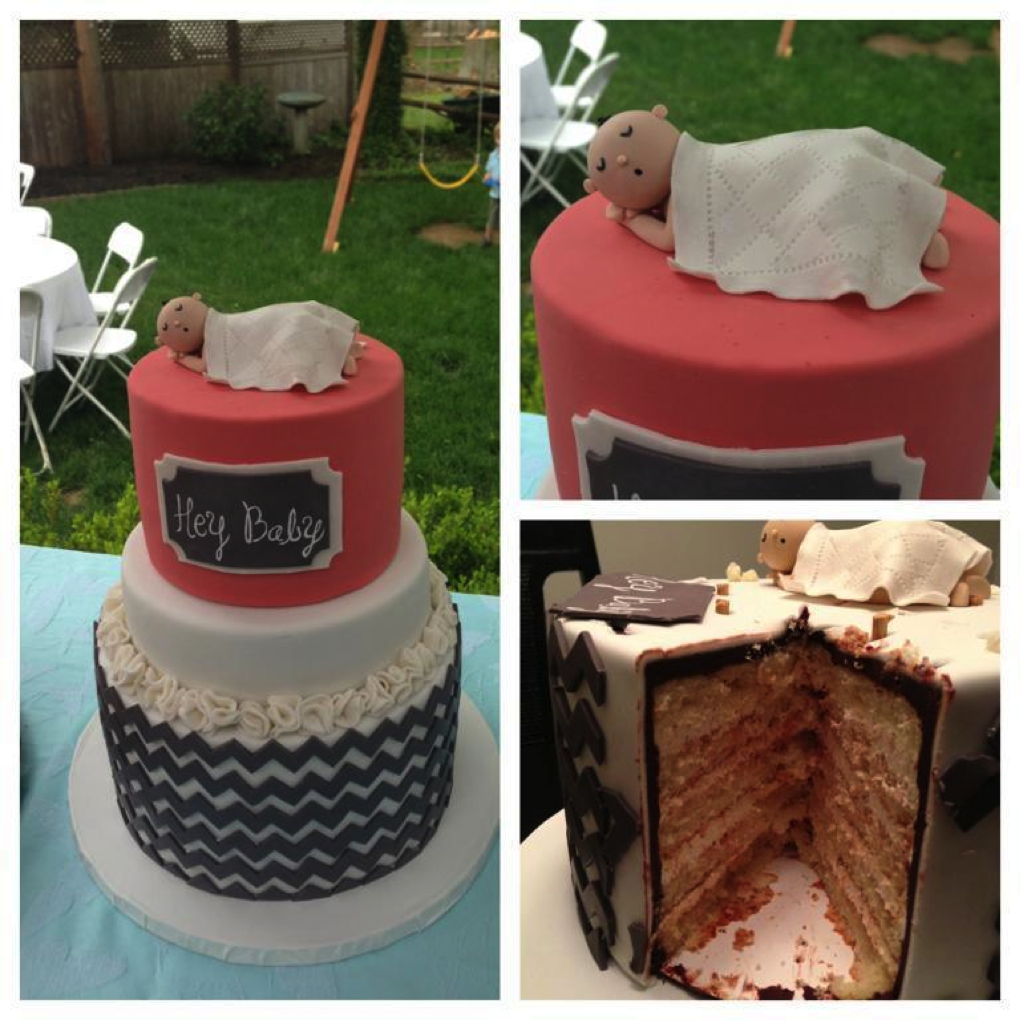 Photo via Craftsy member Iammomof3
Black and white chevron cake tier:
Here's a baby shower cake that isn't afraid to go bold. Black chevron stripes fashioned in fondant are aligned closely for a bold, eye-catching effect that draws the eye up to a pink tier which holds a hand sculpted baby figurine.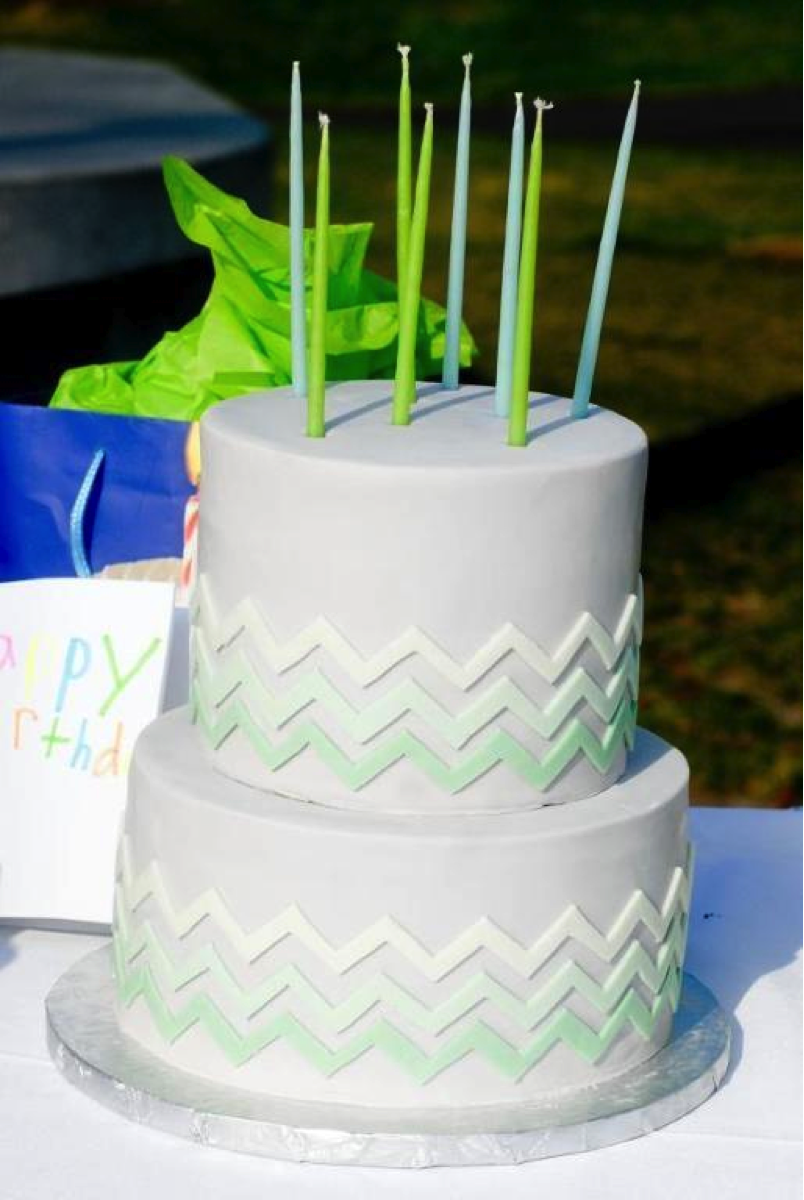 Photo via Craftsy member Gwenitht
Ombré chevron cake:
Here's a cake that is very on-trend: it has both a chevron pattern and an ombré gradient. The gradient is subtle and sophisticated, but the light mint green and playful pattern make the cake party-friendly.
As you can see, chevron cakes really make the party!
Which do you prefer: thin, understated chevron patterns? Or big, bold zigzags?