As snacks go, trail mix has been typecast. It's got a reputation that can't be shaken as a granola-crunchy food full of peanuts, dried fruit, and seeds, perfect for jaunty hikers, bikers, and general outdoorsy types.
And while indeed, the protein and energy-packed stuff is good for maintaining energy, it's also a delicious snack in its own right, even off the trail. These simple trail mix recipes create the perfect snacks to take to the office, to school or anytime you're on the go.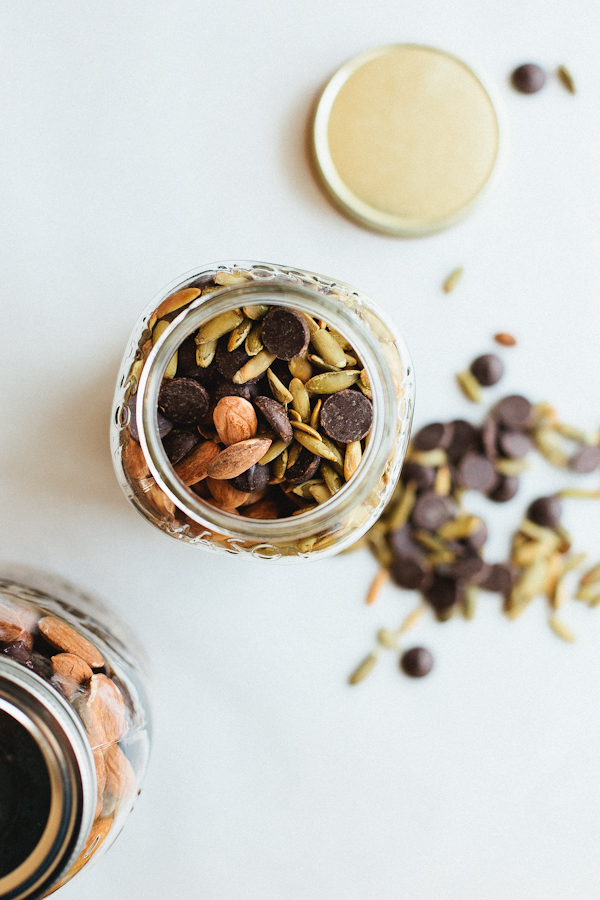 Need proof? Here's a fresh batch of trail mix recipes and ideas:
We'll start with a formula for making your own so you can tailor the mix to your liking, and then several recipe inspirations. It just might shake up the way you look at trail mix.
Recipe for trail mix success:
Here's a basic method of making your own trail mix. To start, follow a general ratio of 50 percent nuts, 30 percent dried fruit, 10 percent seeds, and 10 percent "other"–whatever flavors or extras you'd like to add. Keep in mind that this is merely a starting point. Unlike a delicate cake, there is no chemistry to disrupt in trail mix recipes, so these ratios are very forgiving. You can alter quantities based on your personal preference and tailor your trail mix to your unique taste.
50 percent nuts
Examples: Almonds, Brazil nuts, cashews, hazelnuts, pistachios, macadamias, pecans, peanuts.
Note: The nuts can be toasted, adding a pleasing crunch to your trail mix.
30 percent dried fruit
Examples: Apple chips, blueberries, banana chips, cherries, cranberries, dates, figs, raisins.
Note: Why dried? Dried fruits keep longer than fresh, and they won't moisten other ingredients. For optimal health, choose unsweetened or naturally (fruit juice) sweetened fruits.
10 percent seeds or twiggy bits
Examples: Chia seeds, flax seeds, Pepitas (pumpkin seeds), sunflower seeds, wheat berries.
Note: Technically all of these items are not seeds, but they perform a similar flavor and texture function.
10 percent choose your own adventure
Examples: Chocolate or carob chips, pretzels, cereal, small candies such as M & M's, flaked coconut.
Note: This is the fun part! Let your imagination have no bounds. The only thing to consider is that in warmer climates, chocolates and candies may melt easier.
Does that seem like too many options? Here are a few suggestions for mixes:
A classic trail mix:
A variation of a basic GORP ("good ol' raisins and peanuts"). Eat it wearing hiking boots and a fleece jacket.
Almonds and peanuts
Cranberries and raisins
Sunflower seeds
Chocolate chips
Sweet and salty trail mix:
Great as an after school snack or a mid-day pick me up at work.
Peanuts
Raisins
Mini pretzels or pretzel sticks
M&M candies
Black forest trail mix:
Toasted almonds
Dried cherries
Sunflower seeds
Chocolate chips or disks
Blue hawaiian trail mix:
A taste of the tropics, in an easy to transport form.
Macadamia nuts
Dried blueberries
Flax seeds
Flaked coconut
White chocolate chips or chunks
Thanksgiving trail mix:
All that's missing is the turkey.
Salted pecans
Pumpkin seeds
Cranberries
Chocolate chips (why not?)
Five creative trail mix ideas from other blogs:
Lentil trail mix:
For a delicious nut-free trail mix, look no further. Made with lentils, pumpkin seeds, and a melange of fruits, one taste of this mix and you won't miss the nuts at all. Recipe here.
Marcona almond trail mix:
Pinkies out! Fancy Marcona almonds find a place with pistachios in this addictive sweet-tart-lightly salty trail mix. Recipe here.
Monkey munch trail mix:
This tasty trail mix will give you plenty of energy to monkey around, with a palate-pleasing mix including banana chips, salted peanuts, chocolate chips, and shredded coconut. Recipe here.
Nut mix:
A simple but sweet road trip friendly recipe which guarantees snacking success, including pepitas, chocolate chips, dried cherries, and almonds. Recipe here.
Tropical trail mix:
The weather may be getting cooler, but you can get a taste of the tropics any time with this bright and lively trail mix, which includes banana chips, puffed quinoa, candied ginger, and pepitas. Recipe here.
Free Online Cooking Class
Cook nutritious, flavorful whole grain meals you'll love. Enroll Now »