Suede has a velvety texture and is often available in deep, rich colors, which makes it the perfect choice for fall sewing projects.
Suede is a type of leather (and some of the sewing techniques used for suede are similar to leather sewing techniques), but you're more likely to find synthetic suede being sold at most fabric stores, so vegetarians and animal rights activists can rest easy!
Suede has its own set of quirks, but here are a few sewing suede tips that will help you out!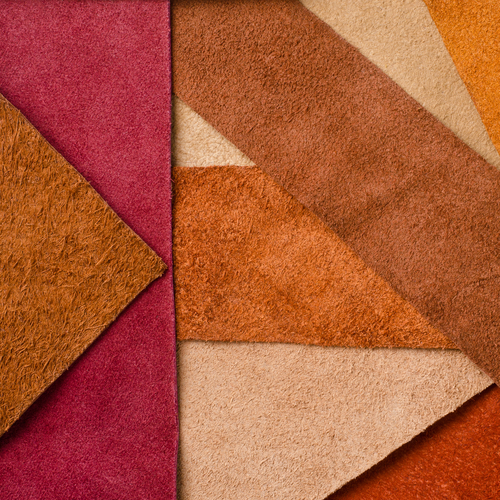 1. Select the right project.
Suede is not known for having great drape, so choose your pattern wisely. An A-line skirt or another garment with simple lines would be a good choice.
2. If working with ultra-suede, prewash your fabric to preshrink it.
With ultra-suede, you might need to do this more than once. Again, ultra-suede doesn't drape easily and it might take a few washes for the fabric to really loosen up so that you can work with it. Be sure to use a liquid fabric softener if you use any fabric softener products, as dryer sheets can leave oil spots on the suede.
3. Suede has a nap, so be mindful when cutting pattern pieces.
You want all of your pattern pieces to have the nap running in the same direction. Double check your pattern envelope to see if a napped fabric requires extra yardage.
4. Use pattern weights when cutting suede.
Suede can be a little thick for straight pins. Instead, use pattern weights when cutting out pattern pieces and binder clips to hold seams together while sewing.
5. Select your sewing needles wisely.
Set up your machine with a new, sharp needle in size 9 or size 11. You'll want to use a longer stitch length, around 10 to 12 stitches per inch (or even longer). Shorter stitches will weaken the fabric. You might need to adjust the tension, as well, so be sure to test your machine settings on scraps of suede first.
Suede does have a bit of stretch to it, so if you find that your machine is skipping stitches, try using a ballpoint needle, like you would use for sewing with knits.
6. You'll also find it helpful to baste seams prior to sewing, either by hand or with basting tape.
This will keep everything in place and prevent some shifting around when you get to the machine.
7. Switch out your standard presser foot for a Teflon or roller-ball foot.
These will stick to the suede less and help you sew smoother. Additionally, place a piece of tissue paper on top of your fabric, and rip off after seam is sewn. You might also find it helpful to place tissue paper in between the two layers of fabric and underneath the bottom layer as well.
8. If you are sewing suede to another type of fabric, place suede on top, next to the feed dogs.
Again, this will help with sticking and skipped stitches.
9. Be mindful of bulk when finishing seams.
In most instances, you'll probably want to press seams open and top stitch on either side to secure. Hems should be 2" or less to reduce bulk.
10. Always follow the manufacturer's care instructions for laundering your suede garment.
When ironing, use a lot of steam and a press cloth.
Feeling inspired to sew with suedet Design & Sew an A-Line Skirt or Design Your Own Handbag.
You may also enjoy our post on hand sewing leather techniques.
Tomorrow on the Craftsy Blog, we'll take a look at the life and legacy of fashion icon Coco Chanel.
Do you have any sewing suede tips? Please share in the comments!