First things first: let's not confuse tarts with pies. While the pastries are certainly related, and often share flavors, they are not the same thing.
Basically, their difference comes down to crust. A tart generally has either shallow sides or no sides at all, and only a bottom crust (though some bakers can't resist a little lattice or decoration on top). A tart crust also differs from pie crust. Often, a tart crust will be more "short" than pie crust–that is to say, more crumbly and rich. The ingredients include flour, unsalted butter, cold water, sometimes sugar, sometimes egg (confusing caveat: sometimes tarts employ a puff pastry type crust, too). And, tarts are baked in a pan with a removable bottom, or in pastry ring, so that they can be served unmolded; a pie is usually served right in its baking dish.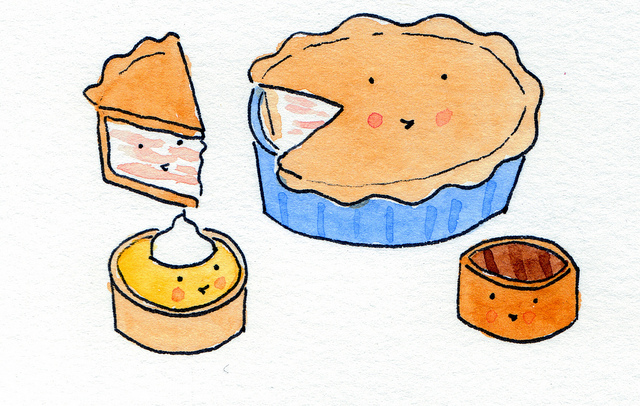 Now that you have a better understanding of tarts, here are some recipes to inspire you to tart–er, start–your own baking adventure: five sweet, and five savory.
Sweet tarts:
From delicate morning treats to decadent after-dinner desserts, tarts make for sweet eating all day long.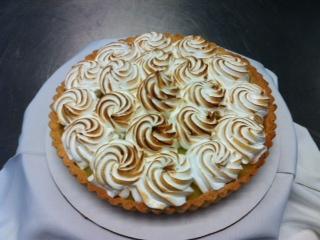 Photo via Bluprint instructor Colette Christian
Lemon tart with Italian meringue:
This is almost like Lemon Meringue Pie's fancier, exotic European cousin. Made with a luxuriant, tart-sweet lemon curd encased in a rich short pastry, it's finished with some beautiful piping on top using a star tip, which is showcased by a delicate browning in the oven. Recipe here.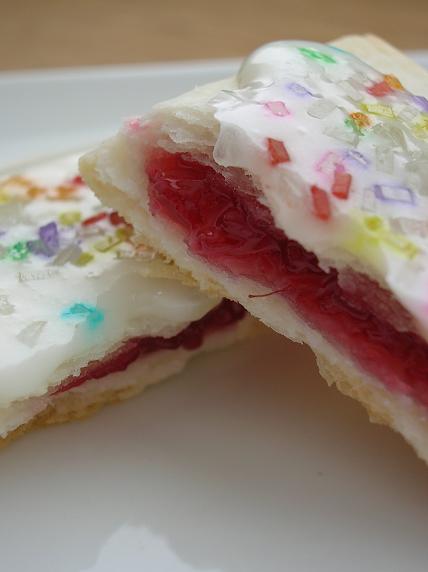 Photo via Culinary Concoctions by Peabody
Homemade toaster pastries:
This recipe is an exception to the "no top crust" rule, but an oh-so-tasty one. If you love toaster treats, but are perhaps not so keen on the long list of unpronounceable ingredients, then here's a recipe that you will absolutely adore. A simple homemade crust encases a jam filling of your choice, and an easy glaze finishes it off–choose your favorite type of sprinkles, of course. Recipe here.
Honey pistachio tart:
Mellow and rich pistachio nuts, fruit, and honey come together in a rich pastry shell to form a dynasty of deliciousness. With minimal added sugar, it allows the natural sweetness of the ingredients to shine, and won't give you a crash after eating. Recipe here.
Peanut butter and jelly tart:
A peanut butter and jelly sandwich with cookies for dessert is a classic kids' bag lunch. But what happens when you combine the concepts to make peanut butter and jelly in a cookie-like tart crust? You get a new classic, that's what. Recipe here.
Roasted cherry chocolate tart:
The major selling point here? The tart dough is made with chocolate. If that wasn't good enough on its butter and cream-filled own, the filling is composed of heavy cream, fresh cherries, and a little sugar to help things along. Recipe here.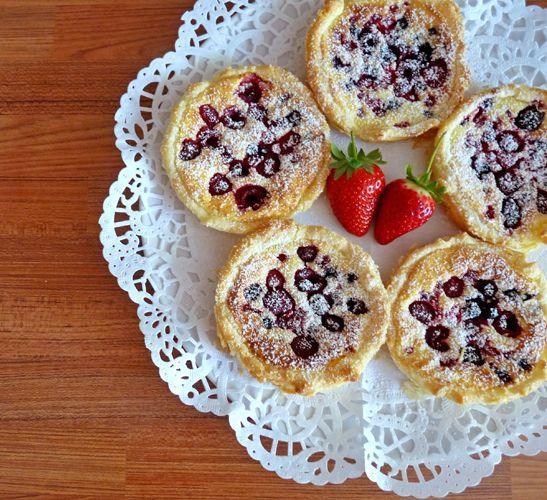 Photo via Bluprint member bake.sew.craft
Vanilla and red fruit tarts:
Believe it or not, these tarts were an accident: upon realizing that she didn't have the ingredients for what she intended to make, an adventurous baker filled puff pastry shells with cream cheese, vanilla pudding, and red fruit. The outcome? Outstanding. Sometimes taking a risk pays off. Recipe here.
Savory tarts:
Life is about balance–warm up for dessert with something savory.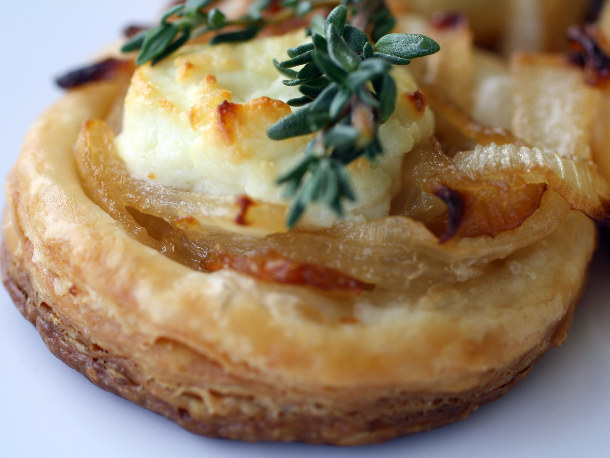 Photo via Kerry Saretsky for Serious Eats
Onion and goat cheese tarts: 
These tarts are inspired by pissaladière, a French specialty rich in caramelized onions and sardines. This smaller version is vegetarian and easier to prepare for, say, a cocktail party. They are softer and sweeter, with the sweetness of the onions enhanced with caramelized brown sugar, and the tang of the fresh goat cheese grounded in the earthiness of thyme. They are crisp and gooey and sweet and savory. Recipe here.
Breakfast tart with caramelized onions, bacon, sweet potatoes, and egg:
All the makings of a hearty breakfast, all delivered in one easy to eat form. A flaky crust acts as anchor to a melange of beautiful contrasts: sweet caramelized onions and sweet potatoes against rich, oozy egg yolks and salty, unctuous bacon. Recipe here.
Butterbean puree tarts with fresh figs and sweet tea drizzle:
These creative mini tarts are inspired by the flavors of the south. A butterbean puree is filling and thick, but lightened up with sweet figs and all brought together with a creative sweet tea drizzle. Recipe here.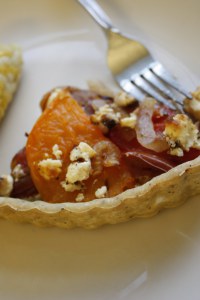 Photo via Fields of Cake
Heirloom tomato tart:
The ingredient list may include tomatoes, cheese, and crust, but it's not pizza. This is a buttery crust filled with juicy tomatoes and punctuated with salty, rich cheese nuggets. Say hello to the tomato tart.  Recipe here.
Olive, spinach, and pine nut tart:
This olive, spinach and pine nut tart is great with a salad and chutney. It can be served hot cold, and travels well so it is good for a picnic. I think this is one for true olive fans as the olives give the tart a real salty kick. Recipe here.
From beyond mere recipe to work of tart, these inventive and delicious recipes will have you shaking and baking! Do you prefer sweet or savory tarts?