In our cake decorating tour of the world, so far we've visited New York City and Paris, Rome and London. Now let's head to America's West Coast, for some Seattle-inspired cakes.
Seattle is a city known, among other things, for its coffee. And what goes better with coffee than cake?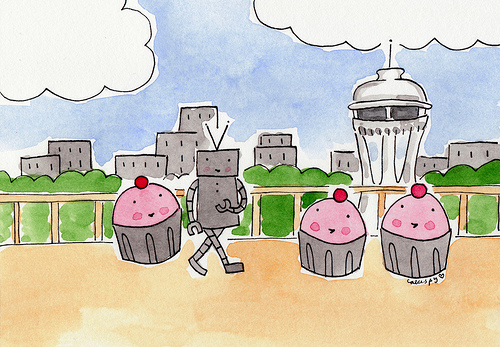 Photo via CakeSpy
Here's a collection of cakes sweet enough to stand up to the boldest brew, inspired by the Emerald City.
These feats of cake decorating include not only landmarks such as the Seattle skyline and the Space Needle rendered in fondant and gum paste, but also Seattle themes such as coffee and, yes, the infamous rainy weather.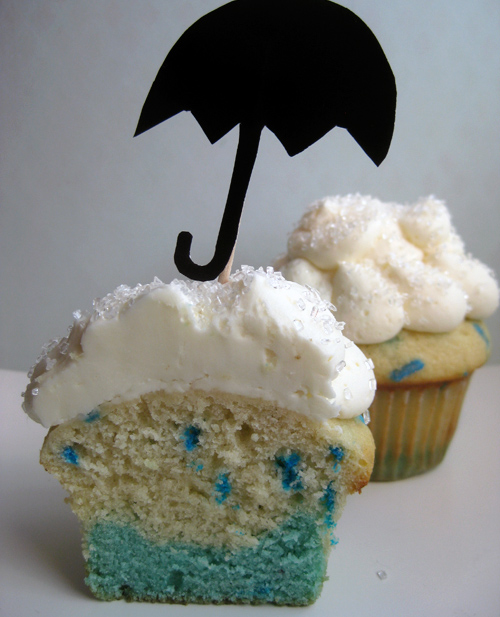 Photo via Bake it in a Cake
Rainy day cake:
Seattle blogger Bake it in a Cake isn't afraid to celebrate the city's famously rainy climate.
To create these adorable cupcakes, simply divide your favorite cake batter and tint one third of it blue, then fill the bottom of the liners with the blue batter. Fill the rest with non-tinted cake batter dotted with a few blue sprinkles. Once baked, you'll have a sweet "rainy" effect that is accentuated by a cloud of white buttercream.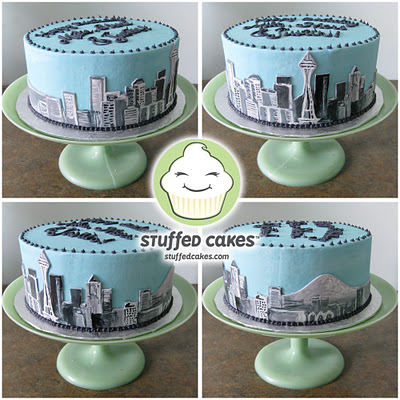 Photo via Stuffed Cakes
Skyline cake:
This lovely and creative cake was made for a new Seattle resident who wanted to celebrate her new hometown. The cake features a lovely blue buttercream backdrop, on top of which is a hand cut fondant outline, which is hand-painted in gel colors with a panorama of the Seattle skyline, complete with the Space Needle, Pacific Science Center, and the famed Mount Rainier. The simple and elegant monochromatic design really pops.
[box type="shadow"]Want to give it a try?
[/box]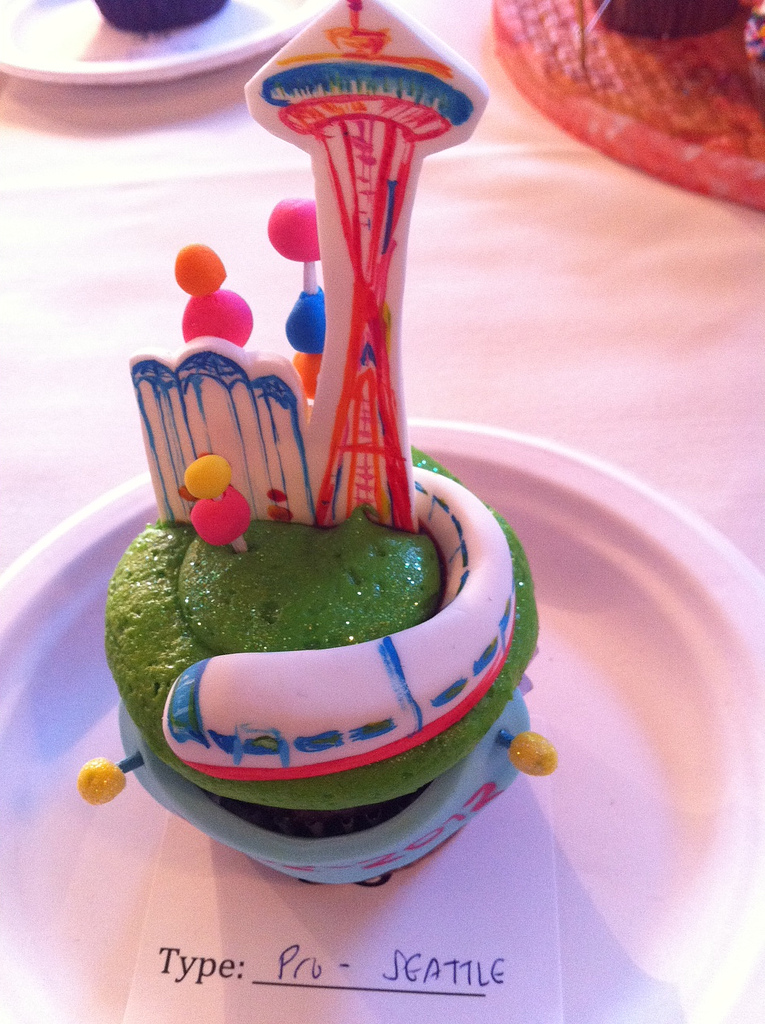 Cupcake by Stuffed Cakes; Photo via Cupcakes Take the Cake.
Seattle pop-up cupcake:
A candy-colored Seattle scene practically pops out of this bright cupcake. A piped dollop of green buttercream gives a "grassy" base to an emerging Space Needle and Seattle Center scene, painted on fondant, which is wrapped around by the monorail.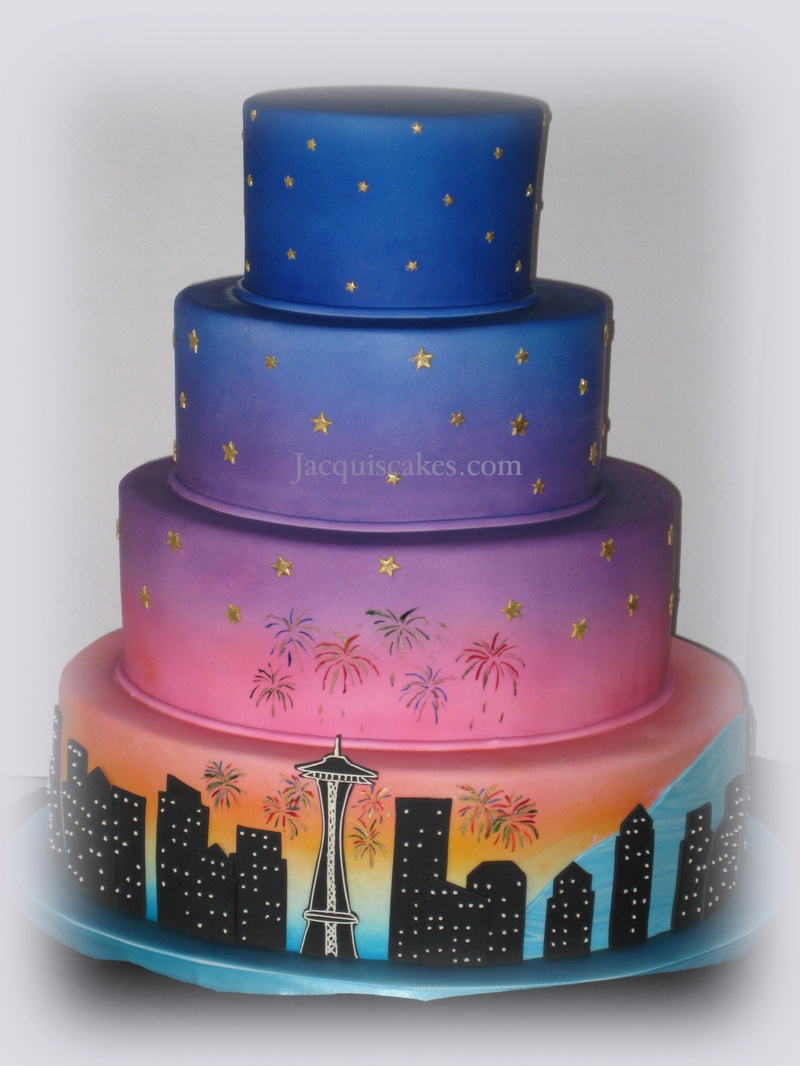 Photo via Jaqui's Cakes
Seattle fireworks cake:
A gorgeous rainbow gradient is featured cascading down four round tiers of fondant topped cake, which are delicately dotted with gold stars. The bottom tier is airbrushed with the Seattle skyline, from which fireworks shoot on to the next tier up.
Photo by Nicole McGuire, via Bus Chick
Metro bus cake:
Starting with a basic yellow cake, the tops were leveled and shaped into this blocky bus form. It was then iced with buttercream tinted to match the teal and gold city buses, applied with both mall and large offset spatulas. Thin piped lines form the windows and detailing, and Oreos make the wheels. Black licorice, jellybeans, and gumdrops fill in the lights and other small details. And those electric poles? Birthday candles!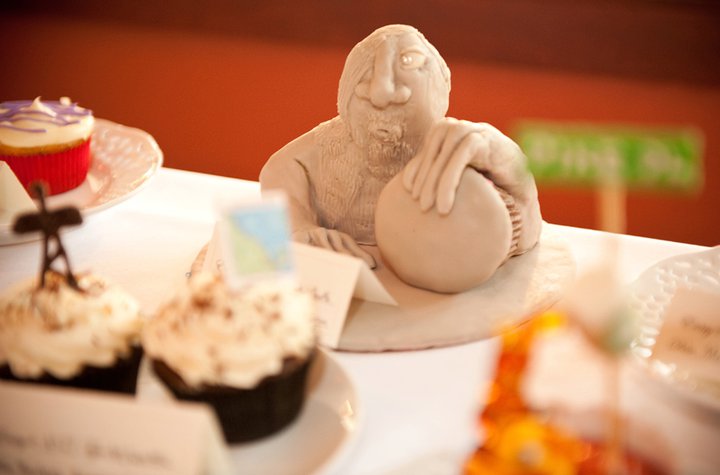 Cake by Cake Diva, Photo via Barbie Hull Photography
Fremont troll cake:
One of the more unusual attractions in Seattle is the Fremont Troll, a large art installation which lives (naturally) under a bridge. This cake perfectly captures the sculpture in sweet form, using fondant to form its sculpted exterior. Cleverly, instead of clutching a car, like the actual sculpture, this cake is clutching a cupcake!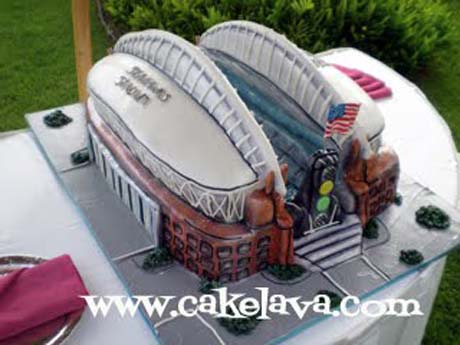 Photo via Cakelava.com
Sports stadium cake:
This cake undoubtedly scored major points with Seattle sports fans. This realistic cake rendering of the Seattle Seahawks stadium features beautiful fondant and hand painted detailing to create a wonderful homage to the city's sports teams.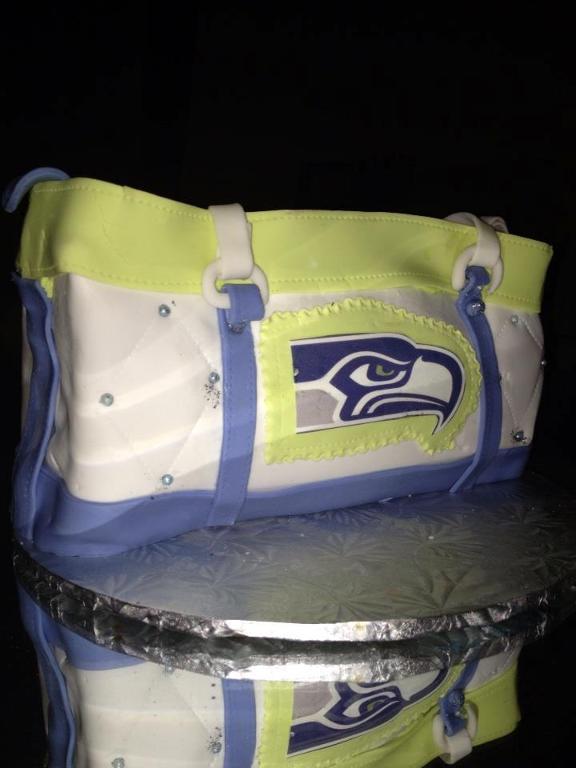 Photo via Bluprint member Golfergal
Seattle sport team bag:
A lot of the tips learned in Bluprint course Designer Handbag Cakes were put to good use on this cake, with a sports team emblem printed on edible paper and adhered to the outside of a fondant covered vanilla cake tinted and textured to look like a sweet tote bag.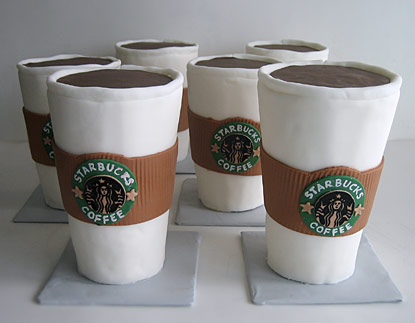 Photo via The Sugar Syndicate
Takeaway coffee cup cakes:
You may have heard that coffee is a big deal in Seattle. These individual coffee cup cakes are the perfect way to celebrate that love. Created by Chicago baker The Sugar Syndicate. Realistic detailing makes these cakes a real trompe l'oeil, with handmade (and edible) labels and coffee jackets around each cup.
Tomorrow is Wedding Cake Wednesday on the Bluprint Blog, and we'll be taking a look at some gorgeous gold wedding cakes. See you then!
These cakes would cheer up any rainy day. What's your favorite type of cake to eat with coffee?