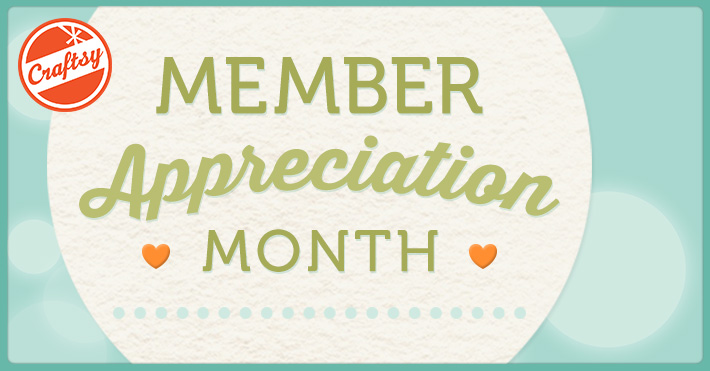 Who does not like free?! I know I do!
So, to celebrate Member Appreciation Month, we're spreading some major free pattern love. Below are some of our favorite free sewing patterns in a whole range of subjects, from men's accessories to oven mitts and beyond!
I hope you discover something new and take this as an invitation to spend an afternoon searching through all the free goodies the site has to offer.
Here are our favorite free sewing patterns — made by our very own Bluprint designers!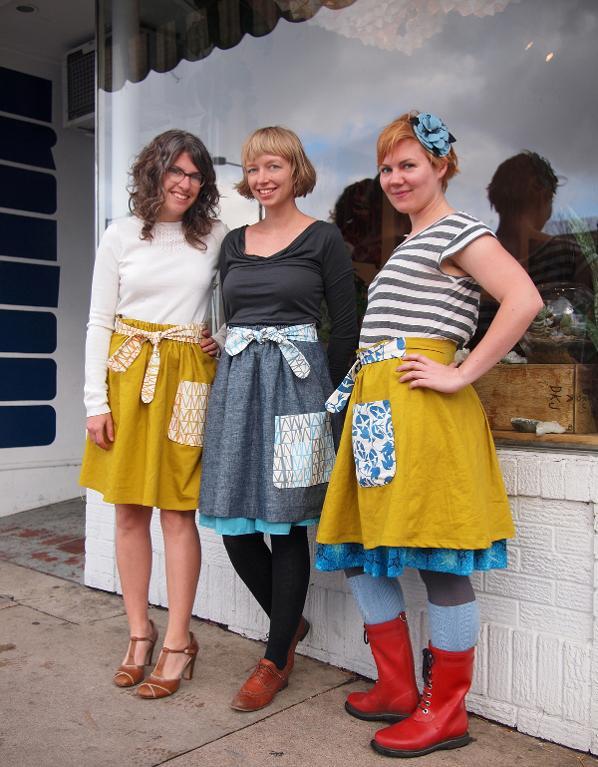 Ysolda's Pocket & Ties Skirt
The lovely ladies at the Denver-based craft shop and workshop space, Fancy Tiger Crafts, can pretty much do no wrong in my book. And though I have known them for years, I had no idea that they had a free pattern up on the Bluprint pattern site! This pattern, the Ysolda's Pocket & Ties Skirt, is an adorable skirt that you custom make to your size, meaning it can fit literally anyone of any size!
The skirt features a contrast pocket, waist tie, and the option for a drop-down lining that shows out under the hem of the main skirt. This would be a great option for a fabric that is slightly sheer or something like lace or eyelet that requires a lining. And since it is a beginner garment, it is perfect for sewers of all levels. Perfect!
Get the FREE Ysolda's Pocket & Ties Skirt pattern here.
Top tip
Perhaps you are not sure how to find the free patterns? Here is what you do: on the top right, click on the link labeled "Patterns". This will bring up all the patterns on the site. To find sewing patterns, hover over the word "All" on the left under the word "Category". Go down the list until you see "Sewing" then click on that word. Now you have brought up all the sewing patterns on the site. From here, you can sort them. On the far right, hover over the "Sort By" and click on "Lowest Price". And voila! All the sewing patterns are now sorted from cheapest (free) to those that cost money. Enjoy the hours of browsing to come!
Gem Zipper Pouch
I have featured patterns from See Kate Sew in the past because all her projects are super cute, and these Gem Zipper Pouches are no exception! Zipper bags are quick and easy projects for any level sewer, so instead of making your pouch in a basic rectangle shape, how about making it in the cute shape of a giant gem? This would be such a great gift for a recently engaged friend, or for bridesmaids gifts, since the bag has a sparkly diamond shape.
Take the sparkle to the next level by using metallic thread for all the top stitching details on the pouch, and you could also use a shiny metal zipper with a fancy pull tab too.
Get the FREE Gem Zipper Pouch pattern here.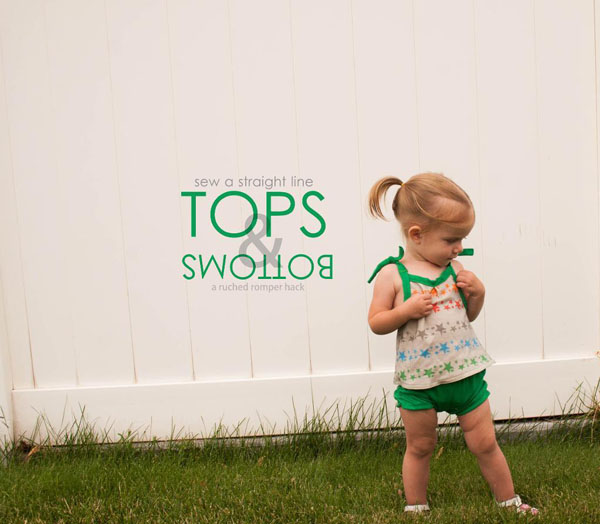 Ruched Romper
As we enter spring and summer, there is likely a little girl in your life that could use a fun new outfit. Enter the cute and easy to sew Tops & Bottoms from Straight Line Design. This pattern is actually a tutorial on how to take their other pattern, the Rouched Romper, and hack it into a two-piece outfit.
So not only are both of these patterns free, but they will show you how to make a load of options from a full-body romper to separates! So handy if you just want to make a top or a bottom!
Get the FREE Ruched Romper pattern here.
Get the FREE Tops & Bottoms pattern hack here.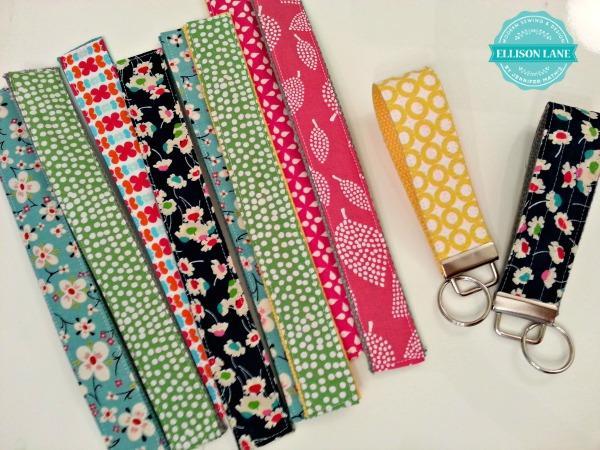 Key Fob
If you sew often, there is a really good chance that you have a pretty significantly sized bin of scraps. Unless you turn all of those little bits and bobs into a scrappy quilt, it can be hard to find projects to use them up. This Key Fob pattern by Ellison Lane is a pretty fantastic scrap buster, and would make a wonderful gift as well.
Paired with polished hardware, these will look professional and even better than a store-bought version, as it can feature the last little bit of a favorite fabric. Need tips on where to find some good purse hardware? Check out this post on resources for sewing bags.
Then pick up the FREE Key Fob pattern here.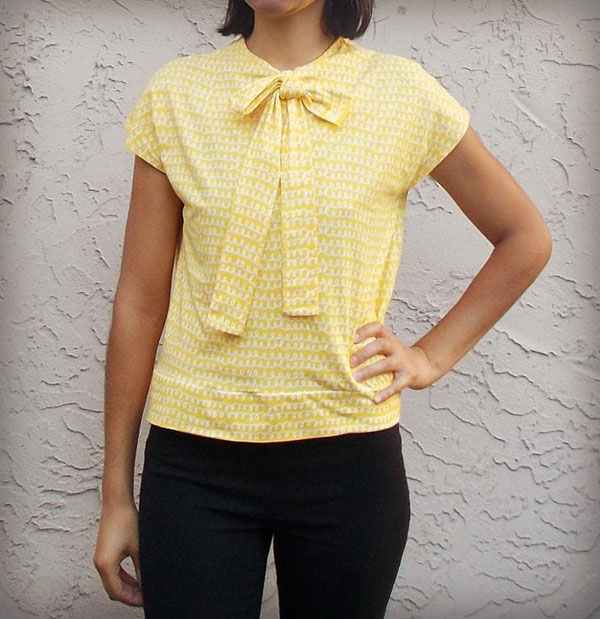 Necktie Top
Looking to take your knit t-shirt to the next level? This Necktie Top from On The Cutting Floor will do exactly that! No sleeves to mess with, and the hem is finished with an easy-to-sew band, this is a good project for a sewer that is new to sewing with knits.
And because of its polished necktie, this top that feels as comfy as a t-shirt will suddenly be work-appropriate! Who does not like that?
Get the FREE Necktie Top pattern here.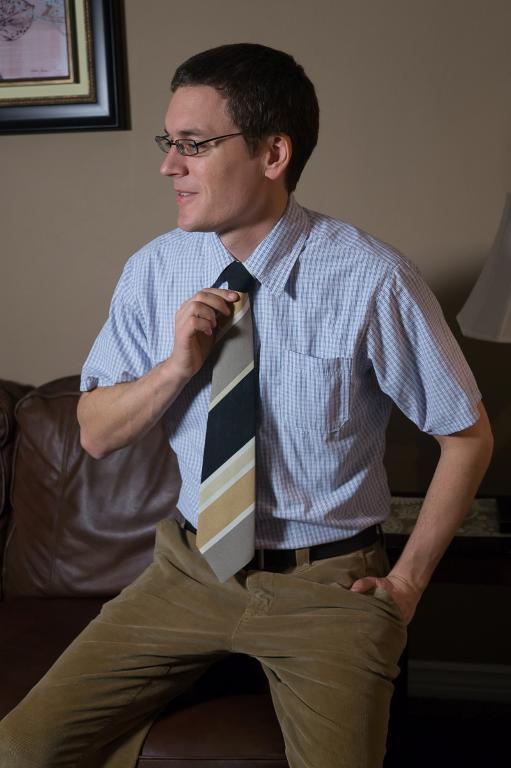 Men's Necktie
But let us not forget the men in our lives! Many men wear neckties to work everyday, so making up some in fun zippy fabrics will be a refreshing change from the boring store-bought versions. The free Men's Necktie Pattern from Sweet Shop Sewing will walk you though the steps to custom make the man in your life a whole new wardrobe of ties!
Pick up the FREE Men's Necktie Pattern here.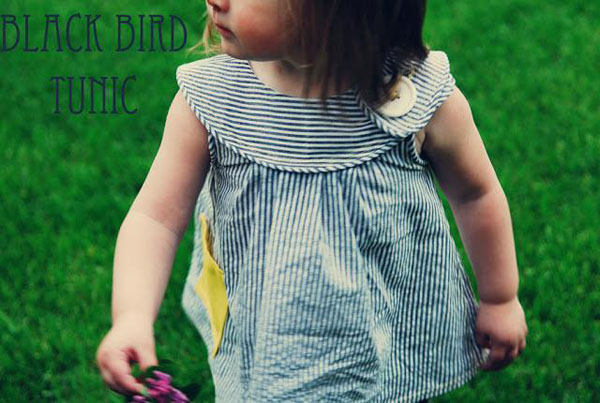 Black Bird Tunic
If your little girl needs something a wee more fancy for a special occasion, try the Black Bird Tunic from Shwin Designs. This tunic features a round circle neckline with button closure, and a full flowing tunic below. Between you and me, I wouldn't mind having one of these in my own size!
This cute pattern is a great way to feature one special button in your collection and also has piping around the neckline that would be great in a contrasting color. Very cute!
Pick up the FREE Black Bird Tunic pattern here.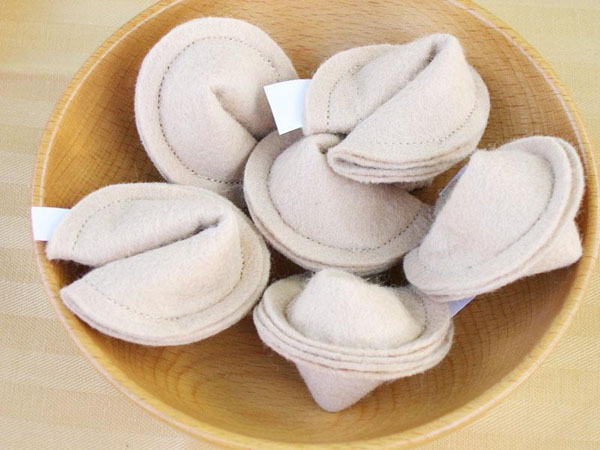 Fun Fortune Cookies
In the intro when I mentioned there were free felt food patterns on the Bluprint site, did you think I was joking? Nope! Seriously, how awesome are these Fun Fortune Cookies from The Stuffie Studio? These would be such fun to make for a party, a wedding, or make one for a loved one with a special message inside for their birthday or for a proposal? I can think of a thousand reasons why we should all make up a bowl full of these right now.
Download the FREE Fun Fortune Cookies pattern here.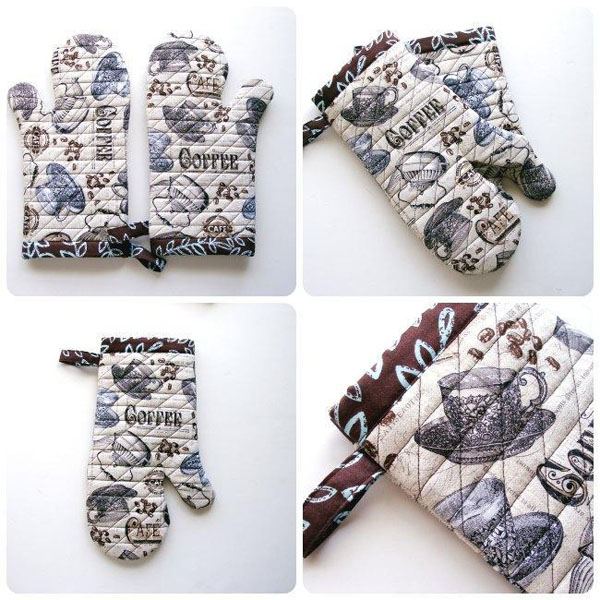 Long Arm Oven Mitts
Lastly, sewing is a great opportunity to make some fun versions of otherwise boring utilitarian items in your home, like oven mitts! These Long Arm Oven Mitts from So Sew Easy are great because they are long enough to cover your wrists to keep them from harm's way. So smart!
Mother's day is right around the corner, and these would make a great gift! Or, make them up in a more masculine fabric for your brother, husband, or father to use while barbecuing this summer! Did you forget that these are free? Seriously, that's a great deal!