Every year, on the 3rd Saturday in March, quilters around the world set aside time to celebrate their love of fabric, sewing, and quilting. Originally started by the National Quilting Association, this artful day of appreciation highlights the inspirational, creative, and unique world of quilting.
There are plenty of ways to get involved with Worldwide Quilting Day this March 16th. Here are a few ideas to get you started!
Visit your local quilting store to check out the fun events they have planned! This particular day is often a great time for taking advantage of sales, special offers, exclusive patterns and projects, and much more.
Connect with local quilting guilds and groups. Many larger guilds have websites full of information, such as their meeting times and upcoming workshops and seminars. Be sure to check with your local quilt store to see if they have connections to guilds, and if they offer any special in-store groups.
Invite a friend to start quilting! The two of you can even take a Craftsy class together. Quilting Quickly and Scrap Quilting are great for those who are just getting into quilting and sewing.
QuiltCon, a conference and show for modern quilters, was recently held in Austin, TX. This new event showcased a fresh, inspiring twist on traditional quilting. Check out the FREE Craftsy QuiltCon lecture series, where you'll hear some great information from today's up and coming, modern designers.
You could even share this badge on your blog or website to show your support! You can find out how to do so, here.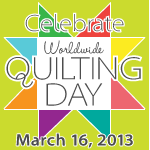 As the process of quilting involves the joining of various parts and pieces, the idea of connecting quilters around the world is exciting--people from different countries with unique styles, techniques, and a variety of materials. Enjoy this year's Worldwide Quilting Day, and take some time to branch out and experience the social benefits that quilting has to offer.